A GoPride Interview
Jenn Alva
Jenn Alva interview with ChicagoPride.com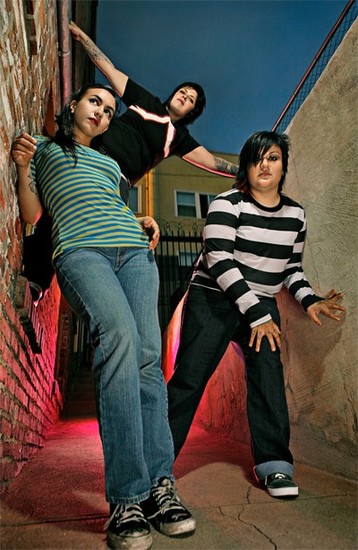 girl in a coma's jenn alva (center)
photo credit // salvador ochoa
Girl in a Coma, the Mexican-American rock band from Texas is heading back to Chicago to perform at the Beat Kitchen. ChicagoPride.com chatted with Jenn Alva the band's lesbian bass player.
JN:
(Jerry Nunn) Hey, Jenn, good to talk to you again. Are you currently out on the road?
JA:
(Jenn Alva) Yes, we had a show last night in Vegas. Now we are driving out and heading back to Texas.
JN:
Did you gamble at all when you were in Las Vegas?
JA:
I spent twenty bucks.
JN:
That is not bad. It was great meeting you after the show at the Vic the last time you were in Chicago opening for Sia.
JA:
Yeah, you too, thank you. That was one of my favorite tours that we have done. When you really enjoy the artist and you can go out there and play then listen to their set every night, it is great.
JN:
So you are playing at the Beat Kitchen this time. Have you played there before?
JA:
No, this is our first time.
JN:
It's a cozy space. Is Adventures in Coverland going to come out as a whole album?
JA:
Yes, we have been getting lots of requests for a new CD. Originally we were just going to do the vinyl and digital in different volumes. There are people that still want CDs believe it or not. We are doing that and we have added three songs. We do "BB" but do it acoustic style. There is a new song called "Yo Oigo." That is coming out soon and is in a movie called Machete from Robert Rodriguez. We also did a cover of Buffalo Springfield's "For What Its Worth."
JN:
So October 19th is the release date?
JA:
That's right.
JN:
I want to see that movie Machete. It looks good.
JA:
Yes, I do too.
JN:
I like your Selena cover "Si Una Vez."
JA:
Thank you. It is so much fun to play live.
JN:
Nina, your lead singer is on a Tiesto track.
JA:
Yeah, it's called "In Your Mind." The song is on the "What's Next" Mix.
JN:
You are a painter correct?
JA:
I love to paint. I wish I had more time for it. I figure if I book an art show ahead of time then I have no choice but to paint. I am going to do one late November.
JN:
Do you paint abstract art?
JA:
No, I used to dabble in that when I was younger but I just started doing portraits. I wish I had more time to practice. I love it.
JN:
You could paint all the album covers.
JA:
Yes, I do most of the t-shirts so that is kind of cool.
JN:
I finally got to see Joan Jett in concert at Market Days this past time. Your band is on her Blackheart label.
JA:
She is someone to really look up to.
JN:
She is rail thin.
JA:
She eats very well. She is vegan and takes care of herself.
JN:
Are you playing more festivals coming up like Joan?
JA:
Yes, we are playing El Cosmico Festival in Marfa, Texas on September 24th. I know we are doing a couple more.
JN:
Well, I look forward to seeing you play at the Beat Kitchen.
JA:
Great, nice talking to you again.
Girl in a Coma plays the Beat Kitchen, 2100 West Belmont Avenue, September 12th at 8:00 pm. For tickets and information visit www.beatkitchen.com or www.girlinacoma.com.
Interview by Jerry Nunn for
NunnontheRun.com
Interviewed by Jerry Nunn. Jerry Nunn is a contributing writer to the GoPride Network. His work is also featured in Windy City Times, Nightspots Magazine and syndicated nationally. Follow @jerrynunn