A GoPride Interview
Jerry Mitchell
Tony-winning director/choreographer Jerry Mitchell comes back to town with Pretty Woman the Musical
It's about finding those moments in the film that I think deserve song and deserve to be told in a theatrical way that's different from the film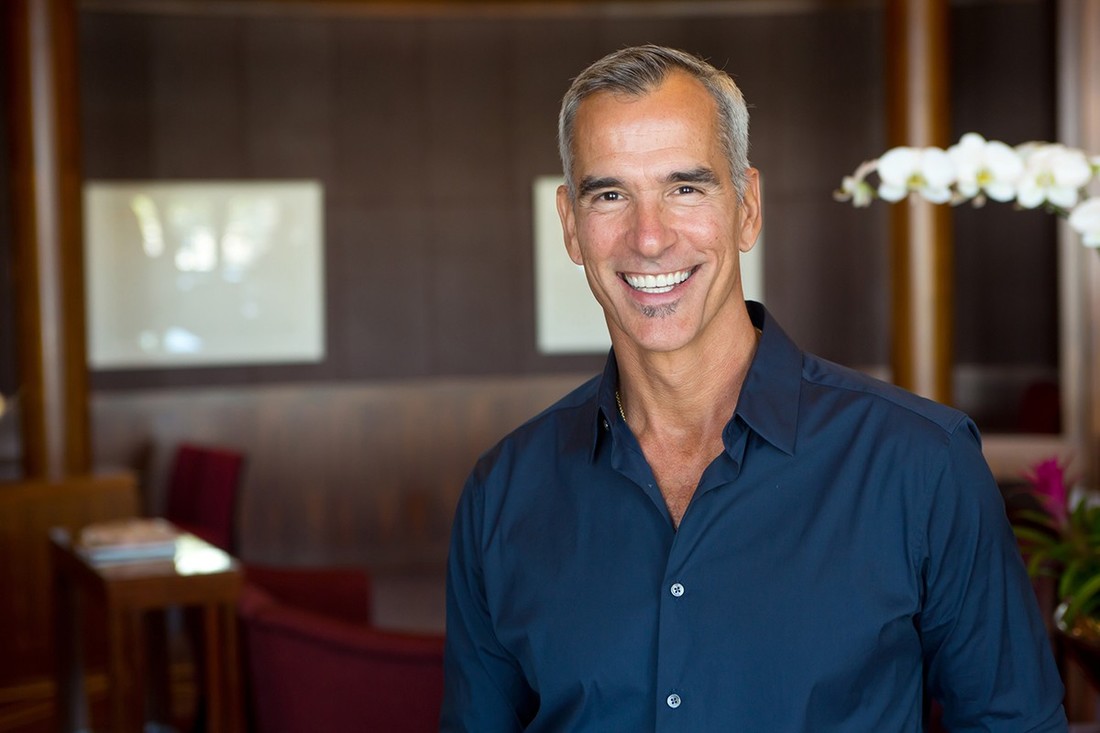 photo credit // christopher devargas
PRETTY WOMAN: THE MUSICAL makes its World Premiere in Chicago starting Tuesday, March 13, 2018, at Broadway In Chicago's Oriental Theatre (24 West Randolph Street, Chicago, IL) for a strictly limited 5-week engagement.
Like the 1990 Richard Gere and Julia Roberts film of the same name, PRETTY WOMAN: THE MUSICAL is a modern spin on Cinderella and tells the story of Vivian, a spirited diamond in the rough who dreams of a better life. A star-crossed meeting with Edward, a shrewd corporate raider from New York who is lost in Hollywood, turns a simple business deal into a week of romance and a journey of self-discovery for both Vivian and Edward. With a wholly original musical score by Bryan Adams and Jim Vallance, this contemporary theatrical take on the iconic love story, will sweep a new generation off their feet and make them believe in the power of "Happily Ever After."
The production stars Samantha Barks (Les Miserables) as 'Vivian' opposite Tony Award winner and Grammy Award winner Steve Kazee (Once) as 'Edward,' with Tony Award nominee Orfeh (Legally Blonde) as 'Kit,' Eric Anderson (Waitress) as 'Mr. Thompson,' Jason Danieley (The Full Monty) as 'Philip Stuckey,' and Kingsley Leggs (Sister Act) as 'James Morse' in a company of 24.
PRETTY WOMAN: THE MUSICAL is directed and choreographed by none other than Jerry Mitchell, who is currently represented on Broadway with the 2013 Tony-Award winning Best Musical, Kinky Boots, for which he received the Tony Award in recognition of his choreography, and a Best Director nomination. Recently his work was seen on Broadway as director of the Gloria Estefan bio-musical, On Your Feet, as choreographer of NBC television's production of "Hairspray, Live," and was nominated for an Olivier Award for his choreography in Dirty Rotten Scoundrels, which he also directed and co-produced in the West End.
Mitchell made his Broadway and West End debuts as Director/Choreographer of Legally Blonde, which won the Olivier Award for Best Musical. He was also nominated for both the Tony® and Drama Desk Awards for his choreography for Legally Blonde, as well as the Drama Desk Award for his direction. A Tony® winner for his dazzling choreography created for the first revival of La Cage Aux Folles, Jerry was also nominated for that Award for choreographing Dirty Rotten Scoundrels, Hairspray, Never Gonna Dance, and The Full Monty. For Broadway, Jerry also choreographed Catch Me If You Can, and revivals of Charlie Brown, Rocky Horror Show, and Gypsy(starring Bernadette Peters), and for Off-Broadway and film, Hedwig and the Angry Inch and Jeffrey. Other film work for Mitchell include In & Out, Camp, Drop Dead Gorgeous, and Scent of a Woman. 
In addition to his theater and TV credits, Mitchell conceived and created Broadway Bares, a comedy burlesque show performed annually over the last twenty years for the charity Broadway Cares/Equity Fights AIDS. Jerry proudly serves as a Board member of BC/EFA and annually as the Executive Producer of Broadway Bares, with a book, website and satellite productions in Las Vegas and London. Cumulative fundraising efforts have resulted in more than $10 million raised for the charity.
ChicagoPride.com spoke with Jerry Mitchell before his return to Chicago for the premiere of PRETTY WOMAN: THE MUSICAL.
MI: (Matt Inawat, ChicagoPride.com) Good morning, Jerry! Thanks for taking time out to chat!
JM: (Jerry Mitchell) Good morning!
MI: So Jerry, I need to geek out for a hot second here. You are a Broadway living legend who's directed and choreographed so many amazing musicals and productions and a multiple Tony winner with so many great film and TV credits. And now you're directing and choreographing a new musical based on one of the most beloved movies of all time, "Pretty Woman!"
So tell us a little about the new production. What would theater goers enjoy that's familiar between the musical and the movie - and then what are they going to love that's a bit different?
JM: Well, I think the biggest difference, of course, whenever you're taking a movie and turning it into a musical on stage is the score, right? I mean, that's really why you do it in the first place, or certainly why I do it in the first place. It's personal. 
If I think the movie has musical possibilities, I'm excited about the prospect of putting a new original score with a story and telling it in a musical theater way. It's a different set of tools and, of course, the songs are really what I'm most excited about. They get a chance to explore the characters in a deeper and richer way, sometimes, because you find out more information about them. And they get to express themselves and tell you what they're thinking and feeling, which a lot of times in films end up being close-ups on actor's faces without a spoken word, which is a wonderful way to do that in film but on stage you need to hear that. 
You need to know what that thought is because you're sitting so much further away and that's usually when a song can do an incredible scene in a musical.
MI: Do you have a personal favorite scene in the musical?
JM: Well, for me, it's about finding those moments in the film that I think deserve song and deserve to be told in a theatrical way that's different from the film. 
If you remember in the movie, Edward eventually takes her for a day to the opera. He takes the day off and he takes her to the opera. They have a fight, an argument, and so to make up he decides to take her to the opera. He's a great fan of music and the opera. In our show, we've strengthened his story about why he loves music so much and when we go to the opera, there's that fabulous scene of her in the opera box and she's starting to cry, experiencing the opera for the very first time. And I said to Bryan Adams and Jim Vallance, "I wish you could write me a love song about him watching her watch the opera." And the boys wrote me a beautiful, beautiful song and I have wrapped that inside of La Traviata. So I think that's going be a really thrilling moment in the second act. I'm very excited about it.
MI: That's definitely exciting! What was it like working with Bryan Adams to come up with the amazing music for the production? You've worked with Cyndi on Kinky Boots, Gloria on On Your Feet, and now Bryan...
JM: It's a lot like working with Cyndi Lauper. Only he's a guy. I mean by that, they come from the rock 'n' roll world and the pop world and so Bryan really loved this story and had actually tried to get the rights to turn it into a musical himself.
So we were both on the same page with what we thought, why we thought it would make a great musical. And so for me the process was allowing him to do what he does, he and Jim do so brilliantly, which is write these incredible songs with amazing hooks and help guide them in the way the songs need to deliver character moments, arcs, storylines, things like that. So it's been an incredible process because he's really been eager about doing it. They've been eager about doing it.
MI: So where do you come up with all this new material? After directing so many different productions, how does that genius brain of yours create new and exciting dance numbers and interactions on stage for the next production.
JM: Well, it's always about the material really, right? So I try to focus on the story, that's all. I just try to focus on the story, and tell the story the best way that I can tell the story with the script and the score and the music that I've been given. I'm really excited about the score, because that's the new element. 
The score is the new element and also Samantha Barks and Steve Kazee who are starring as Vivian and Edward, they do pay homage to the original. Garry Marshall, who did the movie and wrote this script with J.F. Lawton, who wrote the movie, they're the book writers. So I'm going to be delivering a lot of the things that people are expecting from the film.
But there's also so much more depth, there's so much more depth to the characters and they're really, really delivering that in a major way and I'm just so excited about both of them - Steve, obviously, a Tony winner for "Once," but Samantha, who's never really been seen here in a leading role in a musical. She's just breathtaking.
Scroll past the photo for more of the interview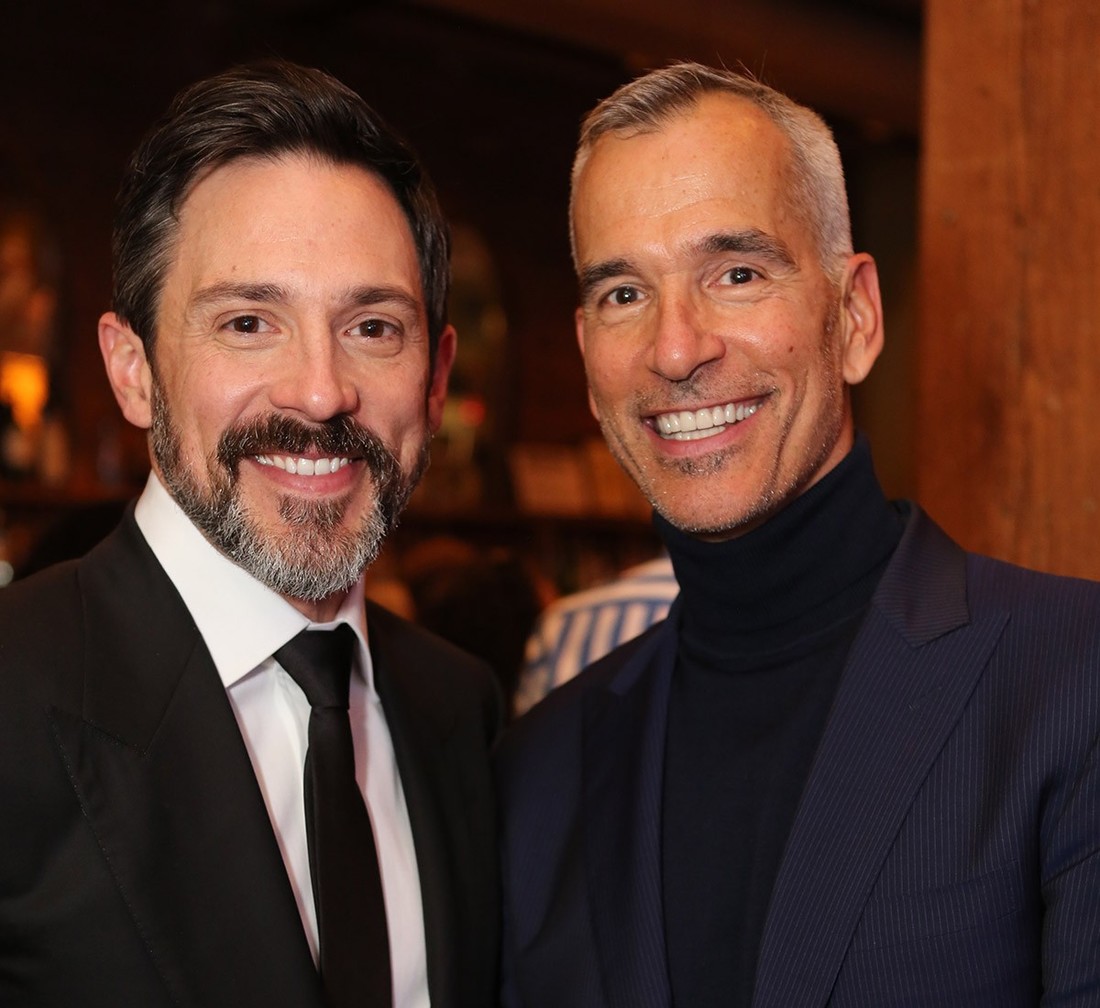 Jerry Mitchell with Steve Kazee (Edward)
MI: As a boy growing up in the Midwest. How did you get involved in theater. Was there a moment when you just knew you were born for affecting people's lives through theater?
JM: I was bitten by the bug when I was like eight or ten, I was in the local Village Players production of the "Music Man" and I knew after that one experience that this is what I wanted to do. And I never really looked back. I kept getting exposed to more and more theater with the local company, the Village Players. I did everything in school. I worked at the community youth theater, I apprenticed and helped some at a repertory theater where I met all these wonderful actors who were in colleges and I applied for the conservatory in St. Louis at Webster University. I got a scholarship.
I auditioned here in Chicago for Webster University, I remember, because I also saw "A Chorus Line" at the old Shubert Theater and I sat in the last balcony, I was seventeen years old. Two years later I was in "A Chorus Line" in the national tour. It just was, in a strange way, I feel like it was all predestined, in a funny way, because it just was what I had to do. But I also absolutely worked my ass off the whole way.
MI: Who are some of your performance influences over those years? Any people specifically that inspired you?
Scroll past the photo for more of the interview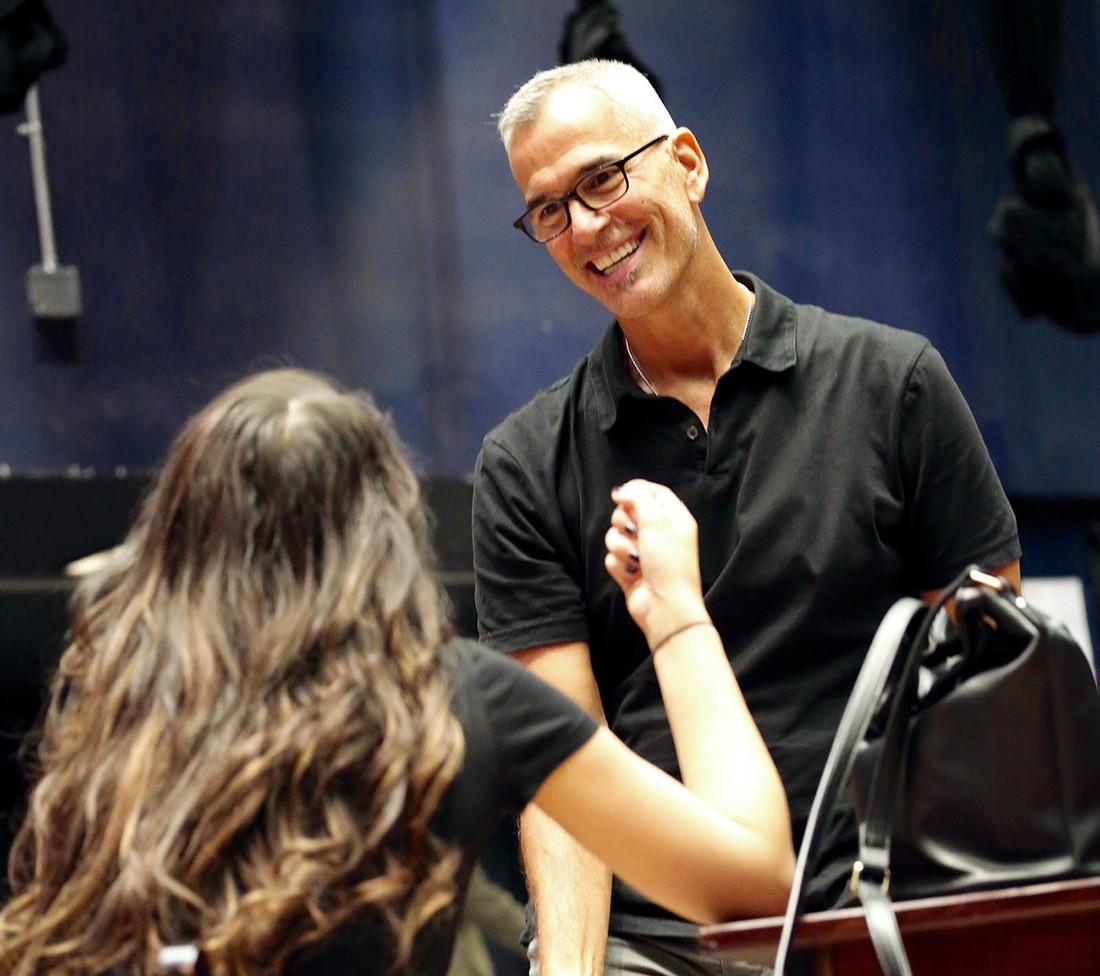 Jerry Mitchell in rehearsal for Pretty Woman (credit: Chad David Kraus)
JM: As a kid, growing up, I watched all the MGM films, so of course, I was a huge Gene Kelly, Fred Astaire, Cyd Charisse, Ginger Rogers, I was into all that stuff when I was a kid. But then when I became a teenager and was a little more aware of what was happening, I got very inspired by Jerry Robbins, who I later became an associate choreographer to in New York City and also Michael Bennett, who I was an associate to and worked with him and I was in "A Chorus Line," I worked with him and Bob Avian. They were sort of my mentors and people that I looked up to as directors and choreographers.
MI: You're an openly gay man. What was the coming out process like for you? Did you come out when you were younger or was it post-theater beginnings?
JM: I came out to my friends in my college years. I came out to my parents when I was 30, and that was way late. I had already been in New York for ten years. My family, I think one cousin knew, but I didn't really discuss it with them and it was a different time and a different period. There were no gay role models. I think the coming out process for kids, certainly for me, I was born in '60, right? I came out when I was 30, which was 1990. But if you think, in 1990, there still were no real gay role models on mainstream television. The internet wasn't around, really. It was all just the very, very beginning of that.
Even with Kinky Boots, we opened the show on Broadway and gay marriage still wasn't a part of this country. It happened after the show opened on Broadway. The idea of coming out, for a gay man, is about losing the love of the people who are most important to you. I think that's why it, for so many years, it was such a difficult thing for gay men to come out because it wasn't mainstream and you were afraid of losing the love of the people who are the closest to you. Now, that's all changed because we as a society have changed and because we, my nieces and nephews who grew up with me gay, are completely comfortable with gay people because they know me.
So, it's about knowing someone. The easiest way to accept someone who is different is by knowing someone who is different.  So the world, the more we integrate, the easier it is for us to accept everyone for who they are and what they stand for. And the more we keep ourselves separated, the more difficult that becomes.
MI: Do you have any advice to aspiring theater students who are looking to make it in the industry?
JM: My advice to young people is get involved and do, just do everything. Do anything. For me, that's really what it was about. I was involved in all of the productions that I could possibly get my hands into. One experience leads to another and when you do get involved, if it's truly your passion, no one ever had to tell me to be passionate about what I was passionate about. I was just passionate about it, you know? So I always did it, full out. For me, as a director and choreographer, I see that in other people and those people are the people that I continue to hire and continue to work with. The ones who come in and are just as excited to be there as I am.
MI: Tell us about some of the charity organizations that are near and dear to your heart - one, of course, is Broadway Bares...
JM: With the time that I have left on my agenda after I'm done with the workday, I have very little time. But Broadway Cares is an organization I've been with since it's inception and Broadway Bares in particular, my little benefit show that I created, we'll be doing our 28th year of Broadway Bares this June in New York City. But we've raised now almost eighteen million dollars for Broadway Cares putting on a burlesque show. It's something that I love, I love burlesque, I was dancing naked in "The Will Rogers Follies," I needed to find a way to give back to my community. And I created a show and it's grown into this amazing yearly event that celebrates life. It's so amazing.
MI: Are you excited to be back in Chicago?
JM: I love being in Chicago, I love it. I absolutely love it. I love the people, I love the stores, I love the food. I love the theater. I love being here and working on a show. I find the audiences in Chicago to be incredibly smart, incredibly diverse, which is very important to me and then their ability to help me guide a show and make it better is why I come here.
MI: Any favorite restaurants or hangouts in the city?
JM: Well, there's too many to list, but, you know, the Pump Room is notoriously one of the best restaurants, right? 
I get up to Halsted every time I'm here and hang out. Kind of hang here in the theater district. I eat a lot of quick meals from the Protein Bar.
MI: Talking about Halsted for a sec, do you make it out to Musical Mondays?
JM: I've only been to Musical Mondays, I think, once or twice. But I've been up to Tracks like, I can't even tell you how many times I've been up there.
MI: It's been an amazing time with you. I can't wait to see the new production!
JM: I'm very excited. We're having a good time and I think it's a beautiful love story. It's really a beautiful love story.
MI: I'm really looking forward to seeing it and thanks so much for the chat!
JM: My pleasure.
Tickets for the world premiere of PRETTY WOMAN: THE MUSICAL at Broadway In Chicago's Oriental Theatre are available at all Broadway In Chicago Box Offices (24 W. Randolph St., 151 W. Randolph St., 18 W. Monroe St. and 175 E. Chestnut), the Broadway In Chicago Ticket Line at 800.775.2000, and online at www.BroadwayInChicago.com. Chicago world premiere tickets are on-sale now.
The playing schedule for PRETTY WOMAN: THE MUSICAL at Broadway In Chicago's Oriental Theatre is: Tuesday through Friday and Sunday at 7:30pm, Saturday at 8pm, with matinees Saturday and Sunday at 2pm. Please note there will be added 2pm matinees on April 4 and April 11, and no evening performances on April 8 and April 15.
Interviewed by Matt Inawat. Ron Matthew Inawat is president of the GoPride Network and contributes to ChicagoPride.com, PrideLA.com and other sites within the GoPride Network. Follow @cpmatthew