A GoPride Interview
Harrison Drake
Get to know Harrison Drake from the new Annie, currently playing in Chicago
these little paper mache caricatures that a friend made for me for my birthday that I lay out on my dressing room station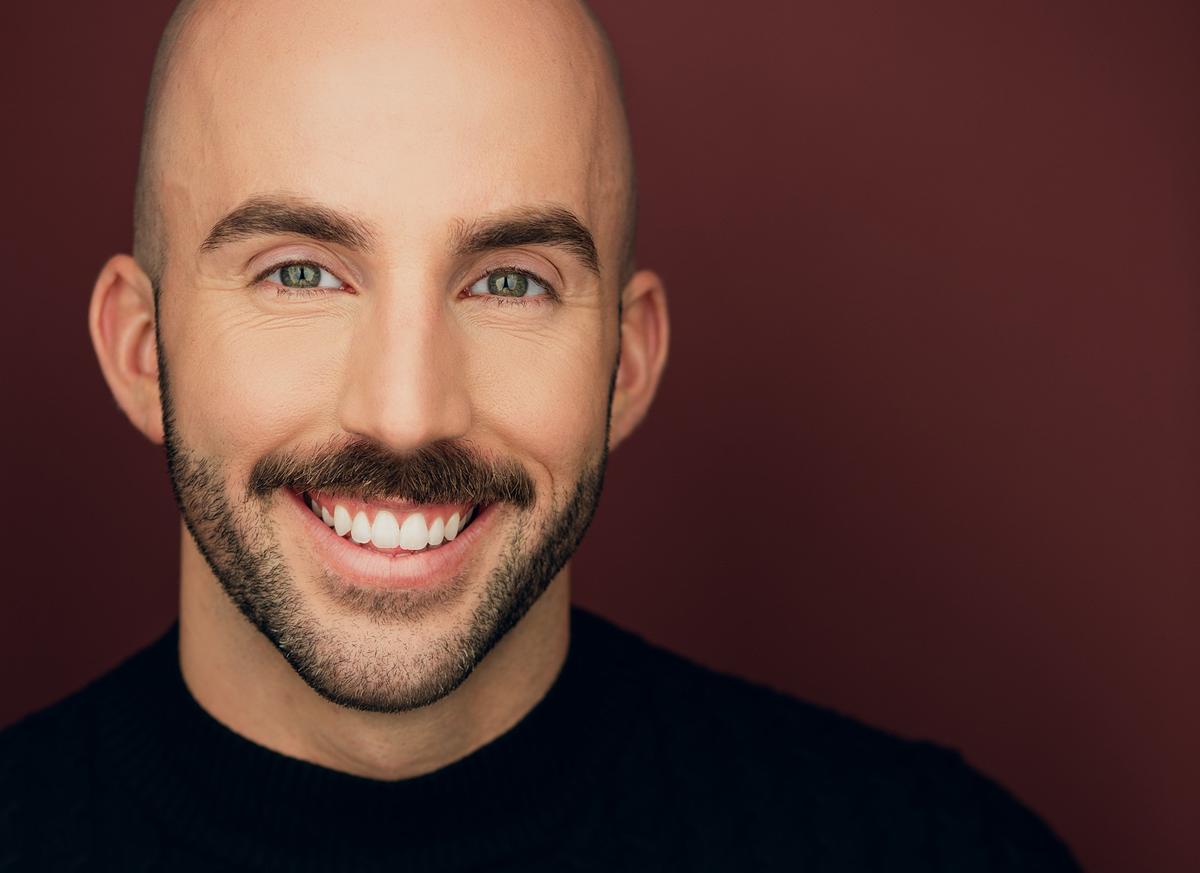 photo credit // harrison drake
The iconic Tony Award®-winning musical ANNIE is now playing at Broadway In Chicago's Cadillac Palace Theatre (151 W. Randolph St.) and is running for a limited engagement through March 19.
"This show, with its iconic title character, continues to delight generations of theatre-lovers old and new by joyfully singing directly into the face of great adversity with perseverance, guts and guile," says director Jenn Thompson. "For decades, ANNIE has continued to shine brightly, not only as an appeal to our better angels, but also as an example of the thrill of hope, hard-won: promising a better 'Tomorrow' not only for Annie herself, but for all who need her message now more than ever."
One of the best-loved musicals of all time is ready to return in this new production, exactly as you remember it and at the exact moment we need it. Little Orphan Annie has inspired generations of theatergoers to remember that sunlight is always just around the corner. Honoring unity, hope, and the American spirit continues to be the best remedy for all the setbacks that life can bring.
We chatted with the incredibly talented Harrison Drake, who plays Drake (and is also in the ensemble, u/s FDR, u/s Oliver Warbucks) in the production. Drake has been in the national tours of Anastasia and A Bronx Tale and has Fables (Lincoln Center); Annie (Ogunquit Playhouse); A Little Night Music and Les Misérables (Lyric Theatre of Oklahoma) to his regional credits.
MI: (Matt Inawat) Hi Harrison! Congratulations on the Annie tour! What drew you to audition for the the show?
HD: (Harrison Drake) Oh gosh. I was on tour with Anastasia the musical last year when the audition notice got posted. And I just remember honestly being really drawn to the project and kind of felt like it was going to be right for me. And so I auditioned through video from afar for quite a few rounds. 
And then eventually, my last video callback happened when I got COVID and I was stuck in a hotel room and I was like, "You know what? I still need to whack this out." And I went into a parking lot where I wasn't around anybody. And so my audition video and then I sent it in. And I honestly recorded a video for myself of me saying, "I think I just booked my next national tour." And then a few weeks later found out that I got it. And so it was definitely worth the effort and honestly, the possible pneumonia of doing that audition outside in the freezing cold.
I've always been a big fan of Annie, I did it in community theater years ago, where I played Drake for the first time and then I did a regional production of it at Ogunquit Playhouse scene in, let's see, 2019.
And so I've just always been a really big fan of the show. So they were doing a national tour of it. I just submitted. That kind of drew me to it. And then I had a close friend from where I grew up, Lincoln, Nebraska. She actually booked the show as well. So we've been on it all year together.
MI: Oh, wow!
HD: And we grew up together. And we both moved to the city at different times. So it's kind of a super small world event that we've both been able to tour together.
MI: That's pretty awesome. I love hearing when couples get to spend all their time on a tour together! So how is this specific production different from some of the other stagings of Annie and how is it keeping the story pretty fresh for today's audiences?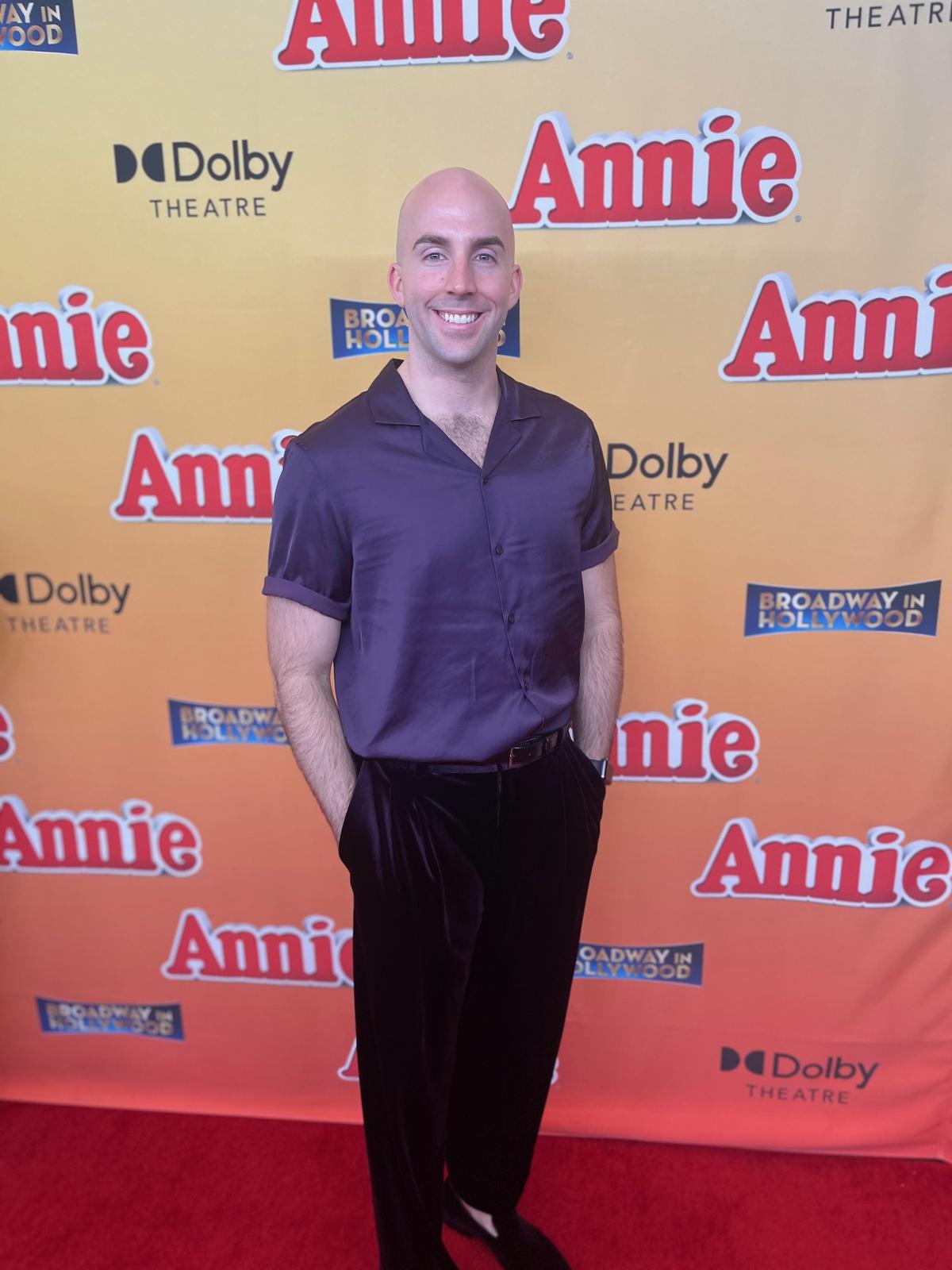 Harrison Drake; credit: Harrison Drake
HD: So this production of Annie really calls back to the original Broadway production over the years, I would say, that a lot of the different versions have felt the need to try and reimagine it, the story, and maybe do add some different bells and whistles to make it different and stand out in a different way, either design-wise or orchestrations and things like that. 
But honestly, it was really important to our director, Jenn Thompson, that we kind of go back to the roots of the original Broadway production, which she actually has a super strong connection to. Because our director, Jenn, was one of the orphans. She played Pepper in the original production on Broadway. So she has quite the connection to the piece.
Yeah, I would say our production specifically just is super grounded. Obviously, there's singing and dancing and there's dogs and all that stuff, and just plenty of things to give the audience a good time. But there are some definitely real world issues that we're tackling in it as far as just the loneliness of being an orphan and then the poverty struck by the Great Depression and all of those things.
And so I'm just really proud of, honestly, the really grounded performances that everyone in the cast is giving in this production. Because I think it's really easy to, and make it almost borderline like a cartoon or caricature performances with these characters because they are so larger than life. But at the same time, I think the show hits so much harder if you can just ground it with real performances, because obviously the stakes of it all and the songs still make it larger than life at the end of the day.
MI: Right! So did you have to go through any special research or learn any special new skills for the production?
HD: I didn't really specifically. I was honestly so familiar with it from past productions. I do lift Miss Hannigan over my shoulder at one point at the end. I do a big fireman carry. So I guess that's something that I'm like ... just deadlifting a person over the top of my shoulder every night.
MI: That's a skill everyone should learn! So, what's your favorite moment in the show, like, your personal favorite moment?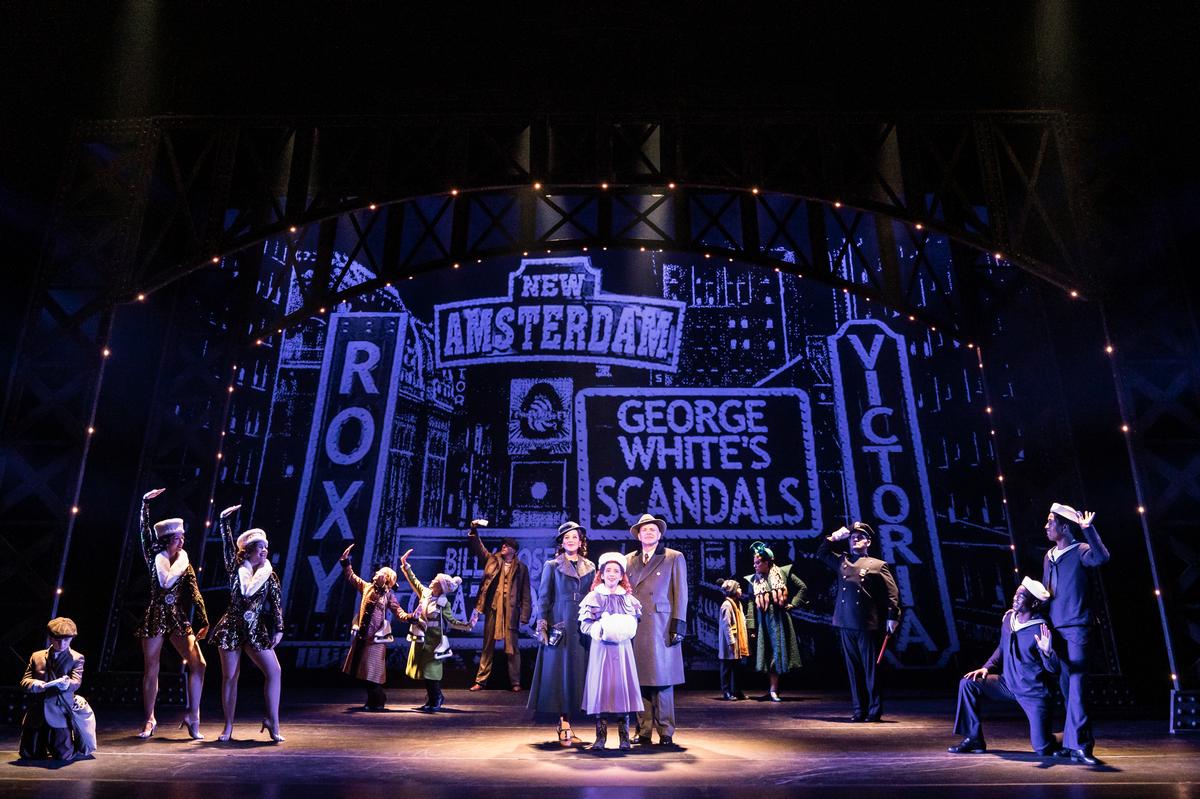 The 2022 company of Annie; credit: Matthew Murphy and Evan Zimmerman for MurphyMade
HD: My personal favorite moment is probably the production number, "Annie," or "We Got Annie." It's most famously known for being in the movie with Anne Reinking, the original Annie movie. And we were going into our tech process in Syracuse, New York, and we were getting to a part in the show where Daddy Warbucks needed to make a quick change and all this stuff was happening. 
They needed to change the set behind the curtain, behind the character Grace, played by Julia Nicole Hunter, and then me. We're doing this Annie number, and we founded out that we needed more time to make the quick change happen and to make the set change happen. So they honestly dug back into the trunk of past Annie music and Annie arrangements and just kind of gave us more music and more of a number to do. So honestly, when I joined the show, I didn't have kind of as big of a number as I do now after joining the production and being in the process. So that was just kind of a cool experience to go through of having something kind of shaped for you from the ground up.
MI: Definitely!
HD: A cool part of this production has just been doing brand new choreography, brand new sets, brand new costumes. They really just found a lot of Broadway level designers to get involved with this project and really shaped it around all of us. So I guess short answer is my favorite part is the "We Got Annie" Number with my dance partner, Grace.
MI: Love it! So take us back a little bit. How did you get started and where did you find your passion for theater?
HD: I honestly didn't know a ton about the world of theater for so long. I guess I was introduced to movies like The Sound of Music when I was really young, but I honestly didn't equate that to musical theater. I just thought that was a movie where people were singing and that's just was what it was. But I didn't really think to go look for a bunch of other musicals. So I played sports for a long time growing up, but then I was always a choir kid. And then halfway through high school, my choir teacher was kind of like, "You should come audition for the musical." And so I just took some voice lessons over the summer and then came and auditioned. My first show was White Christmas, and then I kind of did that, and then I got bitten by the bug and continued to do high school shows for the next two years.
And then even by the end of high school, I didn't really realize it was a viable career path, so I kind of missed the whole college search and college research for musical theater schools and things like that. So I ended up going to the University of Nebraska-Lincoln, and I got my degree in advertising actually. And I just kind of did community theater, and I auditioned for some regional theater during college. And I just kind of decided to myself that if I was going to move to New York after college, that I would just find more teachers there and make a secondary education for myself in the city. But that's just where it started. I would say just my choir teacher, Mrs. Cotton, got me into the musical in high school and just haven't really looked back since.
Once I discovered that this whole world was here in musical theater and Broadway and all that stuff, I just became super passionate and obsessed with it and have never looked back, but somehow it just really stayed hidden for me for a really long time.
I remember my dad took me on a trip to New York back in eighth grade, and he even took me to see Avenue Q, but I guess it just didn't dawn on me that there were just hundreds of other shows that people could be doing and that these people are getting paid for it. I don't know, it just didn't click for me until far too late. Otherwise, I'm sure I would've possibly started sooner, but that's just kind of how it all happened.
MI: Did you actually take any formal acting lessons or did you just grow into these roles?
HD: No, I actually have not taken any acting classes and things like that. I mostly have just found a lot of my experience from ... I'm a big proponent of that people can make their education whatever they need it to be. I mean, experiences is experience. So I just try to go in through ... even community theater productions. I tried to just learn as much as I could from people around me and make my own mistakes. And I really just found, as long as I kept an open mind about how I always needed to keep growing and that there was going to be always something to learn.
I've been lucky enough, honestly, to work continuously since I moved to New York back in, let's see, 2017. So it's been a pretty good journey so far.
MI: That's a pretty awesome message. Keep busy and keep learning!.
HD: Yeah, for sure.
MI: So is there a dream role in any play or musical that you would just love to portray in the future?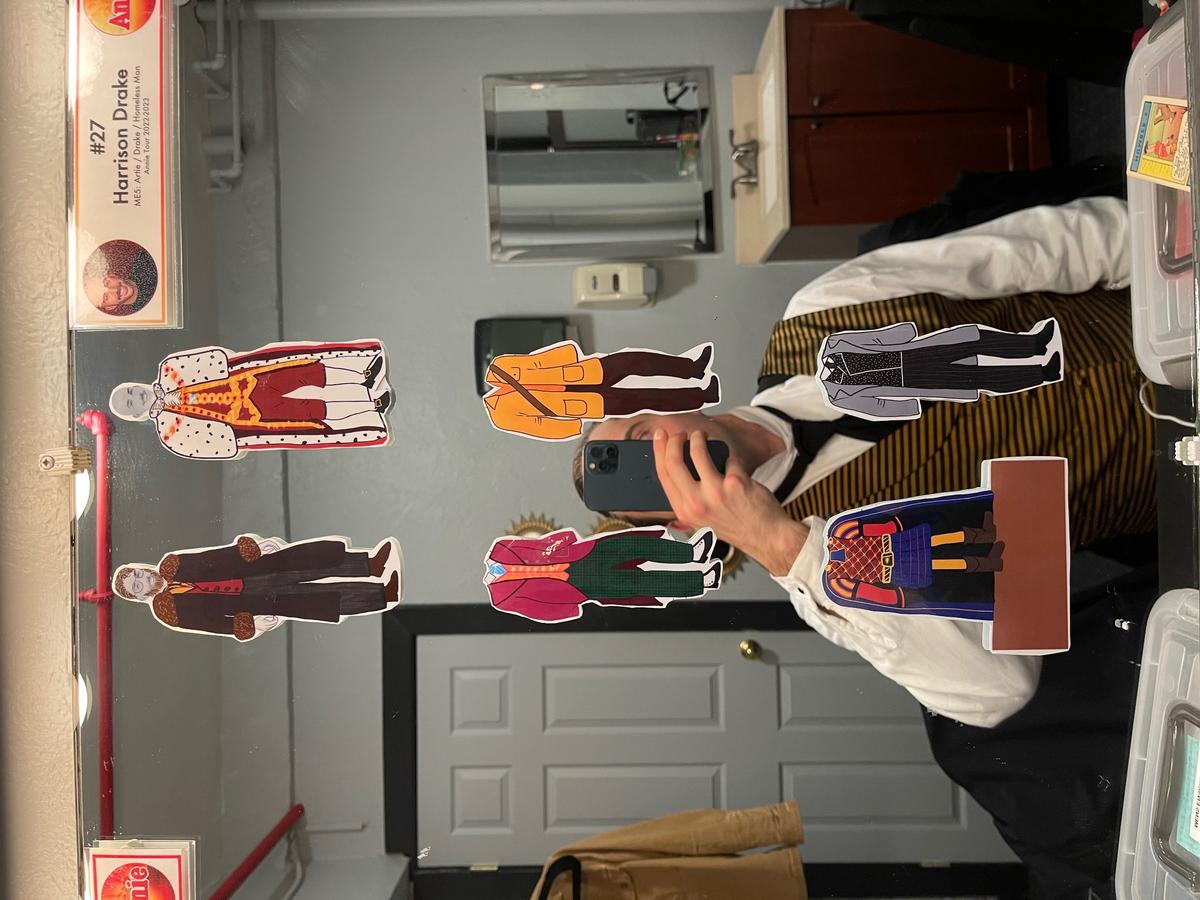 Harrison Drake; credit: Harrison Drake
HD: Oh my gosh. Wow. I mean, I've just been going so long with the desire to just be a working actor and keep working. So I haven't been too picky, but it's a great question. Oh gosh, what's a dream role?
I know. Oh, I have actually these little paper mache caricatures that a friend made for me for my birthday that I lay out on my dressing room station. They're, honestly, six little dream role characters. King George III in Hamilton. Honestly, it's a great princess track. It's funny, he's got a great little song, things like that. I really am drawn to characters like Lumiere in Beauty and the Beast, The Wizard in Wicked and things like that.
HD: But honestly, more so than anything, I'm just interested in continuing to work and worked my way up in different circumstances. My career started out being a swing for ensemble characters and then my last tour I was a swing for ensemble, but then I got to understudy one of the leads and then now this tour I'm a featured ensemble part, but I cover two of the leads. So it's just been a really good classic case as far as just, I've had very many different experiences and just working my way up and seeing what the correct fit will be.
I mean, honestly, Daddy Warbucks is a dream role someday. I cover him right now, but it will be probably much more satisfying to do him in 10, 15 years down the line. Yeah.
MI: You're here for Annie. What's your top three things to do while in Chicago during the show?
HD: Oh my gosh, that is a great question. I haven't been to Chicago since I was there for a high school show choir competition back in 2012. So it's been 10 years plus since I've been back to Chicago and I've only been that one time. So I'm looking forward to some, I guess, deep dish pizza. And I want to say there was a really great museum, a museum that I hit the last time I was there.
HD: I'm looking forward to not trying to get too cold. I've just generally been excited about Chicago. I think I'm just excited for the fact that it is such a theater city and that it will be nice to perform for audiences that are just super well-informed about that. And they're there to appreciate it for not only the sake to go see a show, but they have an opinion on the show and they see a lot of theater. So I'm excited to perform on that level for that caliber.
We have the whole creative team coming in while we're in Chicago, so we're going to look at the show a bunch and things like that. But as far as things within Chicago, I don't know. I need some recommendations honestly!
We've been on the move and on the go for so long, it's just kind of been hard to look too far ahead. And actually, Chicago's actually my last stop with the show, so I'm looking forward to just honestly soaking up my last performances and things like that.
Performances are Tuesday through Friday at 7:30 p.m. (with Wednesday matinees at 2:00 p.m.), Saturdays at 2:00 p.m. and 8:00 p.m. and Sundays at 2:00 p.m.
Individual tickets for ANNIE are on sale now and range from $35.00 - $115.00 with a select number of premium tickets available. Tickets are available for groups of 10 or more by calling Broadway In Chicago Group Sales at (312) 977-1710 or emailing GroupSales@BroadwayInChicago.com. For more information, visit www.BroadwayInChicago.com.
A Nederlander Presentation, Broadway In Chicago lights up the Chicago Theater District entertaining up to 1.7 million people annually in five theatres. Broadway In Chicago presents a full range of entertainment, including musicals and plays, on the stages of five of the finest theatres in Chicago's Loop including the Cadillac Palace Theatre, CIBC Theatre, James M. Nederlander Theatre, Auditorium Theatre, and just off the Magnificent Mile, the Broadway Playhouse at Water Tower Place.
Interviewed by Matt Inawat. Ron Matthew Inawat is president of the GoPride Network and contributes to ChicagoPride.com, PrideLA.com and other sites within the GoPride Network. Follow @cpmatthew