A GoPride Interview
Sean Paul Lockhart
Brent Corrigan vs. Sean Paul Lockhart
Oddly enough, I didn't realize just how much of an exhibitionist I was until I left the adult industry.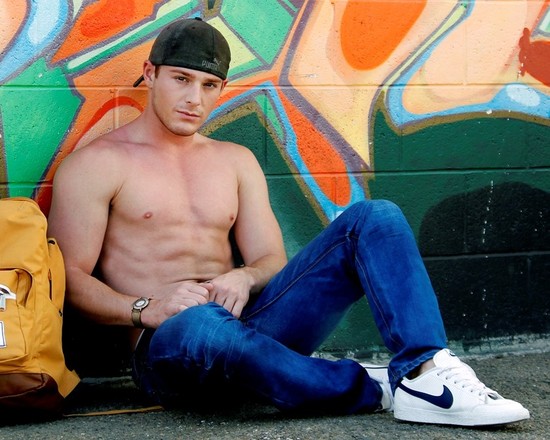 photo credit // wayne styrke
The former adult star is embracing his past as he looks to the future
The adult film industry has always been replete with drama and taboo. Brent Corrigan's role in that continuing story is always evolving. Like the Corrigan character, actor Sean Paul Lockhart started in the industry when he was only 17 years old and has never looked back.
ChicagoPride.com
first interviewed Corrigan
in 2008. At that time he was producing and directing his own adult films. Today, Sean Paul Lockhart is involved in completely different work.
The actor, writer, producer and former adult star talks to ChicagoPride.com about his past, his future and his return to Chicago Memorial Day Weekend for the Grabby Awards.
BP:
(Bill Pritchard) Sean, thank you for taking the time to catch us up on your life. It seems like you've been very busy. You are now going by your real name, instead of Brent Corrigan. Is Mr. Corrigan still doing his thing?
SPL:
(Sean Paul Lockhart) Three years ago I announced that I had no intentions of going back to adult work as a model. By then it had been about a year since I had filmed anything in front of the camera. I still take appearances, sell the toy line with Fleshjack and promote the Brent Corrigan label. Even though I'll never fully be able to extricate myself from Brent Corrigan; in the eyes of the non-porn media world, it hasn't stopped me. I embrace my background and love being a part of the adult industry in a more limited capacity. I bring an edge to my non-adult films that most actors could never even dream of. Not to mention, I'm also willing to go further, faster, longer than most of them.
BP:
You've spent a lot of time doing mainstream work. Tell us about that.
SPL:
Yeah, it's been crazy. I've done four films since September 2012. I produced and starred in my very first called "Truth". We filmed that outside of New York City last November. It's about a young man who falls in love with an older man; their relationship is impossibly perfect. Then the truth begins to come out and it sends my character into a tail spin. It's very dark and twisted.
I also just directed my first non-adult film in April. It's called "Triple Crossed". That film is about a war veteran that takes a job as a hit man for hire. He falls for his mark and chooses to protect him in place of putting him six feet under. I was offered that job with the condition I play one of the leads; which is ridiculous because most say don't direct yourself the first time you direct.
Most recently I acted in an action thriller filmed in Portland called "The Dark Place". That film is about a young man that returns home to discover his mother has remarried and he foils a plot to have her killed. I play the step son: so sweet he's criminal. When my contracts don't prevent me from doing so, I often remark upon my experiences on my mainstream blog at
Sean-Paul-Lockhart.com
.
BP:
How much are you still dabbling with the adult industry? Will folks see any new work from you in stores?
SPL:
Right now, I'm happily at home in the mainstream realm of the world. I'd love to come back but frankly, I'm too busy. One of the things I've learned most about myself with the last few projects is that I truly do want to be a filmmaker. Acting is nice, but directing and being a part of the behind the camera community is far more substantial to me. I don't know that I could even get that out of going back to producing adult work - but I'm always game. You should see my model inbox. I still actively get some really great applicants to come model for me. Oddly enough, I didn't realize just how much of an exhibitionist I was until I left the adult industry. And recently, due to my last string of roles, I've put a lot more time and energy into evolving my look. I'm quite proud of having gotten older (the easy part) and building a better physique. I'd love to show that off but it's looking like you'll have to see it in my non-adult films for now.
BP:
Speaking of your physique, you've bulked up.
SPL:
I'm 26. I think. It's hard to remember. It changes every year. I certainly feel a bit older. Point is I love muscle. I've always preferred men to the boys I was known to work with in the genre I was associated. It was only a matter of time before I garnered the kinds of muscle I personally appreciate. I'm not huge - I don't plan on being that big. I'm still quite proud of my gains. Anyone who thinks I ever had any designs on being the perpetual twink for all time clearly didn't know anything about me. I revel in personal evolution. Growth and change are sexy whether physically, mentally, or spiritually. And even when the wrinkles come, bring it on. I think men are sexier with a few lines on the face.
BP:
What fills your day to day activities?
SPL:
It varies constantly. When I was working on "Triple Crossed", we were non-union. It is projects like that where you truly begin to determine for yourself whether or not you belong in film-making. I'm talking 12-17 hour days; very few resources, and low pay. But what you can accomplish with so little, with today's technology is astounding. So, those day-to-days are spent solely on set, usually some location somewhere or some house/apartment we've made the set for the day. No sound stages. No back lots at Paramount. Nothing fancy like that. When I'm home in San Diego, I lay very low. Lots of gym time, dog walks with my boy, Mr. Sparkles, and the occasional training session on horseback. I'm a hunter jumper, but because of my schedule I am not competing this season.
BP:
In the last few years, you've been an outspoken advocate on safe sex. Where do you see that trend heading these days?
SPL:
Anyone with a computer and an Internet connection can see it's trending toward unprotected. Studios think they can provide a safe environment for their models to be screened tested and work unprotected together. However, the conversation of social impact seems to be entirely non-existent among the heavy hitting producers of the not-safe porn market. Sure, we might be watching out for the models, but we're not considering the impact we're having on our community just by making these images. I want to give people more credit and say they know better. There is just something about being bombarded by this stuff constantly and digesting it. It affects us on a level we don't fully understand. And inadvertently it does also shape our decisions when we're in the heat of lust and passion. Add alcohol or drugs, encouraging imagery of detrimental behavior and the future looks pretty bleak.
BP:
Do you keep in touch with any of your fellow Cobra Video actors?
SPL:
No. There were few I was close with - but mostly the
civil suit
, and the pressure [Cobra Video owner] Bryan Kocis put on the other models, not to have anything to do with me and then Bryan's death pretty much put an end of the friendships I'd garnered there. From what I've heard some have moved on nicely enough. Some aren't even alive anymore. I randomly saw one in a San Francisco gym during Pride a few years ago but thought better of stopping him to say hello. It's a chapter of my life I don't like to revel in.
BP:
Your modeling work with Andrew Christian seems to be turning heads. What has that been like for you?
SPL:
I love working with them. The shoots are very casual. They're just as fun as they seem to be when you watch the videos. It's a very relaxed atmosphere. I'm proud to be a part of the apparel company that seems to have corned the queer market so well. Love it or loathe it we need things for ourselves.
BP:
Love life? Is there someone special in your life Sean?
SPL:
Yes! We've been together a year in December. It can be touch and go because I'm such an utter mess and he's so impossibly perfect. But, I figure I'm the chaos to his control. And to be honest, I was perfectly straight with him when I met him. I told him I was nuts. He was aptly warned and still took me on. I don't parade around with him on my arm because I prefer to keep him away from all this craziness. Besides, the second you start letting people know publicly who you're with when you're a "public person" is the first chance they have to drive a wedge between the two of you. Relationships are hard enough without all the extra stress and outside pressures of the world.
BP:
Well, tell us, what is it you look for in a guy?
SPL:
We can't both be loose cannons. He's got to be active, adventurous and not judgmental. I did a stint a year ago or so where I was real big into drag. Most men can't handle that sort of thing. My man now thought it was amazing. So, I think it's important to have someone who loves me for me no matter who that might be at that time. If I wanted to quit everything and go be a horse trainer in Arizona I need to know my man is behind me on that. Muscles on my men are a big plus, but I've never "married" the traditional Greek God types. I just need something to grab on to and appreciate. Pretty is okay so long as he's a bit rough around the edges.
BP:
You're coming back to Chicago for Grabbys weekend. Where can your fans and stalkers see you?
SPL:
I'm all Grabbys all weekend long. I'm one of the hosts again this year and I'm very much looking forward to being back on stage. Of course, you can always find me on my adult website
www.TheNewBrentCorrigan.com
. I plan on sharing pictures and a different "insider's perspective" of this year's Grabbys weekend on my blog. I am so looking forward to being in Chicago again. The people are some of the sweetest, and the boys are definitely best all around. If you see me out be sure to say hello!
Brent Corrigan co-hosts the Grabbys, Saturday, May 25, 2013 at the Center on Halsted, 3656 N. Halsted. The Grabby Awards are presented by Grab Magazine. Photos by Wayne Styrke
.