A GoPride Interview
Andy Bell
Ring that Bell: an interview with Andy Bell
I love meeting people and I suppose it keeps me in with the kids.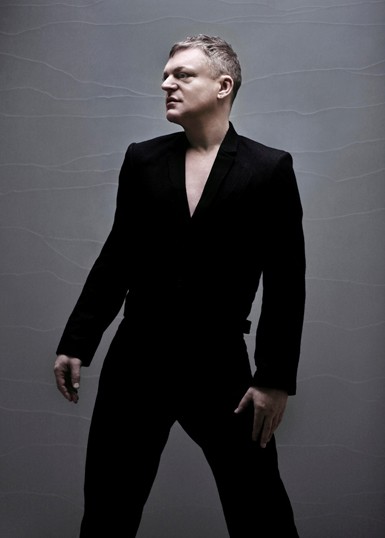 Andy Bell is not one to rest on his laurels. In addition to logging more than a quarter of a century as Erasure's charismatic vocalist, notorious for his dance moves and fondness for costumes ranging from elaborate to skimpy, he found the time to release a couple of solo discs. Bell also made a name for himself on the DJ circuit. Presently busy at work in a London recording studio with longtime Erasure cohort Vince Clarke, Bell is excited to be making his 15th album as one half of electronic music's most longstanding and groundbreaking duos.
Andy was kind enough to take time out of his recording schedule to answer a few questions in May 2013.
(Andy Bell performs on June 7 at Milwaukee PrideFest and on Aug. 11 at Northalsted Market Days.)
GS:
(Gregg Shapiro) Andy, Erasure marked its 25th anniversary a couple of years ago. Looking back at the early days, did you ever imagine that you and Vince [Clarke] would be celebrating such a milestone?
AB:
(Andy Bell) I knew that I was a massive fan of Vince Clarke and it is a massive pleasure to work with him. Every day that we are all here is a blessing! So I never imagined we'd still be here 25 years later because I tend to take each day as it comes.
GS:
Do you have one or two favorite or significant Erasure memories from that whole span of time that you would care to share?
AB:
There are so many and too numerous to mention, but I loved the fact that we were part of the True Colors tour with the amazing Cyndi Lauper. Her voice and personality are phenomenal, and of course the ultra glamorous Miss [Debbie] Harry. Also being part of a South American Tour with David Bowie and No Doubt.
GS:
I'm so glad that you mentioned Cyndi, because I recently read her memoir and she mentions Erasure when she writes about the True Colors tour. Do you have any interest in writing a memoir?
AB:
My only fear is that I'd have to be brutally honest and I don't think I'd like people to know about my warts and all [laughs]. But who knows, perhaps it could be semi-autobiographical [laughs].
GS:
This is probably like asking a parent to pick a favorite child, but out of the more than a dozen Erasure recordings, is there one album that is more meaningful to you than the others?
AB:
Erasure
, the album, and
Chorus
, because they are sonically very beautiful.
GS:
You are currently in London recording the new Erasure disc. How is that process going?
AB:
It's going amazingly. Vince and I are very inspired at the moment. My voice is stronger than ever. Also, it's great to be working with Gareth Jones at the Strongroom, once again.
GS:
What will the title be and how many songs are on the disc?
AB:
Secret title [laughs]. There'll be, in all, about 16 tracks.
GS:
When will the disc be released?
AB:
The run up to Christmas.
GS:
Erasure has a reputation for putting on great live shows. Is there a tour in the works for the new record?
AB:
Not as such, but I have my finger in a few pies, so we'll be popping up here and there [laughs]!
GS:
In the midst of all the ongoing Erasure activities, you found time to release a couple of solo albums. What did you like the best about that experience?
AB:
I think the difference is it's nice sometimes just to work outside of the parameters of Erasure because when we record an album there's generally a tour and heaps of promotion. Your life is pretty much planned out at least for a couple of years.
GS:
You have also gained a reputation as a DJ. What do you like best about DJ-ing?
AB:
I like the randomness of DJing. You never really know what it's going to be like or the crowd. I love getting to play all of my favorite tracks from the '80s up to the present day. Sometimes it goes horribly wrong [laughs] and other times it's spot on.
GS:
You are a performer who has a strong presence on Facebook and Twitter. Please say something about how you utilize social media.
AB:
To be honest, I just like the one on one interaction. In some ways I hope that it doesn't get too big because you kind of lose the personal touch.
GS:
I saw you in March at the South Florida AIDS Walk in Fort Lauderdale. How often do you take part in such an event and how important is it for you to do so?
AB:
Every now and then it's good to do a few Prides and HIV related events. It's good to have a general picture of what's going on at a local level and how people are getting on!
GS:
On the subject of Prides, the last time we spoke you were headlining the Pridefest in Atlanta and on June 7 you are headlining the Milwaukee Pridefest. What do you like about playing Pridefests?
AB:
I think it's a bit of a tradition, to be honest, from London in the '80s through to the present day. I love meeting people and I suppose it keeps me in with the kids. Most of the young ones won't have a clue who I am [laughs]!
GS:
While you are in Milwaukee, will you have time to sample any of the city's delicacies or take in any of the local sites?
AB:
I sure hope so. Cocktails at dusk [laughs]!
Andy Bell of Erasure joins the nation's largest showcase of LGBT entertainment, including Saturday night headliner The Indigo Girls, as well as God-Des & She, Sophie B. Hawkins, ABBA Salute, Big Bad Gina, Bad Romance, the Wisconsin Royalty Drag Show, the Windy City Beauties, Furrlesque, Chicago legends DJ Teri Bristol and Psycho Bitch, and many, many more.

For more information visit www.pridefest.com.
Interviewed by Gregg Shapiro. Gregg Shapiro is both a literary figure and a music and literary critic. As an entertainment journalist, his work appears on ChicagoPride.com and is syndicated nationally.