A GoPride Interview
David Hernandez
Chatting with out and proud 'Idol' David Hernandez, back for Chicago Pride Fest
Thu. June 15, 2017 by ChicagoPride.com
... when I'm in the studio it is like therapy for me.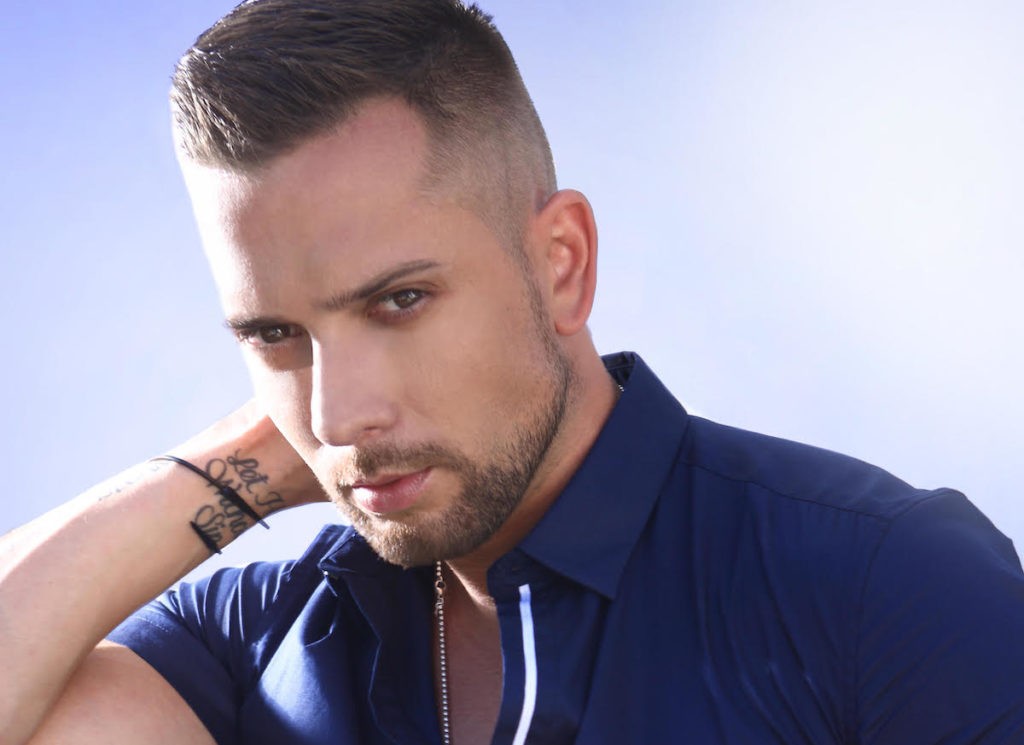 photo credit // adam bouska
Singer-songwriter and American Idol finalist David Hernandez has come a long way from his Idol fame – and infamy.
Hernandez garnered national attention with his powerful voice and affable personality during Season 7 of American Idol in 2008. After performing "It's All Coming Back to Me Now" during the Top 16 week, Paula Abdul said Hernandez has one of the best vocals in the competition.
But Hernandez was the first member of the Top 12 to be eliminated.
Hernandez was revealed to have worked as a male stripper at a gay club, Dick's Cabaret, in Phoenix.
Looking back, Hernandez - now 33 - told ChicagoPride.com the overall Idol experience was "one of the wildest, but best rides of my life ...It gave me a major platform that catapulted my career in a way I never could have imagined."
Here, we catch up with Hernandez before he returns to the Windy City for a performance at Chicago Pride Fest on Saturday, June 17.
CP: (ChicagoPride.com) Tell us briefly about yourself.
DH: (David Hernandez) I was born and raised in Phoenix to a single mother, who had me when she just turned 17. I started singing at 7-years-old and then went on to my first record deal at 20-years-old with Universal Records.
Growing up in a Mexican-American household taught me a lot about the importance of family, but the arts weren't really what "men" tended to do. So for that reason, I took a big departure from music. I'm glad it's back in my life though. I don't know what I would do without it.
CP: So at 24-years-old, you made it to the Top 12 on American Idol. What was that like?
DH: That experience was surreal. I grew up on Paula Abdul so to have her comment on something I had worked so hard on, in positive way, was reaffirming that I was on the right path.
CP: Then you were ousted from the show.
DH: Well that was almost 10 years ago, so I think the cultural climate was different. Being gay and a stripper, I had a couple obstacles to overcome. Now times have changed.
CP: I imagine it was a difficult experience.
DH: It was incredibly difficult. I was all over the news for the wrong reasons. I came there to sing and then all of a sudden all that was attached to my name was stripper. So for someone who came from nothing and then to be thrust into the spotlight, of course it was hard for me. But, my family supported me 100 percent and that's how I got through it.
CP: Last year, you came out publicly as gay with the release of your emotional song, "Beautiful." Can you share more about that process?
DH: I came out professionally because I have fans of all different sexual orientations that I felt needed to hear my story… to know they are beautiful and deserving of all life has to offer them.  I felt like it was my responsibility to speak out and let people know if I can do it, they can too.
CP: Are you seeing anyone?
DH: I recently went through a pretty tough break up. I am currently dating, but I'm taking things slow and getting back to being myself again. I'm far more cautious.
CP: Where are you living?
DH: Los Angeles
CP: And the music career, what is one of your major highlights?
DH: I'm currently finishing a project with Mikal Blue (Jason Mraz, One Republic) and shopping a new deal in the next month.
CP: What can we expect from you in the near future?
DH: A hit record! [laughs]  Honestly, just a good body of work that I can be proud of, and maybe a feature film or TV series.
CP: You're slated to perform Chicago Pride Fest. What can fans expect?
DH: A high energy show with some originals and, of course, songs they already know. It's gonna be a lot of fun, so have a couple of drinks and enjoy the ride.
CP: And this isn't your first time performing in Boystown. Do you have any favorite places or memories?
DH: I love Chi town! It literally is one of my favorite cities in the world. I did Market Days a couple of years ago with Salt N' Pepa and Thea Austin. That was pretty awesome.
CP: Do you get a special feeling performing at pride festivals?
DH: I do. There is just a great sense of community and love from all walks of life. It's pretty amazing.
CP: Now a quick round of questions to get to know you more about you. Other than singing, what are some things you really enjoy?
DH: I love songwriting. I write all of my own music and when I'm in the studio it is like therapy for me. I also love to workout and hike… it clears the mind.
CP: What's the most exotic place you've ever visited?
DH: Gosh, I've been so lucky to have been to so many different places in my career and life. I love Honduras and Belize.
CP: What was your favorite subject in high school?
DH: English, which is why I'm pretty good and cutting with my words. [laughs]
CP: Boxers, briefs or commando?
DH: I slept commando last night [laughs], but normally briefs. And, if I'm feeling real 'bro', I'll throw on some boxes. [laughs]
David Hernandez performs the North Stage at 7:30 p.m. on Saturday, June 17. The annual Chicago Pride Fest takes place on June 17-18, one weekend before the annual Pride Parade. It runs from 11 a.m. to 10 p.m. down North Halsted Street from Addison to Grace. A $10 suggested donation is requested at the entrance.
Interviewed by ChicagoPride.com