A GoPride Interview
Miguel Gutierrez
Brooklyn-based dance artist Miguel Gutierrez makes his Chicago debut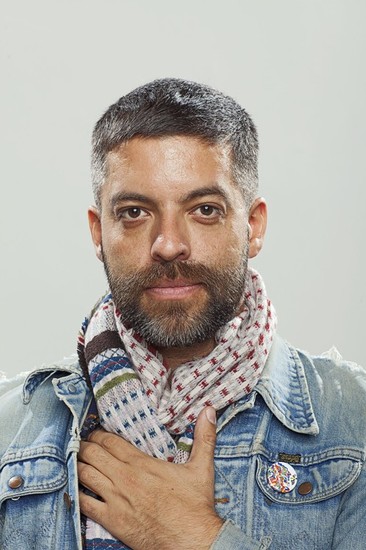 photo credit // gene pittman, courtesy walker art center
Brooklyn-based dance artist Miguel Gutierrez is making his Chicago debut this week at the Museum of Contemporary Art with a spiritual show that promises to be unforgettable.
The piece is inspired by ghosts, the study of consciousness and California with roots based on neurological problems his father has had and the film The Perfect Human, which depicts a man and woman moving and dancing in an empty white room. Gutierrez is joined by six different artists onstage to convey this vision to a small audience of 125 people, seated on stage.
Entitled IN>TIME, Gutierrez brings this show to life while traveling all over the country. Jerry Nunn caught up with Gutierrez and learned more about the openly gay performer and his intimate performance piece.
JN:
(Jerry Nunn) Hi, Miguel. You are a New Yorker?
MG:
(Miguel Gutierrez) I was born in New York and raised there and also Jersey.
JN:
What is your family's ethnic background?
MG:
They are from Colombia, South America.
JN:
Do you go to Colombia very often?
MG:
No, I did when I was a kid. I was there over a year ago to perform but it hasn't been a regular visiting place for me as an adult.
JN:
What is your dance background?
MG:
I started dancing when I was nine years old. I went to one of those all-in-one dance schools with jazz, ballet, and tap taught there. I took ballet and gymnastics. I went to the New Jersey School of Ballet for a while through my teens. When I was nineteen that was my first experience with contemporary dance. I went back to school, transferred schools, dropped out of school and started dancing professionally in California. I had a hodgepodge experience with my dance training.
JN:
Where did the title of the show originate?
MG:
The title is from the last line in the "to be or not to be" soliloquy in Shakespeare's Hamlet. K.J. Holmes, who is in the show, I had seen perform that soliloquy a couple of years ago. I went back and read it. It had everything to do with what I was thinking and my work at the time.
JN:
Tell our readers how the show came about.
MG:
The show itself came out of many years of research around. It is about structures of the mind and body. It is an extension of prior work. It is from my father who has had neurological problems for the last few years.
JN:
So the audience sits directly on the stage?
MG:
Yes, the show is all around them.
JN:
Is there use of different mediums?
MG:
There is use of recorded sounds that were originally recorded for the piece. Lighting is a huge part of the piece. The ethereal lighting is by Lenore Doxsee, and the music is by Neal Medlyn. The film and dialogue is by Boru O'Brien O'Connell.
JN:
Have you been to Chicago many times?
MG:
We were there to do a residency for the piece in August at MCA. We were in the space to do tech, work with the lights and video.
I have performed in Chicago at a small space back in 2010. Before that I was there in 2002 for the Joffrey Ballet.
JN:
Where does the show go after this run in Chicago?
MG:
We travel to Seattle in May. We go to Portland for a festival in September. Then we will see after that. We already have a couple of things coming down the pike.
Look for an intimate performance by Miguel Gutierrez and the Powerful People on January 31, February 2 and 3. The MCA is located at 220 E Chicago Avenue with tickets to the show available by calling 312-280-2660 or online at mcachicago.org. (Keep in mind there is some nudity and no late seating is allowed for these performances as requested by the artist.)
Interviewed by Jerry Nunn. Jerry Nunn is a contributing writer to the GoPride Network. His work is also featured in Windy City Times, Nightspots Magazine and syndicated nationally. Follow @jerrynunn