A GoPride Interview
Claud
Singer Claud creates "A Good Thing" with actor Paul Rudd
Receiving a package from Paul Rudd is my breakout role!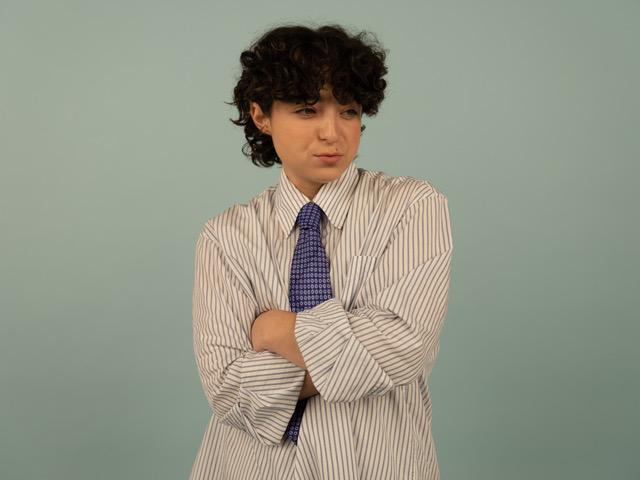 photo credit // the oriel
Claud returned to their roots in Chicago
If you haven't caught on to Claud yet then head over to claud.online to catch up. On the eye-popping website, you will find fresh new music to enjoy, hip merchandise and information on upcoming tour dates.
Much of Claud's music will resonate with the LGBTQ+ population thanks to a firsthand experience from the non-binary artist. They/them pronouns should be used when addressing this talented, queer musician who has made two albums so far with more singles on the horizon.
This singer/ songwriter has crafted unforgettable tunes such as "Wish You Were Gay" and "Paul Rudd." The world-famous actor even agreed to star in their video for "A Good Thing" in support of their art.
Claud's latest effort Supermodels brings them out on the road with a second stop in Chicago's Thalia Hall. They took a break from soundcheck to chat a bit about the tour and much more.
JN: (Jerry Nunn) Hi, Claud. Welcome back to Chicago!
C: (Claud) Thank you. I appreciate that.
JN: Were you born here?
C: Yes, I was born at Rush Hospital and I grew up in Highland Park.
JN: How long did you live here and when did you move away?
C: I lived here for my whole life. My family still lives here. I went to Syracuse University my freshman year of college and I was there for a year, then I moved to New York.
JN: How has New York been for you?
C: It has been great. I like it a lot and it is very creatively fulfilling. It reminds me a lot of Chicago, which is nice. It is very stimulating…
JN: Have you seen many Broadway musicals?
C: Yes, I saw A Strange Loop last year and the most recent musical I have seen. I have seen all the classics too.
JN: Did you always want to perform music?
C: I started when I was 14 years old. Since then it has been what I wanted to do.
JN: How did you begin a journey with Phoebe Bridgers?
C: She reached out to me in 2019 before the pandemic. She came to my first headline show at Schubas. I didn't know her at all. I was just getting to know her. She reached out because she was starting a record label called Saddest Factor Records and was a fan of my music. I was a huge fan of her music, but that was a coincidence.
I signed to her label and have toured with her a few times. I have put out two albums now thanks to all of that.
JN: Schubas Tavern is such a fun spot to discover new music.
C: I love that place! Phoebe wore a suit to that show.
JN: Oh, to be a record executive?
C: Yes, it was sick.
JN: Look how Phoebe has grown into an artist playing Pitchfork Music Festival and everything.
C: She is huge!
JN: You have supported major acts like Bleachers and Paramore in the past.
C: Yes. I dropped out of school because I had tours lined up with The Marias and girl in red.
JN: I love girl in red.
C: She is amazing and it was her first tour. We had been Internet friends for a while before that. I joined her on tour in Europe and we played Baby's All Right in New York. There were many small venues in New York and LA that we played together back then.
JN: Finally LGBTQ+ artists like you and girl in red are coming out all over the place. Everyone is teaming up these days.
C: We are all doing so well and it is awesome!
JN: You must hear from LGBTQ+ fans all the time.
C: Yes. I always dreamt that every gay person knows each other in Chicago and New York, but it is true in world of music. We all know each other and are able to build each other up. It has been a very supportive music community and this feels like a win for everybody. To see boygenius do incredible work is another win for us all.
JN: Was it a long process to make your second album Supermodels?
C: It took two years from start to finish. It was a lot of writing and the actual recording time was about the same.
JN: It is out on vinyl for people as well, which is exciting. How did making a video with actor Paul Rudd come about?
C: Phoebe was opening for Taylor Swift and I love them both, so I went to the concert. After the show, I went to say goodbye to Phoebe and she was in an area where all of Taylor's guests were. Paul was there at this particular show.
There's a song on my album titled "Paul Rudd." It is called that because it is about me wanting to be like him.
JN: Who wouldn't like to be like Paul Rudd? [laughs]
C: Exactly. Phoebe told me it was my chance to tell him about it. She doesn't know him at all but went up to introduce us. I said, "Hi, I'm Claud and your biggest fan. There's a song on my album called "Paul Rudd" and it is about how I love you!" That is not really what the song is about but he thought it was cool. He asked for me to send him my album and he gave me his email. I sent it to him and he loved it.
I told him I was making a music video for "A Good Thing" and he offered to be in it. He did it and I still can't believe it happened.
JN: I met him before and he's really nice. Have you watched Only Murders in the Building?
C: I have, but have not seen this season so far. I need to catch up. I heard he is in it though.
JN: No spoilers. How was it working with Paul in the video?
C: He is so funny. We improvised a whole scene in the beginning, which I did not tell him we were going to do. I only told him he would dress up as a mailman and deliver a package to me.
I did not tell him that he would be clipped to a microphone and we would make up a whole scene. I was so chill about it and offered to do whatever as long as I wanted him to stay. It was really nice
JN: Your comment in the video about mail tampering being illegal was very clever. You should have a whole acting career!
C: I would love to be an actor but being a musician has been my first role and playing myself. Receiving a package from Paul Rudd is my breakout role!
JN: Did you knit that yarn top that you wear in the video for "A Good Thing?"
C: We commissioned it from a woman who designed the sweater to unravel.
JN: Did you think about him starring in another video for your song "Paul Rudd?"
C: I did, but he's a little busy right now…
JN: Of course he is. Talk about your track "It's Not About You."
C: I started writing it when I was making major life decisions and changing a lot. I was growing apart from certain friends and feeling guilty about that.
The verses are very specific but the overall theme is reflective. It refers to me being younger and coming out. People try to make it about them and ask why I didn't tell them sooner.
JN: I am familiar with that! We don't tell people about our identity for a lot of reasons. When Gigi Gorgeous came out her dad said that we continually come out all the time about things and was very supportive.
C: That's an amazing thing to say.
JN: How did the song "Cheesin'" come together? Queer singer Remi Wolf is another artist I met at Lollapalooza.
C: Everyone on that song is awesome. Cautious Clay put together that song. He lives in New York, not too far from me. We know each other from the whole local music scene.
The song feels old now, but it was only 2020. We made it before the pandemic hit, but when it did we used the song to raise funds for MusiCares and it raised a ton of money!
JN: How is this tour going so far?
C: Good. This is the second show and the first one was in Milwaukee last night. I had never played there before and I had a good time. I have several cousins who live there.
JN: Do you meet fans after your concerts?
C: I used to, but because COVID is still going around I am not comfortable yet.
JN: That is understandable to stay healthy while on tour. What are your plans after the tour?
C: The tour is until October 20, 2023, and then I will work on new music. I am trying to find that perfect post-album single that I can feel proud of. After Super Monster there was "Tommy" which I released in 2021 and I love it.
JN: Tell this Jerry about "Tommy!"
C: That is so cute, the Tom and Jerry cartoon! "Tommy" is about me comparing myself to a guy that a person I liked was sleeping with. I was wishing I was like him because I wanted that person to like me. It is a sad song.
JN: Playing off your song title, what do you have a "Soft Spot" for lately?
C: Mozzarella sticks! I thought I was lactose intolerant but I have decided I am not anymore.
JN: Have you tried a food sensitivity test before?
C: No, but I don't want to know the truth because I love dairy!
Interviewed by Jerry Nunn. Jerry Nunn is a contributing writer to the GoPride Network. His work is also featured in Windy City Times, Nightspots Magazine and syndicated nationally. Follow @jerrynunn