Chicago Pride Fest 2017 returns this weekend to Boystown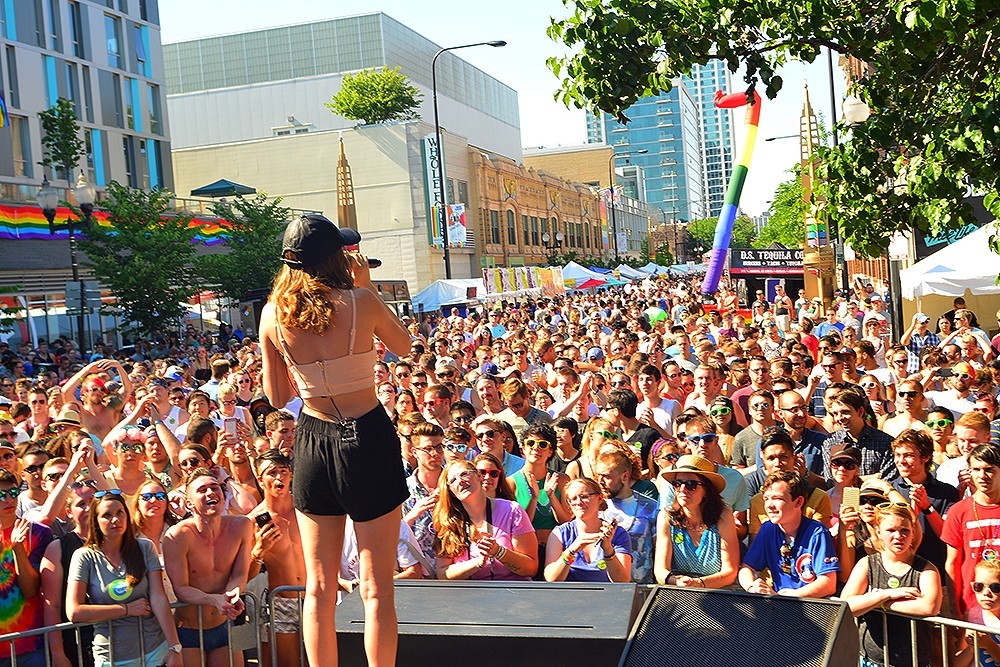 photo credit // eamonn sexton
Chicago Pride Fest entertainment schedule, June 17 and 18
Chicago Pride Fest returns to Boystown Sat., June 17 and Sun., June 18, for another weekend filled with sun, fun, entertainment and plenty of pride.
Music stars Taylor Dayne, Thelma Houston and Kristine W. are among the entertainment line-up, featuring a mix of national acts, local talent and a new Pride Pageant, making for 2 full days of non-stop entertainment in Boystown this June.
Pride Fest kicks off on Saturday with Taylor Dayne, Vassy, David Hernandez, Thelma Houston,
Chicago Gay Men's Chorus
, Catfight, One Night Band, Girl Power Band, Boy Band Review.
On Sunday, performers include Carlito Olivero, Symon, Kristine W., To the 9s, Rod Tuffcurls, Abba Salute and 16 Candles.
For the first time in the festival's 13-year history, organizers will debut the Pride Pageant a spectacular stage show on Sunday featuring contestants vying for Pride's top prize.
Another fun-filled highlight of Chicago Pride Fest is the annual Pet Pride Parade, which starts at 12:30 p.m. on Sunday.
The festival, scheduled the weekend prior to the annual Chicago Pride Parade, brings together tens of thousands of LGBT supporters annually. It runs from 11 a.m. to 10 p.m. down North Halsted Street from Addison to Grace. Organizers suggest a $10 donation upon entering.
The 2017 Chicago Pride Parade, which now brings more than a million visitors to the Uptown and Lakeview neighborhoods of Chicago, is slated for Sunday, June 25 starting at noon.
Chicago Pride Fest is organized by the
Northalsted Business Alliance
(NBA), the organization behind Northalsted Market Days, Frost Fest and the Halloween Parade.
Full schedule of entertainment:Saturday, June 17
North Stage
12:30 p.m.: Drag Show
2:30 p.m.: Thelma Houston
3:30 p.m.: Drag Show
5:30 p.m.: Vassy
6 p.m.: Drag Show
7:30 p.m.: David Hernandez
8:30 p.m.: Taylor Dayne
South Stage
1 p.m.: Gay Men's Chorus
2 p.m.: Catfight
4 p.m.: One Night Band
6 p.m.: Girl Power Band
8 p.m.: Boy Band Review
Sunday, June 18
North Stage
Noon: Pet Parade
12:30 p.m.: Drag Show
2:30 p.m.: Carlito Olivero
3:30 p.m.: Drag Show
5:30 p.m.: Well-Strung
6:30 p.m.: Pride Talent Show
8 p.m.: Symon
8:30 p.m.: Kristine W.
South Stage
1 p.m.: Pet Parade
1:30p.m.: 2 the 9s
3:30 p.m.: Rod Tuffcurls & The Bench Press
6 p.m.: ABBA Salute
7:30 p.m.: 16 Candles