A GoPride Interview
Justin Jedlica
Fantastic Plastic With The Human Ken Doll
I like being an artist and wearing my canvas all the time.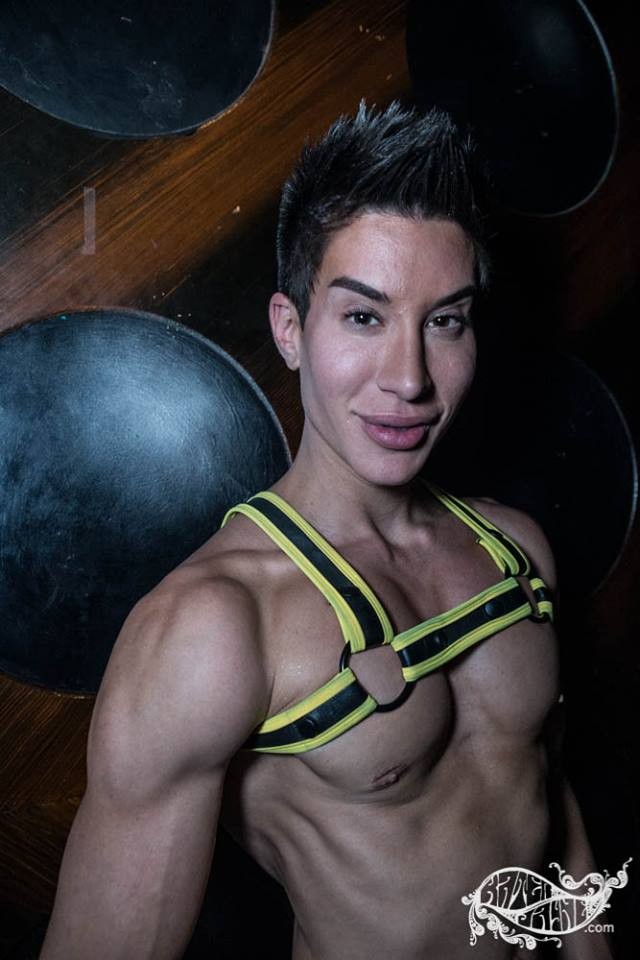 Justin Jedlica talks surgery and Berlin Nightclub
Justin Jedlica or better known as The Human Ken Doll is hosting a plastic party and everyone is invited. Having over one hundred surgeries has not only altered his look but made him an expert in the field of cosmetic surgery. He now consults other cosmetic fans on the services.
The New Yorker turned Chicagoan now lives in the Trump Tower and Nunn spoke with him about his upcoming projects.
JN: (Jerry Nunn) Hi, Justin. You are still in Chicago I see.
JJ: (Justin Jedlica) Yes, I don't know how much longer I will stay. I am trying to get out to LA and film my own reality show. I work in the consulting business. Basically I do a plastic surgery consultation and offer recommendations for surgeons that I deem as specialists in the field. The client pays me money and I hook them up with nursing services or an after care facility. I do a lot of custom designs for muscle augmentation.
JN: This sounds very unique.
JJ: I am kind of my own guinea pig. One client asked for deltoid implants and mine were custom designed for me so I help the surgeon with it. It all goes in tandem together. It is fun for me. I enjoy it and I am always studying it. It makes me stay abreast of the new doctors and new procedures that they come up with.
JN: Any new surgeries coming up?
JJ: I just had latissimus implants on my back. I double stacked more implants on top of that. I had three surgeries but I will have one more to get it right. They are massive. I am downsizing my latissimus as part of my next procedure. It will be a pain because they have to cut them out in pieces. They are just so big.
JN: How is the recovery time on something like that?
JJ: For the initial surgery about two weeks. I combined surgeries so I looked pretty beat up but we have a big recovery house in LA, friends flew out, my husband was there so it is not that bad if you have a good support group around you to keep you positive. If you have people to offset your focus it is harder to sit their in anguish. Other people keep you busy and keep your mind off of it.
I have had two other tweaks on my back so they have been minor. Right now I am healed and will go back for this reduction. I like being overdone but to an extent!
JN: Do you ever worry about going under the knife?
JJ: No, not really. I think when I was younger the anxiety came from how much money it would cost me. I was fairly poor when I was young. We lived on a dirt road with six of us and one bathroom.
Once I got married and had money when I older I was committed to the process and didn't mind the surgeries. I like being an artist and wearing my canvas all the time.
The biggest thing is not the surgery but the anesthesia. The worst would be that you don't wake up. I would be sleeping doing what I love!
I am very careful with the surgeries. The majority I do under twilight anesthesia as opposed to general. My surgeons have been the best of the best especially in the last six years.
JN: How was being on the TV show Botched?
JJ: It was cool. I think everyone has seen season one. I am going to be a guest soon to come on season two. It is shot and in the can.
For the first season they came to me and described it as a "plastic surgery makeover show." It sounded so nice and was only a four day shoot. The doctors seemed a little skittish in my house. Some of it was pre set up. I was the token plastic surgery junkie on there. They always have one of them and they always turn one down. They do it for ratings.
After they did the botched reunion me and Lacey Wildd have become best friends. We talk all the time. It is funny how you bond with people that have similar interests.
JN: What is a common misconception about you?
JJ: One thing people are a bit jarred about me is they think I am really unhappy to spend that much time and money on surgeries when I looked fine before. What they don't understand is I feel I looked more than fine before. I was blessed with amazing genes. I don't work out or eat well. My family has always been tall and lean. My first nose job was different. That was something I always hated about myself. I discovered there was a medium that I could mold and sculpt with. It worked it's way into a being a hobby of mine.
JN: How was the last plastic party at Berlin for you?
JJ: I was their special guest for Plastic Factory's opening. Jo Control heads everything up and gets all the talent together. He put on a great night for everybody. I moved here from New York City and to be honest I feel this city is a bit dry. In Boystown there is still a lack of entertainment value for me. It drives me nuts. I feel a bit creatively stifled here. When Jo came with this idea to do a club kid night at Berlin I thought it was fun. I was thrilled to sign off on it and support him. I am happy to throw something out there that is edgy for the community. I feel a little bit shunned on for embracing people who choose to put themselves out in a non conformist way. So it was breathe of fresh air for me to see people come out in costume. Although it doesn't center plastic surgery you get the idea that you can mold and project yourself in whomever you want to be that night. The creative outlet was something that I thought was very different and fun.
JN: I love Berlin because it is a safe space for people that are different. I always feel comfortable there.
JJ: Jo even did light boxes for people to take pictures in. Everyone was wearing latex and I came out in my rubber outfit from IML last year.
JN: I remember you in that outfit!
JJ: I will be going again to this IML but I am not sure what I am wearing this time. I have been given three citations here at the Trump lobby just for my costumes. I get it that people are conservative here and have money but I'm not sure how to get my friends in and out. If I get a fourth citation they begin at $4,000 and they only go up from there. The resolution is that now I am given robes for me and my guests to wear when exiting and entering. I just call them up and they bring them out to my car. I am sure if Lady Gaga wore an outlandish costume down there they wouldn't have a problem with it.
JN: Thanks for coming to my birthday party a couple of years ago by the way.
JJ: I had fun. It was awesome!
Drop into the Plastic Factory at Berlin Nightclub, 954 W. Belmont, on Thursday May 21 to see Jedlica and the gang. More details can be found at berlinchicago.com.
Visit justinjedlica.com for further information on Justin's adventures.
Interviewed by Jerry Nunn. Jerry Nunn is a contributing writer to the GoPride Network. His work is also featured in Windy City Times, Nightspots Magazine and syndicated nationally. Follow @jerrynunn