A GoPride Interview
John Ambrosino
Les Miserables' John Ambrosino talks Trevor Project Musical, Musical Mondays and #FlyTheW
Fly the W in everything you do in life, even before it happens!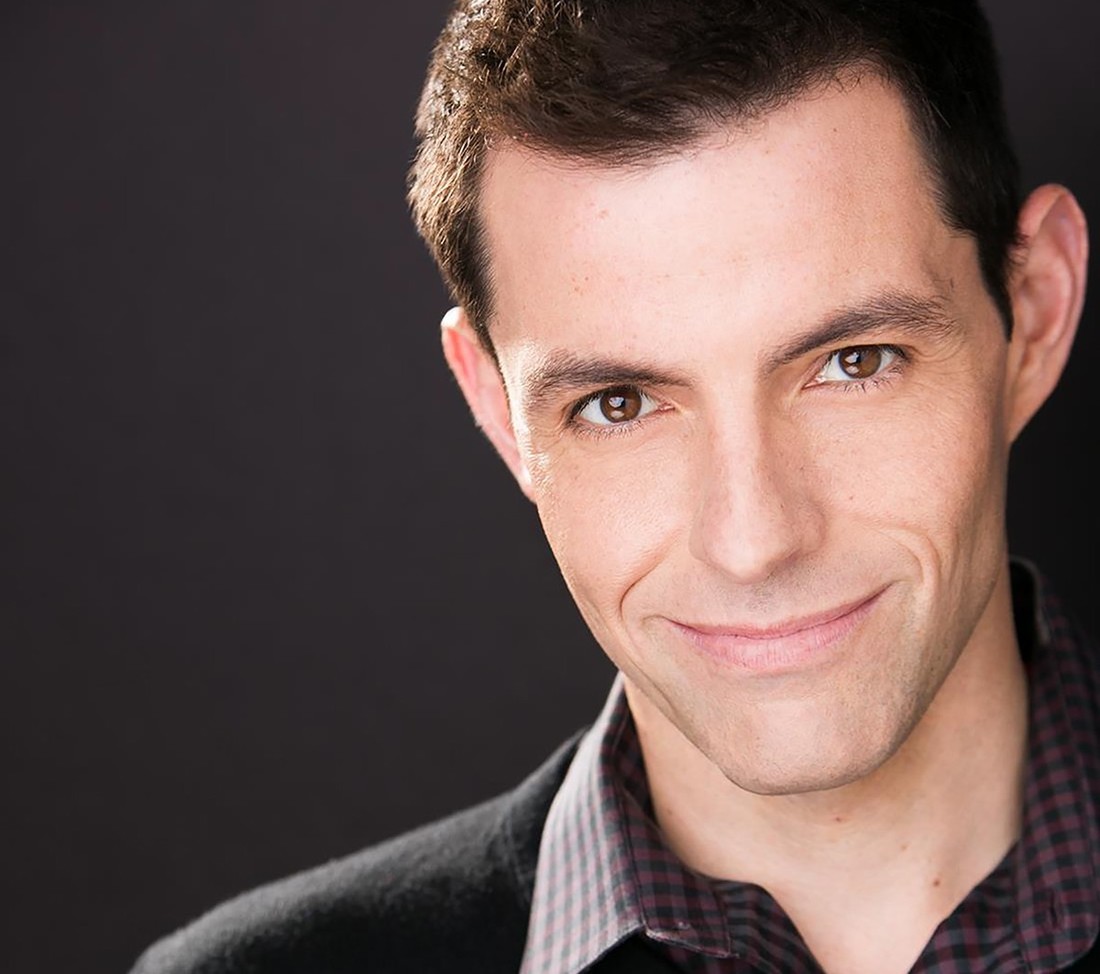 photo credit // broadway in chicago
Cameron Mackintosh presents a new production of Alain Boublil and Claude-Michel Schönberg's Tony Award-winning LES MISÉRABLES is playing at Broadway In Chicago's Cadillac Palace Theatre (151 W. Randolph) for a limited three-week engagement Oct. 11 through Oct. 29, 2017.
Set against the backdrop of 19th-century France, LES MISÉRABLES tells an enthralling story of broken dreams and unrequited love, passion, sacrifice and redemption – a timeless testament to the survival of the human spirit. Seen by more than 70 million people in 44 countries and in 22 languages around the globe, LES MISÉRABLES is still breaking box office records in its 32nd year. 
John Ambrosino, who plays Bamatabois and is in the cast ensemble, took a moment to share his story and talk about Les Miserables. Ambrosino also produced "Trevor, the Musical" - the musical based on the film that launched The Trevor Project - which recently played in the Chicago area this September,
MI: Hi John! Congratulations on the role and the amazing success of the national tour. I saw the production and it was absolutely amazing!
JA: Oh great! Well we are very lucky to do Les Mis every night! If you are in the musical theatre, it is kind of a big bucket list cross off and just a joy-and-a-half to be able to sing the score.
MI: I'm apologizing up front since I've lost a little but of my voice this week. Between fun times at the Cubs game and singing all night Monday at this one place where ...
JA: ...Yes, Sidetrack, the most amazing Musical Monday you can find in the entire country!
MI: That's it! Were you there?
JA: I was not there this past Monday, but I have been!
MI: Anyway that is how I ended up voiceless - belting out every song.
JA: Well that's a good reason to lose your voice.
MI: So John, tell us about the production. Other than it being Les Miserables, what's the fresh take on the musical that will get people excited to see the show while it's here in Chicago?
JA: Well you know this version of the show was actually done as a revival recently on Broadway. It is a completely new production in that it is staged completely differently from the original 1986 version, so that is all new and exciting.
And the scenic design is all new and exciting. We do a big group of projection design in this show that was not done in the original. Actually we didn't even really use that much of a projection back in the late '80's in the theatre, so this is kind of new and a fresh look in that way, and what really makes, I think, this production so exciting and so vibrant is the cast. 
It's been 30 years since the original show was done and many of these cast members that are giving it their all every night and going out there with all this energy - they were babies - if not even born then. So what they bring on stage every night is a completely different set of eyes to this remarkable score and this remarkable story. So it really is an interesting look at the show because of that - just because of the performers on the stage.
MI: Yeah, and you can definitely see and feel that in the performance. When I saw the show, it was just amazing! You mentioned the digital projection and that was just like magic! Between the performers and the projection, I don't know how you guys did al that! It was just amazing.
JA: Well I'm glad you loved that. That is the technical wizardry of our scenic designer and our projection designer and also our wonderful directors Laurence and James. They've done such an amazing job.
MI: Tell us about your roles in the production.
JA: I am in the ensemble so I do a bunch of different, smaller characters. Probably the one most vivid being Bamatabois, who is this kind of sexually ambiguous masochist who shows up right as Fantine is at her lowest - and really is kind of a predator and beats on her at her lowest moment. It's his evil interaction with her that prompts Valjean to reconnect with her and realize he may have looked aside at some point and missed this lovely human being just in the world. And when he decides that he is going to take care of her through her death from consumption. 
So Bamatabois is kind of my featured ensemble role and something I relish doing every night. It is always awesome to go out and play a gay character or a questioning sexuality character in a show if you have the chance to do it. There are not many opportunities to do that. I have only played a gay man in my entire career once before this so as a gay man that is kind of exciting. 
I also play one of the students after that in the ABC Café and follows Enjolras to the barricade. I am the drunk in the "Master of the House" which is kind of a physical comedy, silent character that has a trajectory throughout "Master of the House" which is exciting and fun and thrilling. And at the very end of show I get to play the gay guest at the wedding which I also very much enjoy.
MI: So you start out by playing a sadistic bully basically. What's it like playing a villain in one of the most beloved musicals of all time?
JA: First of all, just doing the show is an amazing joy. I really, honestly love playing this character. 
Playing a villain - you are supposed to make the audience hate you. That is against a lot of instincts of an actor to try and get an audience to dislike you so that is kind of an interesting challenge every night. Being able to go out and kind of enjoy being a predator is exciting in a way because it is so opposite of what most humans would ever do. 
So you have to kind of find the joy, or at least I think this character in specific, has a very vivid joy of what he is doing to this woman or to women in general. I'm sure he does it not only to women but to anyone who is of lower status than he is, so I find it kind of a thrill to find that character on the stage every night and try to find a joy that will make everyone hate me.
MI: Well you were very successful, we all hated you after that scene!
JA: Oh good, I'm so glad, so glad!
MI: John, tell us about your story. How did you get involved in theatre and acting?
JA: So I majored in theatre in college and my concentration was directing. I left school intending to be a director; I started a theatre company in Boston right after I graduated from school and I ran that theatre company for 6 years producing plays in musicals in Boston and then I was hired by the Wayne Center, which is this huge nonprofit theatre to help run the artistic programming department.
At that point in my career, I was around 27. I decided I wanted to go back and try acting again. So I went from there and tried acting. I hadn't done any acting since college and I started auditioning for shows and had some success at it and did some national tours.
I ended up doing Jersey Boys for two years in Vegas and brought my career through that and here I am in Chicago in a show that I used to lip sync in my bedroom when I was 12. So that is kind of how I ended up here.
MI: Over the course of our conversation you have mentioned a few of your previous roles. What's been your favorite role to date?
JA: Oh, that's so difficult to say, because they are all so different and you enjoy them in the moment. Like now my favorite role to play is Bamatabois, which I love doing, but I think one of my biggest challenges and great rewards for me was playing Bobby in "Company". I loved doing that and any chance I get and I think most actors would say this, to sing a Sondheim score and act a Sondheim musical is specifically special so that was a special moment for me. But right now I'm thrilled to go beat up Fantine every night. Seriously, I'm not kidding, I really love it!
MI: Poor Fantine.
JA: I know!
MI: Who are some of your acting and performance influences over the years? Who inspired you to get into theatre?
JA: Well a lot of inspiration to get into theatre was people who were around me in my life - not specifically actors or directors. Interestingly enough, when I was a kid, I didn't know if I was going to be a director or producer and I asked for my birthday - back when magazines were a thing -  I asked my parents to buy me a subscription to "Theatre Weekly" and I used to read everything that was going on in the theatre industry.
Someone who did inspire me in terms of theatre production was Cameron Macintosh and I did get a chance to meet him at our opening which was thrilling in and of itself. So from a producing/directorial angle, definitely Cameron Macintosh, definitely Andrew Lloyd Webber, people in the '80's when I was growing up who were titans in the industry. 
But, as far as from an acting perspective, someone who I relish and would  just die for was Elaine Stritch. I literally loved her as a performer and as a character. I had the opportunity to meet her a number of times. To me, there is something about her raspy, her honesty, her realness of everything that she brought to her characters that I absolutely adored and loved. 
MI: Given the chance, is there a dream role in any play or musical that you would love to portray?
JA: Yeah. If I had the chance I would literally die to be in "Kiss Of The Spider Woman" and play Molina. I love that character. I love that gay character and window dresser in "Kiss of the Spider Woman". That show rarely ever gets done, but that is a number one.
And the other would be the emcee in "Cabaret".
MI: Kind of changing course a little bit - so we have established you have been in Chicago before. Any favorite restaurants, hangouts or places in the city?
JA: That is so interesting. I produced a show this past summer at the Writer's Theatre in Glencoe so I spent all summer in Glencoe.  This is my first time back to downtown Chicago in quite some time. 
This show is 3 hours long, so when we get out the restaurants around the theatre are all closed. 
There is this donut shop called Glazed ["Glazed and Infused"] and I go there every Saturday to get donuts because they are amazing! So I will say I am in the Glazed every Saturday. Maybe we shouldn't print that because I am afraid people will judge my eating habits! [laughs]
And where did I get unbelievable deep dish pizza the other day? Mmm, mmm, mmm…it was recommended to me by one of my dressers. It was…
MI: Was it right there off of Michigan Avenue?
JA: It is right over there. There is more than one of them. I think it's someone's name.
MI: There's Gino's, Girodano's, Lou Malnati's…
JA: Yes, it was Lou Malnati's! We got Lou Malnati's in between shows and I died every minute.
MI: Yes, it is amazing pizza.
JA: Again, let's discuss what I'm telling you to eat - donuts and pizza. So I guess that is indicative of who I am.
MI: There's absolutely nothing wrong with that!
So are there any charities or causes that are close to your heart?
JA: I would say The Trevor Project is one of my biggest charities and causes. I just produced the musical based on the film that launched The Trevor Project, "Trevor, the Musical", that was just in Glencoe. That has always been a charity and a cause that has been near and dear to me. 
I didn't actually use the service that The Trevor Project provides, which is a 24 hour LGBT suicide prevention hotline, but I know how important it is and how necessary it is. The people who work there and how they are able to connect with young people who feel desperate or who feel they don't have a support system where they are, and lifts them out of that is remarkable to me and something that I will always support. So the Trevor Project is definitely my number one charity cause.
MI: Finally, is there anything you would love to share with our readers?
JA: Oh God, I don't know, I don't know if anyone wants to hear anything from John Ambrosino's point of view. I'm sure your readers are smarter than I.
MI: Well, the donuts and pizza recommendations are important!
JA: I know, your readers are going to go flip like, "I can't eat that!" I'm not that strong willed, I can't pull it off. 
I guess I would say, "Go Cubs!" God bless you all, I'm from Boston, so I'm a Red Sox fan, but I am very excited for you. I will fly the 'W'. Let's get it done.  Actually, I love "Fly the W", I don't even know where that comes from. I assume people fly a "win" flag when you win? Is that true?
MI: Yes...
JA: I think you guys also fly the 'W' before you win. Is that true? Because it is all around. There are W's everywhere. 
MI: We have some pretty die-hard fans around!
JA: I love that. I love that there is a "Win" flag. I think that is awesome.
I say fly the "W" in everything you do in life, even before it happens.
MI: That's great advice, John. And this was such a fun interview - thank you so much for taking the time to chat!
JA: You're so welcome. Thanks for having me!
Tickets for LES MISÉRABLES at the Cadillac Palace Theatre range from  $55 - $180. Tickets are available at all Broadway In Chicago Box Offices (24 W. Randolph St., 151 W. Randolph St., 18 W. Monroe St. and 175 E. Chestnut), the Broadway In Chicago Ticket Line at (800) 775-2000 and online at www.BroadwayInChicago.com.  For more information, visit www.BroadwayInChicago.com.
Interviewed by Matt Inawat. Ron Matthew Inawat is president of the GoPride Network and contributes to ChicagoPride.com, PrideLA.com and other sites within the GoPride Network. Follow @cpmatthew