A GoPride Interview
Jamie Lambert
Collabromance: an interview with Jamie Lambert of vocal group Collabro
Collabro are really big LGBT supporters. We absolutely love the LGBT community. Musical theater, you know [laughs].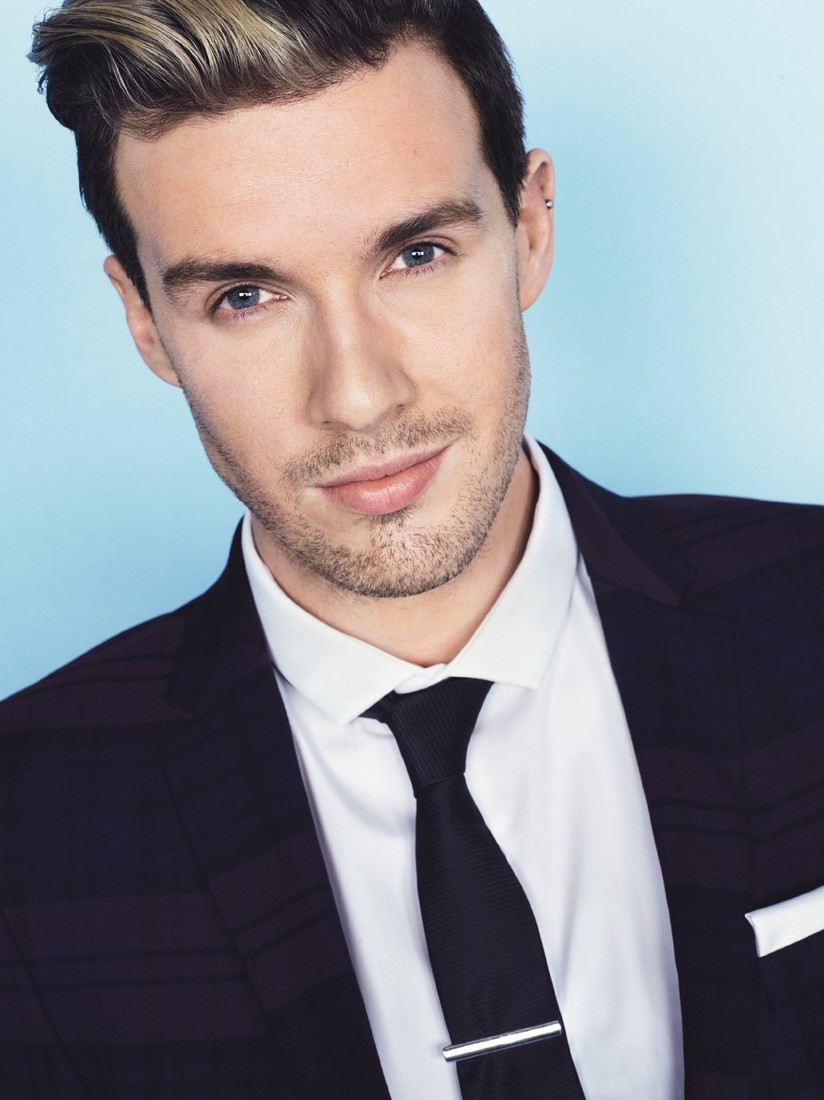 jamie lambert from the group, collabro
Jamie Lambert tells the story of Collabro
Winners of the eighth season of TV talent show Britain's Got Talent in 2014, musical theater-oriented male vocal quintet Collabro released its second full-length album, the aptly named Act Two (Portrait/SYCO) in 2015. The album opens with Collabro's distinctive treatment of pop tunes by Kodaline and Jason Mraz before moving into more theatrical territory with songs from Les Miserable , Cats, Phantom of the Opera, The Lion King and more. If you are searching for a great last minute Christmas gift, look no further than Act Two. While the five fellows were in New York City, openly gay member Jamie Lambert took a few minutes out of his busy theater-going schedule to answer a few questions.
Gregg Shapiro: Jamie, when did you know you wanted to be a singer?
Jamie Lambert: I always sang as a child. I had that kind of treble choirboy voice that a lot of young boys do. My mom used to sing to me before I went to sleep. She used to sing stuff like John Denver's "Annie's Song." It was lovely and I remember it well. When I was 11, my Nana died. She was a great lover of classical music. I fell in love with the voice of Andrea Boccelli and Pavarotti and Domingo and Carreras and all of those big tenors. She left me a CD collection of about 600 classical CDs. Then, suddenly, my voice broke and I couldn't sing any more for about a year. When I was 13, as I was listening to these classical CD, I suddenly decided that I was going to sing. I sang in the shower and my mum heard me and put me in for the school production of Les Miz. I was Marius and I sang "Empty Chairs at Empty Tables." That was my first ever solo and I remember people being really surprised [laughs] that I had a voice. I had gone to secondary school – a sort of high school – and not realized that I could sing, hadn't sung at all. People didn't realize that I could sing. It was fantastic! A really amazing feeling to suddenly have a gift that I didn't know I had.
GS: Collabro, the name of the Britain's Got Talent-winning group of which you are a member is a combination of the words collaboration and brothers. Who gets the credit for coming up with the name?
JL: It was sort of a joint effort, really. There were a few things flying around. The reason it came about was because Matt (Pagan) and I put the band together. We could have found anybody. To put five solo singers in a room, all of whom want to be in musical theater on the West End, and are struggling and working normal day jobs and then working on audition pieces at night, it's a hard life. You can't guarantee that they're going to get on. But we just clicked straightaway. It was incredible. The first day that we met, we knew that something special had happened. We were working in collaboration and we felt like brothers. Collabro had a degree of class about it. It sound a little bit Italian, maybe. Also, it's that collaboration of brothers.
GS: Do you remember any of the other names that were, as you put it, "flying around"?
JL: I think there was Spotlight and Encore and Floodlights; all those kinds of stagey things. We thought that we needed to go a step further and have some meaning behind it.
GS: Jamie, you tower over your bandmates – how tall are you?
JL: I'm six foot three.
GS: What can you tell me about the selection process of the material on the second Collabro disc Act Two?
JL: Basically, what we did was put on Facebook and Twitter asking our fans what they would like to hear. We got hundreds of suggestions. We narrowed it down to about 20. In December of 2014 we went into the studio and recorded the songs with just a piano, nothing else. We sat there with the (people from the) label and listened to all of them and picked the 10 best. There are recordings, sitting somewhere, of us just doing piano acoustic stuff, which we may see in the future sometime. That's how it was all picked. We go about picking songs that have emotion and storytelling in them because that's our real thing.
GS: Because of all of your interests in being in musical theater in the West End, as you said, show tunes are the dominant music favored by Collabro. Do you have a favorite musical?
JL: I think collectively our all-time favorite musical is Les Miz. It's the one we all relate to the most. We all have amazing memories of going to see it with our families. The other night we all went to see Finding Neverland on Broadway. I did not stop crying from start to finish! I'm really overly emotional [laughs] and the fact that we're jetlagged probably didn't help. Also, that we're here, living our dream in America, I just cried from start to finish. So, that's my new favorite.
GS: Would you say that the songs on Act Two are a reflection of your personal taste in music or do you listen to things that might surprise your fans?
JL: What's really funny is that we've all got different tastes in music. Michael likes everything in the charts. All the pop stuff, all the time. Matt and Richard are big fans of swing music. Tom is really into heavy metal. He's got all sorts of piercings in all sorts of places, just to let you know. I am a big fan of classical music.
GS: Do you write or want to write your own songs?
JL: I think we would. But at the moment, the fans have really connected to the musical theater stuff that we do, and the way we make pop songs into musical theater. I think we would like to write in the future. But at the moment we're just building and solidifying our fan base, trying to go worldwide. When we've got that far, then we'll probably sit down and write stuff.
GS: You mentioned earlier that everybody had day jobs. If you weren't a singer, what would you want to be doing with your life?
JL: I did two things. I was a private vocal coach. But mainly I worked in a hospital.
GS: You recently came out as gay – welcome to the family!
JL: Thank you!
GS: How did the guys in Collabro react?
JL: My people have known since I was 17. I think I came home from university with a guy [laughs]. My family was so cool and supportive about it. I'm very lucky. The other boys (in Collabro) knew from the start and have always treated it completely normally. I'm lucky to have that. In the U.K., I'm a columnist for Gay Times. Collabro are really big LGBT supporters. We absolutely love the LGBT community. Musical theater, you know [laughs]. We're very open. I feel like the more people like me who show that it's a perfectly normal thing to be gay, that becomes a normalization and people stop fighting it.
Interviewed by Gregg Shapiro. Gregg Shapiro is both a literary figure and a music and literary critic. As an entertainment journalist, his work appears on ChicagoPride.com and is syndicated nationally.