A GoPride Interview
Gareth Dunlop
Irish singer Gareth Dunlop unleashes his Animal on tour
That is the beauty of music, there's no shelf life for it.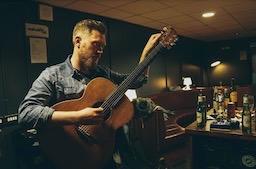 photo credit // shorefire media
Irish singer Gareth Dunlop has written songs for television series such as Nashville, Lucifer and Bones as well as movies and commercials. Other songwriting credits include tracks for Tim McGraw, Faith Hill and rapper T.I.
Dunlop plays multiple instruments and also regularly records and produces new material. He permanently lives in Belfast where he worked on his own album Animal which came out on April 22 of this year.
He met up for a chat backstage at the Athenaeum Theatre before a recent performance in Chicago.
JN: (Jerry Nunn) I read you had some previous history of staying in Nashville. I grew up there. How long did you work in Nashville?
GD: (Gareth Dunlop) I was there for over 10 years. It was a second home for me, but most of the time I would stay with friends when I was working in the studio. There were a few cases when I brought my family over and we stayed there for extended periods of time. We stayed around the Charlotte Pike area because it was close enough to downtown Nashville.
JN: I bet it's a great place to record.
GD: It was amazing. I had such a learning curve when I messed around with new recording equipment. It was one of the first times that I ever recorded on tape. I was able to work with seasoned professional musicians and producers. I was grateful that they were willing to share their time and experience.
JN: Nashville has changed a lot since my high school days…
GD: We were just there and Music Row is just gone and they have leveled out so much. I hadn't been in there in like three years.
JN: You are originally from Northern Ireland. I traveled there on a press trip once.
GD: Cool, what did you make of it?
JN: It is a beautiful country and my tour guide kept saying that everything is "grand" in an Irish accent. [both laugh] You started music at a very young age there didn't you?
GD: I surprised myself when I got into it. I was always singing when I was in the backseat of the car but didn't know any musicians when I was growing up.
When I was 14 years old I saw a picture of a guitar in a magazine and thought it was the coolest thing I had ever seen. I pestered my parents about it until they eventually got me a guitar. I plugged it and turned it up. I finally felt in control of something bigger than myself.
It quickly became an addiction and I started surrounding myself with like-minded fools. I started to pursue music after that.
JN: Did you try busking in the street?
GD: No, I never really did. I got gigs when I was pretty young and had a residency at a pub when I was around 16 years old.
JN: You weren't old enough to be in the bar at that time, were you?
GD: No, but I got around it regardless. I started playing other people's music in that bar.
JN: I noticed the radio stations in Ireland really support their hometown heroes while I was there.
GD: It is a small market back home where I am from, but a very encouraging one. It can be validating but then they always ask when is my next big thing coming to crush my ego.
JN: What have been the challenges of breaking through in America?
GD: I have really enjoyed my time here, but this is a massive market to cover as far as genres of music. I thought Nashville would only be country music, but there were many styles of music playing around the city.
I have been lucky that some of my songs have found their way onto TV shows and movies. It is always a pinch-me moment when that happens. That is how I discover new music when I hear it on a show. That has been a catalyst in moving my career forward.
JN: You had a song involved with the television show This Is Us?
GD: Yes. There was a trailer for the series and they spun the commercial often to build up the anticipation. My friends that watch the show were stoked!
JN: Have you met the drag queen Blu Hydrangea who is from Belfast and just won RuPaul's Drag Race: UK vs the World recently?
GD: No, but that is amazing.
JN: I interviewed Irish singer Dermot Kennedy this last summer at Lollapalooza.
GD: What a writer he is and he has powerhouse vocals.
JN: I always worry about his voice when performing. How do you take care of your voice?
GD: I don't smoke anymore. This vape keeps me away from about 20 cigarettes a day.
I also try not to talk too much. Someone told me that speaking, even at normal levels, will do damage and will tire out your throat more than singing ever does. I try not to talk when I think about it.
Another trick is to eat a pack of crisps. The grease will get your voice pipes going. You don't drink water with the chips at all. That was a game-changer for me!
JN: How do you connect with an audience during your live concerts?
GD: What works for me is inhabiting the songs that I am singing. I will go back to the place where I wrote the song in my mind. It makes it easier to share the experience. I like to talk and tell stories when there is time.
JN: I heard an eighties vibe when your album Animal starts off. Were you going for that sound?
GD: There is no denying that the eighties are making a comeback. I grew up listening to my sister's records, so there is a nostalgia attached to some of the songs.
When Stranger Things came out on Netflix that whole sound returned. I was on a tour with Michael Malarkey on a bus in Europe. Someone played LCD Soundsystem and I haven't recovered since. I bought some synthesizers and went down the wormhole.
I mixed some of that in with what I had always done in the past. I tried to stretch myself with this record.
JN: Is there a certain song from Animal that you like to play live?
GD: On this tour, I am playing solo on stage so the songs are all brought back to how they were originally written either on the piano or acoustic guitar. It has been fun stripping back all the bells and whistles out of Animal.
At the moment I get a kick out of singing "Look Back Smiling" every night.
JN: Tell our readers about that particular song.
GD: I thought the record was finished a couple of times. This was the last song that made its way onto the project.
My son missed out so much on his first year of school and going back rocked his world a little bit. He retreated into a shell and we were worried about him for a while. I wanted to instill confidence back in him and put something down in music.
It is a song about grabbing life by the horns and being strong.
JN: What a sweet story that your son can always have and will live on past your life.
GD: That is the beauty of music, there's no shelf life for it.
JN: How old is he now?
GD: He just turned six while I was in New York. I pulled out my phone and had the audience sing "Happy Birthday" to him. Missing him just doesn't get any easier.
JN: I guess moments like that are part of the sacrifice for your career.
GD: When I am home I am a full-time dad.
JN: What are your plans for the rest of the year?
GD: I will be home in about 10 days. I will enjoy some quiet time then I will back head out on the road with Foy Vance in the UK.
There are several songs that didn't make it on the Animal record for one reason or another so I would like to get back in the studio in the fall to make a new project.
JN: Where do you see your music going in the future as far as sound?
GD: I have no plan. It is influenced by what I am listening to at the time. I started out with the electric guitar so maybe I will plug that back in and see what happens!
Interviewed by Jerry Nunn. Jerry Nunn is a contributing writer to the GoPride Network. His work is also featured in Windy City Times, Nightspots Magazine and syndicated nationally. Follow @jerrynunn