A GoPride Interview
Andrew Love
Get to know Andrew Love from Les Miserables, playing July 9-27
you can also pick up on the story of revolution and the story of wanting change and the lengths you're willing to go to to get change in your world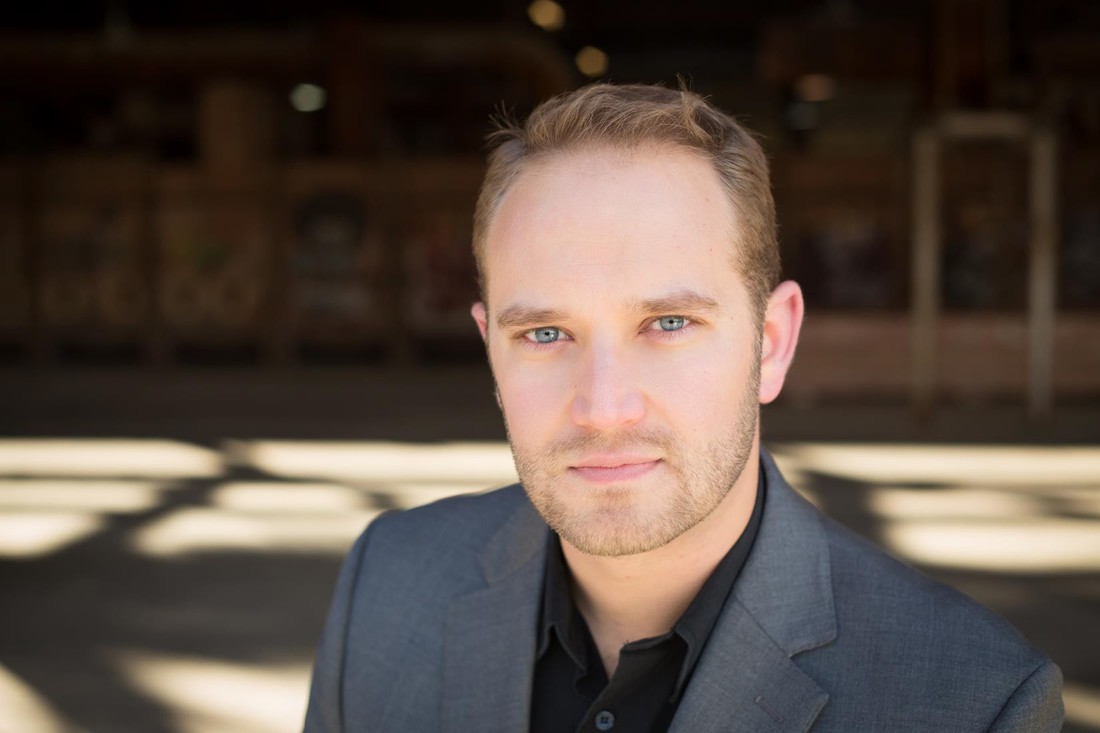 Set against the backdrop of 19th-century France, LES MISÉRABLES has become one of the most celebrated musicals in theatrical history. The show tells an enthralling story of broken dreams and unrequited love, passion, sacrifice and redemption – a timeless testament to the survival of the human spirit. 
Along with the Oscar-winning movie version, it has now been seen by more than120 million people in 52 countries and in 22 languages around the globe. LES MISÉRABLES is still the world's most popular musical, breaking box office records everywhere in its 33rdyear. 
Andrew Love (Champmathieu, Brujon, u/s Javert) joins the national touring cast ofLes Misérables after being a part of the Broadway and Toronto Companies (Swing/Bishop/Javert u/s). Other credits include: La Bohème (Marcello, Schaunard), Filumena (Charlie), Carmen (Dancaïre), The Magic Flute (Papageno),Pagliacci (Silvio) and The Marriage of Figaro (Figaro).
GoPride chatted with Andrew Love about reprising his roles in the beloved production.
MI: (Matt Inawat) Tell us a little about your journey to Les Miserables. What drew you to the production?
AL: (Anderw Love) That's actually a long story. I first found Les Mis when I was 9 years old. My dad took me and I got to go backstage at the end of the show; and this woman took me around backstage. I remember seeing the barricade; and back then the thing revolved. And they turned it on for me, which doesn't happen nowadays. 
I got to see where the candlesticks were and I remember holding the candlesticks and was like, woah, "this is gonna be me, I'm gonna do this." And then that woman who was taking us around backstage ended up finishing up the Canadian tour where I'm from. And she went back and married my dad and is now my stepmom.
MI: Wow, that's a great story!
AL: Yeah, it's a great story. Originally I loved music already and my dad took me to see this musical and I didn't know musicals could be like that. Then it also became part of my family.
MI: That's awesome. So, have you had any family rehearsals together?
AL: We've sung together in the last couple of years. She sings in different restaurants and she does like jazz stuff up in Canada.
MI: So in this production you play a doppelganger, a thief and a cop. How long have you been in the production and tell us about your roles.
AL: The first time I did Les Mis was in 2013 in Toronto with this revival version of the show. Then from there it went to Broadway and I went with it eventually. I was on Broadway for a couple of years and then the tour called; and I am back on tour now. So I have done the same version of Les Mis with a lot of different casts and a lot of different productions. And I've played all of the men's ensemble at one point or another. I've understudied Javert and my favorite thing to play is the bishop.
MI: You mentioned seeing Les Mis when you were 9. What message transcends across to the generation today and What's so important about the show's impact?
AL: I think what this show does very well is that it means something different to anyone who sees it. There are a lot of different themes you can pick up on. There are a lot of different storylines and threads that will become that person's favorite. 
When I was a kid I loved the Thenardiers because they were funny and I thought that was great. As an adult now I understand the larger story: how a simple act of kindness and mercy, what it did to a man's life and how it completely changed the trajectory of a person's life. And if you're not into that threadline, you can also pick up on the story of revolution and the story of wanting change and the lengths you're willing to go to to get change in your world. There are characters in our story that give everything they have to attempt to bring change to their world and I think that that storyline resounds with a lot of people.
MI: So take us back a little bit. You grew up in Canada. Was that the turning point, when you went backstage, that you found your passion for theatre?
AL: I was in the choir at that time, when I got to go backstage at Les Mis and that was the moment when I realized how deep music could go. That was the moment. I liked watching the show, but I really liked being backstage. 
And after that, my stepmom had moved in with us. They got married and she was just a part of our lives. There was a production of Evita going on that she auditioned for and she told me to audition for a part in that. I got into that show with her and that was my first experience being backstage I think when I was 10 or 11. Something like that. After that I just loved being backstage. I loved being a part of a cast. I loved everything about life in the theatre in that regard.
MI: Expanding on that, what do you love the most about performing every night?
AL: The cast. It is just such a stellar group of people on and off of the stage. A lot of people ask about, and I've done close to 1300 performances of Les Mis.
MI: Amazing! So is that any type of record?
AL: Oh no, there are many people who have done far more than me. I haven't got an official number though. But I have done it with so many different people and this cast we have right now is just so good onstage and so fun offstage. We take our work very seriously, but they are just a pleasure to do a show with and that keeps it fresh every night and that makes it fun to go to work everyday.
MI: Do you have a favorite fan experience or interaction from any of your previous performances?
AL: I received a lovely scarf. She had asked me what color I wanted it to be in and she based it off of my favorite character I love to play. So I picked Javert and she made a scarf based on Javert's costume and that was very special. 
I'm known for making up really ridiculous songs backstage and on Broadway, in the Broadway company, we were in charge of the Instagram account and one of my songs ended up on the Instagram account at one point and it was months later that there were these two girls at the stage door that called my name as I was walking out and they sang and danced to that song and I felt validated, like "now I've made it."
MI: Definitely! So is there a dream role in any musical or play that you would love to play someday?
AL: My big goal next is to do something Sondheim. I would love to do Sweeney Todd or George in Sunday In The Park With George ot the Baker from Into The Woods. Just something that is Stephen Sondheim. I adore him. After I found about Les Mis I got obsessed with Stephen Sondheim. So, anything by him.
MI: So the next couple of questions are quick, off the cuff, just what immediately comes to mind answers. 
Name something in your home that might make a stranger think you were gay.
AL: Something in my home that might make a stranger think I'm gay. A giant Pride flag in my makeup case.
MI: What is something in your home that might make a stranger think you were straight?
AL: My Nintendo Switch, I don't know why.
MI: What's your favorite game on Switch?
AL: I just downloaded Hollow Knights and I'm really enjoying that!
MI: Super! And who would play you if your life story were a made-for-TV movie?
AL: My life story. I feel like it would be James Corden or something like that.
AL: I just feel like he is fun, light-hearted. I don't have a British accent, but I think he would do a good job.
MI: So you're in Chicago for the show. Have you ever been or visited before?
AL: The tour passed through Chicago in October of I think 2017 and I fell in love with that town. We go through a lot of cities, but when we got to Chicago, I immediately said I could live here. It felt like home.
MI: Are there any favorite hangouts that you just have to do again?
AL: Yes, I'm going for cocktails at the Chicago Athletic Club. I'm going for a burger at Small Cheval. That is life changing. And if I don't get Stan's Donuts as soon as I get there I will die.
MI: All approved places! On a final note, are there any charities that are near and dear to your heart?
AL: The one for me is Broadway Cares, Equity Fights AIDS. We raise money for them on tour. We raise money for them on Broadway twice a year. On Broadway there is the Broadway Flea Market. There is all of these events that goes towards Broadway Cares, Equity Fights AIDS and I think they are such an incredible charity. They do stuff for not just people living with HIV, but for people with different types of cancer and women's health and food banks and all types of stuff. They really cover a lot of ground.
MI: Thanks, Andrew, for taking the time to chat today - can't wait to see you and the cast on stage!
Featuring one of the greatest scores of all time, with thrilling and beloved songs including "I Dreamed A Dream," "On My Own," "Stars," "Bring Him Home," "One Day More," "Do You Hear the People Sing" and many more, this epic and uplifting story has become one of the most celebrated musicals in theatrical history. 
Les Miserables plays at Broadway in Chicago's Cadillac Palace Theater from July 9-27, 2019. Tickets are available now for groups of 10 or more by calling Broadway In Chicago Group Sales at (312) 977-1710 or emailing GroupSales@BroadwayInChicago.com.  For individual tickets or more information, visit www.BroadwayInChicago.com. 
---
Cameron Mackintosh's production of Boublil and Schönberg's LES MISÉRABLES has music by Claude-Michel Schönberg, lyrics by Herbert Kretzmer from the original French text by Alain Boublil and Jean-Marc Natel, additional material by James Fenton and original adaptation by Trevor Nunn and John Caird. The original LES MISÉRABLES orchestrations are by John Cameron with new orchestrations by Christopher Jahnke, Stephen Metcalfe and Stephen Brooker. The production is directed by Laurence Connor and James Powell, designed by Matt Kinley inspired by the paintings of Victor Hugo with costumes by Andreane Neofitou and Christine Rowland, lighting by Paule Constable, sound by Mick Potter, musical staging by Michael Ashcroft and Geoffrey Garratt andprojections by Fifty-Nine Productions. MusicSupervision is by Stephen Brooker and James Moore, with casting by Kaitlin Shaw for Tara Rubin Casting.
Broadway In Chicago was created in July 2000 and over the past 19 years has grown to be one of the largest commercial touring homes in the country. A Nederlander Presentation, Broadway In Chicago lights up the Chicago Theater District entertaining more than 1.7 million people annually in five theatres. Broadway In Chicago presents a full range of entertainment, including musicals and plays, on the stages of five of the finest theatres in Chicago's Loop including CIBC Theatre, James M. Nederlander Theatre, Cadillac Palace Theatre, and just off the Magnificent Mile, the Broadway Playhouse at Water Tower Place and presenting Broadway shows at the Auditorium Theatre.
Interviewed by Matt Inawat. Ron Matthew Inawat is president of the GoPride Network and contributes to ChicagoPride.com, PrideLA.com and other sites within the GoPride Network. Follow @cpmatthew