A GoPride Interview
Lemon
Lemon is more sweet than sour
Lemon is a culmination of the best parts of me and also the embarrassing parts.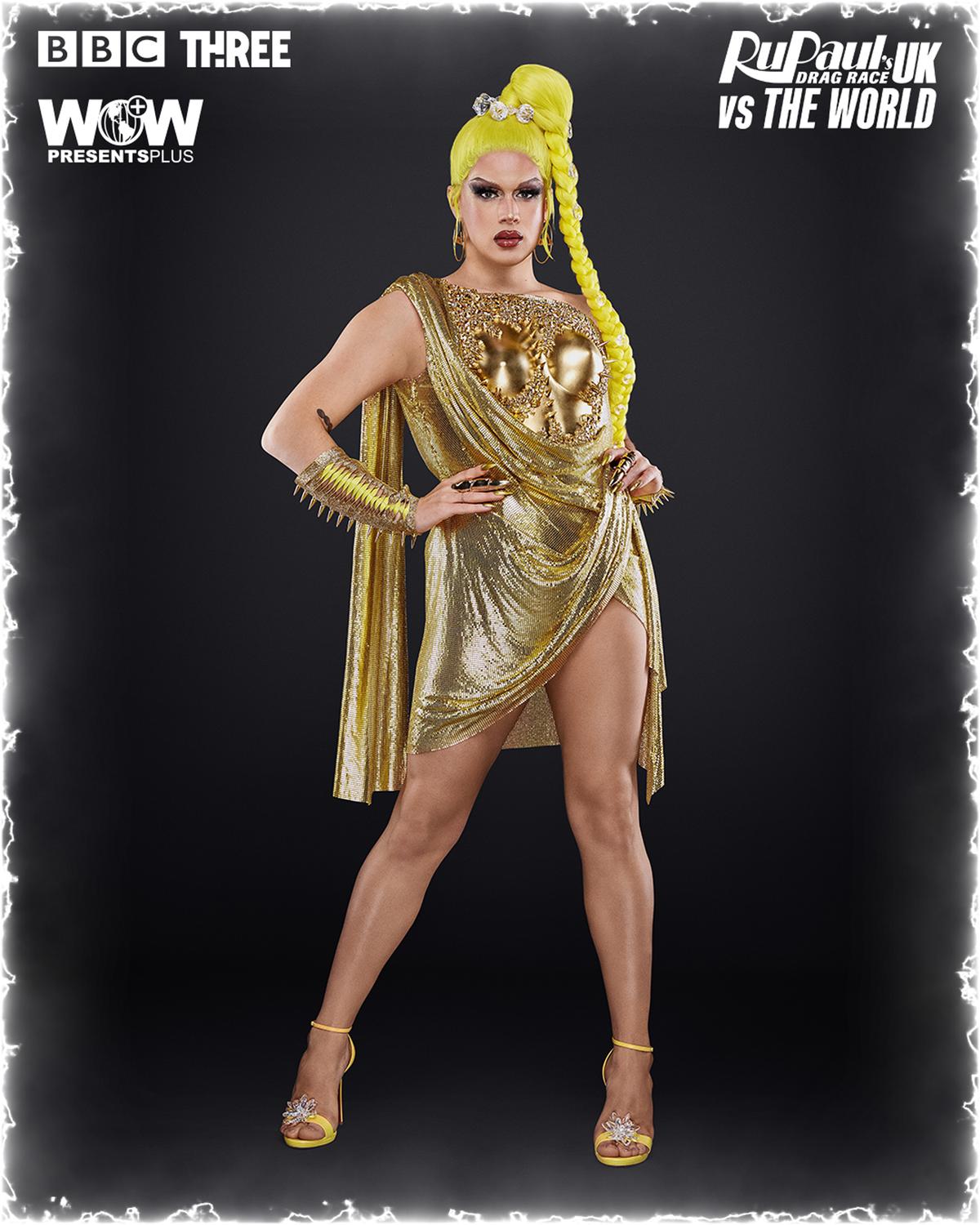 UK vs. the World contestant Lemon chats about the show the day after the premiere
Christopher Baptista has made a new name for himself as Lemon thanks to the first season of Canda's Drag Race. Lemon brought her charisma, uniqueness, nerve and talent to the competition after only performing for a year before being cast on the show.
Baptista has collaborated with Vogue Brazil and works as a model outside of drag. Sasha Velour chose Lemon to model in their New York Fashion Week opening ceremony in 2018.
Lemon was a former roommate of RuPaul Drag Race contestant Jan in the past. She is the drag daughter of Jasmine rice LaBeija and is connected with Rose, Brita and Alexis Michelle, all from the World of Wonder franchise.
UK vs. the World is the spinoff series from RuPaul's Drag Race UK where nine contestants from around the globe compete for a chance to sing a song with RuPaul. Pangina Heals sent her packing on the premiere episode after a strong debut.
Lemon chats about her recent experience and gives some smart advice to new drag queens in this special interview:
JN: (Jerry Nunn) Hi, Lemon. Start off with your pronouns.
L: (Lemon) She/her in drag and he/him/they out of drag. As long as I am being addressed with respect I am fine with it.
JN: Are you still in Chicago after your performance last night?
L: Yes, I am flying out tonight if the snow isn't too bad.
JN: You can go with me to see Nina West in Hairspray if you don't fly out.
L: Oh, maybe I will cancel my flight then!
JN: How did your appearance at Roscoe's go?
L: It is so fun to perform in new cities. Specifically, I have a love for Chicago drag and I know so many queens from here. New York has a reputation for producing incredible drag queens, but Chicago produces the most sickening queens, kings and other performers.
It was something I always looked forward to doing. Anytime you get to perform in a bar you have heard of is surreal. When I first performed in Toronto's bar, I thought about walking past it as a kid. it is so cool to finally get on stage. It was amazing!
JN: Did you always want to perform in drag?
L: No. There was a time when I didn't think highly of drag. I was under the impression that it was something different than it is.
I went into a bar in New York one night and saw a drag queen named Jasmine Rice LaBeija. She is perfect and a Juilliard-trained opera singer. She's a ballroom legend, a pageant girl and a mic host. I remember watching her perform and she owned the room in a way that I have never ever seen a single performer do. I was in love with the idea to do that.
I started going to all of her shows and doing my own thing. I worked up the courage to say hello to her and now she's my drag mom!
Drag is confusing for some people because there is not really a definition of what it is. People can go to a drag show and every person is completely different. That is what is so exciting and liberating about it. A performer not only decides what outfit they are wearing, but what voice to speak in and song to lip-synch. I felt I had a lot of creative control and, as an artist, that drew me in.
JN: Does Lemon have a last name?
L: No.
JN: Some of the drag queens have a very explicit last name, so I wondered if you had a secret one.
L: I wanted a pop star name that no one would ever forget. Lemon is perfect because when you are in a really loud club I can scream my name "Lemon!" They will ask, "Oh, like the fruit?" It saves a lot of time. If it is hard to spell them you are screaming out letters to people!
JN: From the first moment you walked into the Werk Room on Canada's Drag Race, your brand was well put together.
L: Thank you. The name Lemon came to me in a dream. She felt clear as to who she was already. Lemon is a culmination of the best parts of me and also the embarrassing parts. I think I talk too much and might be a little stupid, so I made that into parts of Lemon. That made me fall in love deeper with myself because I got to cherish the good and the bad.
JN: How do they cast for UK vs the World?
L: You will have to audition to find that out. That's a trade secret, wouldn't you say?
JN: I just didn't know if you had to audition again and jump through hoops or they just called you up?
L: There might have been some hoop-jumping, but everyone who was cast is someone who made an impact on the world. I think that is how to be cast on All-Stars by making a name for yourself. That makes them have to cast you, so that is the truth on how the casting went.
JN: How was the experience of performing your original song on the show?
L: It was so exciting. My friend Andrew Barret Cox and I worked together on "Sweet and Sour. " I claimed myself as a rapstress. "Come Through" has also happened so I have quite a successful rap career right now.
It was really cool to write something specifically for this. I was able to reference so much of my time on Canada's Drag Race. There were so many lines that I wrote that a Lemon fan would recognize. Some of the lines would go over a person's head who didn't watch the season, but it was super cathartic to write about my own experience then and what I want now.
JN: Are you going to do more appearances in the United States? You are based out of Canada currently?
L: I am, but think of myself as pretty international. I am from Toronto, but I used to live in New York. My mom is Scottish and my dad is Portuguese. I have a great portion of the world under my big toe and I want to do shows everywhere.
JN: How do you feel about UK vs the World now that it is over?
L: I am thankful and relieved. I am feeling very taken care of. I am very grateful for all of the fans I have for their love and support. There are petitions going up on change.com asking for Lemon to be on RuPaul's Drag Race All-Stars. It is literally what I have been dreaming of for the past year. I have been lighting my little Lemon prayer candle. It is what I wanted to happen and I feel like I am on cloud nine!
JN: The viewers could tell you worked really hard and didn't just pop out like that.
L: People may not realize the amount of work and money that goes into drag. I was obsessed with the boots I wore. People don't realize I jumped off a four-foot box in a pair of thousand-dollar Swarovski diamond-covered boots!
Most girls would never ruin those boots, but I had to. It was part of the Lemon fantasy!
JN: What advice would you give a drag queen starting out?
L: The best way to get booked is to be nice to people. No one on earth will book someone that they don't like working with. You can sickening, stunning and perfect in every way, but if you are not nice to people backstage then you won't be booked again.
That is part of where my success comes from because I do work on making sure others feel warm. Now that I am a RuPaul girl, I get a chance to perform with beautiful local performers in every city. It is important to me that they know we are all in this together. We are here for the exact same thing. I want to make sure they are taken care of when they do a show with me.
JN: When are you coming back to Chicago?
L: You never know. I would like to come back soon. I am a big fan of Chicago. I really am!
JN: Where can people follow you?
L: On Venmo @lemongivesyoulife and same on Instagram. With Twitter it's @thatbitchlemon. I am even on Fortnite. I am everywhere!
Interviewed by Jerry Nunn. Jerry Nunn is a contributing writer to the GoPride Network. His work is also featured in Windy City Times, Nightspots Magazine and syndicated nationally. Follow @jerrynunn