A GoPride Interview
Laganja Estranja
Laganja Estranja crowns a chef on Chopped 420
"Drag chose me, I didn't choose it."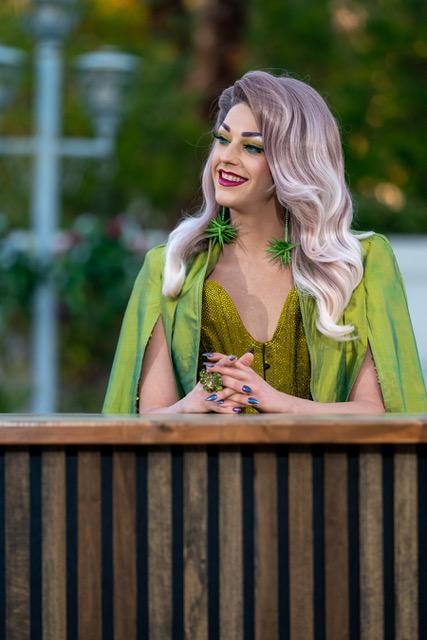 photo credit // discovery+
RuPaul Drag Racer goes green in this new interview
Laganja Estranja is the drag name of the multitalented performer Jay Evan Jackson. Estranja competed in the sixth season of RuPaul's Drag Race and hasn't stopped working ever since.
Jackson hails from Dallas, Texas, where he attended a performing arts high school, which paid off after later moving to Los Angeles.
She is the drag daughter of Alyssa Edwards and the drag sister of Shangela and Plastique Tiara. They are also non-binary and do not prefer any particular pronouns.
Estranja has one of the most successful music careers out of the past contestants from Drag Race with catchy singles such as "Look at Me" and "Smoke Break."
His television appearances include Skin Wars, Germany's Next Topmodel and So You Think You Can Dance. Estranja called one afternoon to discuss his latest TV show Chopped 420 where 20 chefs compete to incorporate CBD and THC into recipes hoping to win $10,000 in the process.
JN: (Jerry Nunn) Hi Laganja. I met you at Reeling Film Festival in Chicago years ago.
LE: (Laganja Estranja) Nice! Yes, it has definitely been a while.
JN: You have no preferred pronouns, but are non-binary?
LE: Right. I always say, "As long as you are addressing me with kindness I don't care about the pronouns."
JN: Amen! Are you currently stationed in LA?
LE: Yes. I am in sunny, Los Angeles, California.
JN: You got your start at Micky's West Hollywood there? I remember seeing some go-go dancers at Micky's one time!
LE: Okayyy, yes, that is where I launched my success, if you will, in the drag industry. Back in the day, once you won that competition you became a regular showgirl in the show. That is why I always say, "Drag chose me, I didn't choose it." After I won that show, it became my regular job. Over the weeks and months preparing shows for Mondays, I fell in love. It became my full time job.
JN: Does your name come from ganja the nickname for marijuana?
LE: No. The truth of the matter is I don't really remember. I smoke a lot of weed, so it would be pretty hard to pinpoint exactly how the name came to be.
I did know a person named Marcus in college, who was a drag queen called Marquita Velveeta. I liked his name for two reasons: one it rhymed and two it was a pun for his name Marcus, made into Marquita. I used those ideas and created my name. My real sister called her Daewoo car Laganja, so that is where the first name came from. It was all birthed out of a lot of cannabis usage…
JN: How did cannabis grow into a signature item for you? You were doing it before a lot of drag queens were.
LE: Yeah and I still am. I am really the only one who has created a voice and platform for it, which I am very honored to be, but also very sad for, because I feel the LGBTQIA+ community and the cannabis community have always been at a crossroads, specifically here in California with Proposition 215.
I am hopeful by being visible in what I do, I can inspire others to come forward to tell their truth.  I had to come out of the gay closet and the green closet. It has been an interesting journey, but I am seeing more and more queer people coming out about it, which is amazing!
JN: How did you get involved with the new show Chopped 420?
LE: I had an audition. There was someone connected with production that knew me and got my name to the producers. I faked critiqued a meal for the producers and judge an episode. I booked the job.
I was thrilled that discovery+ decided to go with me, someone that is so over the top and queer! It was a big honor, to be quite honest, especially since I was sitting on a panel of legendary chefs, who know so much more when it comes to food. I am proud that I was able to describe the food just as well as many of the people that were there.
JN: What can you tell our readers about Chopped 420?
LE: I can tell them it was an incredible experience. It absolutely validated my presence as a cannabis and queer rights activist.
All episodes will be dropping on 4/20. It is really exciting and I can't wait. We are going to give it to you all right away!
This is the first Chopped original series to be making it to discovery+ and a really big deal. We talk a lot about cannabis. It is used in the food, whether it be THC or CBD. There are different types of infusions that you are going to be seeing on the show.
I am a recurring judge, so not on every episode, but I definitely make my moments, for sure. There are fun challenges that every person has to do. If someone hasn't ever seen Chopped before, they are always given a basket of mystery ingredients, which sometimes are quite bizarre. One of the challenges I worked on had chocolate shaped dentures. It is very fun and oddball.
The competition gets intense. The competitors wanted that $10,000, Momma!
JN: Did you discover something that you would like to cook with cannabis?
LE: I will be honest, I am better at judging those that cook instead of cooking myself. I am one to pick up something that has already been infused at the dispensary or I will go over to my new chef friend's house to have them cook for me with infused food.
I think this show really shows people can cook easily with cannabis though. It is not as hard as we might think.
Ultimately, I am best at smoking it, so I stick to that! [laughs]
JN: You have new music premiering on 4/20 as well?
LE: You know it. Momma Ganja always comes prepared. I was the first RuPaul contestant to have a t-shirt, a song, a jewelry line and a website when episode number one was launched.
Yet again, when I got this incredible opportunity I was ready for several things on 4/20.
My brand new merchandise it ready to go on that day. I will also have my new song called "Hype Man." The music video will be on my YouTube channel. I will also be starring on patreon.com with my best friend, who directed the video for "Hype Man." We will have season two of Mutiny, which was a series we started last year during quarantine. Mutiny is a behind the scenes look at our collaborative process. If people want to see how we made "Hype Man" they should sign up for Patreon to get episodes every month.
JN: I love your song "Daddy." I can't get enough of it!
LE: Thank you so much. Robert Hayman, who I just talked about, actually styled and set designed that video too.
JN: Did you have any wardrobe malfunctions with the "Daddy" video?
LE: Yes, there was. I am known for wearing my scantily clothed items. In one shot, there were some male body parts that were exposed. We had to edit that out.
JN: What are your thoughts on the latest RuPaul Drag Race season?
LE: I am such a fan of RuPaul's Drag Race. I started with season one and would host Drag Race viewing parties when I was in college. I have been obsessed with the brand since day one.
People ask me if I will do RuPaul's Drag Race All Stars, but I prefer to be in the audience as opposed to being a competitor. The competition is extremely stressful and really put me through it. Being in the audience and cheering for my friends is really what I prefer.
I loved this season. I have a bunch of friends on it. I am definitely rooting for Gottmik, who has been a close friend for many years now. I am so proud of him and what he represents. Having the brand acknowledge that would be amazing.
I would be happy if Symone or Rose takes it home as well.
JN: Denali is working on cannabis projects here in Chicago, just so you know.
LE: Is she really?
JN: Yes, a new CBD sparkling beverage called Denali's Winter Wildflower.
LE: That is great. I am working on making my own flavor of CBD currently.
JN: If you could smoke weed with one famous person, who would it be?
LE: Missy Elliott. I think we would really hit it off!
Look for Laganja Estranja to stream on discovery+ starting Tuesday, April 20 with host comedian Ron Funchess. Visit discoveryplus.com for more information today!
Interviewed by Jerry Nunn. Jerry Nunn is a contributing writer to the GoPride Network. His work is also featured in Windy City Times, Nightspots Magazine and syndicated nationally. Follow @jerrynunn