A GoPride Interview
Duckwrth
Duckwrth combines music with fashion
After fashion, I found my way into music.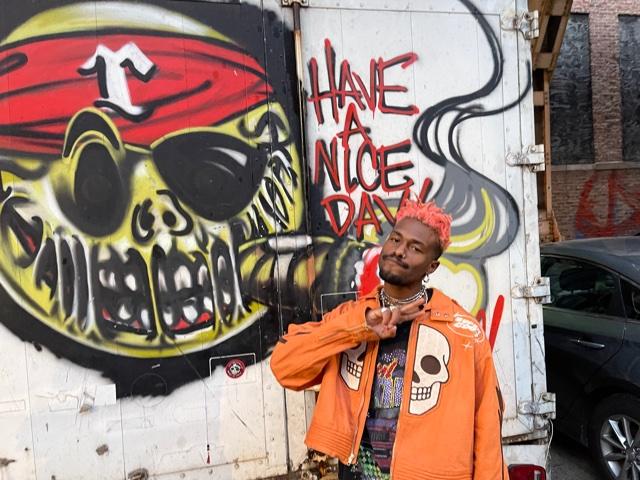 photo credit // jerry nunn
Duckwrth releases new music and tours with singer Billie Eilish
Both a musician and a fashion designer, Duckwrth is on the rise these days. Jared Lee is a rapper and songwriter from Los Angeles, California. He released his first full-length album in 2016 called I'm Uugly. After a mixtape and an EP, his first major-label release called SuperGood debuted in 2020.
This talented singer is opening for Billie Eilish on her Happier Than Ever Tour. Look for them both in Chicago at the United Center on March 14, 2022.
He spoke backstage at Reggie's in Chicago before a recent show.
JN: (Jerry Nunn) Did you always want to be a musician?
D: (Duckwrth) No, I wanted to work in design and art. After fashion, I found my way into music. Right now I do it all!
JN: You lived in San Francisco?
D: Yes, I moved to San Francisco in 2006 for college.
JN: What did you study?
D: Graphic design.
JN: How do you describe your music for people that have never heard it before?
D: It is energy. It is something to dance. It's a good time.
I dropped a project last year called SuperGood. It is what it says. Press play and people will have some feel-good music to groove to.
JN: I have seen some of your live concerts and it is very high energy. You sold out Reggie's Chicago tonight. It's a large venue and people are waiting in front of it right now.
D: That's amazing.
JN: How did you land a song on the Space Jam: A New Legacy soundtrack?
D: I was with Republic Records at the time. They were putting together a roster of artists to be on the soundtrack. I am so animated that of course, they thought Duckwrth. It is a blessing and an honor. It all worked out.
JN: Did you feel pressure because it was Space Jam?
D: I just had to make sure that all of the parts that I contributed are to the best of my ability. I wanted to make sure that it sounded good. It is not a track that I would typically perform, but it is perfect for the film. If I make sure my parts are on point, then everything else will work out.
JN: Have you had a favorite music festival to play at?
D: That's a great question. I liked the European festivals because of the high energy.
JN: How are European music festivals different than American festivals?
D: Europe and the UK have a different vibe. America is the apex of entertainment at times. There's an entitlement versus Europe where there's a hunger.
For me, at the end of the day, I don't care about that. I just want crazy shows! These days I am doing more R&B in my shows, so it is not as energetic. I look for reciprocation. I have found Europe goes much harder.
JN: Europe may look for new artists where America wants Top 40 radio hits.
D: Yes. There are some great festivals here in America, though. I did Lollapalooza in the past and it was super fun.
JN: Would you move into acting?
D: I have been thinking about it. I want to voice-over work before I put my face on camera. I have my own videos that I do. I want to make sure that I am well trained or at least have some know-how before I am on the screen.
There are so many musicians that have become actors that I could do without. I want to make sure that I am giving something special to the camera.
JN: Your videos show that you can do it.
D: Thank you.
JN: Talk about your album and what inspired it.
D: It was during COVID and I was inside. It was about those thoughts and fears with anxiety. I was living in the moment and n to trying to go crazy in my mind. I caught on to other people's feelings as well. I was not the only one feeling anxious.
It was capturing a snapshot of the party with an anxious dude in the corner who wanted to be out there. He had to accept his fate. That is pretty much the album!
JN: Are you wearing the fringe pants tonight at the show?
D: Yes, definitely. That was a collaboration with Levi's. They asked me to design whatever I wanted to, so I took the original 501 '93 jeans to work on. I made them higher waisted, added knew pads and fringe. I took their trucker jacket and made it in a more motorcycle style, so I added ribbing and a moto neck. I made it an individual piece.
JN: Would you ever do a reality show like Project Runway?
D: No. I just go straight to my demographic. Overall, I am a designer. I design clothes, graphics and music. This takes away the pressure to have me deliver every season.
JN: That must help with writer's block because you have your own timetable.
D: Exactly.
JN: Talk about your clothing line.
D: It is derived from my music project SuperGood. This is a concept I have had since 2013. It is a way to express through color and texture, but not in a loud way. I play with more monochromatic colors. I love the circular shape because it represents motion. Anything I see as a square, I am going to make it a circle. If it is flat, I try to add 3D depth to it. I play with dimension and want to make it pop out in the apparel.
JN: It seems like your designs come from a real place.
D: Yes. I have to find inspiration. I have to travel to find that inspiration sometimes. This time was more about being inside. I did research on the '70s and mid-century space age furniture. That helped me think about new shapes and integrating that into garment design.
JN: Is it time to get rid of gender in clothing?
D: I saw a shoe today that stopped at a 6 1/2 in women's shoes. That was as high as they went. They thought only one gender would want that shoe. I would prefer they would make all sizes.
Women might want a shirt or pants to hit a certain way and men can be boxier. I get that, but shoes and t-shirts shouldn't matter. They might just put the color pink or fuchsia on a shoe and call it a woman's shoe. No, that is just a shoe!
JN: Young Thug doesn't care. He just likes pink!
D: Young Thug doesn't care at all. [laughs]
JN: What are your thoughts on Lil Nas X?
D: The message isn't for me, but I am happy he is doing it. When Kanye West first came out about his religion, I didn't connect with it, because it was so strong. Kanye's new album is more digestible. Nas is going strong with the queer message, which is beautiful, but I don't trust things sometimes.
He is opening that up and it is tight. I have never seen a Black man kiss another Black man onstage at an awards show, so he is pushing the boundaries. That is wonderful. I just question things when people come out really strong.
JN: What did you think of the Met Gala this year?
D: It was supposed to be an America retrospective and I didn't see much that represented America. I do get why Frank Ocean had a robot baby but didn't get the theme this year. I didn't see it in what people wore. Well, I did like ASAP Rocky's blanket and Pharrell Williams desperado look!
JN: How are your virtual meet and greets going on this tour?
D: It has been tough. People want to meet in real life. When it is safe we will do them in person again.
JN: You are opening for Billie Eilish in Chicago in March. Did you connect through a music label?
D: No. I met Billie in 2018 at South by Southwest and it was an automatic synergy. She's a good soul. She has always made an effort to highlight me in some type of way. It is much appreciated. I love her to death. It is a blessing and an honor to be considered in that way.
JN: Maybe Finneas could throw you a few lyrics?
D: Finneas is extraordinary. Their whole family is great. Their dad is so calm and cool. Their mom is always showing love and checking upon them.
JN: What else do you have coming up?
D: I just dropped a project called SG8. It is eight tracks and I am very proud of it. I recorded it in a month and it was very streamlined. It is fun and introspective. I designed the whole cover.
It is groovy and I am excited!
JN: What are you wearing for Halloween?
D: I might do Frankenstein. I like the rockabilly, creeper look. I feel I can pull that off in a modern way.
JN: I just want to say "stank you" for the interview!
D: You are "stwelcome!"
Interviewed by Jerry Nunn. Jerry Nunn is a contributing writer to the GoPride Network. His work is also featured in Windy City Times, Nightspots Magazine and syndicated nationally. Follow @jerrynunn