A GoPride Interview
Mondo Cozmo
Mondo Cozmo is conquering radio and taking names
We come out and punch you in the mouth nonstop.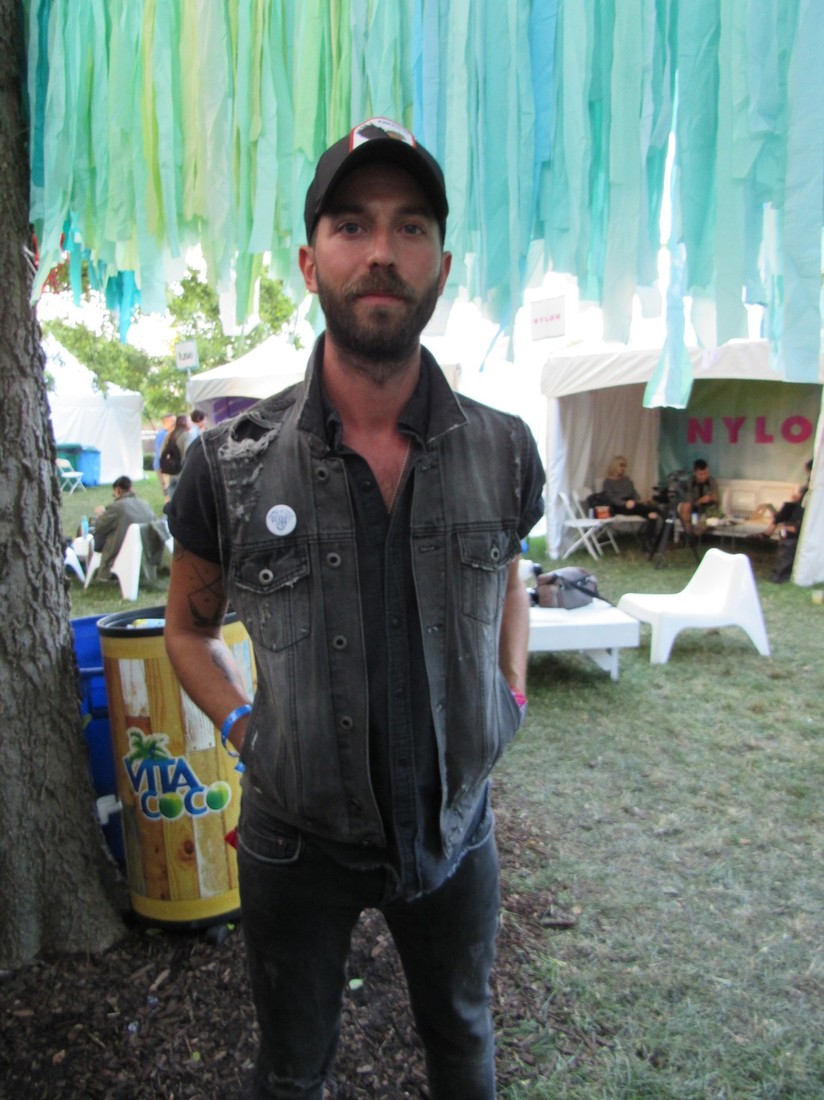 photo credit // jerry nunn
Josh Ostrander is now known as Mondo Cozmo and there is no turning back! The Los Angeles based musician is originally from Philadelphia. His band Laguardia was signed to Universal and Republic Records and released an album Welcome to the Middle. He moved onto another band called Eastern Conference Champions with his friend Greg Lyons. After releasing three albums with them he worked on projects with Voxhaul Broadcast and Jimmy Jam and Terry Lewis, among others. 
Now under his new name his single "Shine" hit number one on Billboard's Adult Alternative Songs. His new album was released in August of this year. He talked about music and more at Lollapalooza recently. 
JN: (Jerry Nunn) Where did the moniker come from?
MC: (Mondo Cozmo) My dog's name is Cozmo. I was a big John Waters fan. His first movie was called Mondo Trasho. My last band had the longest name Eastern Conference Champions.  On a t-shirt it didn't look good. It was tough to remember. When I started Mondo. I wanted it to be real short, look good on a shirt, and rhyme. 
I saw Mondo Trasho and thought it was a cool name, so I just swapped it with my dog's name. 
JN: What is your favorite John Waters film?
MC: Cry-Baby is up there. Cecil B. DeMented was really good!
JN: You are originally from Philadelphia. Where are you stationed now?
MC: I live in a van now. I am on tour so much. I moved out to LA about 10 years ago. 
JN: Have you been to Chicago often?
MC: I have toured through here most of my life. I love it here. It is really one of those rock and roll cities. I just show up and people love the music. It is so cool. 
If people get the vinyl and open up the gatefold, there is a picture of me onstage. There is a huge crowd. We took it at the Aragon Ballroom. It was such a cool shot. I remember that show was so powerful. It was a Tuesday night that felt like a Friday. 
JN: With your video for "Shine" there are cameos of people. I noticed LGBT folk. 
MC: We made about four different videos for it. The label kept saying no. We decided to get some amazing people together and shoot it. We ran the gamut. We got everybody. 
JN: Do people compare you to Bob Dylan?
MB: I get that a lot. I don't totally understand it, but I will take it. 
JN: Sometimes people do that when describing a new artist…
MB: I do that too when I am talking about a band. How cool is that though? It's a big statement. The Internet is so terrible that you would think people would be in an uproar about it. 
JN: Who do you listen to?
MB: I grew up in Philly so I am a big Springsteen fan. I love Kanye, Bieber, and the Dead Kennedys. I like a variety. 
JN: Did you ever work in a record store?
MB: Yes. In Philly I worked at The Wall a long time ago. I used to steal CDs. I probably put them out of business! 
JN: How was working with Jimmy Jam?
MB: I was just a kid. It was a weird time. He came out to my show. He is one of those dudes. He gives you the same respect you give him. To be in the room with that caliber of person musically is incredible. He's a special guy. 
JN: Describe your live show.
MB: This live show I had to put together very last minute last October. I sold out a few shows in Los Angeles and got good word of mouth. I started doing festivals like Bonaroo and Hangout Music Festival. The show right now is just high impact with a lot of energy. We come out and punch you in the mouth nonstop. That is what we did today at Lollapalooza. It was one of those shows that was so powerful. I was crying half the time. My album came out today and it was so emotional. I shouldn't even be here. To say I am playing Lollapalooza the day my record comes out. I am on the wrong side of 30. This is amazing. I am beside myself. I am so thankful. 
These days it is tough to get radio play. I like the triple A format because they play lots of stuff. "Shine" hit number one on adult album alternative. That is a big thing. 
JN: How is performing the "Bittersweet Symphony" cover?
MB: It is one of the greatest songs ever written. The first track on my record is named after it called "Plastic Soul." I had some sample issues and so did they with that. 
I felt a real kinship to that song. It just kills live, especially in these festival scenarios.  
JN: What are your plans for the rest of 2017?
MB: We are doing a headlining tour in the fall. We perform with Spoon in October. They asked us to come out and I was so honored by that. I am so excited.
JN: What a great band. You can get advice from them on the tour.
MB: I am going to get them drunk and make them tell me all their secrets!
Interviewed by Jerry Nunn. Jerry Nunn is a contributing writer to the GoPride Network. His work is also featured in Windy City Times, Nightspots Magazine and syndicated nationally. Follow @jerrynunn