A GoPride Interview
Veronica Witkin
Glam Skanks rocks as an all female band
We hope to keep doing what we are doing and touring as much as possible.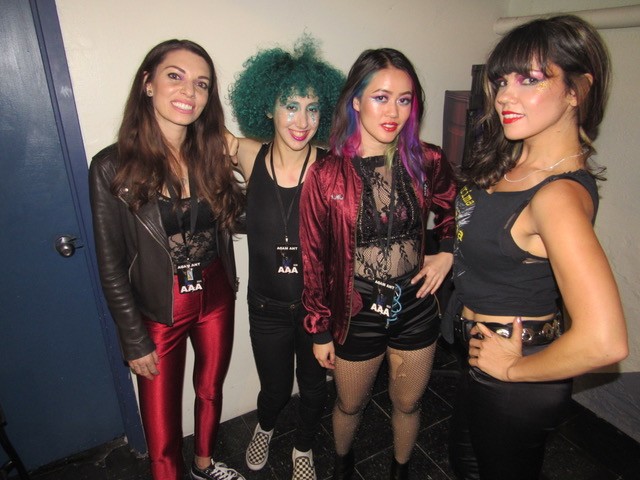 photo credit // jerry nunn
Glam Skanks
Glam Skanks are not your typical all girl rock band. Based out of Los Angeles, the quartet's humble beginnings started with Veronica Witkin on guitar and vocals back in 2012. She later assembled Vanessa McNiel as lead singer, Millie Chan on bass and voice and Jessica Goodwin on drums. They started as a cover band playing rock and punk songs, then moved into their own music with Glitter City and the latest album Anything In Between. 
 The group talked backstage while on their North American tour supporting Adam Ant in Chicago.  
JN: (Jerry Nunn) Where is everyone from originally?
VM: (Vanessa McNiel) I'm from Los Angeles.
JG: (Jessica Goodwin) San Francisco.
MC: (Millie Chan) Las Vegas.
VW: (Veronica Witkin) Los Angeles. We are all based in LA now. 
JN: How did you bring everyone together?
VW: I had been a few bands in LA where I was the only girl, so finally I decided to put together an all girl band. I put up an ad on Craigslist. After a few ads and friends spreading the word, we finally all came together. 
JN: Where did the name Glam Skanks come from?
VW: It started as a joke. We had a gig booked before we even had a name. We were brainstorming with a friend who was making lamb shanks for dinner. We said if you throw glitter on them, they would be glam shanks. We used Glam Skanks for the gig and people thought it was a funny name. It stuck and we never changed it! 
JN: Were there bands you looked up to?
VW: The original ad said David Bowie, New York Dolls, T. Rex, Aerosmith, Led Zeppelin and Alice Cooper.
JN: So all male?
VW: We did say Runaways and Joan Jett, but it was men that were very effeminate. We always loved the glam thing. We saw women who were glammy in pop and men were glammy with rock. Usually women in rock are on the other side of the androgynous spectrum. 
JN: This is for a LGBT publication. 
JG: I'm a lesbian. 
JN: How is it being in a straight band?
VM: We are all so open minded, it's not even a thing. 
JG: It's not even an issue. 
JN: It influences the music doesn't it? There's a drag queen song.
VW: Yes, "Teenage Drag Queen." I grew up in the heart of West Hollywood so seeing a drag queen walk around was no different than seeing anyone else walking around. 
We wanted to know what it was like for teenage drag queens. We see people when we play with Adam Ant or meet people online that don't fit into a box. With our fanbase being like that we wanted to show these kids that they are represented. We are with them!
JN: Kids love drag queens now. 
MC: I know!
VW: When I was a little kid, I remember RuPaul being cool. Rupaul is still bringing drag to the masses. I went to DragCon a few years ago when I worked for a makeup company. Everyone was so beautiful there. 
JN: How about your song "Miss Androgynous?"
VW: That was an earlier song based on Rocky Horror Picture Show. 
VM: The title of our new album is Anything In Between.
VW: I was coming back from a long tour and someone was crashing on our couch. They were non gendered. So many people hanging out at the house were confused whether this person was a boy or a girl. It made me think that someone can be whatever they feel in their heart. That is who someone is. They may not feel one way or another, but be who you feel and don't be afraid. When people said it was weird, I wanted to show that it's not weird. 
JN: Who writes the songs?
VW: We have all contributed. 
VM: The entire album speaks on that theme of gender equality, but also speaking your mind and not being afraid to be who you are no matter what. It touches every level and does have a message. It's not just about partying. Let's party and have fun, but be stronger as people. 
JN: Be inclusive to everyone…
MC: Exactly. 
VM: We are here for everyone. 
JN: People try to put everyone in a box, don't they?
VM: Yes, even in music. They want to know what style we are or our influences. That is a part of what we do, but we do so many things. Why can't we do all of it?
MC: They even do that with someone's ethnicity. Why does it matter? They ask what's my background or even how old I am. Let's just get it together, people, and enjoy life as it is. People are so afraid of the unknown that they feel the need to put someone in a box. That's where the problems start. 
JN: Pronouns throw people, but I just use their name. 
VW: They get confused about they or them, but just use they if you have never met them. It shouldn't be weird. 
JN: What about the word lesbian? Some women liked to be called gay because lesbian is an outdated word. 
JG: A lot of folks I know refer to themselves as queer. That's the new all inclusive umbrella. I say lesbian because I've been out forever and can say lesbian. I am owning it! I also say queer for myself sometimes. 
JN: Where does everyone see this band going?
VW: We hope to keep doing what we are doing and touring as much as possible. We want to get our music out there and meeting more people. 
VM: Bigger crowds and bigger venues, maybe touring with more females our age, really spreading the message. We would like to meet bands that are also spreading this message. That's our goal. 
JN: How is it touring with Adam Ant.
MC: He's amazing. 
VW: This is our fourth time touring with him in the last two and half years. Adam, his band and crew all the best people to work with. 
MC: They are like family and very inspirational. 
JN: What can you tell people about Adam Ant that they may not know?
VM: He's still got the moves!
VW: He looks just as good in person as you see onstage. 
VM: He's a legend.
JG: We are lucky to be with him. 
JN: He does a long set list?
VM: It's over two hours. That's crazy! 
JN: What are the challenges of being the opening act?
VM: Not sucking! 
MC: People are here to see Adam Ant, but luckily for us, we have been on the road with him four times now. We have won almost all of them over. They are very supportive. We love them and they love us back. 
Adam Ant is such a respectable figure that his fans know if he's bringing our band on tour that they should trust his judgment. 
JG: It's our job to get them psyched for the headliner. We go out there and do pushups before we start. We bring the energy. 
MC: Adam has said that about us, that he loves bringing us on since we set the mood. We get it ready. 
VW: We compliment his show. 
JN: When are you coming back to Chicago on your own tour?
VM: Hopefully next year. We are getting ready to release the album. Right now, we are selling it at the side of the stage. It will be up on Spotify and Apple Music. Once it is out there then we can do our own little trek or maybe open for someone else. 
JN: What do you want to tell people that have never heard of the Glam Skanks?
VW: Definitely check out a live show. That's where we shine. We have fun and have a lot of energy. We don't just stand up there and play. It's an experience. You can listen to us on Spotify or YouTube, but come to a live show since that's what it's all about!
Interviewed by Jerry Nunn. Jerry Nunn is a contributing writer to the GoPride Network. His work is also featured in Windy City Times, Nightspots Magazine and syndicated nationally. Follow @jerrynunn