A GoPride Interview
Ezra Potash
The Potash Twins jazz it up at Cooper's Hawk
We did two songs with RuPaul, one for Drag Race UK and one for the upcoming season of RuPaul's Drag Race.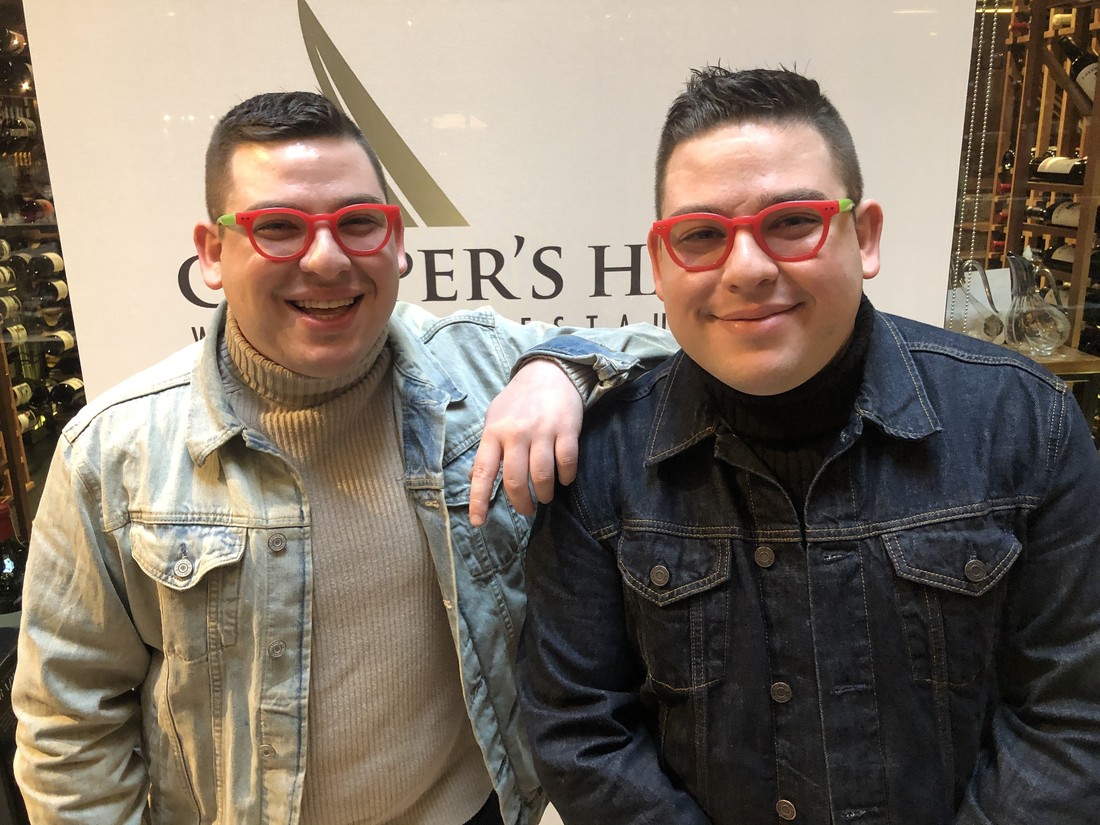 photo credit // jerry nunn
Twins Adeev and Ezra Potash are jazz musicians and hosts of Travel Channel's "Southern Road  Trip with The Potash Twins."
They have been labeled "Twin Horns of Joy" and reached number nine on the iTunes Jazz Charts with their self titled album in 2015.
The duo have performed around the world and just before jamming at a jazz brunch at the new Cooper's Hawk location on Oak Street, they spoke about their recent collaborations.
JN: (Jerry Nunn) Where are you from?
EP: (Ezra Potash) Omaha, Nebraska.
AP: (Adeev Potash) We grew up traveling and moved to different cities. We were born in Omaha, then moved to Indiana, Illinois, Texas, then back to Omaha and New York, Minneapolis and LA after that.
JN: Didn't you receive an award in Nebraska?
EP:  We are the cultural ambassadors of the state of Nebraska. We advocate for what we see going on in Nebraska as far as music and the culinary world there.
The governor named us admirals of the state as an honorary title.
JN: You grew up playing music, but how did Wynton Marsalis become involved?
AP: We were 14 years old living in Omaha. Wynton was playing in concert and we snuck backstage with our horns. We explained that we wanted to be jazz musicians and wanted to play something for him.
EP: He's a great guy.
AP: He's probably the best human being we know.
JN: You are lucky he wasn't a diva and kicked you out!
EP: We have had those experiences before, but Wynton was the exact opposite of that. We played for him and he gave us an hour long lesson. at the end, he handed us his cell phone number and said, "Whenever you are in New York, give me a call!"
We heard that and took him up on it.
AP: He told us years later that we were the only people that did call him. I found that to be weird. If someone gives you their number, I think it's polite to interact with them.
EP: He's become a dear friend and mentor. We were just texting him over the holidays. He's been on our TV shows.
JN: So you are paying him back?
EP: I don't think we will ever be able to fully do that.
JN: Did you both grow up cooking?
AP: Oh yeah. We became culinary curious around seven years old.
EP: Our parents traveled for work and we stayed home. Our mom would bring back mochi from her travels and think it was amazing.
AP: We would be made fun of at school because people thought we were eating a spleen!
JN: What are the differences between you two?
AP: Our personalities. We are both very extroverted, but in comparison to Ezra, I look like an introvert. If he is not around, then I am way more of an extrovert.
EP: Am I toxic energy to you? [laughs]
AP: No, I think you are just more comfortable engaging first. I am more observant. He talks to buy me time to say something important.
JN: How did you start working with Bravo?
AP: We were performing in Nebraska and Andrew Zimmern was there. We were huge fans of his and the people throwing the event put us at his table. We hit it off instantly and he adopted us right there onsite. He invited us to Thanksgiving the week after. Ever since then, he's like our dad. We are inseparable.
EP: He wanted us to do television, but we were reluctant because we wanted to be musicians. We did a trip show for the Travel Channel. We were in Aspen and Top Chef was there. They asked us to judge an episode. We were big fans and apparently really good so they asked us to do more.
AP: To this day, a lot of our friends are other Bravo talent, even the executives. I was just texting with them about projects. We have a new cooking series coming out with KitchenAid. We have people from Vanderpump Rules on the show.
JN: You have met Andy Cohen?
EP: We have, but haven't seen him in a long time.
AP: I think we are bartending on Watch What Happens Live soon.
JN: What was it like recording with RuPaul?
AP: We did it remotely and during FaceTime. We did two songs with RuPaul, one for Drag Race UK and one for the upcoming season of RuPaul's Drag Race. 
EP It's a marching band kind of song.
AP: It's really fun!
JN: How about working with Diplo?
EP: Guy Fieri was getting a star on the Hollywood Walk of Fame. We were invited to the after party and Guy wanted us to play the horns to get in. We show up and Bret Michaels was playing. We did a couple of solos with him. We did "Sweet Home Alabama" with Guy and Bret. Diplo was upstairs and wanted to meet us. He had been following us on Instagram. We asked us to collaborate with Major Lazer. That sounded like a dream come true!
AP: The next day he texted us and we played a show with 200,000 people live.
EP: It's always fun being a horn player and watching out for fire shooting up out of the stage. In jazz that's never a thing!
AP: In our monitors they said, "Be prepared, pyro in 3,2,1!"
JN: I have tried for an interview in person with no luck.
EP: Here's the reason, he has a private plane and a motorcade picks him up. He goes straight to the stage and plugs in his laptop. When he's done, he gets back in the car and is gone. He's never in a hotel. He just flies home or to his next event.
He forgot to say goodbye to us last time we played with him. He came back to thank us then went back to the plane. There's no downtime for him.
JN: Talk about John Legend.
AP: Next week we are doing a show with him. It's a comedy show about Soul Train.
EP: He's bringing in big names like Common, Mary J. Blige, Tiffany Haddish and Ne-Yo.
AP: They are all going on with a fake musician persona from a certain decade.
EP: It's really hilarious. We played at the premiere and they asked us to be in the show.
AP: We shared a dressing room with him. When they asked us we weren't sure if they meant it. Within the next day, they were setting up our shooting schedule.
EP: They write us into the show, so we were playing ourselves.
AP: We were acting and performing as a persona. It seemed funny. It will be some new boundaries for us explore. We are writing some of the music for it.
EP: John is such a great guy and obviously a good performer.
AP: As a musician, it's such an honor to share a stage with someone like that.
EP: It makes them tangible as a performer to work with them. We learn from them.
JN: How did you start working with Cooper's Hawk?
EP: We met Tim McEnery in Aspen four years. We hit it off. We talked about doing a music focused event. We did a brunch last year in Arlington Heights and it was epic.
AP: We are asked to do brand collaborations all the time, but when you see the operation of Cooper's Hawk and their pursuit of perfection, you don't turn it down. There aren't that many companies like that, so you really want to associate with them. You see firsthand their excellence.
It starts its way with Tim and works its way down to everyone here. It's amazing to witness.
EP: Every time we come back here, we are blown away by their progress with their food…
AP: And the wine is bad at all! [laughs]
JN: What are you doing next?
AP: We are hosting a Grammy event for Delta. We are like the house band where we emcee and bring in winners. We will be at LAX. It's an event that's different and out of the box. It's what the industry should be doing with pop ups and unexpected events.
JN: Delta Air Lines should just give you your own plane, so you could be like Diplo!
Interviewed by Jerry Nunn. Jerry Nunn is a contributing writer to the GoPride Network. His work is also featured in Windy City Times, Nightspots Magazine and syndicated nationally. Follow @jerrynunn