A GoPride Interview
Matt Zarley
"Hottest Bachelor," pop vocalist and billboard dance artist Matt Zarley joins Market Days line-up
Life is really too precious to live a charade, a lie. Living truthfully is the most empowering way to live...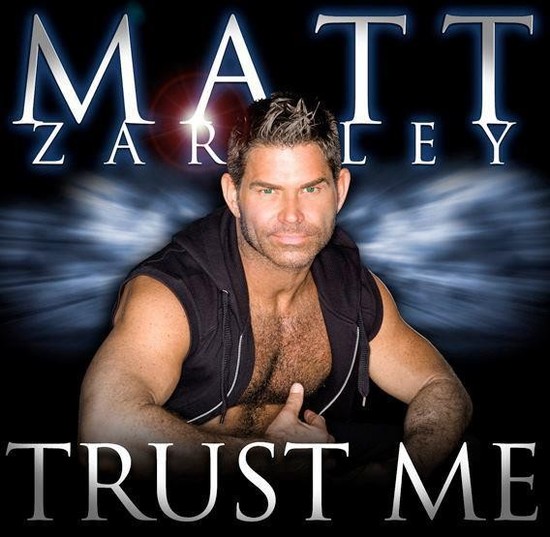 "Hottest Bachelor," pop vocalist and billboard dance artist Matt Zarley joins Market Days line-up
An internationally published songwriter, People Magazine's "Hottest Bachelor," and Billboard dance sensation Matt Zarley is part of an incredible line-up performing this August at Chicago's Halsted Street Market Days.
Zarley began his career at 12 years old, dancing with Tony the Tiger in a Kellogg's Frosted Flakes commercial. Soon after, he made his Broadway debut in A Chorus Line and has appeared in Cats, Kiss of the Spider Woman, Chicago, and has played the title roles in both Joseph and the Amazing Technicolor Dreamcoat and The Who's Tommy on Broadway.
In 2002, Zarley was featured in People Magazine's "Hottest Bachelors," opening the door for other openly gay men to be featured in the mainstream publication.
His most recent CD, "Change Begins With Me," has received rave reviews from several LGBT outlets: "A sexy collection of swoon-worthy songs," (The Advocate); "Matt Zarley is our idea of perfect" (Instinct); "Soulful and inspiring" (Out Q on Sirius XM); "Inspirational!" (Washington Blade); "Emotionally charged!" (Homorazzi).
In addition to his welcome back appearance at Market Days in August, Zarley, will be touring at various Pride festivals and national LGBT events, performing his latest single and remixes, "Trust Me" (remix CD on iTunes).
The accomplished pop vocalist took a moment to talk about his life, music, memories, future projects and the importance of being authentic and supporting one another.
MI:
Hi Matt! You started your career at the age of twelve, starring in national commercials. Then soon after, you were under the Broadway lights playing starring roles in "Joseph and the Amazing Technicolor Dreamcoat" and "The Who's Tommy."
What inspired you so early in life and then how did that passion focus into music later on?
MZ:
I started really as a dancer; which I was 100% devoted to by the time I was 12. It just felt like a natural pursuit. I was so in love with performing... it was my soul. It sounds so corny, but it's kind of true.
Music was always my big passion. I was so fortunate to have had the opportunities to work professionally so young. That led me to some amazing mentors and to really pursue my music later on. I think music was always my number one goal, even when I wasn't really a singer yet. I was just IN love with music!
MI:
You've appeared in Disney adaptations of Cinderella, Annie, and Geppetto. And you've worked with Vanessa Williams, Whitney Houston, Usher, Reba McIntire, Chaka Khan, Gladys Knight, Brandy, and Peabo Bryson. Is there an entertainer you'd love to work with but have not yet had the opportunity?
MZ:
I'd love to work with George Michael at some point. He was a HUGE influence on me and I'd love that experience. My dream artist to work with would probably be India Arie. I worship her and think she's brilliant beyond words.
MI:
In 2002, you were the first openly gay bachelor in People Magazine's "Hottest Bachelors" issue in 2002. It paved the way for other openly gay men to be featured in the mainstream publication. Now how awesome was that experience?
MZ:
Amazing really. I felt to honored to be called out like that. It was also my official coming out so to speak. Such an honor. I'll always be proud of that moment.
MI:
You've had an amazing music career. What would you say would be the most important lesson you've learned in the music business and in your personal life since your debut album in 2012?
MZ:
To just be true to yourself. I've learned that you can't please everyone. 100% of the public isn't going to like you. There will be those that can't stand you, hate your voice, your music, and you in general. It doesn't matter.
As long as you're being authentic to who you are, that's all you can be. I feel like I'm representing myself very genuinely. I know some will connect to that and others won't. I'm ok with that.
MI:
Last spring, you went through a tough break-up but found inspiration in that heartbreak and focused that energy into "WTF" - an amazing dance single whose video has gone viral. Can you share a little bit about how you channeled that vulnerable period of your life into the single?
MZ:
I decided to take an emotional experience and turn it on its head. Poke fun at it really. I kept repeating to myself, "what the f**k just happened?" Thus "WTF" was born. It's a sentiment I thionk everyone has experienced and I wanted to show a more playful, fun side to me and my music.
MI:
And what was it like shooting the "WTF" music video?
MZ:
AMAZING. Dream cast, dream creative team. It was such a fun day. A very long day; but I couldn't be happier with how that turned out. Plus when you have to look at my beautiful friends all day, how could it be that bad?
I think shooting the "Trust Me" music video may have even topped that experience. That video was a lot more ambitious but seriously couldn't have gone better. One of my all time fave work experiences ever.
W T F: The Remixes - on iTunes
MI:
And what's your relationship status today?
MZ:
Unfortunately, I just had a recent break up.... but now I'm single just in time for summer! (laugh)
MI:
You've collaborated with Chicago songwriter, DJ and producer Mark Picchiotti on your latest single, "Trust Me." What was it like working with him?
MZ:
He's a dream. I love that man. So talented and so generous. We've become good friends. I'd drop everything to work with him. It was such a wonderful experience.
MI:
When you're here visiting the Windy City, do you have any favorite local hangouts?
MZ:
I don't really. I need to spend more time there so I do. I do love the city though.
MI:
What are some of your memories of performing in Chicago?
MZ:
In the city or show? Because I've done both. (laughs) I performed at Market Days several years back, as you know. That was probably my favorite performing experience, in terms of performing my own music. It was an unbelievable audience. Such a high. I cannot wait to do it again!
As far as the show "Chicago," I loved doing that show! So much fun.
Trust Me (The Remixes) - on iTunes
MI:
Your latest album "Change Begins With Me" features some great uplifting and inspiring songs. What's your favorite track on the album and what makes it your favorite?
MZ:
That's hard. I really love the title track. It's very personal. The choir is ridiculous. I love what that song has to say. It means a lot to me. I also really love Perfect and Apology, for very different reasons.
MI:
What's the next step for you? There are rumors that you're planning on writing a musical?
MZ:
That's what I really want to start working on very soon. I would love to bring my pop sensibility to musical theatre. I'm very passionate about the theatre and have spent many years in it. It feels like the next step for me organically.
MI:
And what other projects are you working on?
MZ:
I'm developing a tv show... that is a little hush hush now. When I can talk about it, you'll know! (smiles)
I'm also shooting the last video for this album next month. It's for the title track and 7th Heaven also is doing a remix of the tune.
MI:
What was the coming out experience like for you?
MZ:
Really uneventful really. I've always had the love and support from my family so it was sort of a non-issue. I think the most difficult issue for me was self acceptance during that period. Once I was over that, it was all fine. I feel very fortunate.
MI:
Do you have any words of advice for young actors who are struggling to come out of the closet because of their professional lives?
MZ:
Like I said earlier, you can't please everyone. Be authentic. Life is really too precious to live a charade, a lie. Living truthfully is the most empowering way to live, I think.
MI:
Now for the fun stuff: boxers, briefs or commando?
MZ:
Briefs or commando. (smiles)
MI:
What's one thing about Matt Zarley you've never shared in an interview before?
MZ:
I used to hate facial hair... now I rarely don't go without. I guess that came with age.
MI:
Anything else you want to share? Any shouts outs?
MZ:
Support our community! I think the more we all embrace one another, the more out artists we'll have in the future and in future generations. I think it's important.
MI:
Thanks, Matt! Can't wait to see you in town for the big party this summer!
Zarley's latest remix CD "Trust Me (The Remixes)" and album "Change Begins With Me" can be found on iTunes along with all of his previous albums.Matt Zarley will be performing at Northalsted Market Days on Sunday, August 12 at 5:30 p.m. at the Rivers Casino North Stage. Market Days spans six city blocks and features four music stages with more than 40 musical acts performing, including Olivia Newton-John, The Pointer Sisters, Sheena Easton, Adam Barta and Eric Himan.
Interviews:
Olivia Newton-John
|
Sheena Easton
|
Eric Himan
Market Days Entertainment Schedule:
Sat., Aug. 11
|
Sun., Aug. 12
Related:
Navigate Market Days with 'Out & About' mobile apps
Interviewed by Matt Inawat. Ron Matthew Inawat is president of the GoPride Network and contributes to ChicagoPride.com, PrideLA.com and other sites within the GoPride Network. Follow @cpmatthew