A GoPride Interview
John Michael Dias
Beautiful's John Michael Dias - on growing up, working from wardrobe to stage and Carole King
It doesn't feel like as much of a job when you're doing it for people that love it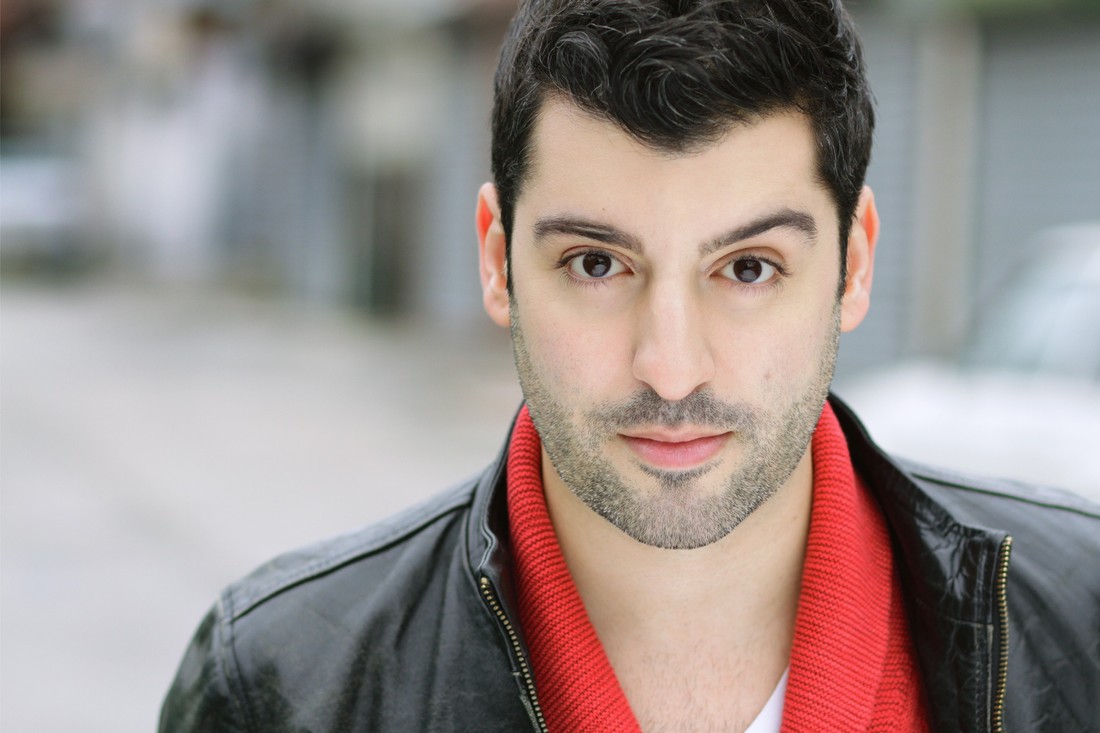 ChicagoPride.com spoke with John Michael Dias who is currently in the production of "Beautiful" which portrays the early life and career of the legendary and groundbreaking singer/songwriter Carole King.
Dias is from Rhode Island and has a BFA in musical theatre from the Boston Conservatory. He played Frankie Valli in "Jersey Boys" all over the U.S. and is returning for his second tour of "Beautiful" in Chicago
John is happy to be back in Chicago. His solo album "Write This Way" is available on iTunes.
MI: (Matt Inawat, GoPride Networks) Hi John, thank you so much for taking the time out to chat and congratulations on the role so far and the amazing success on Beautiful! 
How did you get involved in Beautiful?
JMD: (John Michael Dias) It's kind of a long story. I was doing wardrobe on Broadway for the show On House. When I'm not on stage and when I'm not acting or singing, I do wardrobe as my sort of, not like a survival job - it's way better than that, but that's what I was doing.
I was doing it for a year and a half, auditioning here and there. I just wasn't landing anything and I was in between shows and I honestly was making enough money.
I thought, "I'm going to take a minute and not do theater." Then I heard that Beautiful was auditioning and I talked to my agent and said, "Can you get me an audition for this?" 
And he said, "They're not seeing anybody." 
Then I said, "Okay. Well, that sucks."
I have an agent and a manager. So the next day my manager just called me and said, "Hey, they want to see you for Beautiful. They're trying to think of all the people that did Jersey Boys for this part." I said, "Okay." 
And he said, "They've seen everybody, they want to see you." 
I said, "Okay, great." 
Three days later I had the job, which was cool. It was a very quick process.
MI: Really quick!
JMD: We were cast nine months before we started rehearsal.
MI: Very nice. Tell me a little more on working with wardrobes.
JMD: Well, when I was a little kid, I started doing community theater with my grandmother who was a seamstress and a floor lady in the factory where I'm from. She was the head wardrobe person in my community theater. Before I even did a show at all, when I was ten, I would go help her sort of pick out things at the costume shop and make hats for the costumes.
MI: That's pretty cool.
JMD: She'd give me assignments of what to do and I would help her. I sort of just loved it. She taught me how to sew. She taught me how to cut out patterns on Saturday mornings.
Every Saturday I would be doing that with her. I sort of fell into it. It's another skill set I have. People are always surprised when a guy can thread a needle, you know what I mean?
MI: It's a useful skill.
JMD: Yeah. It works. And it pays.
MI: In addition to being such an iconic musical featuring Carole King's legendary music, tell us a little bit about the upcoming production. Do you have any personally inspiring parts of the musical that will get people excited to see the show here in Chicago again?
JMD: Yeah, you know, they have a knack for finding girls to play Carol. First it's Abby Mueller, and now we have another Chicago girl, Sarah Bockel. The cool thing about their energy is that they're so relatable and so humble and so lovely as they are talented off stage; and it really comes across in the show.
I think if you've ever met Carole King or have seen her in interviews, she is so humble and it's never about her. You know what I mean?
MI: Yeah.
JMD: She'll turn the conversation to you, you know? She's just grateful to be there. There's something so lovely about her. After being so successful, a lot of people don't have that kind of energy. She has kept her humble beginnings and that sort of attitude of being gracious and lovely - and that translates into her work, I think. 
And the cast is almost completely different from what the Chicago audiences have seen the last time they were there. It's going to be the same show but different.
MI: You told us how you got started in Beautiful, take us back a little bit more. How'd you get involved in theater?
JMD: My grandmother, in fact, is the reason I do this, honestly. She always wanted to be a performer her whole life although circumstances being what they were in the time that she grew up... She was the youngest of 12. And she went to her mother and said, "Mom, I got this. I have an agent. I want to dance. I want to go on tour." And her mother said, "Ask your brothers." Her brothers immediately answered no, no, no. Absolutely not.
So she never got to do it so she ended up working at a factory. She knew how to sew, worked at a factory, and then she got married to my grandfather. She wanted to open up a dance studio and my grandfather told her no. Her whole life she was told "no" about performing.
When she got old enough and settled, she did theater on the side. She started doing theater at this little community theater doing wardrobe. They were doing Music Man when I was making hats with my grandmother in the living room on Saturday mornings. She said, "Come with me to the theater."
So we're at the theater and the director tells her, "We need more boys. We have enough girls performing." My grandmother says, "I've got a boy" and literally pushed me onto the stage. 
I was in the show.
MI: Wow!
JMD: I was in the show; in the ensemble. That was the first time I ever did a show. You do shows growing up in elementary school. This was the first time I had done a whole full scale, on stage, musical with an orchestra and full costumes and lights. Obviously the second I did it, I knew this is what I wanted to do. 
I've always wanted to do this. From eleven on.
MI: So, it sounds like your grandmother's best legacy was inspiring you to join the theater?
JMD: Oh, absolutely. She definitely inspired me. What's funny, both jobs of mine, she lit the fire under me to do both of them even inadvertently, but yes.
MI: Right. So do you have any other acting or performance influences over the years? Who else has inspired you?
JMD: You know, I always grew up watching Wizard of Oz. This sounds so cliché but I really have always been obsessed with Judy Garland. I would mimic her sounds my entire childhood, before I even knew what I was doing. 
I think I'm an imitator at heart, so learning how people sound has taught me how to sing. I think my voice is sort of a product of imitating singers. Not just broadway, but Steve Perry and Mariah Carey, and Whitney Houston.
MI: Facinating...
JMD: Even Arethra Franklin. Sort of trying to mimic what they're doing.
MI: What's been your favorite role to date? 
JMD: So far, I think Frankie Valley was probably the biggest part I've ever played. It was sort of the most challenging in a way. You have to be on stage and sing 27 songs and start out at 16 years old and end in current times. That was amazing. I did that show in Chicago for three years when it was there. It will be fun to be back.
MI: Is there a dream role in any play or musical you'd love to portray?
Let's see. The role that I want to play? 
Honestly, I've been working on doing sort of Neil Sedaka in Beautiful. I've been working on a Neil Sedaka tribute show. I would love for there to be a sort of Beautiful inspired musical, but, you know about Neil Sedaka and his story. His story's insane. Not a lot of people know about it. It could be a cool, bio version of a musical. I would love to star as Neil.
His journey is insane. He's in his late seventies giving tours and performing and selling out. 
I did my show actually in the Chicago area earlier this year. It sold out. It was at Artist Lounge Live, produced by Michael Ingersoll who's from Jersey boys as well from Chicago. We sort of stick together and take care of each other and we did a show together and it worked out really well. Hopefully I'll be doing that again soon.
MI: So, speaking about the city, any favorite restaurants, hangouts or places in the city?
JMD: Girl and the Goat, for sure. What else? I love... you probably have to help me with this name, but there's this place. It's been a while since I've been to this place but there's a seafood restaurant. It's a crab place. It's near Belmont.
I can't think of what it's called. It's literally called something crab but they have king crab and shellfish. I can't think of what it's called. I know, it's strange. It was a place that we would frequent.
MI: I'll definitely have to look that up.
JMD: And obviously I can't wait to go back to the gay bars like Sidetrack; and Little Jims, I miss it.
MI: Right. Musical Mondays at Sidetrack...
JMD: Oh, forget it! I'm like, "we are doing this."
MI: Awesome. Yeah, I can't stop singing on Monday nights. Of course I've lost my voice every Tuesday morning.
JMD: I know. I'm really good at not singing along. I'm tell myself, "this is your one day off - you need to stop using your voice."
MI: Exactly! So, John, are there any charities that are near and dear to your heart?
JMD: Yeah - Broadway Cares is amazing! 
And, honestly, I'm glad you said that because we're doing a big combined benefit with Hamilton and Wicked on December 11th and it's approaching quickly and we're just trying to plan from afar. It's going to be incredible. It's all of us coming together and doing a benefit at Thalia Hall.
It's going to be crazy. Every show is doing five different songs. We've got live auctions and a VIP reception where you can meet actors from the show before the show.
The information is at thaliahallchicago.com. It's benefiting Equity Cares, Broadway Cares and Chicago House. All the info is on there.
MI: Awesome. We'll definitely promote it.
And this has been such a fun interview. So in closing, tell us something about you that you've never shared in an interview before.
JMD: Oh my God. That's a tough one. I feel like I've pretty much said everything.
MI: I bet you haven't talked about Musical Mondays before in an interview...
JMD: I don't think I have, actually. There you go. 
And it's also like, I'm such a nerd about it. I guess this is something to be proud of, but I don't think I am in a lot of ways. I really do love musical theater still. 
I think going to Musical Mondays and hearing everybody sing along and everybody be so into it reminds me of why I do it in a way. Because doing a show over and over again gets monotonous and you get burnt out. But when you remember how much people love what you do, your job becomes worth doing again.
So it doesn't feel like as much of a job when you're doing it for people that love it. You have to remind yourself that people are seeing the show for the first time. Most people are seeing it for the first time. I'm a real musical theater dork. It's not really a surprise, but I still really do love it.
MI: I can only imagine that it's an awesome feeling.
JMD: You know what? I've got something else I can tell you about too, really quick.
This is in the vein of keeping my life fresh. Every Saturday, I do this thing on YouTube and Facebook and Instagram called "Sing out Saturdays."
It started about four months ago. I started singing a song - not from Beautiful or not from the album that I recorded - but just a random song and recording it in a video and putting it out online every week; every Saturday between shows.
MI: That's pretty cool!
JMD: It's a huge commitment that I've made to myself and to people online because I'm like I just need to do something that's not the show to keep my voice moving and my brain active. 
We try to do different things and you know, sort of take requests from my mother and friends. She's like, "I want to hear that." And I'm like, "Okay, whatever mother wants mother gets."
I do it every week: Sing Out Saturday.
MI: And that's on your Instagram?
JMD: Yeah. It's at @JMDEEZPIX
And Facebook. All the videos are searchable on there. If you search Sing Out Saturday.
And YouTube channel. Look up my name. You know, got to be on all the platforms to keep up with the children.
MI: Totally, right? Even Pinterest - actually, that's an older platform now, isn't it?
JMD: I know. Very true. I know, seriously.
MI: Well, John, thank you so much for taking time out this morning!
JMD: Okay, great. Thank you. And I'll definitely see you on Mondays.
MI: Yeah, definitely! Thanks and have a great afternoon!
BEAUTIFUL – THE CAROLE KING MUSICAL, portrays the early life and career of the legendary and groundbreaking singer/songwriter, is playing in Broadway In Chicago's Cadillac Palace Theatre (151 W. Randolph) for a limited eight-week engagement that runs Dec. 5, 2017 through Jan. 28, 2018.
BEAUTIFUL tells the inspiring true story of King's remarkable rise to stardom, from being part of a hit songwriting team with her husband Gerry Goffin, to her relationship with fellow writers and best friends Cynthia Weil and Barry Mann, to becoming one of the most successful solo acts in popular music history. Along the way, she made more than beautiful music, she wrote the soundtrack to a generation.  
BEAUTIFUL features a stunning array of beloved songs written by Gerry Goffin/Carole King and Barry Mann/Cynthia Weil, including "I Feel The Earth Move," "One Fine Day," "(You Make Me Feel Like) A Natural Woman," "You've Got A Friend" and the title song.
The Original Broadway Cast Recording of BEAUTIFUL – THE CAROLE KING MUSICAL (Ghostlight Records) won the 2015 Grammy Award for Best Musical Theater Album and is available on CD, digitally, and on vinyl.  BEAUTIFUL launched its first US National Tour in September 2015, and is also currently playing internationally, with productions in Japan, Australia and touring the UK.  An Award-winning production recently concluded its run in London's West End after opening on February 25, 2015.
TICKET INFORMATION
Individual tickets for BEAUTIFUL – THE CAROLE KING MUSICAL at the Cadillac Palace Theatre range from $30 - $115. A select number of premium seats are also available for many performances. Tickets are available now for groups of 10 or more by calling Broadway In Chicago Group Sales at (312) 977-1710.  Tickets are available at all Broadway In Chicago Box Offices (24 W. Randolph St., 151 W. Randolph St., 18 W. Monroe St. and 175 E. Chestnut), the Broadway In Chicago Ticket Line at (800) 775-2000 and online at www.BroadwayInChicago.com. 
 
ABOUT BROADWAY IN CHICAGO
Broadway In Chicago was created in July 2000 and over the past 17 years has grown to be one of the largest commercial touring homes in the country.  A Nederlander Presentation, Broadway In Chicago lights up the Chicago Theater District entertaining well up to 1.7 million people annually in five theatres.  Broadway In Chicago presents a full range of entertainment, including musicals and plays, on the stages of five of the finest theatres in Chicago's Loop including The PrivateBank Theatre, Oriental Theatre, Cadillac Palace Theatre, and just off the Magnificent Mile, the Broadway Playhouse at Water Tower Place and presenting Broadway shows at The Auditorium Theatre of Roosevelt University. 
For more information, visit www.BroadwayInChicago.com
Interviewed by Matt Inawat. Ron Matthew Inawat is president of the GoPride Network and contributes to ChicagoPride.com, PrideLA.com and other sites within the GoPride Network. Follow @cpmatthew