A GoPride Interview
Patric McCoy
Patric McCoy: Take My Picture takes over Wrightwood 659
I cut my teeth at the Jeffery Pub!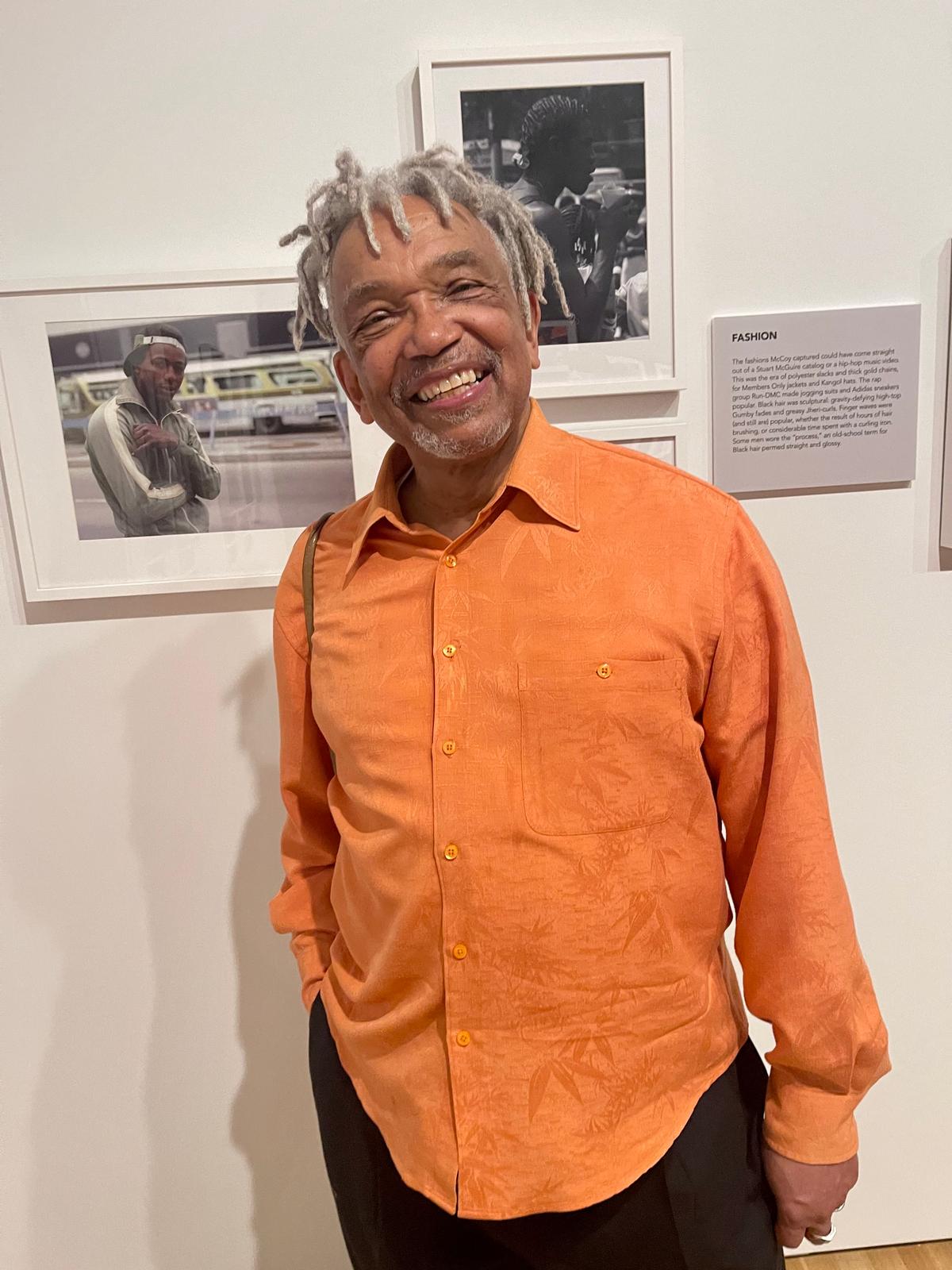 photo credit // jerry nunn
Photographer Patric McCoy takes his pictures to Wrightwood 659
Out and proud photographer Patric McCoy has an eye for the extraordinary and while exploring Chicago on his bicycle in the past found plenty of subjects that wanted to be captured on film. 
Take My Picture is a series of photos presented at the art gallery Wrightwood 659 curated by Juarez Hawkins. The exhibition is a snapshot of Black, gay, Chicago life in the '80s with a selection of 50 photos shown on the second floor of the space. 
McCoy graduated from Englewood High School in Chicago and received a degree in chemistry from the University of Chicago. He retired from being an environmental scientist to enjoy collecting contemporary African American art. In 2003 he co-founded Diasporal Rhythms, a not-for-profit organization for art collectors. 
McCoy met friends and fans at his exhibition on May 4, 2023, and spoke briefly about his art. 
JN: (Jerry Nunn) Tell our readers a little about yourself. 
PM: (Patric McCoy) I am a Chicagoan that was born and raised on the South Side. My mother went into labor while dragging a Christmas tree down 63rd Street. My older brother was in her arms. We lived in a two-room apartment and when she got up to the second floor, bingo!  
JN: Wow, now that is a wild story. 
PM: Both my mother and my father were artistically inclined. I had a lot of exposure at a young age to photography and painting. 
I have always been familiar with photography but I did not want to follow in my father's footsteps because he was a serious photographer.
JN: How did you get started then?
PM: During the '60s and '70s I was carrying a little point-and-shoot camera. I took it everywhere and took a lot of pictures. One of my friends who was working at the Helix Camera store in the '80s told me to get serious about my craft because I was taking so many photos. 
I bought a 35mm and played around with it. In December of 1984 on my birthday I made a commitment to carry the camera with me for a whole year everywhere I went. I planned to take at least one picture every day and if anyone asked me to take their picture then I would stop whatever I was doing and take it. I never thought anyone would ask me to take their picture back then and I know today no one would do that. It was a different time back then and people were much more engaging with each other in the public domain.  
JN: People didn't have camera phones during that time period.
PM: In fact, most people didn't have good photographs of themselves because the equipment was so bad. We know now that film was not designed to make Black people look good and was set up for white skin culture. 
My commute to work was from the South Shore to the Chicago Loop on a bicycle. I was a serious environmentalist. I was riding my bike with a camera around my neck everywhere I go and as I rode through the neighborhood people would holler out and ask me to take their picture. 
I would stop and go over to take their picture. People would pose, but I never directed them to do anything. The people in these photographs are giving us how they want to be seen. 
JN: They are all Chicago locals?
PM: Yes.
JN: How did you use these subjects to focus on the HIV epidemic?
PM: That was after the fact. Since I was carrying the camera everywhere I would go out to the clubs and one was the Rialto Tap, a dive bar on the south end of the Loop. It was seedy and had clientele from everywhere including the homeless shelters and businesses in the area. 
Everyone gathered in that spot and I walked in there with a camera to party with people. Invariably I would be asked to take pictures and I captured the world of the '80s before they became aware of the AIDS crisis because it was slower to reach the consciousness of Black people. 
To be honest, at that time most Black people thought it was a white disease and they couldn't get it, so they were partying and having a good time in these clubs. 
What I saw after the fact is that I was catching people when they only had a peripheral understanding of AIDS because they didn't understand it would affect them. 
I compare it to partying on the Titanic!
JN: They had no idea what would happen then. I work in HIV prevention and the growing group is minority women right now. We have a long way to go…
PM: Yes, we do. 
JN: I have photographed in the clubs for publications at the clubs and many minorities would refuse to pose for photos because they were in the closet. Did ever have that problem?
PM: No, because they were asking me to take their picture not the other way around. They had no idea where the photograph would go or if they will see it again. 
I would go develop the film and print it at night at my father's house. I would carry 5x7 prints with me and as I rode through the neighborhoods if I saw a person I would give them their picture. It became a feedback loop where the more I gave out the more I received. 
JN: So you provided a service to the community?
PM: That is right. These images did not come with any expectations that they would ever see them again. I find that fascinating. They posed for someone and thought that was it. 
This one I didn't realize was in front of a sign that said "Hot for men!" (laughs)
JN: Wow, right in the background. Did you ever go to the Jeffery Pub?
PM: I cut my teeth at the Jeffery Pub!
JN: I did health surveys there for Howard Brown many years ago. 
PM: I think it is one of the oldest gay bars in America. 
JN: I am sure it is. It has been there since the mid-'60s. 
PM: I love that place. 
JN: Have you heard from any of your subjects recently?
PM: The ones that are still alive. There are many that have gone on to the afterlife.
JN: Talk about this photo here. 
PM: The Rialto had a reputation in the criminal justice system and anyone that left the nearby jail would go there. The person in this photo just got out of jail. See the numbers on his hand?
JN: Yes. 
PM: He has a bag with him containing all of his personal items. 
JN: So literally right out of the pokey!
PM: Yes and he asked me to take his picture. I didn't even realize that the bus and his coat were the exact same color. We used to call the bus "the creme and green!"
I carried around his photo for a long time to give to him. I was on a trip with my job in New York. I was in Lower Manhattan walking down the street and there is a man bent over into the garbage can. He stood up and I recognized him. I had his picture with me to give to him!
JN: What an incredible moment. How fulfilling for you to give that picture to him. 
PM: That is right. It certainly was rewarding. 
JN: Where is your exhibition going next?
PM: This show has not been picked up anywhere yet, but I am working on a book because this is just a small sample of my work. I have thousands of photos and I want to make a book that captures that time period. 
JN: Excellent. Congrats on this important exhibition!
Patric McCoy: Take My Picture rides through 659 West Wrightwood Avenue until July 15, 2023. Visit wrightwood659.org for ticket information.
From the Underground to the Foreground explores McCoy's legacy led by art historians Greg Foster-Rice and Leslie Wilson on May 17, 2023, at 6 p.m. at the Museum of Contemporary Photography, 600 South Michigan Avenue. 
Patrons of Wrightwood 659 have an opportunity at the venue to hear McCoy and a panel share stories surrounding his photographs titled Men of Certain Age.
Tickets to both special events are complimentary but must be reserved at Tickets.Wrightwood659.org/events. 
Interviewed by Jerry Nunn. Jerry Nunn is a contributing writer to the GoPride Network. His work is also featured in Windy City Times, Nightspots Magazine and syndicated nationally. Follow @jerrynunn