A GoPride Interview
Jennifer Nettles
Jennifer Nettles interview with ChicagoPride.com
Wed. August 26, 2009 by ChicagoPride.com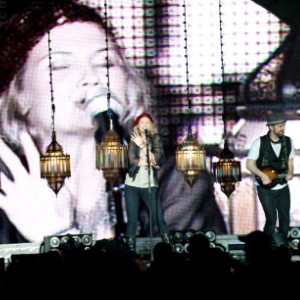 jennifer nettles of sugarland
Powerhouse duo Sugarland have released their "thank you to the fans," Live on the Inside, a CD/DVD set consisting of live tracks and performance footage from their Love On The Inside Tour. The album recently debuted at #1 on the Billboard Album Chart. Filmed in high-definition in Lexington, Kentucky with 20 cameras, the duo's innovative, hi-energy live show has been captured on DVD with 16 songs and over an hour of live performance footage. The show contains all five of their #1 hits ("Want To," "Settlin'," "Stay," "All I Want To Do," and "It Happens"), and the accompanying CD includes an eclectic choice of cover songs of hits made famous by Beyonce, B-52's, Pearl Jam, Edie Brickell, Kings of Leon, and R.E.M. An edited version of the live concert was recently aired as an ABC one-hour special and drew in more than 4 million viewers.

Jennifer Nettles and Kristian Bush make up the duo Sugarland, who exploded onto the music scene in '04 with Twice The Speed Of Life. Enjoy the Ride quickly followed in '06. Their third studio album Love On The Inside was released July '08 and skyrocketed them to superstardom, drawing fans from all genres and raves from critics across the board. Sugarland is credited with co-writing all tracks from all three albums and co-producing the last two. Earlier this year, they performed in six European countries and are now headlining a U.S. tour that runs through the fall. They've sold close to 7 million records, received trophies from the Grammy's ("Best Country Performance By A Duo Or Group With Vocals" for "Stay," "Best Country Song," also for "Stay," and "Best Country Collaboration with Vocals" for "Who Says You Can't Go Home" with Bon Jovi), American Music Awards, Academy of Country Music, CMT Music Awards and the Country Music Association. They also performed at the Presidential Inauguration.

Here, Nettles talks about singing with the B-52's on the CMT Awards and her longstanding and passionate connection with the gay and lesbian community.

CP: (ChicagoPride.com) Why did you decide to release a live album and concert DVD at this point in your career?

JN: (Jennifer Nettles) It's something that the fans have wanted for a very long time. They've been saying, "We love your albums, but your live show is incredible "So, we thought, let's give them some live stuff. We love the way our shows have been going, and we wanted to document that.

CP: What can you express musically with a live CD that you might not be able to with a studio album?

JN: The whole energy is different. In the studio, you are consciously aware that what is going down is going to be documented for all eternity. But at a live show, the energy is much more fluid and free. You recognize that this is a live moment, and as you play, it disappears into the ether and into the ears of the audience. A live show is a shared experience between performer and audience, which inspires a different kind of performance. It's also more exciting for us because we're playing without a net.

CP: How do you end up choosing the covers that you do in concert and that ended up on the album?

JN: It's very easy. We only do covers of songs that we like by bands of which we're fans. They're bands that we love and that have been an influence on us.

CP: How do you keep continuity, musically, between your own songs and the covers--how do you make the covers your own?

JN: Well, there's my voice—I'm the one singing all of these songs, so that's a cohesive piece. Ultimately, the songs we choose all make sense conceptually. Like "Sex on Fire" by Kings of Leon—we said, "What if we arrange this with just me on piano and Kristian on acoustic guitar?

It turned out great. On the other hand, when you think about a country act doing hip hop, you just wouldn't go there. While I enjoy dabbling in rap, I don't think that would translate as authentic.

CP: Some might say that Sugarland doing a Beyonce track might not work conceptually.

JN: We thought about that for a while—could we do that kind of "fingers out, wag them about" king of song, the kind that calls for a head sway and an "Oh, no you didn't!" But in the end, we decided we would try to have fun with the format and push the boundaries of different genres.

CP: Some of the covers you've chosen have a particular appeal to gay people, like the B-52's "Love Shack." Have you gotten any feedback from gay people regarding these covers?

JN: I got feedback back from Fred Schneider of the B52's, and he loved it! We sang that song with them on the CMT Awards. It was such fun.

CP: There's kind of an irreverence to your cover choices, like you're trying to expand the boundaries of country music.

JN: Irreverence can be really powerful. It's like subversive rebellion. You're not screaming, "I'm going to change the world" Performing with the B52's, we weren't waving a flag and saying "Look at us—we're bringing this iconic gay band into CMT." We just did it, and people had to accept it. They loved it without even thinking about it.

CP: Last year, you launched Common Thread, a music and lifestyle celebration for a cause. The first event featured Sugarland, Emily Saliers from the Indigo Girls and Amos Lee. Can you talk a little bit about your goal for Common Thread?

JN: Common Thread brings together musicians to sing and to celebrate the things they care about. Music can make a difference not only through the power of song but also through the causes that are important to musicians. In this way, we can turn art into money that can go toward causes that can affect change.

CP: How does it feel to have become country music superstars—how has your life changed, if at all?

JN: In some ways, I'm no different. I think there's a core of human experience we all share and that remains the same no matter what's happening in your life. I work very hard not to become the mayor of crazy town, though sometimes she shows up. I can see how easy it can be to slip into self-destruction if you aren't living consciously with awareness. I've had to decide to do this in a healthy way--physically, emotionally, and spiritually. But overall, this is fun! You're not going to hear me whining and crying about my life.

CP: Although your success has been in country music, you have fans of all types—rock fans, pop fans, young, old, gay, straight. Do you consciously strive for your music and live shows to have an inclusive quality?

JN: I consciously strive for our music and our shows to comment on and to celebrate the human condition, and that includes all humans. As I said, I believe there is a core human experience that transcends any sort of demographic category that one would want to name—age, sexual orientation, race—it doesn't matter. There are things we all share, like laughter, tears, frustration, things in our daily lives. Some people celebrate a specific lifestyle in their music, but that's not us. You don't have to wear gangsta jeans and a wife beater to listen to rap music, just like you don't have to wear a cowboy hat to like country music. Life can be so isolating. If you can share something with an artist, or with other members of an audience and feel that you're not alone, that's the biggest gift.

CP: Are you conscious of having a gay and lesbian fan base? If so, what is that like for you?

JN: I am aware of that, and interestingly enough, I've been aware even before Sugarland. I've actually performed at Gay Pride in Atlanta three times in my career. I've always had a large gay following, particularly in the lesbian community. I am grateful for that. To me, it means my music transcends categories. It also means that I'm a cute girl singing a rock song in an alto voice.

I had a friend write me that our music was being played at Gay Pride in New York, which is a big compliment. In the biggest city in the country with the most culture and the most grit--I love it.

It makes me feel proud.
Interviewed by ChicagoPride.com