A GoPride Interview
Rachel Platten
Singer Rachel Platten talks about the wild ride of her hit single 'Fight Song'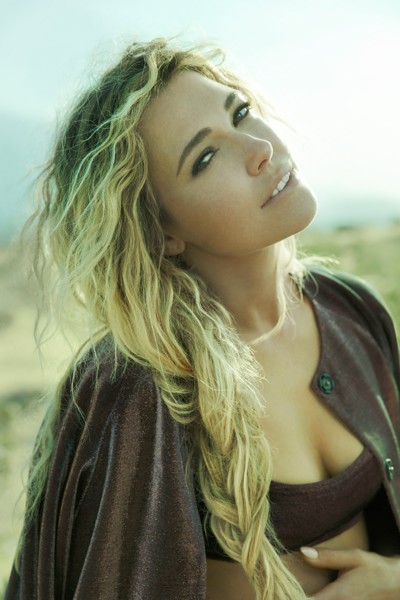 Rachel Platten Fights for Her Rights
Singer/songwriter Rachel Platten was signed to Columbia Records with a huge first single "Fight Song" that reached number six on the Billboard Hot 100. She won a Daytime Emmy Award for a live performance of the song on Good Morning America. Her follow up singles "Stand by You" and "Better Place" also did well from the same album Wildfire.
Her next major label album Waves did not measure up to the same success as Wildfire, although many of the songs were better constructed and stretched her sonically. She plans for a new children's book to be released in March of 2020.
Platten has worked with many charities including Musicians on Call and the Ryan Seacrest Foundation. Following the Orlando Pulse Nightclub shooting, she donated proceeds of the acoustic version of "Fight Song" to the National Compassion Fund that supports people affected by the tragedy.
While on tour with Pentatonix, the talented singer talked about her career.
JN: (Jerry Nunn) I saw you perform at Park West in the past and you were so good. 
RP: (Rachel Platten) Thank you. 
JN: How was the ride for your massive hit "Fight Song?"
RP: It was definitely overwhelming. It went from zero to a hundred so quickly. It was confusing and amazing. I couldn't process it for a long time. I felt like I was in the middle of it while not quite grasping that I was there and where I had dreamed I would be. 
I could almost not feel it, if that makes sense. I was so grateful, but I was just so tired and busy.  It was very unexpected…
JN: Did people want you to be more political following that song and stand up for equal rights?
RP: It was more about the unbelievable fan encounters that I got to have, which were so amazing. People looked at me for answers. I wrote it because I am broken too. I need those words. 
Jut because I wrote that song doesn't mean I am strong and empowered. I am sometimes, but I am definitely flawed, insecure and I have doubts. 
I think it was confusing because people were attributing those qualities to me and who I am. I couldn't be a perfect human. I have my own issues, although I tried to be strong at the time. 
It was hard, but also the most incredible ride ever. Things I had been dreaming about for 20 years finally happened. I am very grateful for that. 
JN: Do you write all the songs?
RP I do. I write them on my piano or with collaborators. 
JN: I feel like your track "Labels" is more of a LGBT song than "Fight Song."
RP: I'm so sad that more people didn't get to hear that. Ryan Tedder and I had that in mind when we wrote those words. I am so glad you acknowledge that. I don't think an interviewer has ever asked about it. 
JN: I get so tired of the labels. 
RP: Yes, just be you! It doesn't have to be called something, named or tagged. Everyone should be free. 
JN: You must have heard from the LGBT community about your music.
RP: I did, mostly from "Fight Song," and they thanked me for giving them the strength to be who they are. 
JN: Is "Loveback" your current single?
RP: No. It is just an album track. I wrote that to my fans. I wanted to thank them for all the support they have given me. In the sea of the craziness, it was my fans that let me know they were there for me, not for who I thought I had to be. They were there for the imperfect and human me. I wanted to give all that love back to them. 
JN: I think it's important for people to hear that celebrities are not perfect. 
RP: That's why I talk so much about it onstage now. I have the honor of being on the mic right now. I don't know how long that's going to last. Who knows? As long as I have it, it's crucial important to me to use it and help people see that these masks we are wearing, especially with celebrities, are not real. We are hurting too. We are all the same. 
JN: It comes across being very genuine. 
RP: I hope so. 
JN: Is that your mother's voice on "Hands?"
RP: My Nana passed away and I wrote it for her. It included a voicemail that she left me. She is my little guardian angel now. 
JN: My grandmother passed away and psychics always say she is watching after me. I never told her I was gay and regret that. 
RP: She knew, honey! Not because you seem super gay, but because she just knew and loved you. 
JN: Are you a big Robyn fan? Is that why you sang a cover of hers?
RP: Massive. I am obsessed with her. One of the crew members from Pentatonix came up to me and said he was touring with Robyn during the break. 
JN: You have been touring with Pentatonix for a while?
RP: For two and a half months. Pentatonix and their crew have been incredibly kind. During the first tour I was suffering post postpartum depression. I was having panic attacks. I was feeling a lot of fear. I wouldn't have gotten through it if they hadn't been so kind to me. They would come up and give me hugs. They would rally behind me. 
JN: I remember when Brooke Shields brought postpartum depression to public attention. 
RP: It's embarrassing. I didn't know why I wasn't completely happy and blissed out for having a perfect daughter. Chemically there was something going on. 
JN: "Better Place" seems like the perfect wedding song. Do people ask you about using your music in public places like a department store?
RP: Yes, all the time. I was in Whole Foods the other day and they played one of my songs. 
I was in a manicure salon. I tried to tell them it was my song playing on the radio and they didn't believe me or understand me. 
JN: I know you have disapproved of some people using your music in their work. Can't you tell them no?
RP: No, I can't actually. It doesn't work like that unfortunately. I will let you know when I can disclose who, but I am in a legal thing right now. Someone used "Fight Song" politically and I completely disapproved of it. I said no three times and he did it anyway. We are in a battle right now. 
Even though I own my publishing, I want to speak about it and it is my property. 
JN: What is your game plan since you are no longer with Columbia?
RP: I don't know. I am just going to be a mom and figure it out. I will write songs in my heart that important to get out. I am taking my hand off the wheel and surrendering. 
If my music is meant to get out there in a major way again then it will happen. If people want to get onboard with my little party then that would be amazing!
Interviewed by Jerry Nunn. Jerry Nunn is a contributing writer to the GoPride Network. His work is also featured in Windy City Times, Nightspots Magazine and syndicated nationally. Follow @jerrynunn