A GoPride Interview
Jason Dirden
Jason Dirden and Iantha Richardson Find American Soul
Don may not have known that people would be talking about his show 40 years later.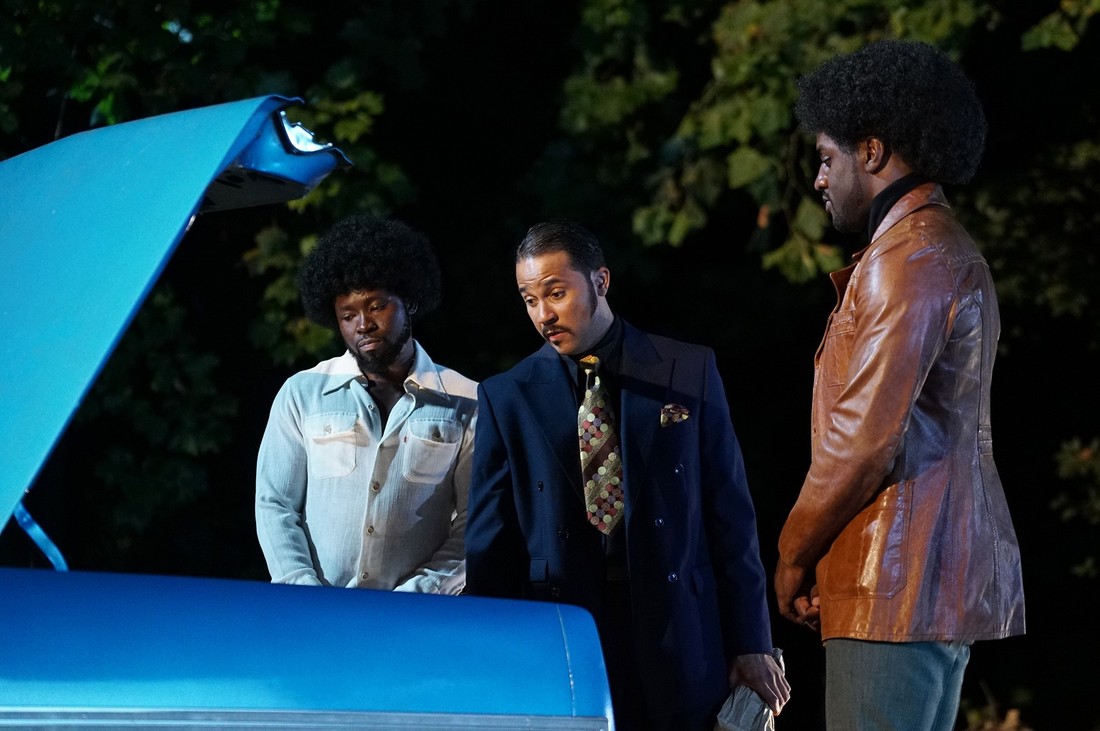 New BET television show records history
American Soul is the dynamic BET television show about the rise and fall of host Don Cornelius. The ensemble cast includes Jason Dirden as Gerald Aims and Iantha Richardson who plays Tessa Lorraine.
Dirden is known for the series Greenleaf and Elementary. Richardson has appear on television's This Is Us and Good Trouble.
JN: (Jerry Nunn) Thanks for coming to Chicago. 
JD: (Jason Dirden) It's the birthplace of it. I'm so glad this was on our press tour. 
JN: Where are you from?
JD: Houston. I went to grad school at University of Illinois. We would drive up from the cornfields to Chicago at least once a month. I would come to see shows at Steppenwolf and Goodman. It's been since 2009 that I've been in Chicago. 
JN: Welcome back after 10 years! And you, Iantha?
IR: (Iantha Richardson) I'm from Washington, DC. I'm a dancer in a previous life. I went to the Ailey/Fordham School so the Alvin Ailey dance and theater school for four years. I got my BFA in dance as well as African American history there. I moved to Los Angeles after that for the past four years and live there currently. I've been pursuing acting, which brings me here.
JN: Talk about your character. 
JD: Gerald is the wild card of the show. All the rest of the characters are connected to Soul Train, previously worked there or had been on the show. Gerald is a nightclub owner and a hustler. He's associated with some illegal activity. 
He happens upon Soul Train. Don is looking for top 10 talent and I have relationships with a lot fo the guests that come into the city because they are singing at my nightclub. We forge a symbiotic relationship where I send singers to him to get on the show and he helps me legitimize myself. I can move away from the crime world that I am in. We develop a very loyal friendship. I am probably his closest associate during the very early years of Soul Train. 
It's an incredible ride to be the character. 
JN: Have you met the real person your character is based on?
JD: No. The real person has passed away. It is loosely inspired by him and an amalgamation of other people. He is symbolic of the underworld that Don may have not been ready for when he moved to LA to get the show syndicated and how clearly dirty the entertainment industry is. He represents that but Dick Griffey has passed away. 
IR: I play Tessa Lorraine. She was classically trained ballet dancer who broke racial barriers to get to where she was. In 1971, she was the dance coordinator for Soul Train. She balances being a business woman and a wife. She is finding her own personal groove. 
JN: You are really good and it's an important role because it shows how women were treated. It's unbelievable when your boss asks you get him coffee and you are not his assistant. 
IR: Tessa is a feminist in the time period that she is in. She realizes in the time period that she's in that she can only speak up so much. At the same time, she does make it known that she has a problem with a lot of the things going on in the office. She doesn't take a lot of stuff from Don. You will see her progression throughout the series of her finding herself and her worth. 
It is beautiful to see her grow into herself. It's a coming of self story for Tessa. 
I get to incorporate ballet into it and it's my heart being exposed. She's a complex character that needs to be seen.
JN: Jason, I was hoping you brought some of the honey from episode so I could try it! 
JD: [laughs] "Bees is money!" It was great until the twentieth take. I had to eat it every time because I had the choice to eat it. That wasn't in the script. 
JN: That's why they say don't eat the food sometimes.
JD: Right. It was a little teaspoon but I didn't realize how many takes it would be. It was good though. 
JN: How was being with Kelly Rowland?
JD: Another Houstonian. She grew up in Houston. She's great on American Soul. 
JN: Is that why she was so cool when I interviewed her?
JD: There's something in the Houston water. We are just cool people. 
JN: Do you have a favorite costume? 
JD: It's hard to choose the clothes. The threads they had me in were so great and well tailored. 
JN: How was it working with this cast?
IR: Literally a dream going on set. I haven't experienced this, but I am aware there are egos that people have to deal with. On this set, everybody was beautiful. I appreciated everyone from the cast to the crew. It was an ordained set! 
JN: What do you want people to get out of this show?
JD: People don't understand how important his legacy is. The choices and the way someone goes about achieving their dreams is important because there's a responsibility in what we put into the world whether we think about it as we are doing it or not. 
Don may not have known that people would be talking about his show 40 years later. He put out a show for the Black culture and also America. It did run parallel with what America was at the time. His commitment is why we are doing a show about it. 
JN: There are things that happened back then that are still happening today like police brutality. 
JD: Yes, even the music selections that they chose to sing on the show. They were always a sign of the times. The very first song that Gladys Knight sang on the pilot was "Friendship Train." That was what the show represented. 
When you are trying to achieve a dream or a goal understand the policies of the legacy and the effect it will have on everyone not associated with that dream. What I love about the show is that it's not always pretty. Sometimes Don makes some choices that are very ugly. We may not understand his motives. We can learn from his mistakes and also learn from what he did exactly right. 
JN: Are you working on more TV projects?
IR: I am still recurring on This Is Us and recurring on a new series called Good Trouble. It's a spinoff of The Fosters. 
JD: Greenleaf is still going on with its fourth season now. I'm still waiting to see if my character comes back. You never know what he's going to do. 
JN: Do you have a favorite Oprah Winfrey story?
JD: I have never actually met her. I met the back of her Suburban as it drove away. The way TV works is everyone is not filming on the same day or time. In Greenleaf she's only in three episodes. We were never filming on the same day. I had a costume fitting when she was filming and I saw the Suburban that picked her up from the trailer. She did tweet me one night and tell me she thought I was a good actor. I got the stamp! 
JN: This show could go on for more seasons. 
IR: We are praying for that for sure. 
American Soul boogies every Tuesday on BET.
Interviewed by Jerry Nunn. Jerry Nunn is a contributing writer to the GoPride Network. His work is also featured in Windy City Times, Nightspots Magazine and syndicated nationally. Follow @jerrynunn