A GoPride Interview
YUNGBLUD
YUNGBLUD returns to Chicago this fall
There's no freedom to express yourself anymore.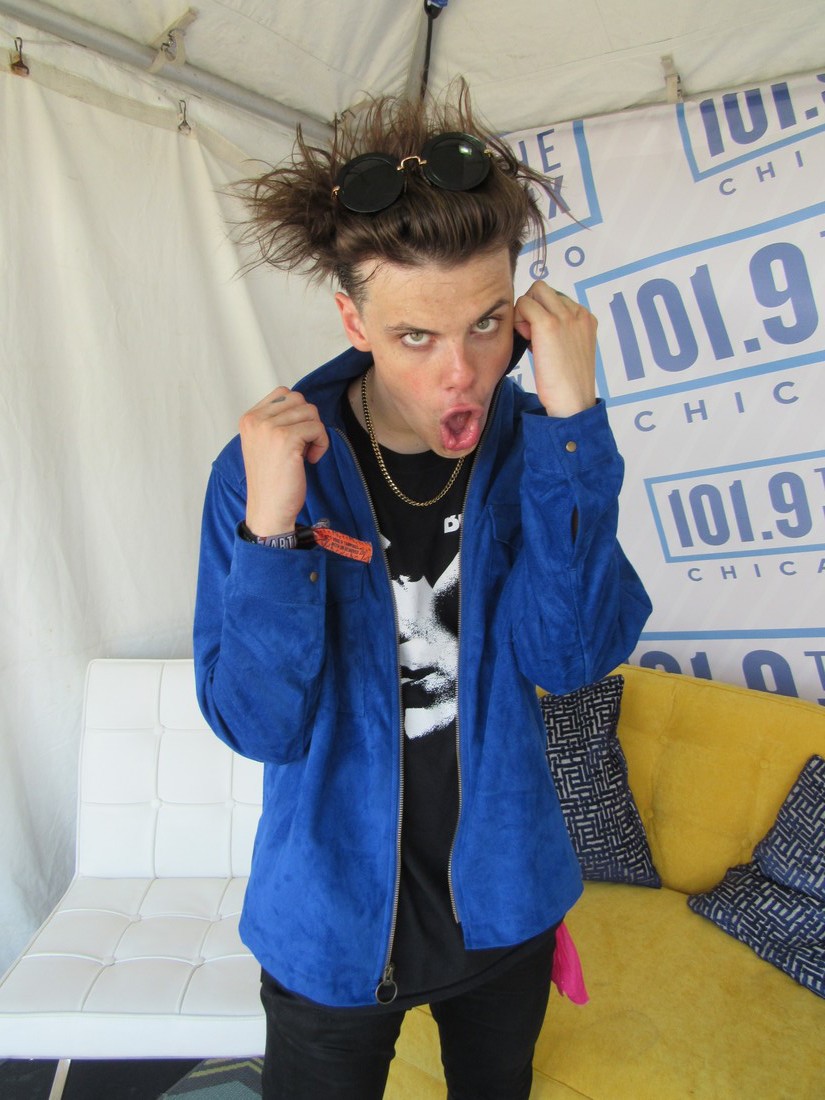 photo credit // jerry nunn
YUNGBLUD Punks It Up
Dominic Harrison goes by the moniker YUNGBLUD and is an upcoming rock musician. He's English and from Doncaster. He began writing songs at age 10 and now plays guitar, bass and drums. 
His music can be described as pop protest songs. He collaborated with Charlotte Lawrence for the song "Falling Skies" featured on the season two soundtrack of 13 Reasons Why. 
His debut album 21st Century Liability is out now and he performs it at Subterranean on Oct. 18. 
JN: (Jerry Nunn) Talk about your name first. 
YUNGBLUD: To be honest I was the youngest person on my management's roster. I thought for the music I am writing Dominic Harrison is just a wee bit too polite. 
My manger called me the young blood. That gave me lightbulbs and I wrote it down. I crossed the O's out and doubled the U's. There you go!
JN: That works to distance yourself a bit. Your friends can call you Dominic and the fans YUNGBLUD.
YB: Rock and Roll!
JN: Are there people with similar names?
YB: I don't think so. There's one band from Canada, but it is not the same. I am the only one now. 
JN: You are 25 years old?
YB: Yes. 
JN: You are living the life.
YB: I can't believe. I just so shocked right now. 
JN: Where are you from originally?
YB: I am from northern England. It is called Doncaster near Manchester. I always say it's near Leeds but no-one knows where Leeds is. 
JN: A band just told me that Leeds does a big gay Pride.
YB: It is amazing. Leeds' Pride is amazing! 
JN: There is a great music scene out of Manchester. 
YB: Oh yeah, like Oasis and The Stone Roses. They are the best. 
JN: How did you get into music in the first place?
YB: All of my life I have always had a lot of energy. I've got ADHD and have always been opinionated. A lot of people tried to stop because they didn't understand me. People are afraid of something they don't understand. The music is the only thing that I latched onto. I took my heart and ripped it out. I listened to Eminem, The Clash and Arctic Monkeys, all outsiders who felt like the world didn't understand them. They were just being themselves. I realized they could use music to get themselves heard and so can I. 
JN: You have a Green Day sound to your music. 
YB: I love Billie's voice. There's that punk spirit. My version of punk is I don't want to segregate. I want to unite for one great cause. That is what it's about. 
JN: Your video for "Tin Pan Boy" has your band in drag. 
YB: Totally, always, Baby!
JN: You wear makeup?
YB: Oh yeah. I love that. I wear eyeliner, and lipstick. Why not?
JN: Is it a David Bowie kind of thing?
YB: I have always loved it. There's Lady Gaga, Marylin Manson and David Bowie. I like to express myself. That's entertainment. That's why rock and roll is dying out right now. It is just four idiots in leather jackets singing about nothing. There's no freedom to express yourself anymore. That's all rock and roll is, freedom.
JN: You are straight?
YB: I am. 
JN: Talk about the song "Psychotic Kids." 
YB: I wanted to write a song about my generation. We are not bratty kids rebelling against a system. That is a '90s way of looking at us. We see a future that we want to be a part of, but it is put out there with a generation that doesn't necessarily understand us or is not ready to go there yet. They might look at me like I'm a psychopath if I want to marry a man or a girl wants to marry a girl or I want to abort a baby in my belly that will destroy my future. 
We are going to obtain this liberal world because we are going to grow up and be able to vote soon. We will be able to say what we think. I want my music to represent that. 
Stop looking at me like a nutcase because I want to make the world a better place, a place of liberation where we can all hang out in harmony. 
JN: Would you ever want to make a musical like Green Day did?
YB: Yes. I love musicals and acting. 
JN: What are you working on for the rest of the year?
YB: I have a headlining tour in the fall. I have collaborations with artists that you won't even expect. I have many festivals worldwide and I am ready to go. 
JN: How about Glastonbury?
YB: It is not this year but next. It gets muddy so we have to give the land some time off. 
JN: Is Lollapalooza the first time you have been in Chicago?
YB: Yes. 
JN: What do you think?
YB: I love it. It's such a great city. 
JN: How was your set at Lollapalooza?
YB: I couldn't the amount of people that were there. This is my first time in the States really and there were a 1,000 people there singing. 
JN: Anything else you want to tell our readers?
YB: I want my album to be an outlet for people that feel they can't be themselves or say what they think. There's a whole lot of that going on right now. Don't remain quiet because someone expects you to. Everyone is an individual and special. At the end of the day be yourself. That is the amazing thing is that we are all different. Embrace each other for what we are!
Interviewed by Jerry Nunn. Jerry Nunn is a contributing writer to the GoPride Network. His work is also featured in Windy City Times, Nightspots Magazine and syndicated nationally. Follow @jerrynunn
Serving the Chicago gay, lesbian, bisexual and transgender communities. ©Copyright 2019 GoPride Networks. All rights reserved.