A GoPride Interview
Rizo
Rizo ringmasters the amazing Teatro ZinZanni experience; currently captivating Chicago audiences
Who knows if I really made an impact, but I believe that one-on-one energy, even if it's from a stranger who is talking to you and caring about your life, can really change it.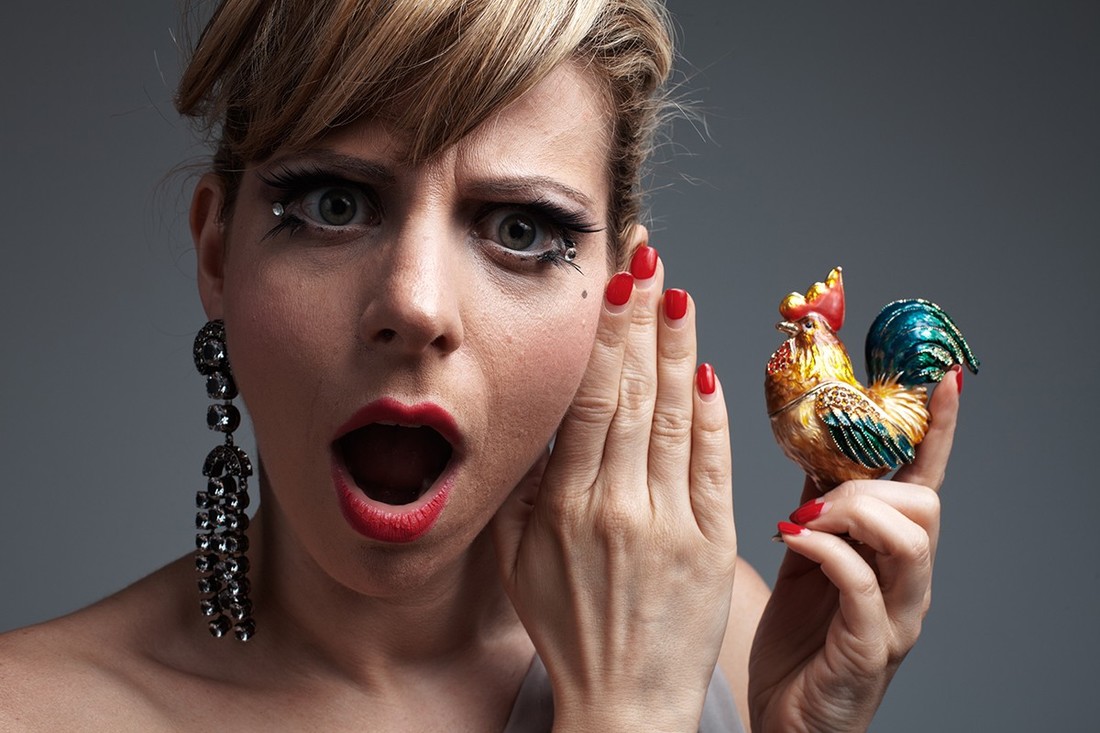 photo credit // allison orenstein
Teatro ZinZanni is a three-hour whirlwind of international cirque, comedy and cabaret served with a multi-course feast where the fast-paced action unfolds around, above and alongside guests as world-class acrobats, musicians, divas, illusionists, madmen, and aerialists fill our intimate Spiegeltent ZaZou, a unique jewel box mirror tent. 
The show is currently playing at the Cambria Hotel, a historic 1926 building in the heart of Chicago's Downtown Theater District. The New York Times calls Teatro ZinZanni, "A feast for the senses" and the "city's hottest ticket." 
At center ring is the sensual Madame ZinZanni, played by Amelia Zirin-Brown (Rizo), who invites guests who attend to a celebratory evening featuring a dazzling combination of improv comedy, vaudeville revue, music, dance, circus acts,  as they are served a scrumptious menu designed by Chicago's own "Goddess" Debbie Sharpe ("Goddess Restaurant Group", "Goddess & Grocer"). Teatro ZinZanni's signature blend of Love, Chaos & Dinner has played to sold out audiences in Seattle, San Francisco and Costa Mesa.
GoPride shared a beautiful moment with Rizo; getting to know the multi-talented artist who brings the ever-fascinating ringmistress, Madame ZinZanni, to life.
Rizo (Amelia Zirin-Brown) has been captivating audiences on stage and in sound with her wit and soulful voice. She is a performance artist, comedienne, singer, composer, and actor who has received critical raves at the Assembly Festival in Edinburgh, and has won the Time Out London and Soho Theatre Award and the 2013 London Cabaret Award. 
And she's also a Grammy winner for a 2010 collaboration with the iconic cellist Yo-Yo Ma.
MI: Rizo! Congratulations on the success of the show so far!
Rizo: Thank you!
MI: Tell us a little bit about the show, especially for people who haven't seen it? What what does the audience get to experience and what do you love about it the most?
Rizo: Well, I love that it feels like you're transported into a completely different world. It's a bit Moulin Rouge, a bit Kit Kat Club, a bit Cirque du Soleil, a bit like you're on an acid trip. 
More after the photo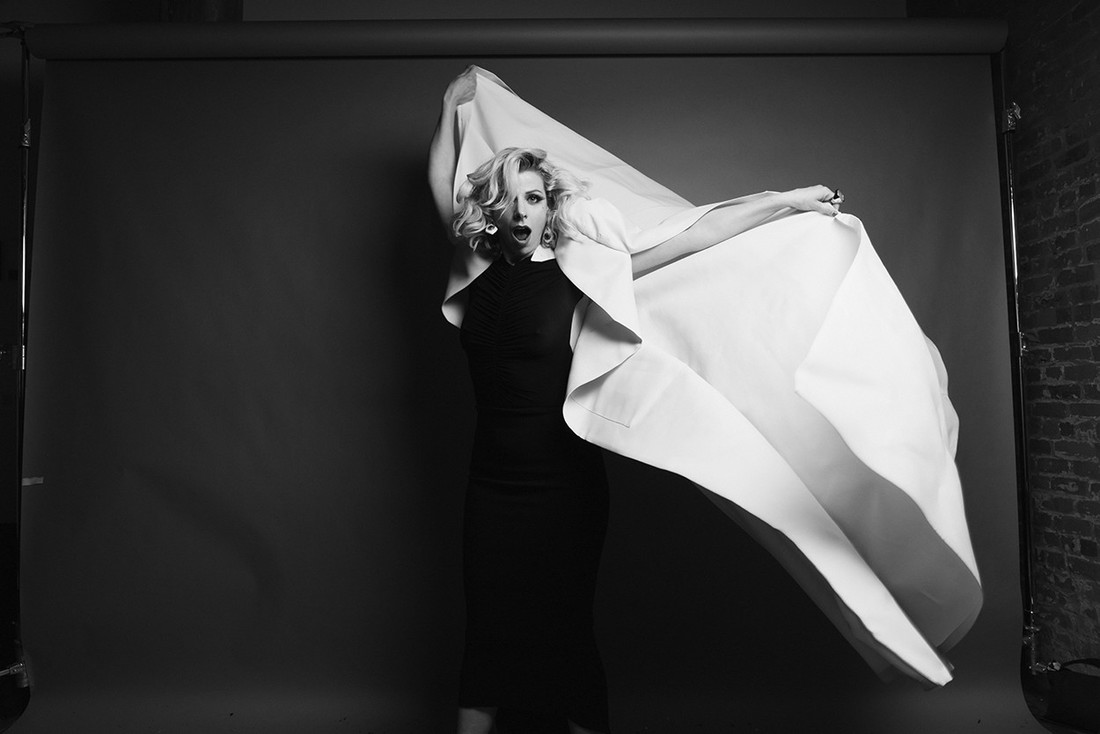 Photo credit: Shervin Lainez
It's a restaurant in which the rules of engagement have switched around, and everyone who is working in the restaurant has just a fantastic talent. You know?
MI: That sounds incredible!
Rizo: A truly other worldly gift, as far as what they've put their time and energy to. There's an amazing ariel hoop artist, a fantastic duo trapeze, these hot brothers who have spent their whole lives doing foot juggling, so one juggles the other on his feet.
MI: Oh, wow!
Rizo: And then, there's me, which is the best gift of all.
MI: Yeah, let's talk about you! Tell us a little bit about your journey to being part of the amazing show. What drew you to this production?
More after the photo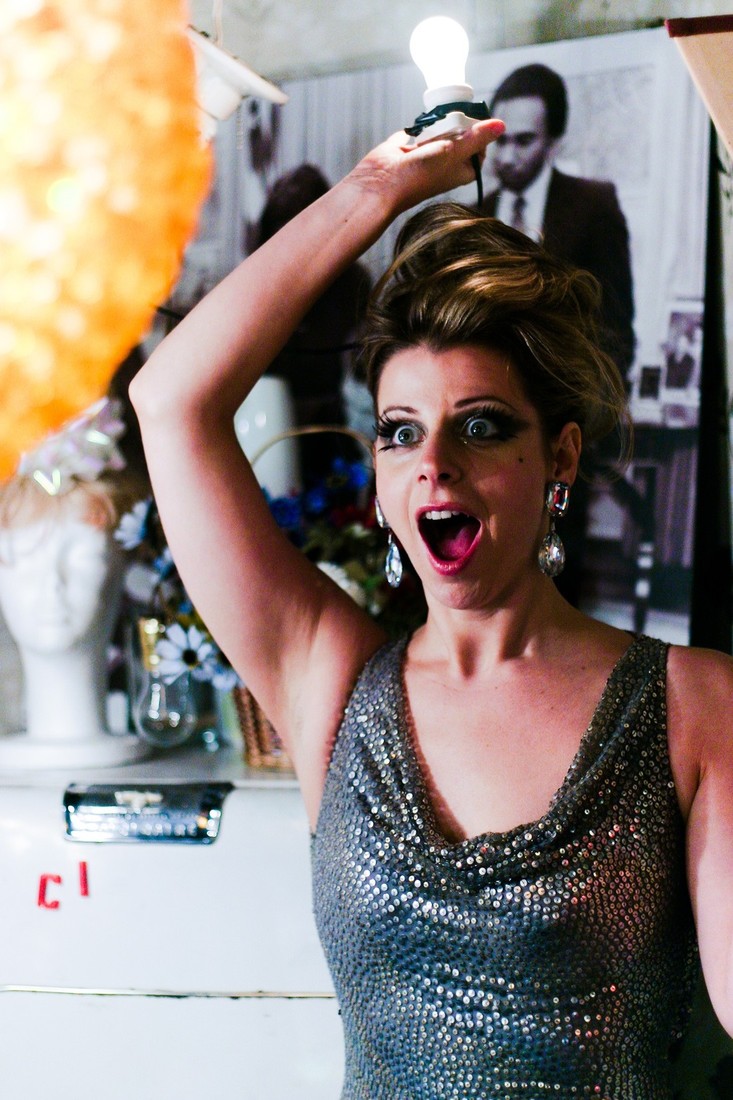 Photo credit: Kevin Kauer
Rizo: Well, I had heard of it because I actually studied theater in Seattle, and it first opened in Seattle; and then it opened in San Francisco. And so, I remember actually just as I was leaving Seattle, hearing a lot about this new show, and that it was interactive, and it was a transformative world, and that it was really fun. 
Being a college student, it didn't feel like it was in my budget. But I had definitely heard about it. And then, my life continued, and I moved to New York, and I developed this alter ego of Lady Rizo, now just Rizo.
Then I went to Edinburgh. I won an award, and I started performing all over the world, and then I started doing more monthly's at Joe's Pub in New York. And after one of those shows, these lovely people came up to me in my merch line and said, "We're interested in your show. We're from Teatro ZinZanni, and we just are sure you are a perfect fit for our show." I was like, "Oh, yeah. I know Teatro ZinZanni. Sure, we can definitely talk.".
They were just so excited to have seen what I do, because I think it's a rare thing to find someone that does audience interactive comedy.
And I do that a little in my show, and I'm also a singer, a real singer, and not just fake comedy singing. So then, I had this feeling like, "Oh, gosh. I don't want to go back to Seattle." I went to college there. We had a meeting with manager, and then I was like, "You know, it might be really great to work so consistently." I do know that this is a respected venture, because I knew how people would talk about it when I was in Seattle. And also, I was getting a little road weary, because I was spending six months on the road.
And this would be on the road, but it would be stationary on the road, you know?
MI: Right!
More after the photo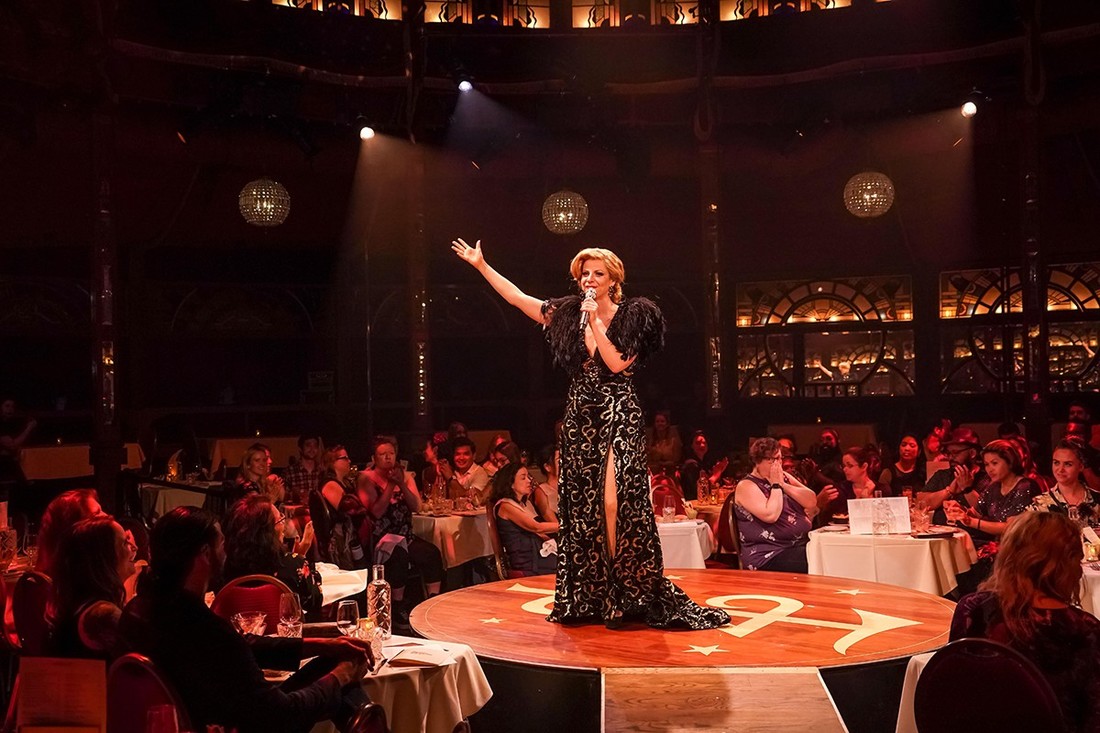 Rizo as Madame ZinZanni; Photo credit: Alan Alabastro
Rizo: And so, yeah, I said yes. And then, I'm really grateful because the company is a very warm experience. They're very familial. They threatened me that I would have a kid while I was working with them. I said, "Listen, don't put your breeder, your circus breeder hexes on me." And then, of course, yes, I did get pregnant, which is great to have circus babies.
MI: That's awesome!
Rizo: But they did it, they did it to me.
MI: You alluded to being a singer, but that's a total understatement of your talent. You've released two albums, and you have collaborated with Yo-Yo Ma, winning a grammy for that album!
Rizo: Yeah.
MI: And you've won so many awards! How would you generally describe your music style?
Rizo: I would say it's soulful -- for a white Jewish girl. I just love a soulful sound. I really listened to a lot of Aretha Franklin growing up and a lot of Janis Joplin and Ella Fitzgerald. Those are the three voices that I liked from age 14 to 19, was just obsessed with.
MI: So that's where you found your passion for music and performance?
Rizo: Pretty much, listening to those three voices.
MI: And what do you love the most about performing every night?
Rizo: I love performing. Whenever I do a movie, or a make a record, I'm always like, "Is there anyway we could make it feel more like a live performance?" Because I just love the contract of energy between an audience and an a performer. When an audience feels like they're in capable hands, then the energy in the room is focused in a way that is almost spiritual for me. I really feel like, in my own shows, I like to say -- It's like the church of glitter. You know?
MI: Totally!
Rizo: It's bringing that zing and that connection to a community through a person instead of a screen. It's something that our soul needs, and I love to be the conduit of that, you know?
And not that I'm some sort of... I mean, I'm a goddess, of course, but it's not that I am some sort of antidote to the evils in the world, but rather the act of someone who can take the energies of a lot of people and send it back out. I like to think of my work as being a prism.
MI: That's awesome! You put so much out there in the world, so we know there's going to be a made for TV movie about you in a few years. Who would you want playing you in your life story?
More after the photo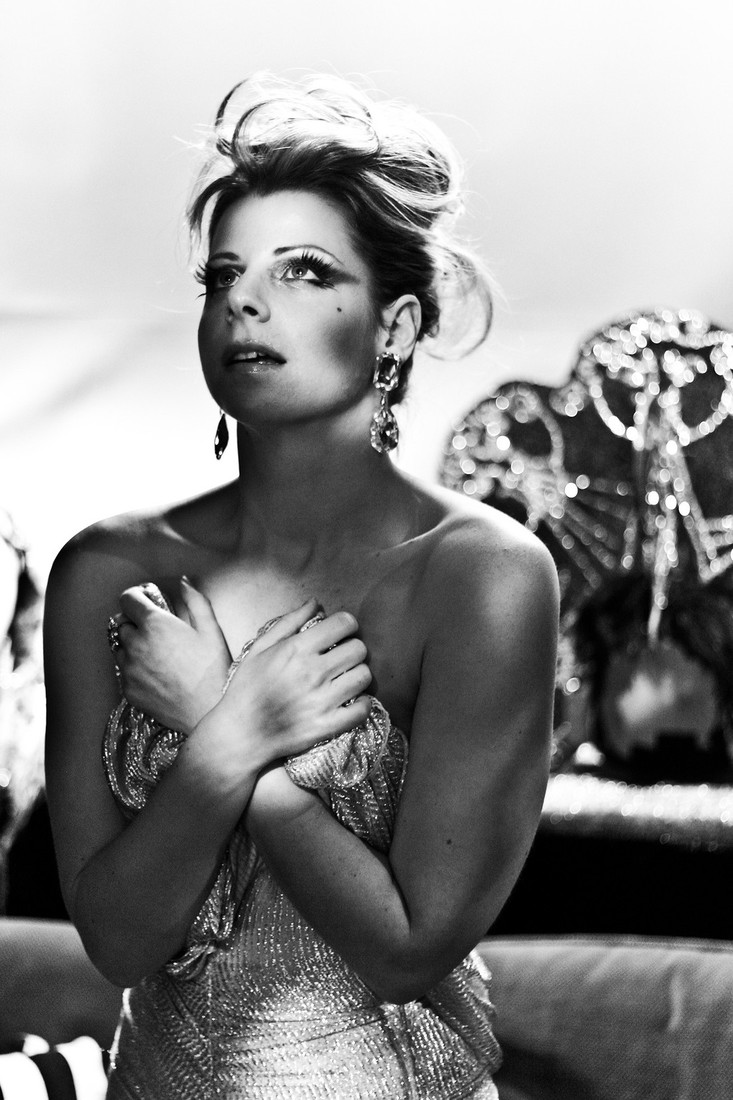 Photo credit: Kevin Kauer
Rizo: We're assuming that I'm not going to play myself, because it's made for TV and that's below me?
MI: (Laughs) Exactly! Right?
Rizo: Okay. Who would I want ... I mean, I hate it in movies when they have someone play a singer that can't sing. I don't know, what's her name did such a great job with Édith Piaf, and she couldn't sing. What was her name? Remember the French woman who played Édith Piaf? La Vie en Rose about Édith Piaf.
Okay, who would play me? I mean, it would be an incredible irony if Lady Gaga played me, because she's been like the shadow of my life. There's this double edged sword of it being complimentary when people compare me to, and then absolutely frustrating because when her star became so large, people after shows would ask me if I named myself after her. It's just annoying because I came first.
MI: I could see how annoying that would be!
Rizo: But let's see, who else? Who else would really ...
MI: I think Lady Gaga is a good pick. If they can't get you to play your own made for TV movie though.
Rizo: I mean, but I just want ... Who would play me? Can you think of a ... I can't think of a young star, who is a great singer, who is really an actress.
MI: You know what? I can't think of anyone who would do you justice! I mean, we need someone fabulous.
Rizo: I know. Just have me play myself. I'm timeless, I haven't aged, I can play my 18-year-old self.
MI: So, you've been here in Chicago for about a month now?
Rizo: Yeah. When did I get here? I got here, yes a month.
MI: Any amazing experiences in the city you want to share? Didn't I just see a fun post of you and Michael Carbonaro on Instagram?
Rizo: Oh, yeah! Yes. He's one of my best friends!
MI: That's awesome! He's super talented!
Rizo: I'm so excited that he's here. Yeah. Yeah, he's a lovely gay man in the magic world. He and Neil Patrick Harris, the two magician... I'm trying to connect homosexual and magician in a word, homomagician.
MI: Homagician? Yeah.
Rizo: So, it's really exciting that he's shooting here because I love to be around him. Since he left New York, he's been in LA. It's just, with our schedules we haven't had that much time together, and now we've been having weekly dinners. It's really great! 
So, what else has happened? I mean, I am just overwhelmed by... I've never spent time in Chicago. I'm totally overwhelmed by how nice and generous people are. People are nice in New York, but it comes with also an incredible impatience and hurry, you know?
Even though it's a totally cosmopolitan city, there's also this Midwest kindness. It's just so weird to experience someone being friendly to me in a Walgreens. I don't know what I'm doing, and where I am, or what's going on. Am I being pranked?
MI: Right!
Rizo: I love stumbling upon... I put my son in a swim camp that got out in Edgewater, and I stumbled upon this place called The Waterfront Cafe, I think in Edgewater.
MI: It's a really popular spot! ...and it's right there on the beach.
Rizo: It's right there on a beach. It feels like you're in Costa Rica or something, when you look out a certain direction on that lake. They have live music, and I love the fact that there's so much comedy, theater, and live music.
More after the photo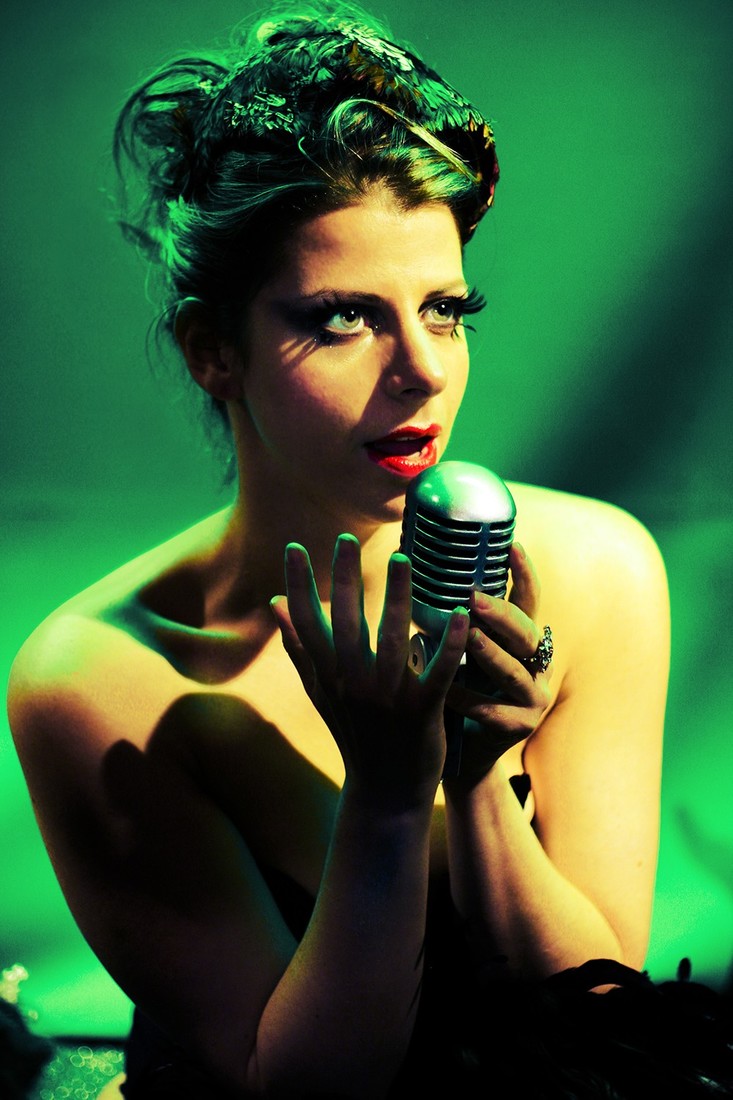 Photo credit: Kevin Kauer
Rizo: I've also been going to The Chicago Athletic Club for cocktails after.
MI: Oh, love it! Cindy's on the rooftop!
Rizo: It's stunning. And I love old architecture.
I went to the Italian Village Restaurants last night with our cast. We all sat in this big table and we were in seventh heaven. It's been around since 1926, we just felt like we were in the fifties, like Dean Martin and Sinatra, if there was a woman in the rat pack.
So it's been great. It's been really great. Yeah, that picture with Michael, we were at City Winery on the river there. I'm embarrassed to say, I didn't even know there was a river that ran through Chicago. I did not know.
MI: ...with multiple branches too!
Rizo: I know! And I mean, I know that the winters are horrible, but the summer has just been divine. It's really been really, especially because we crafted the show in a suburb of Seattle. If you want to design my version of hell, it's any suburb that is quite far away from a city, and made of parking lots stitched together. And so, it was just really welcome to be in a great city like Chicago.
MI: We love Chicago! So, can you share any charities or causes with us that you're really passionate about?
Rizo: Yeah! I work with GLAM4GOOD, which is has been really helpful. Mary Alice Stephenson was the former editor of Harper's Bazaar fashion editors and then she got frustrated with the excesses in the fashion industry. And so, she puts these excesses towards these really wonderful, necessary, needed places, whether it be domestic women's abuse shelter, or homeless LGBT runaway center.
She brings make-overs and clothes. And we just took 250 underserved Chicago teens for a back to school shopping spree at H&M.
MI: Oh, wow! That's so awesome!
Rizo: Yeah. And it was really great. She did it here. She's in New York, and when she was in Chicago, I was at H&M helping these sweet boys figure out their jean sizes. Yeah, it was really cool.
Also, I'm a huge supporter of Gays Against Guns. Whenever I am in town to do their fundraisers, I always perform for them. It's really important. I feel like, just raising the visibility of the need for gun control now.
And I love all the people that started that, and I love that they do these beautiful protests, that are kind of like these art pieces.
Finally, the Ali Forney Center, whatever I can do, be part of benefits for them. That's a LGBT youth homeless runaway center as well. 
I feel like any way that you can help trans women of color, young trans women of color right now. I had a one-on-one experience with a trans woman of color on the subway in Chicago two days ago, where she was obviously really beaten up. I just sat down next to her and asked her if she was okay. We ended up talking for 15 minutes of a train ride. She was in a relationship where she was being abused. By the end, I was just like... She was promising to me that she would not be back there. We set a whole course of action, you know? 
Who knows if I really made an impact, but I believe that one-on-one energy, even if it's from a stranger who is talking to you and caring about your life, can really change it.
MI: Rizo, thank you for spending your morning and sharing your facinating and inspiring story. What else is coming up next for you?
Rizo: On the 26th, I'm performing at... Oh, what's it called? It's the largest gay bar in the...
MI: Sidetrack?
Rizo: Yeah!
MI: Yeah, we love them! They're a huge supporter of Broadway in Chicago and the arts!
Rizo: Can you tell me about... have you ever been to one of those Monday night things?
MI: Oh my gosh! It's the most fun ever! It's called Musical Mondays. Imagine five huge rooms just basically belting out every musical show tune to screens everywhere.
Rizo: Oh, wow.
MI: People really get into it. It is the most fun ever. You're going to be there on the 26th?
Rizo: Yeah. Would it be weird to do a song that wasn't from a musical?
MI: Not at all. The place draws many different guests and performers.
Rizo: I want to do a number that's just a little bit raunchier.
MI: Go for it! I think it'll be a blast and everyone's going to live it. See you at Musical Monday!
Rizo's debut album is entitled Violet and her second album Indigo (both available at LadyRizo.com) was released fall of 2017.
Love, Chaos & Dinner features the master of madcap improv Frank Ferrante, cabaret star Amelia Zirin Brown (AKA - Lady Rizo), and acclaimed Chicago natives aerial trapeze act Duo Rose. The company will also feature entertainment from comedians Joe De Paul and Tim Tyler, hoop aerialist Elena Gatilova, Parisian acrobat Domitil Aillot, opera singer and born Chicagoan Kelly Britt, and the body juggling Anastasini Brothers.  Teatro ZinZanni's founder Norm Langill will direct the production.  The menu will be designed by Chicago's own Debbie Sharpe – The Goddess.
Teatro ZinZanni was founded in 1998 launching a wholly original new form of entertainment combining a unique fusion of cirque, comedy, cabaret, spectacle, and live music while serving up a multi-course feast.  Inspired by the great cabarets of Europe, a team of creative artists and theatre professionals who have been working together for over 40 years created Teatro ZinZanni. Led by Founder Norm Langill, Teatro ZinZanni has featured celebrated artists from the worlds of cirque, clowning, cabaret, music, aerial arts, magic, and illusion.  Performers over the years have included internationally recognized names like Joan Baez and Ann Wilson.
The show is currently playing through September 29th at Spiegeltent ZaZou, The Cambria Hotel, 32 W. Randolph Street.
Tickets, which include a four-course meal, are currently on-sale through September 29 and range in price from $99 - $189. For groups of 10 or more, call Broadway In Chicago Group Sales at (312) 977-1710 or email GroupSales@BroadwayInChicago.com.  For tickets and more information, visit zinzanni.com/chicago. Tickets will be available for performances Jthrough September 29, 2019. For groups of 10 or more, call Broadway In Chicago Group Sales at (312) 977-1710 or email GroupSales@BroadwayInChicago.com.
Interviewed by Matt Inawat. Ron Matthew Inawat is president of the GoPride Network and contributes to ChicagoPride.com, PrideLA.com and other sites within the GoPride Network. Follow @cpmatthew