A GoPride Interview
ALMA
Finnish singer Alma is taking over the world
I think everywhere I go more than 80% of my fans are gay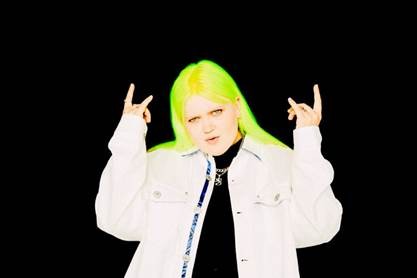 Finnish singer ALMA is the new kid on the block as far as the music world, but she's already making a big splash. She auditioned for the seventh season of Finnish where she finished fifth. 
In 2016 she released her debut album Dye My Hair and has a mixtape called Heavy Rules. She was featured on several singles such as Martin Solveig's "All Stars" and Charli XCX's "Out of my Head. 
She performs in Chicago at the Chop Shop on April 23 and is already scheduled to open for pop singer Halsey this September. 
JN: (Jerry Nunn) Where are you from? 
A: (ALMA) I'm from Finland. That's my hometown. I love Finland. 
JN:You have a twin sister?
A: Yes. She is coming with me on tour. She will be at the show. She is my backup singer. We will be doing crazy things onstage!
JN: Did you always want to be a performer?
A: I always loved to sing. In Finland there are not many successful or international singers or actors. I never thought this was something I could do. I always thought of it as an American or UK thing where they are making albums. 
I was singing all the time and it would make me feel better. When I was a teenager I started realizing with the Internet I could be in Finland and people could listen to my music in America. I wanted to be the first international star from Finland and started to work towards that. I was about 17 years old when I began to push towards doing that. 
JN: You were on American Idol for Finland?
A: Yes, that was in Finland. It was a good experience and bad experience. I didn't go to school for music. I was home for six months and I was 15. I really wanted to do something with my life and didn't want it to pass by. 
JN: Your name ALMA means soul in Spanish.
A: Yes. It is a super old Finnish name and my grandmother's name. I went to Spain when I was 18 with my friends to Barcelona. Some guy asked why we were screaming "soul" because alma means soul. That is how I discovered what it means in Spanish. It was super cool. 
JN: When did you start dying your hair?
A: I was 14. I didn't like my blonde hair. I thought it was boring. I always liked to wear black. After it was dyed green then I didn't need to worry about clothes. I could wear a black shirt every day and still think I look cool. I should have been born with this hair!
JN: You also have a "Dye My Hair" song.
A: It was a joke in the studio. I was just writing some party songs with a techno vibe. Someone mentioned writing a love song. I thought it was crazy. For me at that time love songs were something Bruno Mars did about catching a grenade, you know cliches. I was like, "I would dye my hair for you." So we made a song about it. If I would ever really dye my hair for someone they would have to be out of this world. 
JN: How was working with Charli XCX?
A: I love her. She is one of my best friends. Charli hit me up on Twitter and asked to hang out. We started hanging out in LA. We like to party and we like the same things. Then we decided to  go into the studio. We went and it was perfect. We hang out all the time. We went to Coachella together. 
The best thing is when you can make music and be friends.
JN: I saw her play at gay Pride in LA and she was great. Do you want more of a gay fanbase yourself?
A: I think everywhere I go more than 80% of my fans are gay. I love that. A lot of my friends from Finland are queer people. They are the best people in the world. I would definitely want more, but already have many gay fans. 
JN: How did you wind up working with French Montana?
A: I was with Charli and we were partying. We were listening to "Unforgettable." I really wanted to work with him. There is something cool about him. He's kind of weird in a good way. It was a risk putting him in the video, but he really liked the song. It just happened.
JN: I saw you are working with M0. I met her at Lollapalooza and she was really nice.
A: I have met her many times. I just wanted someone real and to work with people that I really admire. I was a fan and I am still a fan. I just wanted to feature her. 
JN: Is this the first time coming to Chicago?
A: Yes, it actually is. My mom used to live there. I have heard crazy stories about it so I wanted to go there. I bet it is amazing, 
JN: What do you want people to know about you as an artist?
A: There are many sides to me. People should focus on what I do and my lyrics. I think I am something new to this pop world right now. I love that you can do anything in pop. I think in this moment we need a different kind of pop artist and I am one of them. I can't wait to see what the future will bring. I hope people accept me and love what I do!
Interviewed by Jerry Nunn. Jerry Nunn is a contributing writer to the GoPride Network. His work is also featured in Windy City Times, Nightspots Magazine and syndicated nationally. Follow @jerrynunn