A GoPride Interview
Margaret Cho
Margaret Cho Goes psyCHO
If you are queer woman of color it is even more threatening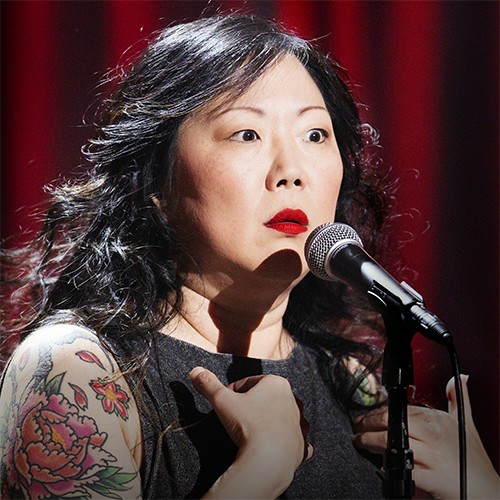 Margaret Cho continues to be one of the busiest women in show business. It really is a Cho business with the most recent psyCHO tour that hit Chicago and the Showtime comedy special that aired for it. She appeared on E!'s Fashion Police and as a guest star on the television show Dr. Ken.
Other acting roles have included being a cast member of Drop Dead Diva on Lifetime to HBO' Sex and the City.
Her latest endeavor is a video for "I Want To Kill My Rapist" that just debuted.
Nunn went backstage at the Chicago Theatre during her stop on a massive comedy tour.
JN: (Jerry Nunn) Hi, Margaret. Good to see you again at the iconic theatre.
MC: (Margaret Cho) The acoustics are great here. Last time I was here the band Wilco backed me up while I was singing.
JN: I remember the Gay Men's Choir being with you one time here as well. Talk about the inspiration behind the psyCHO tour.
MC: It is really about anger. We need to find out about what is going on with the world. I am really concerned. Donald Trump is so disgusting when he sexualizes his daughter. Who does he think he is? Woody Allen? It is about all of these things we are forced to deal with such as the need for gun control or that Planned Parenthood needs to be funded, and the need to stop this war on women and black people by the police. It is a very scary time. I have had a lot of death threats. It is a terrifying time to be a woman of color with a point of view. If you are queer woman of color it is even more threatening. I have to deal with a lot stuff but this where I hope I am safe being onstage and doing comedy.
It also deals with the loss of Robin Williams and Joan Rivers.
JN: You must get to vent and get this off your chest.
MC: Yeah, and the world is so scary. I voice my opinions on social media and I have people threatening me with violence. It is troubling but I can fight back, which is good.
JN: It is a Showtime special?
MC: Yes, it is currently running right now.
JN: What is the craziest thing a fan has given you?
MC: One time this fan made me a white satin jacket. He had drawn from a photo of me on the back. It was really sweet. He had a matching one. He was kind of embarrassed about giving it to me. He had made it though and it was so nice. He walked away really fast after he gave it to me and there was my face on the back walking away from me. That was really funny and sweet. He was a doll!
JN: How was your experience on Celebrity Wife Swap?
MC: It was fun. I loved Holly Robinson-Peete's kids so much. They are just beautiful and so good. I felt bad for Holly because she had to come to my house. It was such a filthy disgusting mess. It was an Odd Couple situation. She was the Felix and I was the Oscar. I was super messy so I messed up her house a lot.
JN: How is the Dr. Ken comedy?
MC: Ken Jeong is my good friend and wonderful. It is currently running on ABC and is the second Asian American sitcom on the station this year. It is so phenomenal. I had the very first Asian American sitcom 21 years ago. It is powerful to be on his show. I absolutely worship him. I feel like he is Charlie Chaplin or Buster Keaton. He has Harold Lloyd qualities and almost like a Lucille Ball. He is quite a tremendous comedic actor. I adore him.
JN: What do you think of Fresh Off the Boat?
MC: I love it. I helped Eddie Huang, the creator, in the beginning. I talk about that in my show too. The scene takes place in the '90s so they are actually watching me on TV in one of the episodes. I think that is a beautiful thing so hopefully I get to do that too!
Interviewed by Jerry Nunn. Jerry Nunn is a contributing writer to the GoPride Network. His work is also featured in Windy City Times, Nightspots Magazine and syndicated nationally. Follow @jerrynunn