A GoPride Interview
Joe Fiore
Q&A with Joe Fiore, the man behind Furball, marking it's Chicago debut May 24
Sun. May 18, 2014 by ChicagoPride.com
Ten years ago, nobody thought a bear dance would get a crowd...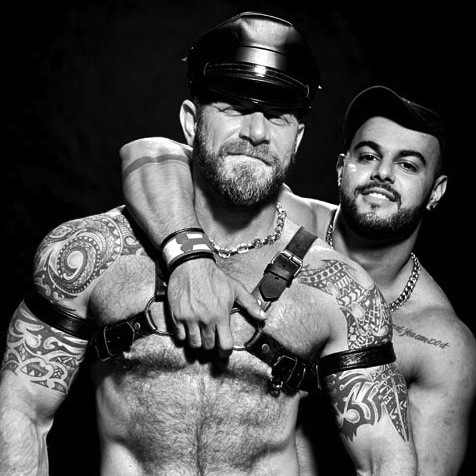 furball makes its chicago debut
photo credit // dick mitchell
Q&A with Joe Fiore, the man behind Furball, marking it's Chicago debut May 24
Chicago bears, cubs, daddies and their admirers–beware! On Saturday, May 24, Mr. Leather (IML) and Bear Pride Weekend, beloved NYC bear party promoter Joe Fiore will unleash his wild 'n' woofy dance party FURBALL upon the Windy City.
Before NYC's FURBALL roars into Chicago, Joe Fiore chatted with ChicagoPride.com.
CP:
(ChicagoPride.com) FURBALL is celebrating its 10th anniversary 2004-2014 with parties in Provincetown & New York and the first FURBALL in Chicago. Your party will debut at Metro, home for the last few years to another imported bear party, BLOWOFF. What brings you and your boys to town?
JF:
(Joe Fiore) I was in Chicago last year for the Bear Pride/IML Memorial Day weekend and with all that energy in town for the weekend I thought it would be a great locale to do a FURBALL party. FURBALL is a party that can bring them all in. Chicago is a city with a great dance music history and is an exciting place to throw a dance party. It's also a chance to do a great Saturday night dance party at a great locale - Metro.
CP:
It's been 10 years. Do you remember your first FURBALL? When did it start? How did it come about?
JF:
Ten years ago, nobody thought a bear dance would get a crowd "bears don't dance"– this was before Blowoff, Bearracuda, XXL, Scruff – before facial hair was in. Bears do like to dance – we just don't want to be judged.
CP:
FURBALL is wildly popular in New York. Tell us about the success of the party there.
JF:
The first party in 2004 got around 500 guys, and then took off to twice that number! It went from one to 4 parties a year. FURBALL came to be known as the Bear Prom - that special event even for guys who don't usually go out where anything could happen and socializing was very important. Starting last year we took the FURBALL to the Boatslip to Provincetown Bear Week and got over a 1000 attendees - so obviously the word was spreading. This April - FURBALL celebrated ten years with a blowout party at a big nightclub BPM in NYC with 1200 attendees from 9pm to 4am - they had to kick us out.
CP:
What are some specific memories? Proudest moments?
JF:
Having Frankie Knuckles spin three times at the FURBALL, and dancing to his Whistle Song -- like having James Brown sing at your birthday party. International DJ Severino from Horse Meat Disco who regularly spins in London, Berlin, Ibiza, told me it was his favorite gig in 2012. Having gogo bears of all different sizes and types – and all appreciated! Visitors from Spain, Germany, California, Italy, the UK. Being featured in a London glossy rag. Flipping through old photos – seeing Blowoff's Bob Mould or Horse Meat's Jim Stanton before I knew them. Displaying great visuals coordinated by David Aviles. Mixing up edgier DJs with great mainstream club DJs and having it all work. Having people give you heartfelt thanks for the party at the end - that doesn't often happen. Raising a lot of money for the LGBT Center.
CP:
How has it evolved?
JF:
The first FURBALL started as one-room event for 500 people – and had expanded to feature two dance floors with over 1000 in attendance. We have gone from throwing parties in old high school to a big nightclub and have still maintained our diversity and atmosphere. We have hired bigger named and more diverse DJs. It's grown from a great bear event to a great event period.
CP:
FURBALL is known for its stellar line-up of internationally famous DJs, which have included Frankie Knuckles, Horse Meat Disco's Severino, Hex Hector, SPANK and others. For the Chicago debut you're bringing in DJ Paul Goodyear --Australian by way of San Francisco (another first for Chicago). And you've got local DJ Ron Geronimo opening the party. How do you choose your DJs?
JF:
I always try to get great music – why settle for less? I don't feel boxed into a specific style (or that the DJ look a certain way) -- good dance music is more important to me than that. All our DJs love spinning at the FURBALL and dig its unique atmosphere. I also pick Djs who can connect with the crowd and make it a special one-time evening. I am looking for the best DJ I can get who's capable of that. I pick Djs for their style - I don't dictate how they should spin. I love having two different styles when I have two dance floors at the same to shake it up. I don't want the same old same old you can get any night of the week.
CP:
Got plans to return to Chicago?
JF:
I would love the FURBALL to be an annual event in Chicago - to keep it special and something that people can look forward to.
CP:
Any advice to guys to prepare for their first FURBALL?
JF:
Just come and be ready to dance and have fun. Leave your attitude at the door. Get ready to get sweaty on the dance floor. Get ready for some great music and great energy.
FURBALL, featuring DJ Ron Geronimo and DJ Paul Goodyear, Saturday, May 24 at the Metro. (Event details)
Calendar:
International Mr. Leather 2014 weekend events
Interviewed by ChicagoPride.com