A GoPride Interview
Jason Knade
Director Jason Knade on "All American Boy" music video project, film-making and Chicago
It's a powerful moment for me, one that transcends gender and sexuality and really speaks to the universal human emotions of desire, connection, rejection, and the emotional bravery that's required...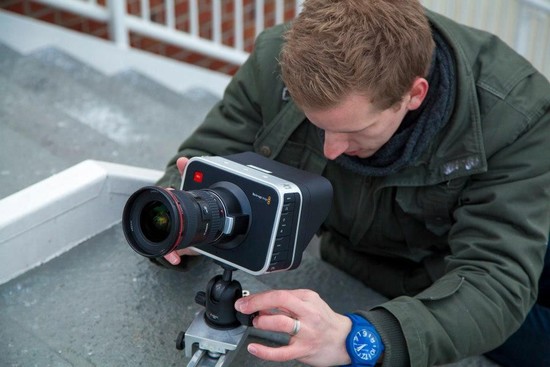 photo credit // facebook: jason knade
Director Jason Knade on "All American Boy" music video project, film-making and Chicago
Jason Knade, the director and editor of the viral music video "All American Boy" that brought artist Steve Grand's vision to our screens and showcased the artist's music talent to the world, took a moment to tell us about the video that recently took the nation by storm and shares his story about his career, his passion for film and his love for his hometown Chicago.
MI:
You're an accomplished filmmaker who has won a ton of film festival awards and your films have been screened all over the world. The Chicago Reader named you the "Best Filmmaker" in Chicago. How did
Steve Grand
get you to work on this amazing project?
JK:
To begin with, thanks for the kind words. I stepped onto my first film set less than three years ago, and it's been a wild and amazing ride. I feel so grateful. To answer your question, though, I actually got connected with Steve through Brendan Leahy, an amazing Chicago cinematographer. Brendan had already joined the project and thought Steve and I should meet. Hearing good things from Brendan, with whom I've worked previously, is enough to get me excited about a project. And once I met Steve, my enthusiasm just grew.
MI:
So what was the first thing that went through your mind when Grand asked you to collaborate with him and direct the video?
JK:
I was very excited. Steve's talent and passion are immediately discernible, and I definitely recognized the project's potential. More than anything, I was excited - as I always am - to be part of a project that was important and could really move and connect people. I'm always drawn to projects that are much more than just entertainment. For me, art is about tapping into and exploring that deep emotional core within ourselves that define and connect us as people.
MI:
Talk us through the experience of filming "All American Boy?"
JK:
It was incredible. From exploring middle-of-nowhere Wisconsin to find the best looking roads, to hiking the cold and damp woods - at dawn - to get to the swimming scene location, I enjoyed every minute of it. Making art is a very intimate process that really connects those involved, and I couldn't be happier about with whom I shared the experience. I got to work again with old friends and immensely talented collaborators Brendan Leahy and Ashley Lobo (actress who played girlfriend), and I had the privilege of meeting new lovely folks like Bianca Garcia, Nicholas Alan, and Ricardo Sebastian. I also loved working with Steve. His vision and passion are amazing, and I'm definitely looking forward to more collaborations with him.
MI:
What would you say is your favorite scene from the
music video
?
JK:
That is a hard question. I would probably say the climactic moment while swimming because of the emotional response it elicits. The ambiguity of their relationship and the blurring of lines all culminate in that one kiss, where Steve's character lays everything on the line. It's a powerful moment for me, one that transcends gender and sexuality and really speaks to the universal human emotions of desire, connection, rejection, and the emotional bravery that's required to take a chance like Steve's character did.
MI:
Were there any challenges on the set?
JK:
Waking people up! (Laughs) We shot about 14 hours the first day and wrapped around 3:00 or 4:00 in the morning. As we were finishing up, we decided to shoot the swimming scene at sunrise. I stayed awake and took on the duty of waking others up. Things like dancing and clapping may have been employed. Other than that, things went rather smoothly. Steve's friends, who were the folks in the campfire and fireworks scenes, did incredibly well for not being experienced actors. They took direction well and were genuinely interested in helping the project come to life.
(More after the video)
Related: Gay country music video goes viral on YouTube
Related: "All-American" sensation: an interview with Steve Grand
MI:
Tell us about your start in film. Who inspired you? What drew you to the industry?
JK:
Growing up, film was something I was always very passionate about but never really considered as a career. Fast-forward to a few years ago when I graduated with my BA in English. I was browsing graduate programs online one day and stumbled upon a filmmaking MFA. Something inside of me just clicked and said go for it. So I took the leap.
After the first day of my first class, I knew that is where I belonged. Then, after writing and directing my first film, I knew I could never again do anything else with my life. As for inspiration, my favorite filmmakers include Woody Allen, Noah Baumbach, Miranda July, Charlie Kaufman, and most of the French masters like Truffaut and Godard.
MI:
What are some of your favorite projects to date?
JK:
That's like asking which children are a person's favorites! Each project, imperfections and all, has a special place in my heart. My first one, a short film Cyclicity, stands out, as firsts always do, whether with love or sex or anything else.
And actually, to continue the comparison, I feel making art is much like having an intimate relationship; it's about opening up and making yourself vulnerable, and really giving yourself over to the other person or project.
And it needs to be done unreservedly, without a fear of rejection or failure. That's when things are authentic and ultimately successful (or at least capable of being successful). Also, my first feature narrative Searching for Venice stands out. So much time and passion has been poured into that project, by me and others, and I'm really excited about it. We are currently editing, and it should hopefully be released in the fall.
MI:
Where can readers find some of your work over the summer/fall?
JK:
As I mentioned, Searching for Venice should be released in the fall. I also am developing a web series that should be released in the late summer. When I'm not directing, I produce (and occasionally shoot) others' projects. Two LGBT short films, Scotty Works OUT (dir. Dan Pal) and Mum (dir. Alex Bohs), were recently completed and will be hitting the festival circuit late summer. I produced both and was the cinematographer on Scotty Works OUT. And, you'll be happy to know, Steve Grand and I are already talking about the next videos that will hopefully be shot soon.
New things are always popping up, though, and to really keep up with what I'm doing, I suggest (shameless plug) following me on Twitter, Facebook, and Instagram, and regularly visiting my website.
MI:
I hear you're on the screening committee for Reeling (the Chicago Lesbian and Gay International Film Festival) this year. What are some titles you can share that you're sure festival goers this November will enjoy viewing?
JK:
Nothing has been locked down yet, as far as I know. I actually was screening films all day today down at Chicago Filmmakers in Andersonville, and there were some great projects. It'll be a good year for the festival.
MI:
Chicago is definitely blessed to have a film festival like Reeling. We're looking forward to the return of the festival this fall. Speaking of which, what do you love the most about Chicago?
JK:
Part of the magic of the city is in its exploration, in that process of discovery. I love that I can always go out and experience something completely new and exciting. Chicago really has everything a person could want, from beaches to restaurants to galleries and everything in between. It's large enough to never become boring but small enough to create a sense of intimacy that makes it feel like home.
MI:
Any favorite locations in the city?
JK:
There is an infinite number of unique and wonderful places spread across the different neighborhoods. I can think of so many locations that have served as the backdrop for good times with good people.
My 'favorite' places would probably be those at which I've had the most memorable experiences or those that were the setting for some important or pivotal times in my life. I guess I'd say parts of the UIC campus, Uncommon Ground, Ohio Street Beach, a specific spot in Grant Park, Antique Taco, and Emporium Arcade.
MI:
What's your typical weekend like?
JK:
There really isn't a typical weekend, though to speak generally, weekends (when I'm not working) usually include me trying to do as many awesome things as I can with my lovely wife, who is so understanding and supportive of the work that keeps me busy for countless hours a week. Recent weekends included camping in Indiana, seeing the brilliant Abbi Rajasekhar perform live, going to a couple parties at friends' places, dancing at a club, watching some films, and kayaking in Southern Illinois.
MI:
Thanks for taking the time to chat with us. Can't wait to see your next amazing project on screen! But before you go, can you tell us something you've never revealed in an interview before?
JK:
Hmm. An anagram of my last name is naked.
MI:
Love it! Thanks, Jason!
Interviewed by Matt Inawat. Ron Matthew Inawat is president of the GoPride Network and contributes to ChicagoPride.com, PrideLA.com and other sites within the GoPride Network. Follow @cpmatthew