A GoPride Interview
Sheryl Lee Ralph
Actress and activist talks SMASH, Jennifer Hudson and motherhood
I write in the book that we immediately had a huge gay following. In many instances they were the backbone and the support of moving that musical forward.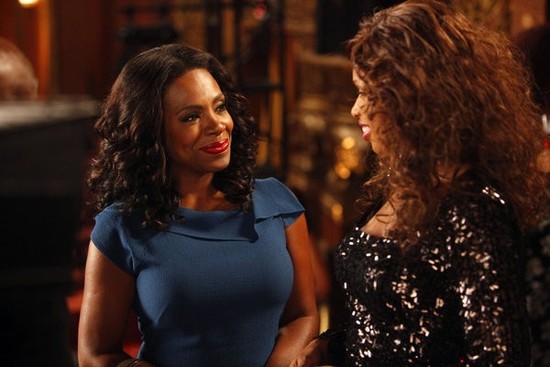 sheryl lee ralph on smash
Award-winning actress Sheryl Lee Ralph is an acclaimed veteran of film, television and Broadway. She was nominated for a Tony Award for Best Actress in the role of Deena Jones in Dreamgirls. Most recently Ralph guest starred on NBC's SMASH as Veronica Moore's (Jennifer Hudson) mother.

Ralph is an honored AIDS advocate and founder of The Diva Foundation, a nonprofit organization dedicated to addressing the challenges of HIV/AIDS through arts and advocacy. She produced Divas Simply Singing to raise money for AIDS and is currently touring the one-woman play, "Sometimes I Cry," which explores the lives of women affected by HIV.

Jerry Nunn talks to the actress and activist about her loyalty to her gay friends, Jennifer Hudson and motherhood.

JN: (Jerry Nunn) Hi, Sheryl. Smash has a huge gay following.

SLR (Sheryl Lee Ralph) Noooo...

JN: You might have noticed [laughs]. How did you get involved with the gay community in the first place?

SLR: Dreamgirls. You have got to read my book Redefining Diva. I write in the book that we immediately had a huge gay following. In many instances they were the backbone and the support of moving that musical forward. For me that's what really solidified the relationship. Dreamgirls for me was like the best and the worst of times. In the best times you're singing and dancing with somebody on stage one night and the next night they'd be fighting for their life. As a performer and as friend to some of the most incredible men ever I saw them die on the stigma, shame and silence because of AIDS. That's how that relationship came together because as a preacher's kid, a Christian kid I asked, "How can I turn my back on my friends? We have to do something."

JN: Do you think Smash captures the mounting of a Broadway show?

SLR: Well you know its television so it is glamorized but it's glamorized to people interested and an audience with a basic understanding of just how a musical does get launched. Things have changed greatly since the beginning of stage productions so there's always a different way to launch a show but from what I see they're doing a pretty good job.

JN: What is your character Cynthia like?

SLR: First of all I love this character. This is a woman who is so comfortable in her well-earned Manolo Blahniks that it is a joy just to get to play her. I was there on set and one of the execs came over and they said, "My God, the last time we saw a woman like this it was Dominique Devereaux." For those of you who remember Dominique Devereaux she was a powerful woman played by Diahann Carroll. I took that as a supreme compliment.

JN: You sing on the episode?

SLR: Yes, Jennifer and I sing together. It's a good song.

JN: What was it like working with Jennifer?

SLR: Let me tell you something, I walked into my dressing room and inside the room was the hugest, grandest, most beautiful arrangement of flowers I have ever seen. In fact they were so big that either the flowers had to go or I had to go! When I opened the envelope and saw that they were from Jen, I walked over to say thank you and she looked at me and she said, "Miss Ralph, you don't have to tell me thank you for anything because you are all that I ever really want to be." I was like, "Oh my God." It just made me feel… I can't even explain it but what a moment!

JN: Did you have any conversations about both being in Dreamgirls?

SLR: Absolutely and she was just full of great conversation but she said, "Miss Ralph I really wish you had been on that set. I really wish that you had been there." And I was just like wow. All I could do was say thank you for that, thank you because heck I wish I had been there too myself!

JN: How does this compare to other mom roles that you have played?

SLR: it's really interesting because I was thinking about that myself and when I really looked at all of the young women that I've played mother to it's an incredible group of talent. There was Brandy on Moesha but before Brandy there was Sister Act 2 and my daughter was Lauryn Hill. I just wrapped a pilot with Tia Mowry and then the mom for Jennifer Hudson. So my God if you just consider the four of them it's an incredible group of young women and all of these mothers are so very different. I love this mother on Smash because she's so grounded in the church but at the same time she knows how to handle the world. You can tell that she's been under the leadership of a strong bishop or two you know? I love that about her.

But then at the same time when I was doing the mom in Moesha she was a stern but loving stepmother so she had to really tread lightly when it came to the kids but at the very end, you knew that they grew to love each other so deeply and it's just so interesting. In the piece that I did with Tia Mowry oh my God, this mother can drink, she can dress but she loves her daughter. They're all so different.

JN: What was the best part of being a guest star on Smash?

SLR: I guess the best part of being a guest star on that show is that you know you're probably going to get to do something great that's basically a theatrical stretch but onscreen. They called me and said, "Look are you interested in playing the mom to Jennifer Hudson on Smash?" I told my agent that is not funny, do not punk me, and I hung up the phone. I hung up the phone!

He called me right back and said, "No, no, no I'm serious. They're offering you this like right now. Do you want to do it? Oh honey please, I said yes so quickly it was unbelievable. I was so happy. I was like oh my God I can imagine the clothing. I can imagine the words and what will be the song? So I was excited.

JN: Will you be on more episodes?

SLR: I only got to do the one episode as we're waiting to see what's going to happen but the door was open for the possibility of more but one never knows does one?

JN: I know you were just here in November for you show but come back to Chicago soon.

SLR: Thank you so much. I'm looking forward to coming back. I love Chicago.

JN: Great. Nice talking to you.

SMASH airs Tuesdays on NBC.
Interviewed by Jerry Nunn. Jerry Nunn is a contributing writer to the GoPride Network. His work is also featured in Windy City Times, Nightspots Magazine and syndicated nationally. Follow @jerrynunn