A GoPride Interview
Andre Ward
Meet Moulin Rouge The Musical's Andre Ward
Yes, I'm living my dream...., girl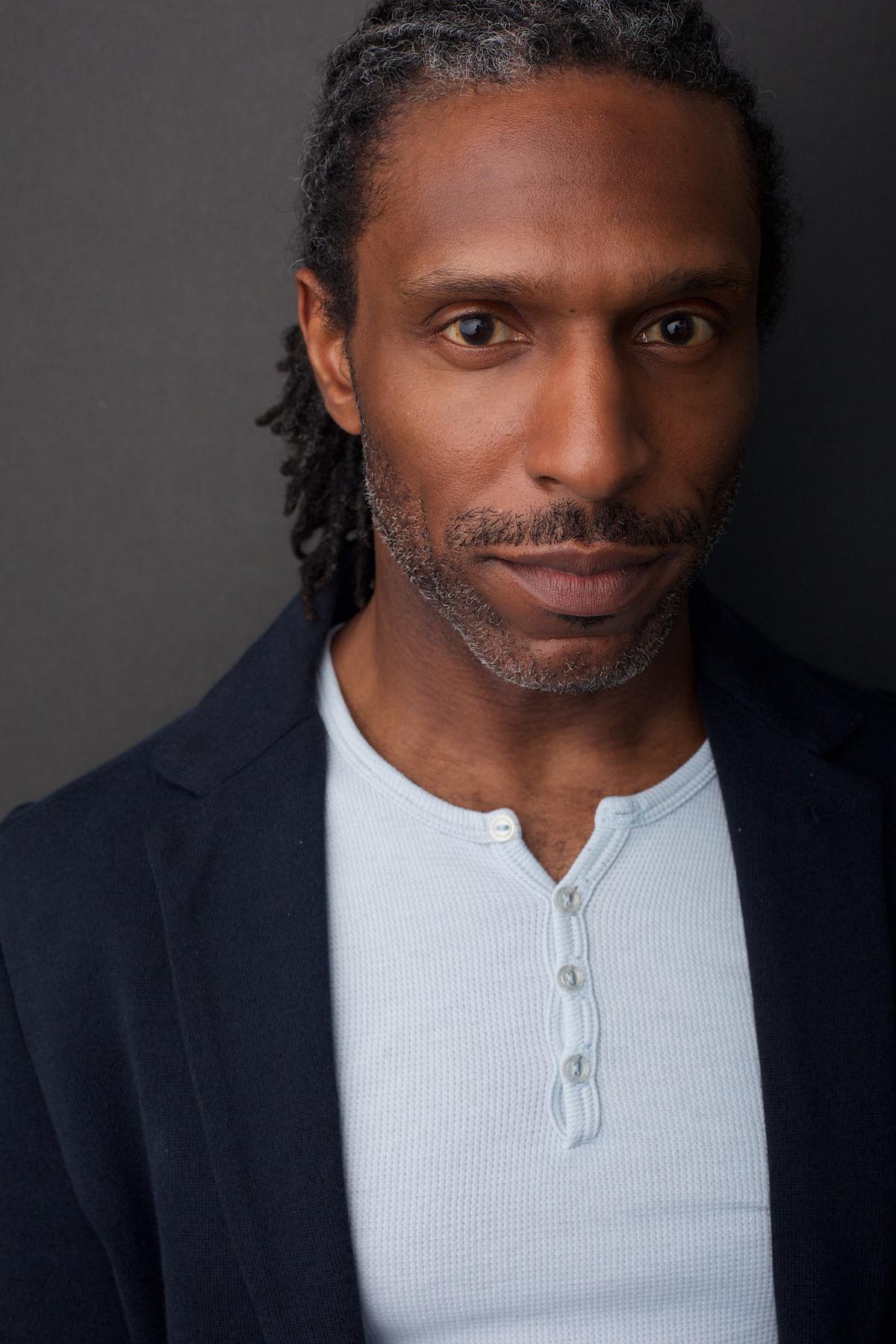 Enter a world of splendor and romance, of eye-popping excess, of glitz, grandeur, and glory! A world where Bohemians and aristocrats rub elbows and revel in electrifying enchantment - "Moulin Rouge! The Musical!," winner of 10 Tony Awards® including Best Musical!
Baz Luhrmann's revolutionary film comes to life onstage, remixed in a new musical mash-up extravaganza. The fresh and updated musical production is a theatrical celebration of truth, beauty, freedom, and - above all - love.
We chatted with the talented Andre Ward who brings the show's artist Toulouse-Lautrec to life on stage. 
MI: (Matt Inawat) Hi Andre! Tell us a little bit about your journey to being a part of Moulin Rouge.
AW: (Andre Ward) Well, what's so interesting to me is that I went to see the show, a friend of mine had tickets in 2019 and he said, "oh Andre I have tickets to see the show. Do you want to go?" I had not thought about auditioning for it at all. I was like, "oh, I'd love to go" and I had a lot of friends in it. 
So I went to see the show and he happened to have the third row tickets on the aisle. It was fantastic! I got to see all my friends up close. I felt like I was in the Moulin Rouge. It was so, so great! And I went to see my friends afterward and said, "it's so thrilling to see your show; I don't know if I if I could ever be in it, but it's so great. It's so fun. I think it's just so beautiful. The only part maybe I could do would be Toulouse-Lautrec but I don't know." And about a year later. I got a call to come audition.
MI: Oh, that's awesome. Tell us a little bit about your role in the show. Was there anything outside of the ordinary that you had to do to prepare for your role like travel to Paris, maybe?
AW: I wish I wish. You know it's funny. I just was at the Chicago Art Institute and got to see some of the beautiful paintings of Toulouse Latrec, he is so hauntingly and beautifully tragic I would say. He was from an aristocratic family. His parents were first cousins, and he studied art, and found his way to the underbelly of Parisian nightlife and sort of felt like he belonged in that place; not feeling like he was really an aristocrat. 
At least then and in our show he definitely is a Bohemian artist who finds the beauty in a tragedy and faith, and truth, beauty and freedom, which has been so glorious to explore, and to explore unrequited love that he feels in the show and not being able to express it. So that's been, that was a really beautiful journey for me to explore. As far as Toulouse-Lautrec goes, feeling "othered", finding a place that you belong, finding your chosen family, such a beautiful message, and certainly the creative that an artist felt.
MI: Yes, what a great message. What do you personally love the most about the show?
AW: Oh, I love so much about the Moulin Rouge musical. I love the relationships in the show, quite frankly. It's so beautifully colorful. The dancing is so thrilling, but the relationships glue everything together and so it has been remarkably satisfying to have this bond especially with Connor who played Christian Connor Ryan and Gabe who plays Santiago. We have such a fun repartee, the three of us and it's been fun to spar with David who played the duke, David Harrison plays the duke, because we get along so well and are such great friends, so it makes it so much more fun to be mean to one another. That's been a lot of fun for me.
MI: That's awesome! For folks who are returning to see the show, how is the current production keeping the story fresh for today's audiences?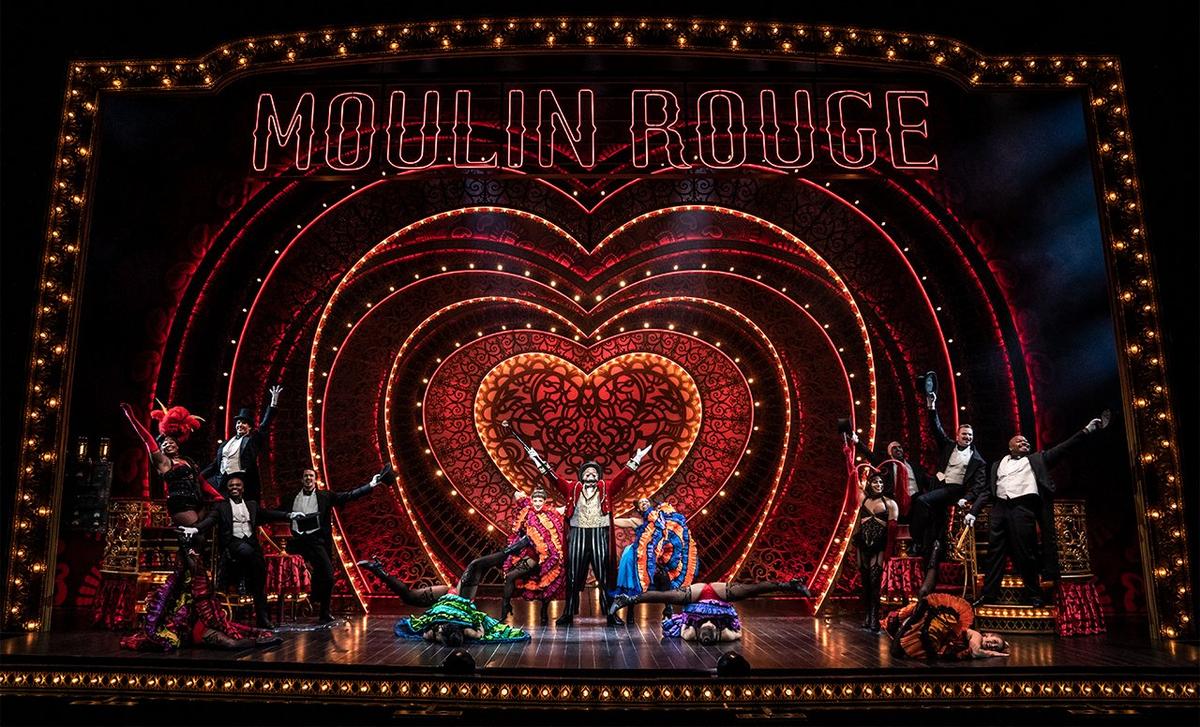 Moulin Rouge the Musical; credit: Broadway in Chicago
AW: Well, since the movie, a lot of the songs are new, some of the songs have been updated; fresher pop songs that weren't in the movie that weren't around when the original movie came out, are in this production. And in New York, there's a passerelle in the theatre and we are in just in a proscenium setting so the production looks a bit different. And we have such a fun group of people; and rehearsing in Covid has definitely brought us together. 
You know, we rehearsed in masks for the first few weeks of rehearsal. We didn't see each other's faces really. So when we finally got to take off our masks and look at one another and see this beautiful smile, the beautiful faces of the different company members, it brought us all that much more together to appreciate what we didn't get a chance to see when we were rehearsing. 
So I think rehearsing during Covid made us bond and made us a cohesive unit, as a chosen family. If there's a silver lining to be had, that's it.
MI: You've been in many other amazing productions, which of your other previous roles are you the most proud of?
AW: Oh, it's hard to pick one. Its like your babies, quite frankly for me. But I think, first of all, this is my fifth time back in Chicago. So I feel so like I'm coming a full circle. When they redid what's now the James M. Nederlander Theater, where we are for The Moulin Rouge musical. 
When they reopened that theatre as the Ford Center back in 1998 I was here with that inaugural production, with Ragtime and it's just so it feels a little bit like coming home again and it's like a full circle moment for me to be back in this particular theater and doing this beautiful show, so Ragtime holds a special place in my heart. 
It was one of those, like Moulin Rouge, Ragtime was a show that felt just as amazing and thrilling to be in it as it was to see it. And Moulin Rouge is that way when I saw the show, I was, it was electrifying, and now doing it, it is thrilling and electrifying, that doesn't always happen. But certainly Xanadu, I will say, was one of those rare little jewel boxes of a show where I actually got to do the same thing. So many brilliant, comedy actors, and to learn and uh, really learn from them about comedy timing.
MI: Take us back a little bit. How and where did you find your passion for theater?
AW: I grew up in Las Vegas, Nevada. I went to Catholic School my whole life and my grandfather helped raise me. I was in about the fourth grade and I was always sort of making up stories at home and I had a lot of energy. My teacher at the time, her name was Sister Regina Majenski, said to my grandfather, "Andre's a delight! He's very cooperative so let's get him into something to help him
burn off some of this excess energy so he's maybe a little less talkative in class." 
So I found that talent pretty early. So did she - and they signed me up for classes at this Children's Theater Company called Rainbow Company. When I was in about the fourth grade I started taking classes and it stoked my passion for the theater. I started writing plays when I was younger. I would write different things and try to get them produced on the local PBS station. I was, you know, writing plays
and I'm doing them at recess making my friends hit their camera marks and pretending that I had a camera. It wasn't until I got to high school and I realized I could actually do a play. It was in the drama department, that I really thought I could actually do this and actually get paid to do this.
MI: Is there a role in any play or musical that you just love to portray?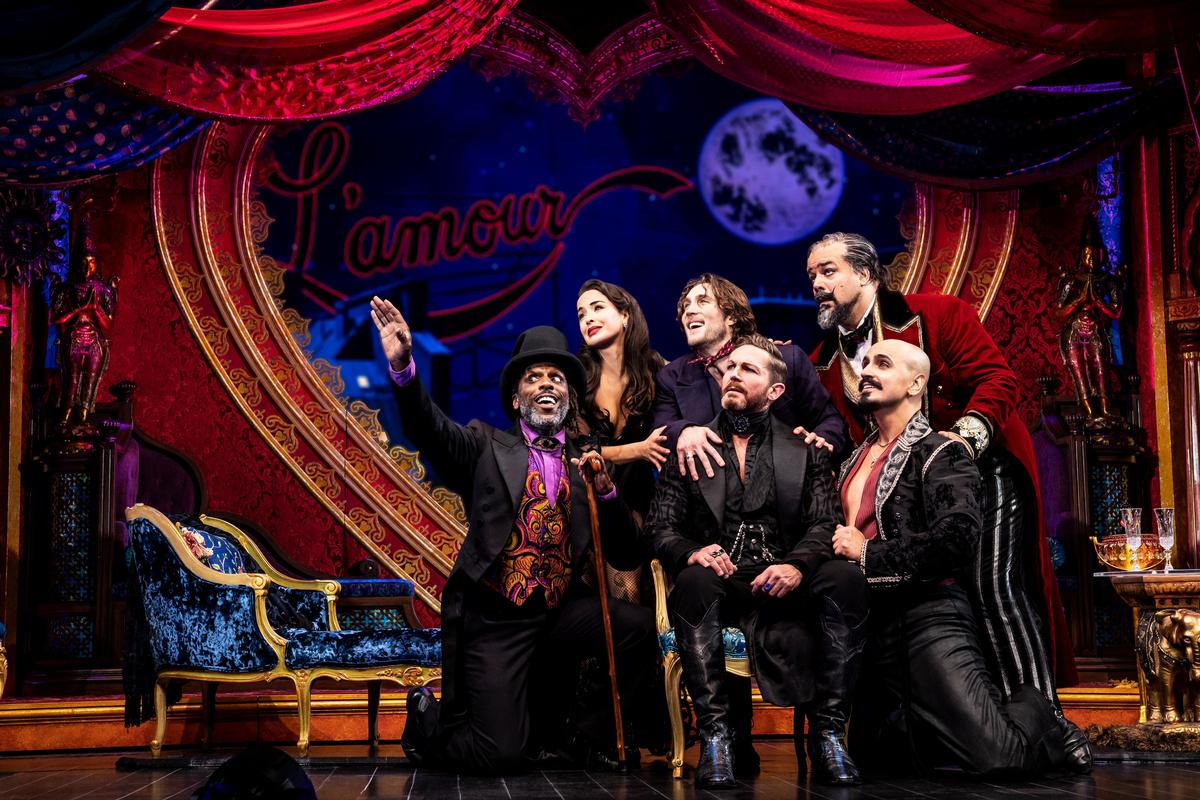 Moulin Rouge the Musical; credit: Broadway in Chicago
AW: I loved doing the Leading Player. That was a very fun, an amazing gift of a role. I got a chance to do. But I will say, I do love Toulouse. He has been a remarkable role that I get to do. It has been even more rewarding than I could have thought seeing it because he gets to be funny. He gets to be feared, he gets a wide breadth of experiences, but the dream role that I that I love to do is I can honestly say, I don't know, I love finding new things to do, you know, that's the lovely thing about theater. 
Lovely thing about being creative is that I get to lean into the unknown. So maybe my dream role, you know, I'm right now playing my dream role; and after that it's yet to come and I'm good with that!
MI: Love that response! Ok, let's talk local. What are on your top three things to do while in town for the show?
AW: Oh my goodness. Well, I got a chance to do one of them today. I got a chance to walk to the Art Institute and look at the Toulouse-Latrec exhibit and see some of the paintings and that I got to sing a song that is in the show, Nature Boy, in front of one of the beautiful paintings. So that's, I mean, that's a check it off my bucket list. Kind of thing that I got a chance to do. And, and also got to see one of my favorite paintings, Sunday in the Park. One of my friends is coming to town and I'm going to get a chance to go to
the Girl and the Goat and eat some wonderful food, and I'm so sad that it was raining and I missed Golden Con because Golden Girls is one of my favorites. I'm really sad that I missed out on that because I can quote episodes of The Golden Girls backward and forward.
MI: So you got to sing in The Art Institute?
AW: I did. I got to do that. I was overwhelmed. I was overwhelmed it was so humbling and so beautiful. And I felt so lucky. And, you know, for lack of a better word, I felt so cool.
MI: Congratulations on that feat! It's a once in a lifetime thing, right? So have you had the chance to share some of your favorite Chicago restaurants with your fellow cast and crew?
AW: I haven't yet. I mean what is so interesting since being here this time around because we're obviously just like sort of just getting out of coming through Covid or it's like we're getting to the other side of the really, you know, horrible parts and we've been delayed a bunch of times due to Covid. 
So it's been a little stop and start since we've been here. So, I feel sort of now with a couple of weeks left we are all sort of getting a chance to get out and explore. Now, that the weather is better, we've had a couple of really beautiful, beautiful, warm days where I've had short sleeves on. So it's been great to go to Millennium Park and and walk around in the in the lovely hot breeze. It's been really great.
MI: Andre, if you could sum up your theatrical life in one musical title. What would that title be?
AW: Oh, wow. I mean, the first thing that comes to mind for me, you know, it's Dreamgirls for me. Or Cabaret. Life is a cabaret for me, but Dreamgirls is sort of that. Yeah. Dream Girls, living my dream. 
Yes. I'm living my dream, girl.
-- ABOUT THE SHOW --
Individual tickets for MOULIN ROUGE! THE MUSICAL are now on sale and start at $52.50 with a select number of premium tickets available. Tickets are available now for groups of 10 or more by calling Broadway In Chicago Group Sales at (312) 977-1710 or emailing GroupSales@BroadwayInChicago.com. For more information, visit www.BroadwayInChicago.com.
Audience members are required to wear masks and show proof of vaccination. For details or further requirements, visit broadwayinchicago.com/covid19.
Interviewed by Matt Inawat. Ron Matthew Inawat is president of the GoPride Network and contributes to ChicagoPride.com, PrideLA.com and other sites within the GoPride Network. Follow @cpmatthew