A GoPride Interview
Mark Consuelos
Mark Consuelos on scaring Kelly Ripa as Spivey on American Horror Story
I think it disturbed my wife a little bit, in a good way. She's hooked on the show, but she finds it so disturbing and she can't look away. She wants to look away, but she can't look away.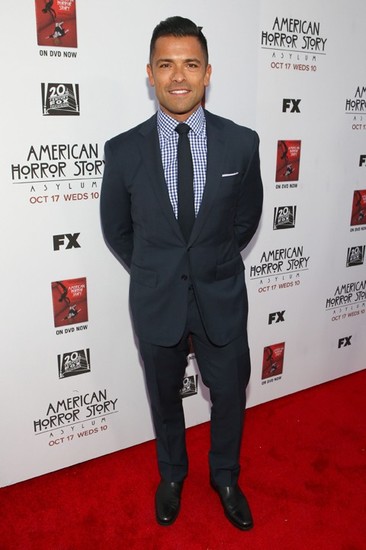 Sexy actor Mark Consuelos spent years playing Mateo Santos on "All My Children," where he met his wife Kelly Ripa. He went on to roles in "Ugly Betty" and "Law & Order."
The Spanish-born thespian now has a terrifying new role as Spivey, an asylum inmate, in FX's multiple-award-winning "American Horror Story: Asylum" created by openly gay Ryan Murphy.
ChicagoPride.com caught up with caliente Consuelos to find out more about this new project.
JN:
(Jerry Nunn) Hi Mark. How did you get involved with this role?
MC:
(Mark Consuelos) Ryan Murphy said he wanted to talk about this particular project, and over dinner he explained the role and how Spivey was going to look. We really got into the physical characteristics of Spivey and he did warn me that he's going to be a super dark kind of character, extremely demented, and for me I said, you understand that's exactly why I would want to play Spivey.
JN:
So you knew you were going to go through makeup?
MC:
No, I had no idea. But I literally said, "Whatever you're about to ask me to do, Ryan, the answer's yes!"
JN:
How long did it take you to get that makeup on?
MC:
Oh, it takes anywhere from two and a half to three and a half hours, depending on what's going on. Whenever they say it's going to take that long I'm like, "Yeah, right, there's no way, what's so hard about that?" But these guys are definitely artists. They're amazing at what they do. And just getting it on and then once they get the stuff on the prosthetics, the way they go about touching them up and painting them and adjusting them, like I said they're really artists.
JN:
What's the atmosphere like between takes?
MC:
I think it's super professional. The directors have been amazing. The crews for the days that I've been there are outstanding, and the actors, that list of actors, gosh, you can't get much better than that. I think they have a good time but they're there to work. You would think it would feel super heavy sometimes, but I think the stage manager and the assistant director did a really good job, when those moments are happening everybody was super respectful.
JN:
With the asylum being a character itself in the show was it challenging to act in that environment?
MC:
I've never been in an asylum, and you always feel like it's sort of creepy and there's this lore about them, so I didn't really know what to expect. I tried to watch and do as much research as I possibly could. I watched this one documentary called Follies, and I think it was shot in the mid-60s, at the same time this show was set. It kind of informed me a lot. It made me actually even more afraid after watching that documentary. The production designer did such an amazing job, everything looks so authentic and substantial and it really sets the mood for the show.
JN:
Do you get to develop your character or did they have a set agenda?
MC:
I think that with most good scripts and good shows they expect the actor to bring some of their ideas and some of the things, the back story of the character, or just certain aspects, they expect the actor to do some of that stuff, and I think it's always a good collaboration between the actor and the writer and the director to try stuff out during the process. I think what was really great is that people were open to certain things and they would let you know if that was something they wanted you to do more, cut that in half, do more of that, we need you to do this, but I feel like on any really, really good show I think everybody comes with their own stuff and you want to try as much as you can. I would say that the character was really clear in some of the things that he'd been doing and some of these actions. It makes it easier for the actor. It informed the character and what you would think he'd be going through. There wasn't really a lot of gray area here. Do you know what I mean? They wrote him very specifically, which I really appreciated. But just because they are very specific about those things, it doesn't mean that it limits you. Actually, it makes those possibilities and some of your choices even greater.
JN:
I heard American Horror Story has been picked up for a third season. Would you be interested in being on the show again?
MC:
Absolutely. It's been so fun just to be part of it, the whole buzz around the show is exciting, and then when it actually starts airing people absolutely love it. I got extreme street credibility from my high school aged son, he's like, "Dad, the fact that you're in American Horror Story is absolutely cool." I said, "I'm not sure if it's appropriate for you." Then he said, "Dad, come on, I'm a New York City kid in high school!"
JN:
Do you want to do more dramatic roles after this?
MC:
I really love the dramatic roles. The great thing about this job is that although it's extremely dramatic, it's so much fun, but it is a drama, It's not necessarily a procedural like cop show, this is extreme drama, and it's so fun to play. Yes, I think that typically I wouldn't be seen as, or given the opportunity to do this job or play this character, so I hope that opens me up a little bit to more opportunities.
JN:
You are producing an ABC comedy with Kelly. Do you prefer acting or producing more?
MC:
Oh gosh, I guess it depends on the project. There are certain projects that you love to be involved in no matter what capacity, as producing, or in front of the camera, whatever it is, and there's certain projects that probably I wouldn't even consider getting behind, just the sheer magnitude of certain projects I couldn't produce, so just to come in and act would probably be a lot easier. But I like aspects of both. I think that for a couple of years I focused on more the producing because I wanted to be close to home after traveling a lot for work. And now that the kids are a little bit older I'm enjoying acting again and taking these jobs. This particular job for FX really I would travel one day, work one day, maybe two days, and then be on the red eye home. So a lot of times I was only gone for two to three days, which is perfect for having a family in a different part of the country.
JN:
What does Kelly think of the show?
MC:
I think it disturbed my wife a little bit, in a good way. She's hooked on the show, but she finds it so disturbing and she can't look away. She wants to look away, but she can't look away.
JN:
Maybe she could guest star…
MC:
Hey, listen, you never know with Mr. Murphy, because he can have anybody on the show.
JN:
I know you have a Mexican and Italian background but grew up in Illinois.
MC:
I did, yes in Lebanon, Illinois, Southern Illinois.
JN:
Well, come back and visit us in Illinois soon.
MC:
Thank you so much.
American Horror Story: Asylum airs Wednesdays at 9 p.m. CT on FX. Visit www.fxnetworks.com for listings and details.
Interviewed by Jerry Nunn. Jerry Nunn is a contributing writer to the GoPride Network. His work is also featured in Windy City Times, Nightspots Magazine and syndicated nationally. Follow @jerrynunn