A GoPride Interview
Gavin Creel
Out Tony & Olivier winner Creel reprises "Into the Woods" Broadway role in Chicago; hosts City Winery concert
I spent a long time being afraid and thinking that if I got too queer or too gay, somehow it would actually come back and hurt me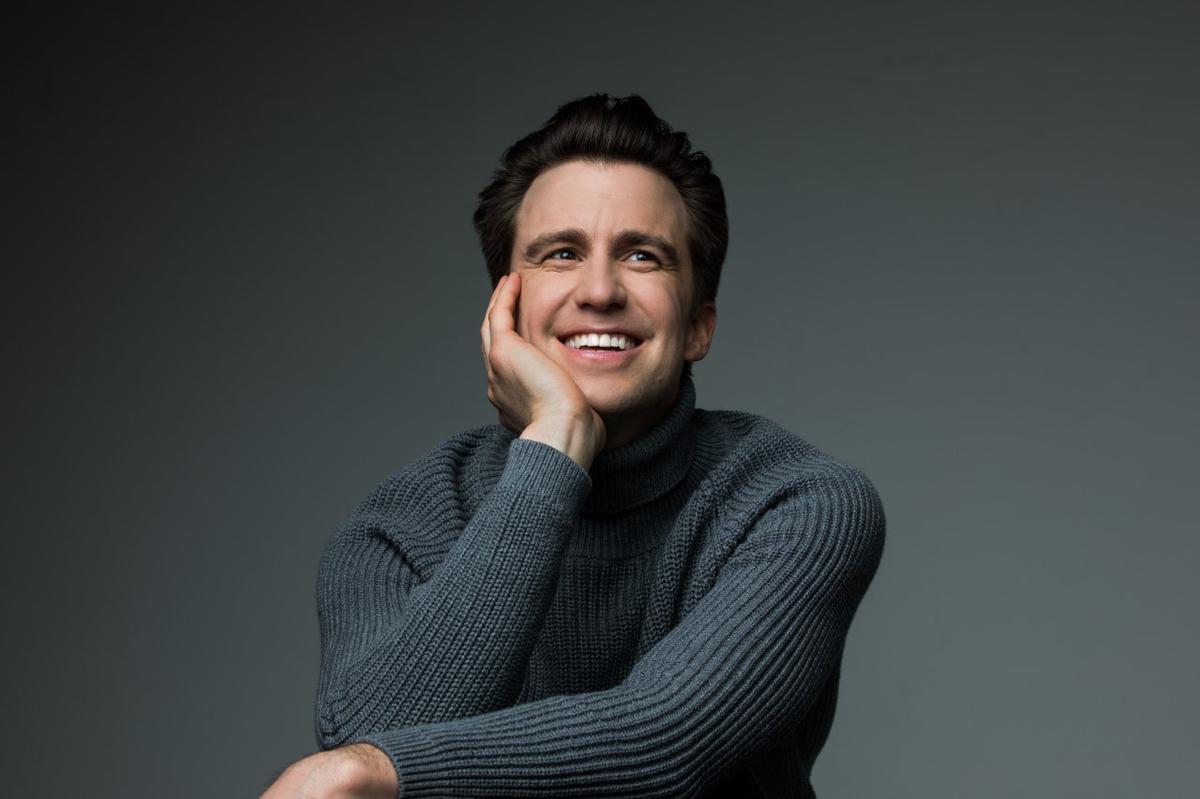 Out Tony & Olivier winner Creel reprises "Into the Woods" Broadway role in Chicago; hosts City Winery concert
This week, we chatted with exteremly talented and out actor Gavin Creel who takes on the roles of Prince "Charming" and the Big Bad Wolf in the hugely acclaimed and much beloved Broadway production of Stephen Sondheim and James Lapine's Tony Award® and Grammy®-winning "Into the Woods" musical, which performs a strictly limited engagement from Tuesday, April 25 to Sunday, May 7, 2023, at the James M. Nederlander Theatre.
Creel will also be performing in concert at the City Winery following the musical's limited engagement.
The decorated performer won a Tony working alongside Bette Midler in "Hello, Dolly!" and an Oliver for his role as Elder Price in "The Book of Mormon." On stage, he has appeared in "Hair" (Tony nomination), "Thoroughly Modern Millie" (Tony nomination), Waitress, She Loves Me, La Cage aux Folles, Hair, Waitress, Mary Poppins amongst many others. On screen, some of the shows that Creel has been on include "American Horror Stories", PBS' "Stars on Stage", and "Eloise at the Plaza."
MI: (Matt Inawat) Hi Gavin! Tell us what drew you particularly to the roles of Cinderella's Prince and the Big Bad Wolf in the "Into the Woods" musical?
GC: (Gavin Creel) I would like to say that it was the piece, which I love, from when I was in high school. I listened to the original Broadway cast recording and I saw the VHS tape, but the real reason I was there was, Lear deBessonet, the director, called me and asked me to do it. One of my best friends in the world, Sara Bareilles, was already in the show and I was like, anything to get to act with her again. That was basically it, it was basically Sara and Lear.
MI: The show is a story about storytelling, and the way in which tales shape our lives. What do you hope audiences take away from the production?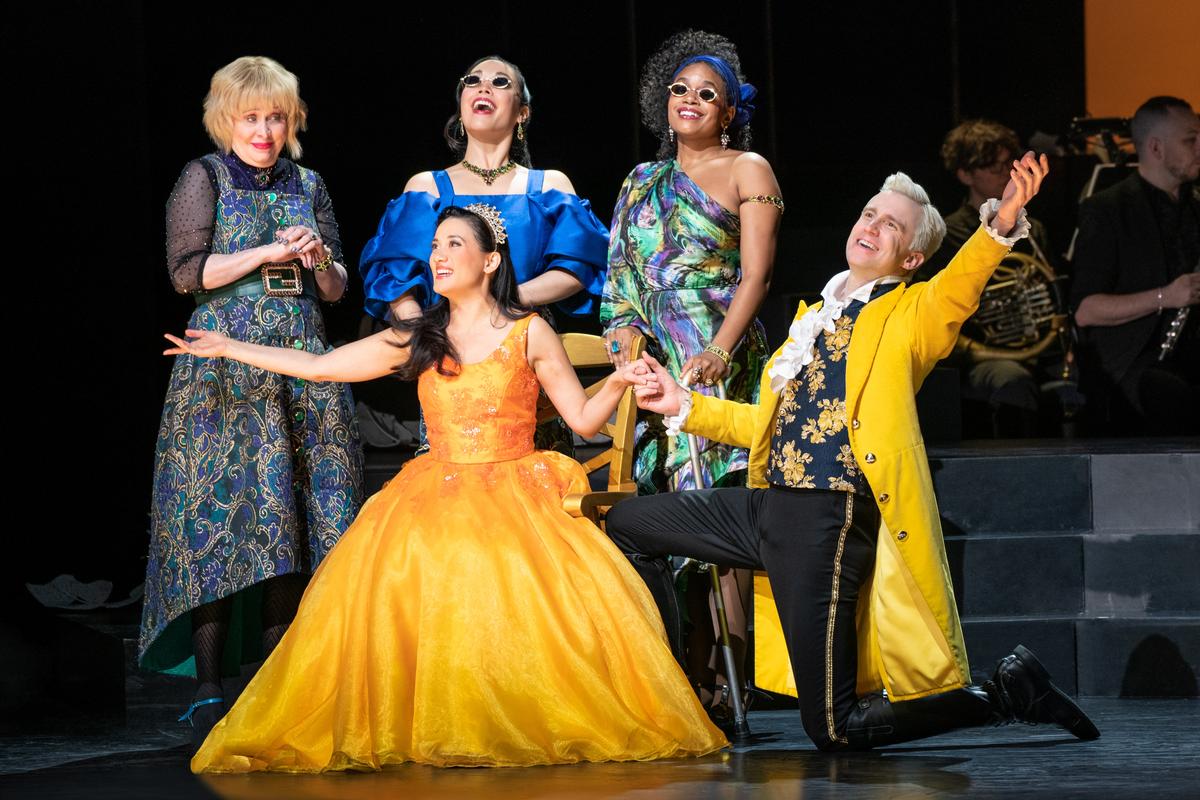 The Company of Into the Woods; credit: Matthew Murphy for MurphyMade
GC: Our show was built as a concert in New York at City Center originally. And even though it's a full show, it's very much still the beautiful orchestra sitting on stage with us. We play most of the show out and in concert style. It's a very minimal set and it's just all about the words and the music and they're presenting that. I think what makes our production special is we're sort of with you in the audience in 2023, and trying to appeal to you where you are now, rather than trying to take you to some magical land far away, and make you think that we're somewhere other than where you are.
It's simply done. It's focusing on the stories and the words that are centered around your dreams, your wishes, heartbreak, loss, humor, joy, family, loneliness. It's just these great big themes that are wrapped deceptively in a very simple package because you're like, "oh, I know those stories, I know them well." 
James Lapine and Steve Sondheim have combined them all in such a creative and interesting way, that you have never seen them like this before.
MI: So it's definitely not just like you're watching the film; there's definitely some magic in the thearical experience!
GC: Yeah.
MI: For all your work on stage, how do you handle success and recognition, and what motivates you to keep pushing yourself as an artist? You've won numerous awards - you're a Tony winner, Olivier award winner, many more...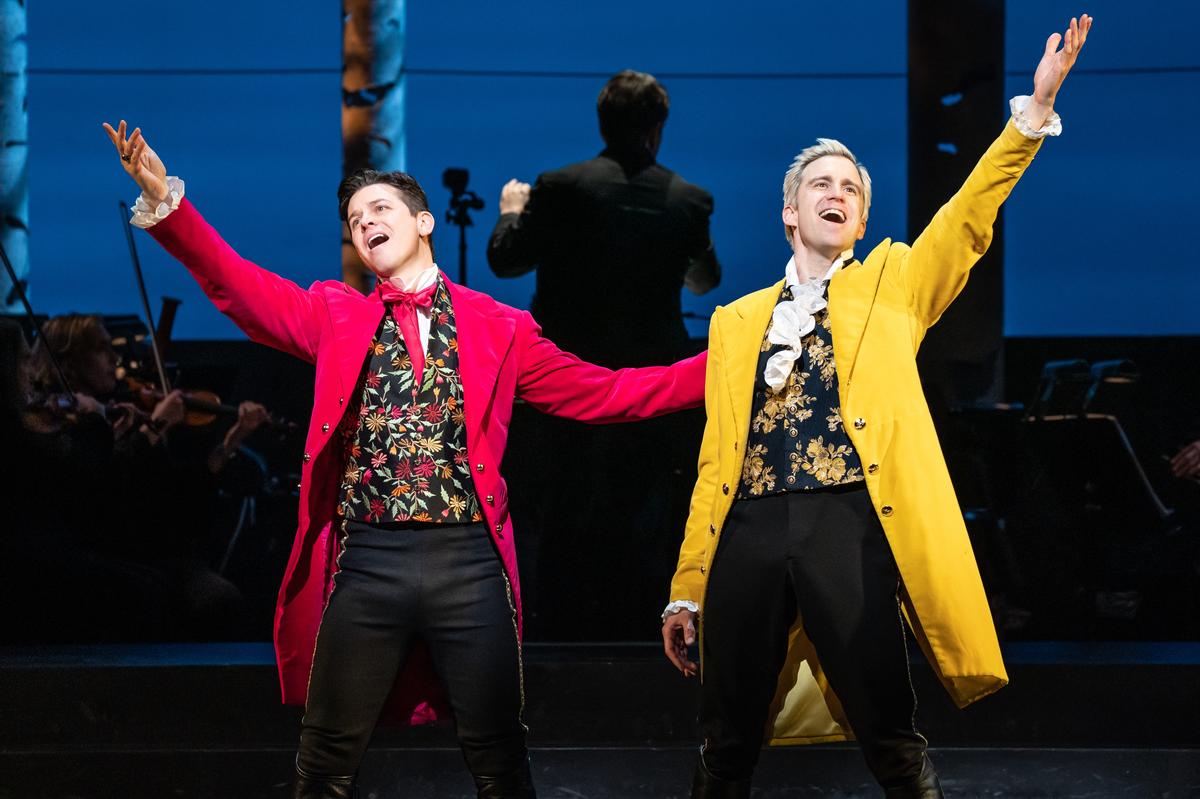 (L to R) Jason Forbach and Gavin Creel; credit: Matthew Murphy for MurphyMade
GC: Look, I have an ego that I try to keep in check, just like any other human being. So there's very few times where I'm irritated by people recognizing me or disrespecting my space. It doesn't happen very often at all. I know I'm not Lady Gaga or anything like that, but theater fans are really, really beautifully loyal and it takes a lot of energy, a lot of money, a lot of time, saving, and investment to be a theater fan. So I always know the type of people that I'm dealing with after 27 years in the business.
It's just a very rare and beautiful and supportive breed, that we are as theater fans. We also are quite respectful, I think, in that regard. I've done just a few things in film, TV, so if I'm recognized at all, I know it's from the theater. That means somebody has traveled, and saved their money, and bought a ticket, and sat in the theater with a live experience, and seen me up there sweating, and spitting, and dancing, and singing, and doing something live in a room with you.
It's a beautiful thing and I was on a rooftop rave in Berlin and somebody walked up to me and was like, "Are you Gavin Creel?" I was like, "Well, you just made my life. Why does anybody here know who I am?" then there's been on the streets of New York, or even in... We're in Charlotte at the moment and different cities we go to, I'm always kind of baffled that people might know who I am. I've been alive for a while and I've been doing this for a long time, so I'm really grateful.
To sustain it, I just don't try not to focus too much on that part of it. It definitely plays in, like I said, I have an ego and it feels nice, once in a while to have somebody say something nice about you or whatever, but I can't think about it too much. I can't read anything or watch anything, because then it gets me sort of sitting on my own shoulder and watching how I'm appearing. I can't bring an honest, I don't know, raw performance, if I'm always watching myself and there's enough of that in the world. There's enough of that in my own head, in my own noisy brain. It's like I don't need any help observing the observation of me. So I just try to stay away from that and if I ever get lost, I just go, who's opposite me on that stage? What do they need and what am I trying to do? That's just basic, my theater training from the University of Michigan School of Music, Theater, and Dance, and performing.
MI: Gavin, so you started out by saying you had an ego -- but seriously, that was probably one the humblest answers ever!
GC: Oh, I've got one. I try to stay humble. I try to stay grounded, but my god, they give you a Tony Award, you're flying for a while.
MI: As you should!
GC: Yeah, it was wonderful. Also, the older I get, the more I realize, my best friend, Celia Keenan Bolger and I talked about this, is like... We're both Midwesterners and we grew up the true to the core Midwestern values, which many of them, most of them I would even say, are wonderful, but a lot of those don't be proud or don't be too... It can be poisonous sometimes. Sometimes you need to take a minute to go, I did that. I'm proud of that.
I've worked hard and even I deserve that. Even though when I teach, I love teaching and I always say to be an actor is a privilege, not a right. I stand by that, it's not my right to be an actor. It is a great privilege, but it is also something that just has such beautiful values sometimes, and you can see it. You come out of the stage door, you interact with people who stop you in the street and you can see in their eyes like, oh my gosh, I saw you. They become almost a little bit in love with the moment that we all shared together again, they get to experience it all again, and it's such a beautiful thing. So I love the theater.
MI: It is! You've toured extensively throughout your career. How do you maintain your energy and focus during all these long stretches on the road? What do you do to take care of yourself while touring?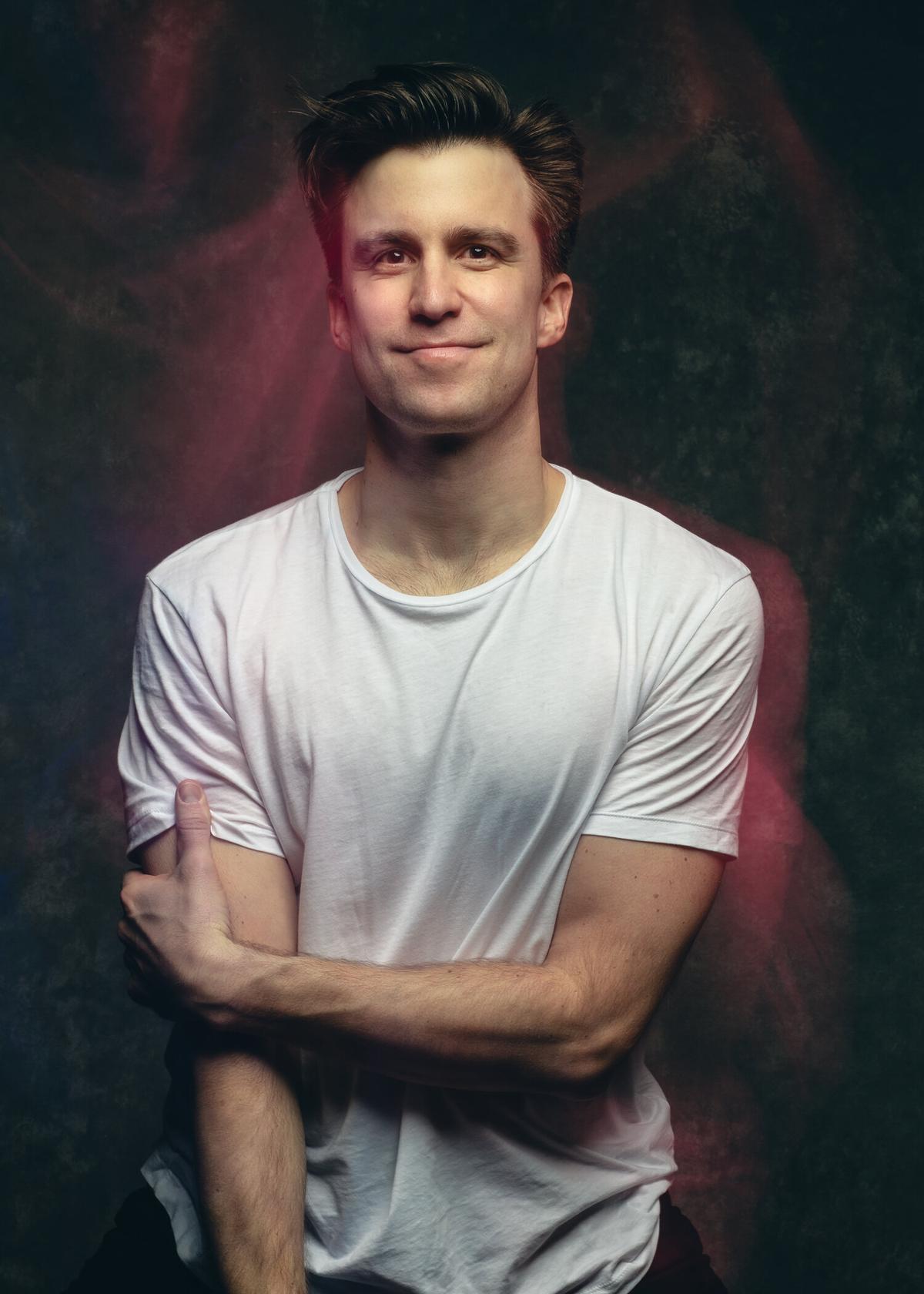 Gavin Creel; credit: GavinCreel.com: Matthew Murphy and Mark Willshire
GC: Well, that's a good question too. I'll be honest with you. I don't know.
Sleep and water are the fast answers. If I'm not hydrated and I'm not rested, I'm cranky and it's hard and my body hurts. I eat really well. I try to eat really well, and I keep my life simple, because it does take a lot. I'm 47 next week, and that's not young anymore.
MI: And Happy Birthday!
GC: Thank you. I feel very young and I have a young energy, but 47 is a grown-ass man, and I can't forget that. So I have to be mindful about stretching and warming up before the show and how I live my life when I'm not on stage. It's a 24-hour job. People think, oh, you go to the theater and you run around in a costume and it's so much fun. I said, "Yeah, that's a early twenties, twenty-something mentality." Even when I was that age, it was still hard, but I could recover faster. This is the truth that we get older, we don't recover as quickly, and our abilities decline and we have to do more to keep ourselves fit.
But I have to also say, a lot of it's spiritual. A lot of it is gratitude and really looking... I'm laying on a bed in Charlotte looking at the sky and the clouds and the green leaves, and it's this beautiful little loft that I found on Airbnb, and I'm just talking to you on the phone and thinking right now, I'm okay. Right now, I have something to do and it's to talk to you and tell you some stories of my life and my experiences. Then I get to go to a theater and share fiction with an audience, that's going to laugh and cry and applaud and stand up and cheer. Oh my gosh, the cheers that Into the Wood gets. It's so confusing to me, because it's so not what I thought a rockstar response would... A show that would be eliciting this kind of response, that we get every night, it's nuts.
I just kind of think, I did get to go to Berlin without a party, and I did get to go to do four shows on the West End of London. I have toured the country three times in three different shows, and I've been able to save money after being paid. I'm one of the privileged ones who has been worked his way up over 27 years and is now taken really good care of. But I get to stand up for equity members in the recent negotiations, who are not as well taken care of, because they have not had the endless, beautiful opportunities that I have.
It's like I'm lucky and I've worked hard and I'm grateful and it's fucking fun. If it's not fucking fun, I'm not fucking doing it. That's the luxury that I get from being 47 years old. I'm allowed now. I've allowed myself now to go, is that job going to be fun? If I can't say, yeah, that's going to be fun, I'm not doing it. I will sell, I don't know, my bookshelf and my bed and whatever to keep paying my bills, if I run out of money. I will wait until I absolutely have to do the job or it's going to be fun.
MI: In addition to working hard, you're also known for your activism and advocacy work, particularly in the LGBTQ community. How do you balance your art with your activism, and how do you see the two intersect?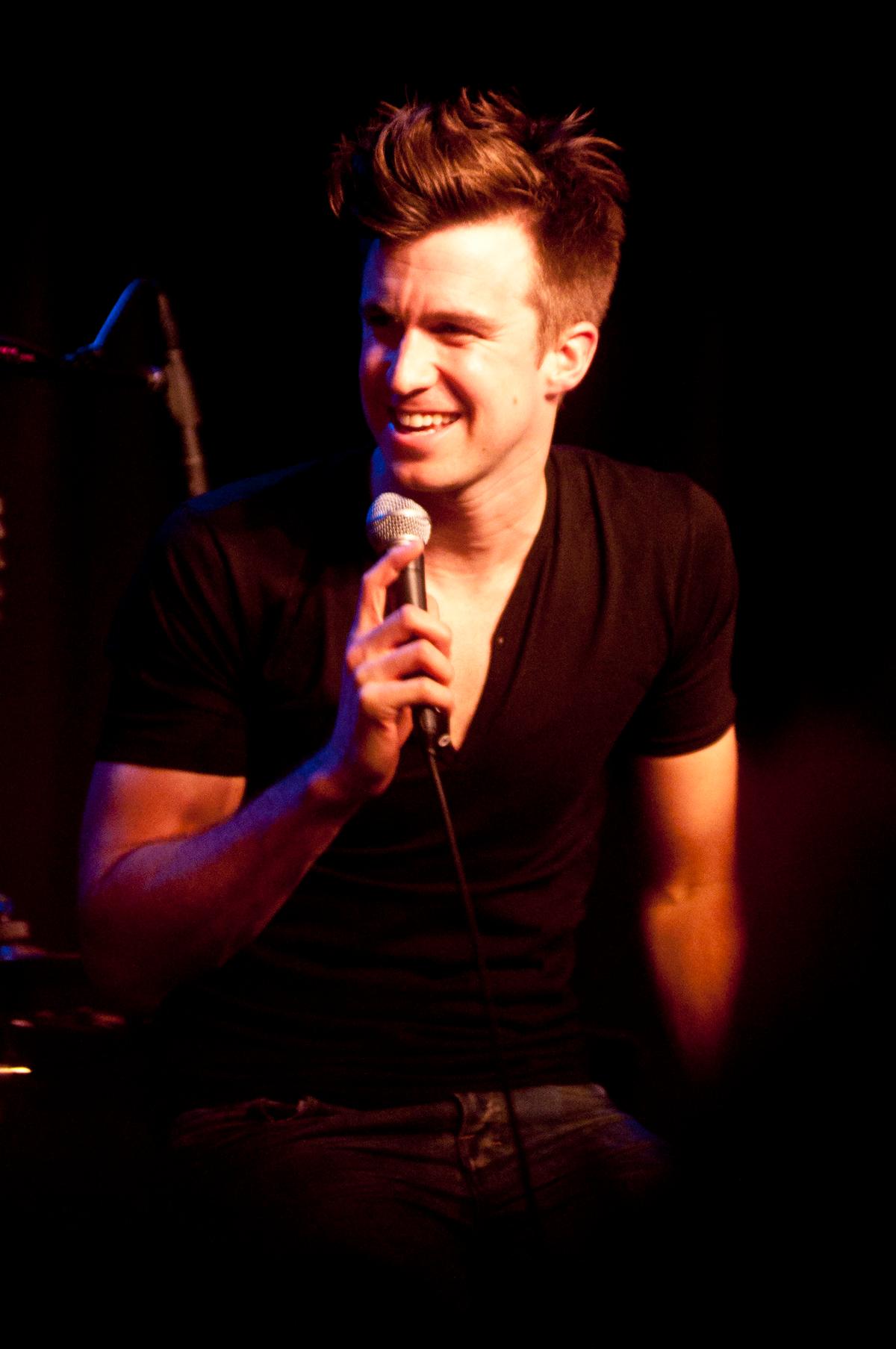 BIRDLAND · New York, NY, Gavin Creel; credit: Monica Simoes
GC: I have to say, I am always a bit shy about being called an activist or anything. I guess I have been a part of activism. I always think David Mixner, Cleve Jones, Dustin Lance Black and modern activist, and the incredible work that the Ali Forney Center is doing, and the activists that work there, and the fighting that... I am an actor, so I think it's really easy to call oneself... It's armchair activism. I've put some tweets out and I'm an activist. I said, you're activated. But I always just want to gently challenge people like, well, what are you out there doing? I hold myself to that, it's that I'm not out there doing as much as the real activists are. I support causes. I was really active when I was 33, we started... I was just about to do Hair on Broadway and we started Broadway Impact, I think that's probably what it is you're talking about.
But we wanted to try to find a way to mobilize the theater community to support marriage equality, and fire people up, and teach people about the state legislature in New York City or New York state. I didn't know shit about that, because I didn't listen to civics and history and all that stuff. It's just not a passion of mine. I was like, well, I better learn how the bicameral system works at the state legislature in New York state, and who is Malcolm Smith, who was the speaker at the time, and how do we activate that and what can we do? We were just like, we'll start our letter writing campaign. So it grew from there. Then our wonderful executive director, Jenny Canelos, continued to run it for six or eight years. Then once we achieved marriage equality on the federal level, we shut down.
We were like, we were a one issue thing. We thought we'd be doing it for 30 years, and I'm so proud and glad to say that we have it, but it's tenuous. You look at what's happening with abortion rights and women's reproductive rights, and Jesus, the racist policies that are just continued to be dismantled, that were to protect minority rights in our country. It's painful, but also it makes me want to get activated again. So I wouldn't call myself an activist. I would call myself activated and I want to find ways to be moreso.
MI: You definitely help give a powerful voice to all that as well.
GC: Thank you. I appreciate, and also, I love being gay. It took me a long time to say that publicly without whispering it, when I was in groups, and I so am learning each day to love myself more and accept myself exactly where I am, how I look. It's hard work, because I grew up in a time of a lot of shame and fear, and I acknowledge it. I hold my young self every day with as much tenderness as I can to go, that pain is always going to be a part of you, but you can honor him from then by living a better life now. That's kind of how I'm trying to heal the pain of him is by going, okay, I don't want to be 10 years from now still looking at myself in the mirror and hating what I see.
It's a waste of time because inevitably, you're going to look at... I look at videos or pictures of myself from 10 years and I go, goddammit, why didn't I know I was so cute? You know what I mean? Why wasn't I nicer to myself then? Because look how skinny I was, or how buff I was, or how young I looked, or how... All the stupid shit we obsess about, especially in the gay community, is so looks obsessed and body obsessed, can be anyway. It's like, well, I can try now. That's the kind of activism... I'm trying to stand up in front of my classes that I teach, interviews I do to say I will talk about being gay to anybody, especially the far right who wants to vilify me to this day, wants to vilify all of us. Wants to dismantle laws and protections and policies that protect, uplift, celebrate homosexuality, because it's just like heterosexuality, only I like boys.
It couldn't be more natural. So I'm really happy to, in that way, be activated and vocal and blissfully, effortlessly supportive of who we are in this world, as a community. I'm trying now so much to indoctrinate myself deeper and more into the queer community, because I spent a long time being afraid and thinking that if I got too queer or too gay, somehow it would actually come back and hurt me. I realize the only thing that's hurting me is my own self-loathing. 
For example, for the first time this year, I have got on the Drag Race train, and I am never getting off. It is so wonderful, high art, but it's more than that. It's community. It's that I get to get with my gay boys, and we watch together, and they tell me all about past lip syncs, and stories, and the art, and oh my god, you've got to see this and you've got to see that.
I go, it's what theater does. It's not even really about Into the Woods, or these stories, it's about, oh my gosh, did you see that performance? Or oh my gosh, can we talk about the beautiful way the Witch hushed them at the end of Your Fault? I love that part. Or it's community. Ultimately our community happens to find a lot of solace and safety and support in the theater. It's a coincidence that I happen to be a raging homosexual and also love the theater, but it's also one of my greatest bliss sources.
MI: Thanks for sharing that - about the vulnerability growing up and everything. I hope your words provides support to some of our readers. Do you have any other projects coming up?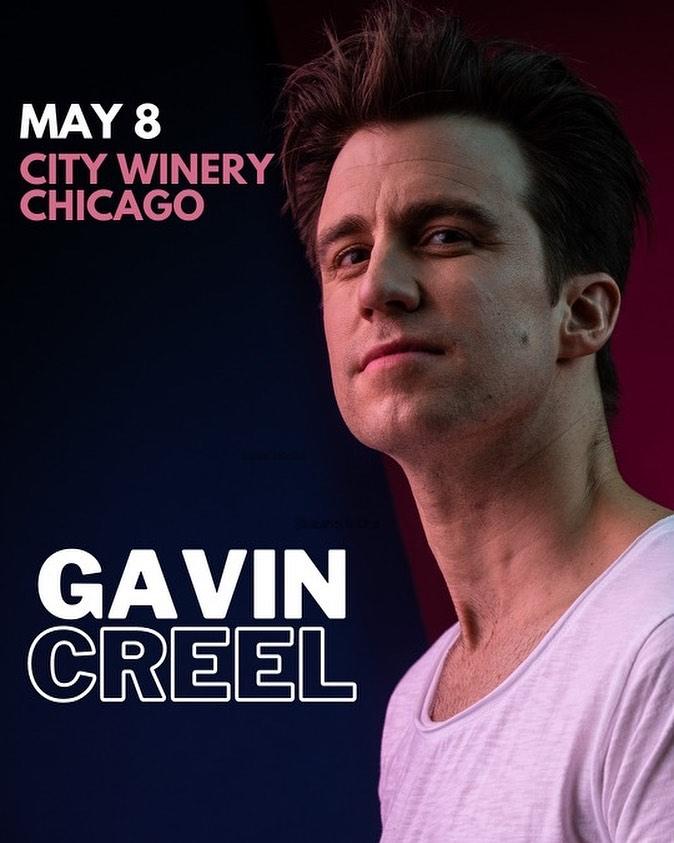 Gavin Creel at City Winery; credit: Matthew Murphy for MurphyMade
GC: I'm doing a solo concert the day after we close Into the Woods at City Winery.
I'm really excited to get to sit on stage and share some musical theater covers and some pop covers, but also a chunk of a show that I've been working on and writing, that I'm hoping I'm going to announce our first ever production soon. But it's called Walk on Through. When you said vulnerability and creativity, I explore a lot of these themes in the show.
I've written the music book and lyrics and everything, and I call it sort of like a theatrical concert or a concert call, it's kind of like if a musical and a concert had a baby. But I'm really proud of how I found a lane that I feel powerful and excited in, which is musical theater and also my writing. So I'm really excited on May 8 to share this with anybody who will come. 
The tickets are super cheap. The woman was like, "What do you want to set ticket prices?" I said, "Besides being free, how much can we charge, that would make people at all cost points be able to come?" She said, "Well, about 15 bucks." I was like, "Done." So come to City Winery, I'm going to share music and stories and a bit of an acoustic preview of my new show.
MI: So between "Into the Woods" and your May 8th concert, you're in Chicago for a few weeks. Is there anything else on your must-do list?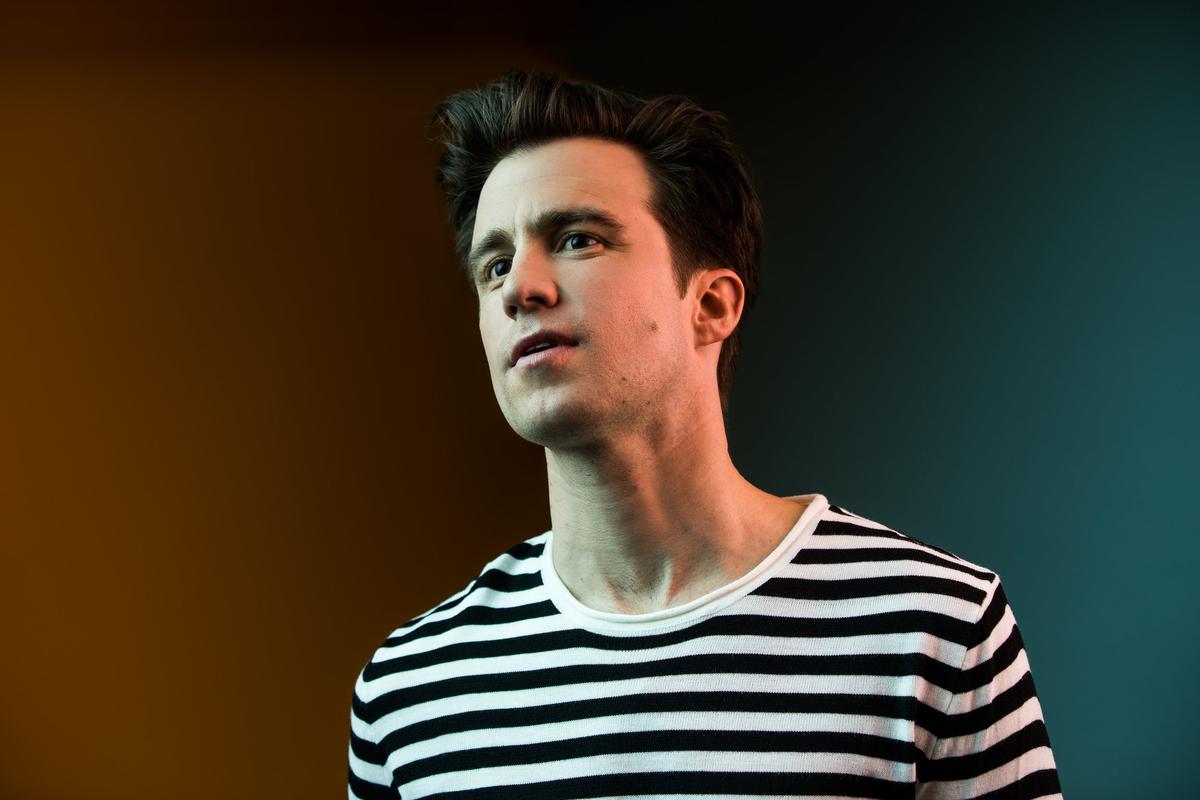 Gavin Creel; credit: GavinCreel.com: Matthew Murphy and Mark Willshire
GC: I was talking to somebody else and I just said, we got to go to Sidetracks on show tune night. I remember being there ages ago. I'm looking forward to the lake. I want to go take a long walk along the lake and Lake Shore Drive. This is so silly, but I think I want to take a group to Ed Debevics, because I don't know if Ed is still there, but I remember the waiters are all dicks, and it's so much fun, because they treat you so bad and they walk around in costumes and stuff.
We would go there and think it was the coolest thing, because I'm just a little Ohio boy. I'm like, oh, they're so mean. I love it. Treat me bad and serve me pancakes. I think I'll probably just, I don't know, just explore, walk around, look, see. My cast is so adventurous; we have a group chat and they're like, everybody look at this. We're going to the Museum of Illusion today and tomorrow we're going to go sit in the park and do X, Y, and Z. It's a great group of people, a lot of really incredibly talented adults. We're all out on the road together looking out for each other in that way. So I'm sure they'll have a bunch of ideas.
MI: On that note, you've worked with so many talented actors, directors, writers. You talked about the current cast here. Are there any collaborations that stand out as particularly memorable or impactful to you and why?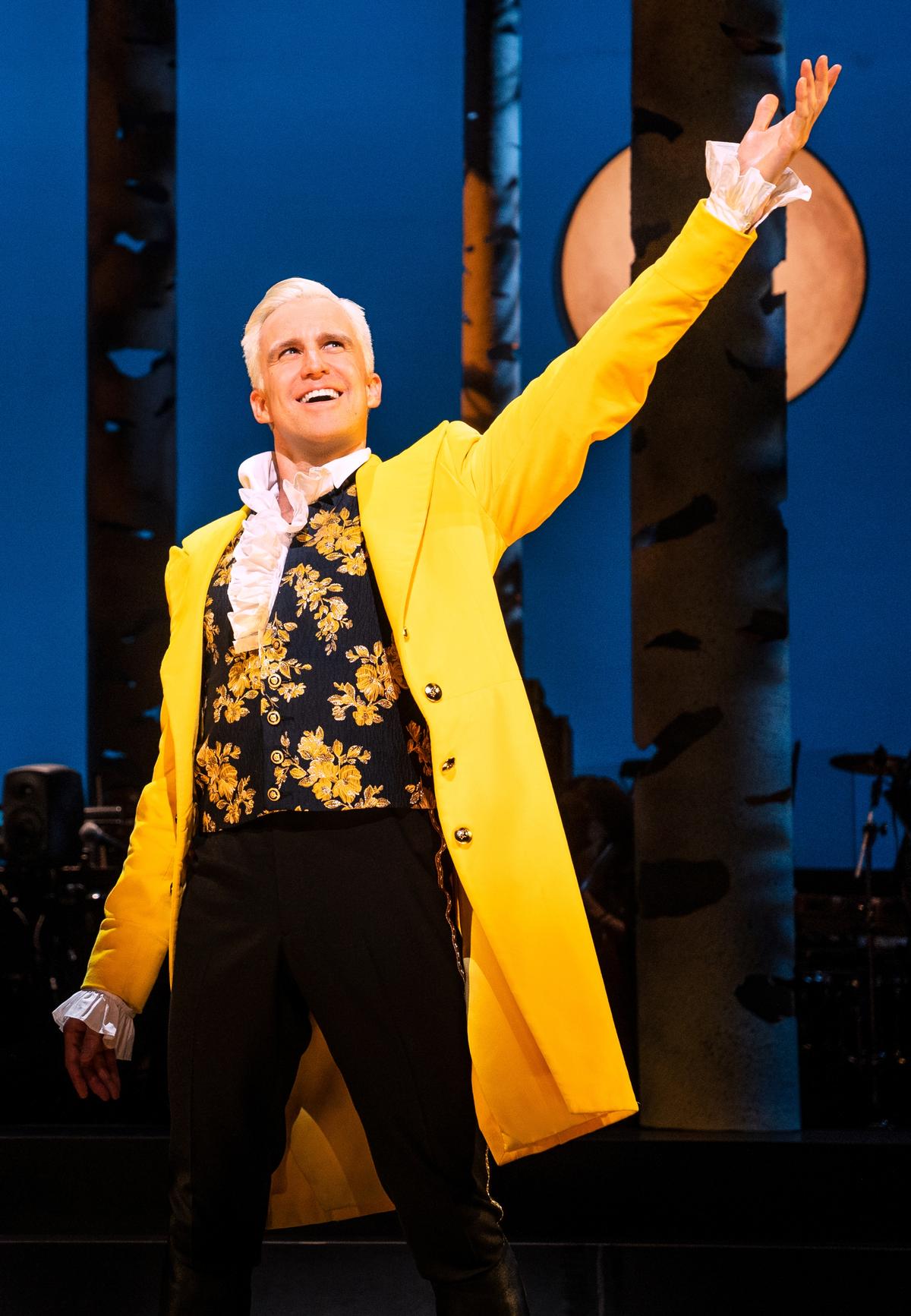 Gavin Creel; credit: Matthew Murphy for MurphyMade
GC: Some jump to mind. I had the opportunity to be in a room with Hal Prince and Steven Sondheim in a new musical.
That will be something I'll never forget. I forget that I did the show, but I will never... I sometimes like, oh yeah, Bounce, I remember that. But it was so brief, and we only did it out of town at the Goodman and then at the Kennedy Center. 
But when I think back to just the founding fathers of what we know as musical theater in America and the world, and to have known them and to work with them, I would say Bette Midler jumps to mind. I'll never forget when my friend told me they're going to do Hello Dolly on Broadway, I said, "Oh my goodness, who with?" They're like, Bette Midler. I remember thinking, that's insane. That's crazy. Then a week later, I get a call from the producer and he was like, do you want to do this show? I'm like, "Yes!" 
Then I would also say, Sara Bareilles. I love being on stage with her. That is a beautiful, new, blissful discovery on both our parts in the last few years, that we were great friends. But to know that I can have such unbelievable respect for her work, as not only a musician but an actor. I look forward to, hopefully, if we keep doing this business for much longer, like an opportunity for us to just find something else to do together. I just love working with her.
MI: This was so much fun! We can't wait to see you kill it on stage!
Creel will be joined in this exclusive production by featured Broadway Stars Montego Glover, Stephanie J. Block, and Sebastian Arcelus reprising their Broadway roles.
About Into the Woods
Into the Woods first premiered on Broadway in 1987, winning three Tony Awards including Best Score and Best Book. It
has since been produced throughout the world and was adapted into a major motion picture in 2014. Following a sold-out
New York City Center Encores! run in May 2022, the production transferred to Broadway as a limited engagement
beginning July 2022, marking its first time on Broadway in 20 years. Following tremendous critical acclaim and audience
demand, it was extended twice and concluded its Broadway run on January 8, 2023.
Into the Woods, which became the first Broadway hit of the 2022/2023 season after its sold-out run at New York City
Center Encores!, is directed by Lear deBessonet, with music supervision by Rob Berman, and choreographed by Lorin
Latarro. This production is dedicated to the memory of Stephen Sondheim. The company – many coming direct from the
Broadway production – will include Cole Thompson as Jack, Katy Geraghty as Little Red Ridinghood, Diane Phelan as
Cinderella, Nancy Opel as Cinderella's Stepmother, Jason Forbach as Rapunzel's Prince, Aymee Garcia as Jack's
Mother, David Patrick Kelly as The Narrator, Josh Breckenridge as Cinderella's Father, Felicia Curry as Cinderella's
Mother/Grandmother/Giant's Wife, Ta'Nika Gibson as Lucinda, Brooke Ishibashi as Florinda, Kennedy Kanagawa as
Milky White, Jim Stanek as the Steward, and Alysia Velez as Rapunzel with Erica Durham, Ellie Fishman, Marya
Grandy, Paul Kreppel, Eddie Lopez, Ximone Rose, and Sam Simahk as understudies.
Ticket Information
Ticket prices range from $35 to $140 with a select number of premium tickets available. Individual tickets will be available by visiting www.BroadwayInChicago.com, or going to any Broadway In Chicago venue box office. Tickets are available now for groups of 10 or more by calling Broadway In Chicago Group Sales at (312) 977-1710. Current subscribers can add this show to their season package today by calling 312-977-1717 at a special subscriber rate.
Broadway In Chicago was created in July 2000 and over the past 20 years has grown to be one of the largest commercial
touring homes in the country. A Nederlander Presentation, Broadway In Chicago lights up the Chicago Theater District
entertaining up to 1.7 million people annually in five theatres. Broadway In Chicago presents a full range of
entertainment, including musicals and plays, on the stages of five of the finest theatres in Chicago's Loop including the
Cadillac Palace Theatre, CIBC Theatre, James M. Nederlander Theatre, and just off the Magnificent Mile, the Broadway
Playhouse at Water Tower Place and presenting Broadway shows at the Auditorium Theatre.
Interviewed by Matt Inawat. Ron Matthew Inawat is president of the GoPride Network and contributes to ChicagoPride.com, PrideLA.com and other sites within the GoPride Network. Follow @cpmatthew