A GoPride Interview
DJ Larissa / DJ VoxBox
Berlin at 30: Interview with DJ Larissa and newcomer DJ VoxBox
Tue. November 11, 2014 by Adam Guerino
Berlin continues to be a thriving diverse artistic atmosphere.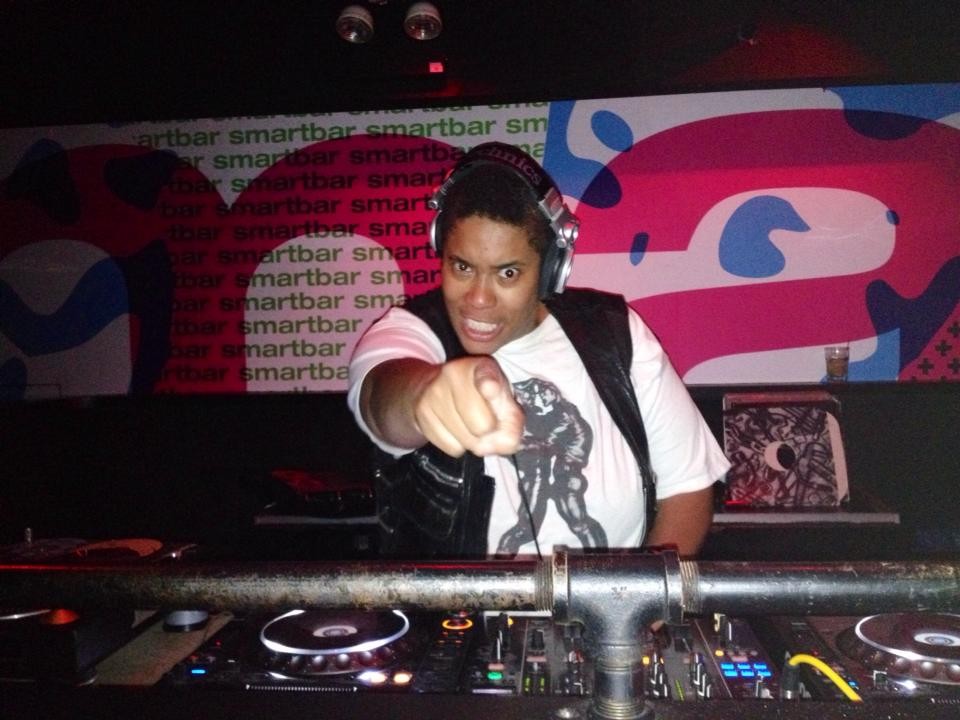 Berlin Nightclub has been the Chicago late night haunt known for music authority and innovation for over 30 years. To celebrate their 31st anniversary (Sunday, Nov. 16,) comedian/writer Adam Guerino talked to their Saturday night resident DJs, veteran DJ Larissa and newcomer DJ VoxBox. The raucous anything-goes alternative dance party TWISTED is spun by DJ Larissa the 1st, 3rd and 5th Saturday of the month and DJ Voxbox the 2nd and 4th. Between the two of them, they have been spinning or dancing at Berlin for over the last decade.
In addition to being the second longest Berlin resident, DJ Larissa is also engaged to fellow Berlinner Shayna who can be seen hosting, doing coat-check or impressing on the dance floor. For the long term residency, relationship and many other reasons, Larissa is a prime example of how Berlin is like family.
AG:
(Adam Guerino) How long have you been working at Berlin?
DJL:
(DJ Larissa) Let me check my records, hmm late 90's? I know it's been at least since 2000, the year I met Shayna.
AG:
What can someone expect from your dance parties?
DJL:
Energetic Diversity and textures! Expect the unexpected. I'm not a list or a prerecorded DJ. Berlin also is a great place that I can express myself visually because its a club with video access! I create the vibe based on the moment, the crowd and our collaborative energy.
My sets can involve a mix of musical sounds and genres that may include anything lyrically recognizable to underground thumping bass but always different and always a good time! To quote Green Velvet 'Shake and Pop' - "I like electro. I like retro. I like ghetto, House and techno."
AG:
How has Berlin changed since you started djing?
DJL:
Even though people get younger (lol) and new people fall in love with Berlin, Berlin continues to be a thriving diverse artistic atmosphere. A place like no other in Chicago and a key reason why it continues to be my favorite place to play in Chicago!
AG:
How has your style of spinning changed since you started at Berlin?
DJL:
Music is ever evolving, and I like to include the exciting part of that into my sets. No one wants a stale DJ. I love love so many different sounds and styles and I will continue to push boundaries to grow and expand minds and to create a damn good time!
And while DJ Larissa was starting her residency at Berlin, DJ Voxbox was very possibly on the dance floor starting his long history with the club.
AG:
(Adam Guerino) What inspired your DJ name?
DJV:
(DJ Voxbox) Voxbox has been the name of my music for about 13 years. My friend suggested calling myself "Voicebox" when I started making techno and electro in the early 2000's, but that sounded too human. I changed it to Voxbox to sound more electronic. It's funny though, Voxbox is the name of an actual microphone. I'd probably heard of it since I was working at a recording studio at the time. I kept the name when I started DJing. I mean, I've always thought DJ Nevin sounded wrong. I think of Voxbox as my alter-ego. It represents my music, my style of DJing and my nightlife identity- My freaky, more experimental side.
AG:
How long have you been coming to Berlin to dance?
DJV:
It was the 90's. Berlin was the first club I went to in Chicago. I was a raver, started going to clubs when I was 15. So I managed getting into Berlin a bit early on. Won't say my age but let's just say... I got in. That would NEVER happen now, Berlin is notoriously strict about legal age & IDs. I think it was Friday nights at Berlin, Greg Haus' Cosmix night, that made me realize, Hey you don't have to play just house, pop or techno. You can play everything. Greg was a huge influence, and still is. At Cosmix I learned about tons of alternative electronic artists like The Knife. I performed at Berlin as Voxbox for the first time over a decade ago, and had my album release parties there. I know the people, and get them- I can get totally creative, because Berlin is always full of creative energy and people.
AG:
Are you ever intimidated by the legacy?
DJV:
I definitely was at first. Even though I've played there with Greg off and on since I started DJing, my residency at Berlin happened after a very tragic circumstance. DJ Chester played every other Saturday for years, and he certainly created a legacy. His passing was tough on everyone at Berlin. It took me a while to be comfortable, to be ok being "the new guy." No matter what, people are gonna be like, who's this white boy? I mean, I've been a regular there for years, but still. When I went to Chester's nights, he somehow psychically knew to play his friends their favorite track right when they walked through the door. It was magic. I loved the way he was unapologetic with sex, smoking weed, everything. He just had this amazing energy. He lived life to the fullest, and it took me years to find that comfortable place in myself. Chester touched so many people- His influence on Chicago, Boystown, the gay & drag community is incredible. His and Larissa's style of DJing were great cues when I started. Every Tuesday I'll be mixing all music videos, which is a tradition that Chester began. Some friends say they still feel his presence at Berlin, and I think that energy can exist.
AG:
Who are some artists you're excited about right now?
DJV:
I'm really excited about weird, underground artists that break the rules and make new sounds. What I love to do is mix in totally unknown music with pop, dance classics and house I find that fits the Berlin vibe. I'm really into the new Azealia Banks, Royksopp, M.I.A. and Kylie Minogue. My biggest classic influences are Depeche Mode, Yaz, Erasure, Thompson Twins, Nitzer Ebb, Kraftwerk, Eurythmics and early Madonna.
I have to add, I feel very thankful and honored to work at Berlin. I have never loved a gig this much. Maybe that's why I've been able to push the limits of my own creativity, as a DJ and as an artist. Being such a different type of DJ, coming from the producer's perspective, I work at things from a different angle. There's so much music that I love, I tend to play something for everyone. It makes sense for Chicago's most diverse nightclub. If you happen to be at Berlin on a Tuesday or 2nd/4th Saturday, look up in the booth- You'll probably catch me dancing, especially if it's after 2am. I'm down with requests, just tweet at me @voxbox13.
You can catch
DJs Larissa
and
Voxbox
alternating for Saturday's weekly TWISTED party and Voxbox every Tuesday for the 234 Tuesdays party. The Berlin anniversary party is Sunday November 16th at 11pm which will feature electro punk bank BAATHHAUS at 12:30am followed by DJs Larissa, Voxbox and Greg Haus. For more info about the anniversary, click here:
berlinchicago.com/assets/images/flyers/anniv-lg-2014.jpg
Adam Guerino is a producer, writer and nationally touring standup comedian based in Chicago. He's been called a "comedian-producer-genius" by Chicago Reader and is also the creator of Stand Out: The National Queer Comedy Search which partnered with The Advocate Magazine to give queer comedians national exposure, Outloud Chicago which for over three years has brought queer inclusive entertainment to mainstream Chicago venues and The Rainbow Connection Queer Comedy Tour which combined gay, lesbian, bi and trans comedians for a cross-country tour. Check out adamguerino.com for more info.
Interviewed by Adam Guerino