A GoPride Interview
Jeffrey Schwarz
Remembering Russo: Director Jeffrey Schwarz on the making of the 'Vito' documentary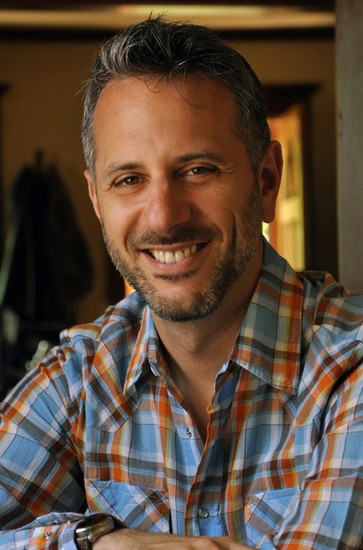 photo credit // david quantic / hbo
LGBT activist, film historian and author Vito Russo will always be remembered for writing the book "The Celluloid Closet," which discovered past scenes from movies where the dialogue could be perceived to have LGBT meaning.
Russo also co-hosted a series on public television called "Out Time" and co-founded the Gay and Lesbian Alliance Against Defamation.
Vito Russo passed away from AIDS complications in 1990 but his legacy lives on in a new documentary by director Jeffrey Schwarz, the president and CEO of Automat Pictures which specializes in documentary feature films.
Schwarz's documentary "Vito" chronicles the life of Russo and his many accomplishments through friends and family as well as past clips of interviews by Russo.
Jerry Nunn talked to Jeffrey Schwarz before "Vito" debuted on HBO this week.
JN:
(Jerry Nunn) Hi, Jeffrey. I heard you have been doing interviews all day.
JS:
(Jeffrey Schwarz) Yes, but it is fun for me. I try to make it different every time.
JN:
Your documentary Vito came out at our LGBT film festival here in Chicago last year.
JS:
It was in November at the Reeling Festival. I was there for the screening. That was pretty early on in our festival circuit.
JN:
I was watching the movie and thought that I had seen it before. When did you make the film?
JS:
We completely finished it before the New York premiere, which was in October of last year. I had been working on it since the first phone call for about five years. It even goes back further than that. I guess the germ of the film came when I was working on the documentary of The Celluloid Closet.
JN:
So that was a long time ago.
JS:
Yes, I had read Vito's book and it was part of my coming out process. I learned about a whole world of movies that I didn't know existed. When I went to San Francisco to work on The Celluloid Closet Vito had just passed away. I had access to all of these extensive interviews that Rob Epstein and Jeffrey Friedman, the directors of the film, had done with Vito. I learned so much about him in a short amount of time. I guess that is when the idea for this started, twenty years ago at this point. About five years ago I started thinking about Vito and how not a lot of people know who he is. Not only that but a lot of our young people have no clue about our history and how we got to where we are. Even how it is possible to be open and free. It was because of the work of Vito and people like him of his generation that we live in the world that we do today. I felt that making the documentary about Vito was a way for people to reconnect with that history and also restore Vito to his proper place in the pantheon of gay and lesbian heroes.
JN:
We don't have many outspoken people like that anymore.
JS:
They are still out there but there was something about Vito. He was so charismatic, so funny, smart, bold, and sassy. He was a wonderful spokesperson for our community. He was doing that from the very beginning. The most important thing for him was visibility. During the early days of the Gay Activist Alliance, the group he was with, he had to convince other people to be out. It was a time where most people were not out. He wanted to use himself to show that if he came out the sky wouldn't fall. It wouldn't be the end of the world, right? He put himself out there as an example and he did that his whole life. Even during the AIDS crisis he put himself out there to show the world what a person with AIDS looked like. I have so much respect for him and honor him so much. I really want young people to recognize him and pay tribute to the work he did.
JN:
I remember the part in the movie where he openly showed he had HIV.
JS:
Particularly at that time there were a lot of people in the gay community that thought they could get through it or it wouldn't affect them. Obviously that was not the case. He was bold about his HIV status and his AIDS diagnosis. In fact he would walk around in shorts and his lesions would be visible, according to people in the video that was a very in your face thing to do. People wanted to push it under the rug and even people within the gay community did not want to deal with it.
JN:
Even today that would be pretty bold.
JS:
Oh, yeah. I think younger people feel very disconnected and don't even know what ACT UP is. They don't know that people like Vito saved their lives. People living with AIDS today have Vito and the activists of his generation to thank that we have access to drugs and medication. They completely changed the approach to the disease. They also changed the public's perception to what the disease was. There was so much fear and misinformation out there. They tried to correct that and were also able to express the anger that was bottled up for a long time where we were just trying to take care of our own. The anger and the rage just exploded with ACT UP and they wouldn't be ignored.
JN:
How much footage did you go through?
JS:
Oh my god, we had a ton of material. Aside from the fifty plus interviews that we did with Vito's friends and family, we had interviews with Vito himself and hours of stock footage. We had material from the early Gay Liberation movement. There was video of the gay pride rally where he introduced Bette Midler onstage. Thank god a lot of that material still exists. We were even able to locate the original masters of Vito's TV show, Our Time, from the producer of that show who had them in a basement. It is pretty amazing. It is so important to preserve this material for future historians as well as for documentary filmmakers. It really made our story come alive in a wonderful way.
JN:
I personally liked the Lily Tomlin segment since I have interviewed her myself many times.
JS:
Vito had a special relationship with Lily until the day he died. I am really happy that she did the film.
JN:
You worked on The Celluloid Closet documentary in the past.
JS:
It was my first job. I came onboard as an apprentice editor. This was before they had the whole funding. I remember the day that Rob and Jeffrey went to New York to pitch it to HBO. They said yes and that was a very happy day around the office. It is funny because years later the same thing happened with our film. We got the movie up on its feet independently and we brought it to the same person, Sheila Nevins, at HBO. She runs the documentaries there and is really a visionary. She responded to material and said yes to us too. Now HBO almost has a trilogy because they produced Common Threads: Stories from the Quilt, which features Vito Russo, The Celluloid Closet, and now Vito. There have been three films about Vito and his work that HBO has produced so I couldn't be more than happy about that. I love how open minded and great about everything they are.
JN:
Tell me about your latest project I Am Divine.
JS:
Thanks for asking. I Am Divine is my next film and is about John Waters' muse Divine, who starred in Pink Flamingos, Female Trouble, Polyester, and Hairspray. They had an incredible collaboration. They have the perfect poster child for misspent youth. It was someone who was picked on in high school and turned all that rage into this larger than life drag terrorist! We shot the film and we are in the early stages of editing now. We will be doing a fundraising campaign in the fall. If all goes well we will be done by the end of the year. Hopefully we will have it on the festival circuit next year.
JN:
Then you could come back to Chicago!
JS:
I would love to.
JN:
Did you find tons of footage of Divine as well?
JS:
We even found footage of his theatrical career. Many people don't know he starred in two plays Women Behind Bars and The Neon Woman in the '70s in New York. We also have interviews galore with John Waters, Divine's mom, Tab Hunter, Mink Stole, Ricki Lake, and I could go on. My favorite interview is his girlfriend who dated Divine through high school and had no idea that Glenn was gay. She didn't know he had a double life making movies with John Waters and find his people. She tells her story for the first time and it is very touching. She still carries a torch for him.
JN:
I can hardly wait to see it. Great talking to you!
Vito debuted this week on HBO and reruns throughout the week with multiple viewings HBO's various networks.

It can also be watched On Demand and on HBO Go.

Visit www.hbo.com for listings and details.
Interviewed by Jerry Nunn. Jerry Nunn is a contributing writer to the GoPride Network. His work is also featured in Windy City Times, Nightspots Magazine and syndicated nationally. Follow @jerrynunn