A GoPride Interview
Ben Rimalower
Rescued By Patti LuPone: Ben Rimalower on his coming-of-age monologue
I have been obsessed with Patti LuPone all of my life.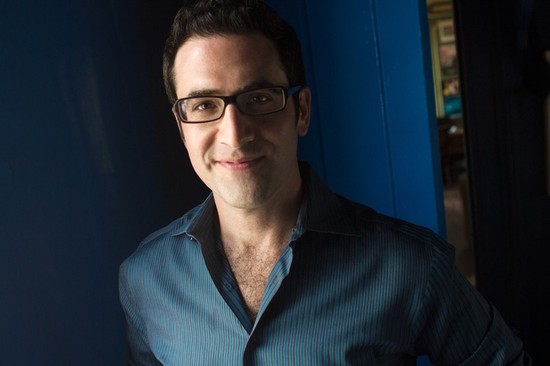 photo credit // christian coulson
Amid the chaos of his young life, author and actor Ben Rimalower found comfort in musical theater, and specifically in the transportive voice of Broadway star Patti LuPone.
The Evita legend has changed his life in so many ways, that he created and stars in the long-running, critically acclaimed smash hit solo play
Patti Issues
.
Ben has also produced many successful shows over the years including
Night of a Thousand Judys
and
Project Lohan
, even a recording of Patti LuPone at
Les Mouches
.
With a national tour of the off Broadway show, Ben is bringing his coming of age story to Chicago for the first time.
ChicagoPride.com talked to him before his upcoming shows at Mary's Attic, upstairs at Hamburger Mary's on Thursday, June 13 and Friday, June 14 at 8:00 p.m.
JN:
(Jerry Nunn) Hi, Ben. How long has your show been running?
BR:
(Ben Rimalower) It will be a year this summer. Right now we are officially scheduled through June 29.
JN:
So a very successful Off Broadway show…
BR:
It has been great.
JN:
Can you explain the show came about to our readers?
BR:
I have been obsessed with Patti LuPone all of my life. I have been a director all of my career. I was an assistant director when I was starting out my career over ten years ago and I worked on several shows that Patti was in. That was a life long dream come true. I got to know Patti and actually be friends with her. I then worked with her on some other things and we had an ongoing relationship. I wanted to write something and this was the thing most natural for me to write about. Patti LuPone had been such a fascination for me all of these years.
We have had a very close relationship but there has also been a conflict between us also. I felt interested in that and to make it part of the show. When I was writing about Patti I wound up writing a lot more about myself. Strangely enough it became a lot about me and my father, who is also gay. I have gone through a lot of drama about that and his coming out when I was a kid. The show became based on that and Patti LuPone became almost a background figure to that. That is what came out of me and wound up what I worked on.
JN:
Patti told my neighbor not to blog about her anymore.
BR:
I would love to read what made her say that. Patti like anyone can have opinions even weird controversial ones. One thing I have always admired about Patti and drawn to about her is that there is nothing calculated about Patti LuPone both onstage and her life choices. Patti can be very mercurial. She can be angry and get pissed off. She can be called a bitch and has created as many enemies as friends. I think that comes from a place of her honest passions. I think that it is not about her trying to advance her career. To her fault she has never kissed any ass. Patti is as friendly to the crew as she is to the producers. If there is a person on the crew that pisses her off it might be the same with the producers and that is why she burns a lot of bridges.
I have been very fortunate with my experience with Patti LuPone that she has been incredibly supportive of this show. She came to see it very early on. She posed for pictures and gave me great press quotes. She appeared with me on Bravo for Watch What Happens Live. She said extremely lovely things about me on that show.
JN:
I interviewed her a few years and she seemed nice to me.
BR:
She's not snobby and very down to earth. If you piss her off then she will read you the riot act. It doesn't matter if you are a waiter at a restaurant or the owner of a million dollar conglomerate. She doesn't suffer fools. If she respects what you are giving her then she is incredibly loving. There is no one warmer or more accessible.
JN:
Do you have the story about the cell phone going off during one of her performances in your show?
BR:
No, that is not in my show. The stories about Patti in my show are about my experiences with her. It is not about decoding gossip for other people. Granted some of the things that have happened between me and Patti have become gossip and I give the real story behind those but I don't go into weird other things about her. I do about her as an artist or a performer. I talk a lot about Patti as a performer that became for me a lightning rod in my life. It is about the essence of her onstage and her personality. It is not about that incident.
JN:
I thought it was brilliant moment she had about the cell phone.
BR:
I'm fascinated about it myself but I wasn't there so I don't pretend to tell anybody anything about it.
JN:
Do people ask you questions about Patti after the show? Maybe a Q&A at the end?
BR:
Not a part of the regular show. One of the performances I did of the show was at UC Berkeley was for BareStage Productions that I founded when I was a student there in the '90s. I did it as a benefit in the afternoon and had an after class with the students then after my show in the evening I did a Q&A. I am doing a show in August in Provincetown as a benefit for Family Equality Council. I think there will be a Q&A there. Also in August I am doing an Eugene O'Neill conference in August with a Q&A as part of that. I have been thrilled to do Q&A when they are part of something else but it is not a regular part of the show.
JN:
Where else is the show going?
BR:
It is going everywhere. People will be surprised that I am playing in Glasgow and Berlin in addition to more obvious places like Fire Island [laughs]!
JN:
This must be a dream come true.
BR:
It is a thrill but weirdly not a dream come true because it was not intended to be what I was going to do. I had planned on being a director. This has just struck a chord with people. It has been very gratifying for me.
JN:
There could be other shows like maybe Liza Issues.
BR:
It is very specific to what my personal opinions of Patti LuPone. I am obsessed with a lot of performers. I have a lot of feelings about Liza Minnelli for example but there is something very specific to my life and is not really interchangeable.
JN:
Have you met a bigger fan than you are to Patti?
BR:
No.
JN:
You have had a lot of big celebrities come out to see Patti Issues.
BR:
Yes, it has been pretty cool.
JN:
Alan Cumming, Perez Hilton, among others.
BR:
Alan loved it and is coming back a second time. I am hoping he will bring Liza but we will see.
JN:
That would be intimidating.
BR:
Nothing is more intimidating than having Patti in the audience.
JN:
That's true. Once you have done that then it is all down hill after that.
BR:
Exactly.
JN:
Hamburger Mary's should have a Patti drink.
BR:
The Don't Cry For Me Argentini. That is what we are drinking on Fire Island all summer.
JN:
So you know the recipe?
BR:
It is a long island with bitters! [laughs] I'm kidding. It's prosecco and vodka.
JN:
I will get the owners the recipe.
BR:
Yes, and tell them to be nice to me.
JN:
I will and they are really nice guys. See you at the show!
See Issues onstage at Mary's Attic, 5400 N. Clark Street, on Thursday, June 13 and Friday, June 14 at 8:00 PM. Tickets are $20.00 with more information at www.PattiIssues.com.
Interviewed by Jerry Nunn. Jerry Nunn is a contributing writer to the GoPride Network. His work is also featured in Windy City Times, Nightspots Magazine and syndicated nationally. Follow @jerrynunn