A GoPride Interview
Celina Clarich Polonco
Celina Clarich Polonco interview with ChicagoPride.com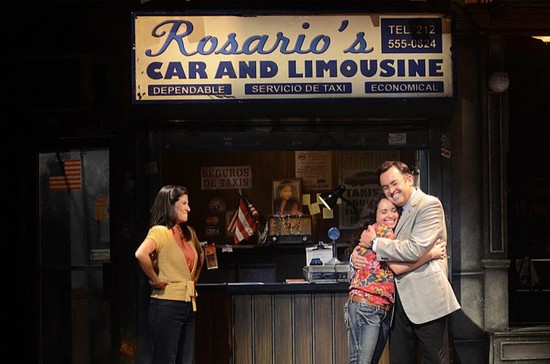 celina clarich polonco (left)
photo credit // john daughtry
Jerry Nunn chats with Celina Polanco from In the Heights now playing in Chicago though Jan. 15
In the Heights brings one cast member home on its nationwide tour. Celina Polanco plays Camila the mother of Nina Rosario who returns home herself in the barrio of Washington Heights.
In the Heights is a musical about three days in the lives of characters set in a New York Dominican-American neighborhood. Winning four Tony Awards after being nominated for 13 the show was also a finalist for a Pulizter Prize for Drama.
Here, ChicagoPride.com's Jerry Nunn talked to Celina the day of the Chicago debut.
JN:
(Jerry Nunn) Hello, Celina. Welcome back to Illinois. You are originally from Naperville, correct?
CP:
(Celina Polanco) I went to high school in Naperville. I am having a great time. It is wonderful to be back in the city.
JN:
Where do you live now?
CP:
I lived in New York for 11 years then I moved to LA for two. So I booked this show from Los Angeles. Right now I live on a bus!
JN:
Then the tour continues on other places…
CP:
Yes, we tour until June.
JN:
Where is your family from?
CP:
I am originally from Corpus Christi, Texas but I have lived all over the country. So I have spent equal time in Seattle, Chicago, went to college in Ohio, then moved to New York until I graduated. I had to leave New York to book my dream job, which is kind of crazy. It is unbelievable. I am totally living the dream. My family is from Southern Texas and I was just there for the holidays.
JN:
Are you Mexican?
CP:
Yes, I am Mexican American.
JN:
What part is your family originally from?
CP:
They are originally from outside of Cuernavaca. The town doesn't exist anymore. It was a tiny town. My great-great grandmother came over with her aunt so we have actually been in Texas for quite a while.
JN:
What was the name of the town?
CP:
You know what? I don't know. It doesn't exist anymore. Sometimes when you are telling family history stories they don't necessarily know either. It just gets lost.
JN:
That is interesting. You did some acting with Broadway Bound Players in Aurora.
CP:
I did. That was a musical theatre performing troupe. We performed all over the Chicagoland area. There was a casino in Aurora that we did weekly performances at so that was our home base. We did weddings and all kinds of special events. We did Broadway show tunes and a couple of people we worked with are extremely successful Broadway stars. One of our teachers Arlene Hawks taught at Aurora High School and her son was the star of our troupe. He went on to do eight Broadway shows and now writes television scripts in Los Angeles. Some of my friends will be at the show tonight. I will get to reconnect.
JN:
Tell our readers about the show who have not seen it before.
CP:
It is a story about home, family, following your dreams, and creating your own family sometimes, when the biological ones aren't as strong as you wish they were. It is about community. We are lucky that we get to perform all of these different Latin rhythms and sing great music. The score and script are so strong. It is very easy to relate to it but written from a Latin perspective. Everyone seems to relate to the idea of following your dreams and sometimes feeling pressured to feel successful for your community.
I play Camila the matriarch of the story. I feel I get to pay tribute to the women that made me. That is really amazing. I have been a fan of the show for years. I went to audition many times. This last year it all fell into place. I have had a long history with the show like many performers.
JN:
Is Camila overprotective?
CP:
Absolutely. She is fiercely protective. She will do anything for her family and that is the most important thing. When I talk about paying tribute that is the way all of the women in my family are. My mom has four sisters and my grandmother is very strong.
The lesson that Camila holds onto is when things get rough in life you come home. You can always come home and you better come home! It is a neat message and family dynamic. We have excellent actors around me. We have so much talent on that stage. We get to tell a story from a Hispanic perspective. My character is Puerto Rican and I am Mexican. There are a lot of similarities. We are more similar than different. From the first time I saw the show it affected me deeply because I was seeing people that looked like me onstage. That doesn't happen all the time.
JN:
Is the accent a little tricky?
CP:
It is a little different than the vernacular and the vocal pattern in my family. It is what I draw from. Making that adjustment has been fun. I try to make her a little more authentically Puerto Rican. I pull from the women that I know and love. It is more for me about what I am intentionally saying and the accent falls into place.
JN:
Do you have a favorite song from the show?
CP:
It changes all the time. From the very beginning I have related to "Breathe" which is a song that my daughter sings Nina. Virginia Cavaliere does an amazing job with all of her material but that one just touches me deeply.
Every time The Piragua Guy opens his mouth I melt. Everything he sings, I love it. He has snippets throughout the show. His version is different than the ones that played him before. They all bring a different flavor but that has the sabor from that track.
JN:
Audiences can relate to this show because it is so current. Many musicals are over 20 years old and this is from 2008.
CP:
It is told in a modern way too. As a musical theatre performer I would be lucky to travel the country doing 42 Street or Hello, Dolly too but this is just different. Because it is new material it is very relatable.
JN:
Usnavi's rap always reminds me on Eminem.
CP:
(laughs) Totally! I was worried that for my family it might be difficult to understand but it goes by very quickly. The story is so well written that it really is not difficult to follow. The stage pictures and choreography all lends to the story even though there are elements of rap and hip-hop.
JN:
Speaking of choreography, the dancers are hot.
CP:
Amazing! They really are. They are athletes but they have such heart. There is such intention behind every movement. I think Andy Blankenbuehler's choreography is groundbreaking. It is the future of the American musical theatre. I have never seen or performed anything like it. I thankfully don't have to do too much dance for my role.
JN:
I heard they did a big AIDS benefit last year for Broadway Cares with past cast and crew from In the Heights.
CP:
I remember reading about it. I am kind of a groupie so I do follow what they are up to. I try to make it to their events. There is a non for profit group that many of the cast are involved with called R.Evolución Latina. They work with students and community groups to bring the arts to underserved communities. I believe in their mission strongly so there a lot of philanthropic energy with all of the cast. There is a lot of love and they all welcomed us into the cast with open arms.
JN:
What are you doing after this tour ends?
CP:
I don't know. I will do the show for as long as they let me then time will tell. I will have to decide if I am going back to New York or LA. I believe I am here for a reason so we shall see what that will be.
JN:
I will see you at the show tonight.
CP:
Fantastic and don't be afraid to get up and dance in the aisles!
In the Heights makes its stop for a week at the Oriental Theatre, 24 West Randolph, running through Jan 15. Visit
broadwayinchicago.com
for details and ticket information.
Interviewed by Jerry Nunn. Jerry Nunn is a contributing writer to the GoPride Network. His work is also featured in Windy City Times, Nightspots Magazine and syndicated nationally. Follow @jerrynunn