A GoPride Interview
JD Caudill
JD Caudill promises audiences out of this world fun
There are sequences that are unbelievable but at the heart of it is a really beautiful story about identity.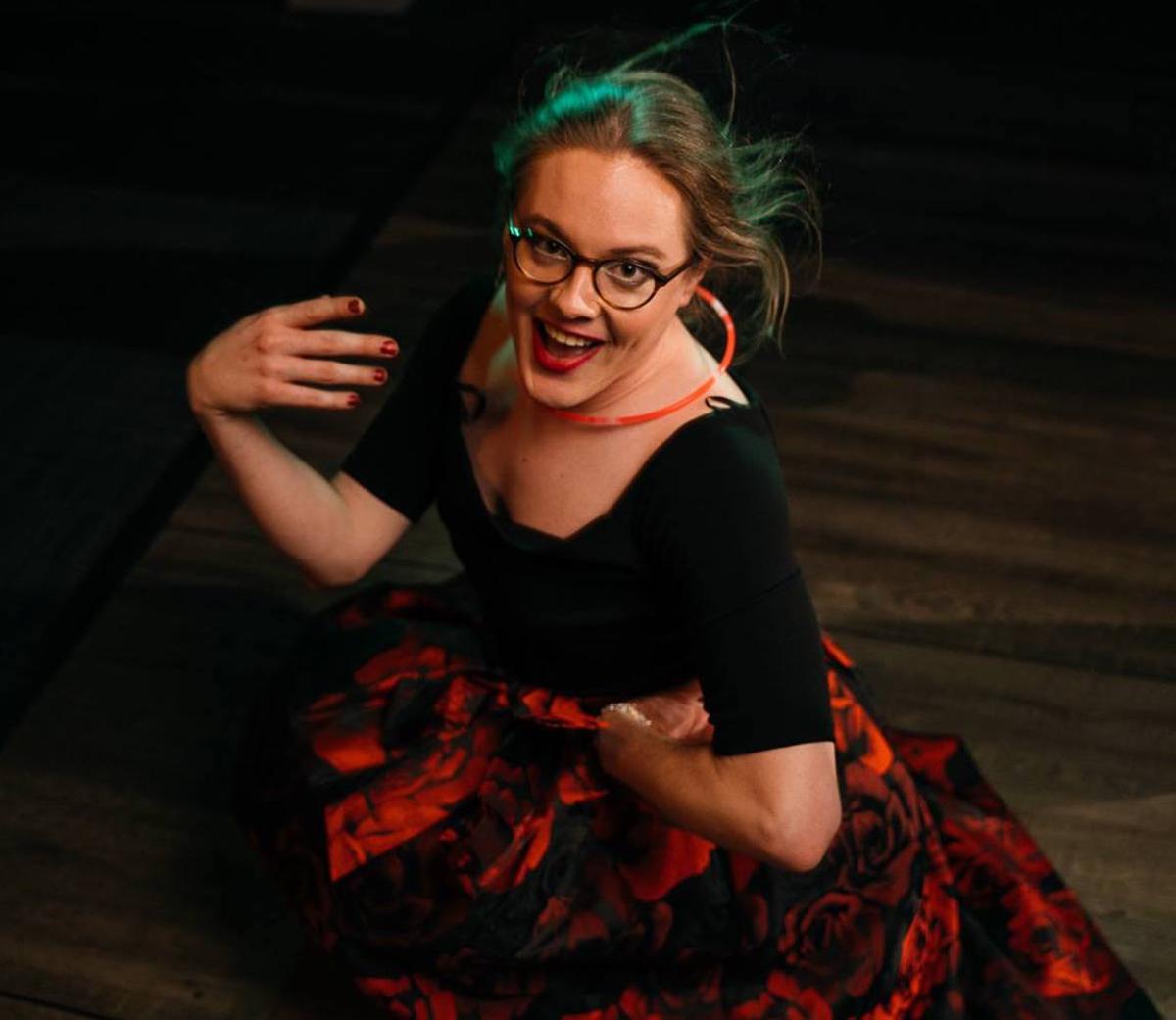 photo credit // david rosenberg
Hell in a Handbag Productions presents I Promised Myself to Live Faster
Hell in a Handbag Productions presents a Chicago premiere of I Promised Myself to Live Faster for its 21st season. The story follows a character named Tim played by Robert Williams as he journeys into outer space to find the Holy Gay Flame. This leads to a wild adventure full of encounters with aliens and intergalactic nuns.
JD Caudill directs the project from a queer perspective while bringing a rich Chicago theater background to the table. Past theater company collaborations include Otherworld Theatre, New American Folk Theatre, Hobo Junction and Stage Left, among others.
Caudill sat down for a chat directly following the opening night of I Promised Myself to Live Faster to talk about influences and how directing musicals is truly in their blood.
JN: (Jerry Nunn) Where are you originally from?
JDC: (JD Caudill) I was split being from super Baptist Kentucky and the middle of nowhere Ohio. My grandfather was a televangelist and my parents were atheists.
I went to college for theater and psychology. I ended up in Chicago after attending Bowling Green State University.
JN: What led you to the show I Promised Myself to Live Faster?
JDC: I have been an ensemble member of Hell in a Handbag for seven years. I have been a music director for many shows but lately, I have focused on directing. I am currently the interim aridity director of Broken Nose Theatre.
JN: What made you want to direct this particular show?
JDC: It was originally produced by Pig Iron Theatre Company for the Humana Festival at The Actors Theatre in Louisville. I was recovering from a breakup and reading it on a plane. My body was buzzing with electricity because I knew it was perfect for Handbag. It is so campy and over the top. There are sequences that are unbelievable but at the heart of it is a really beautiful story about identity.
Back then I thought it was about breaking up with someone and going into space, but after a few years, it took on a different life for me. I was producing it at Pride Films and Plays when everything shut down in 2020. We had digital rehearsals but then I bowed out after theater didn't return right away.
David Cerda asked me about it and here we are. It has taken on a whole new life for me. It is about two different things at the same time. It's about what happens when someone can't live authentically and how important it is to get out of a rut for mental health. We see that through Tim and Ah-Ni throughout the play. I find it to be a beautiful intersection that they find themselves at.
JN: There are several generational plot points aren't there?
JDC: It is a love letter to the generation that came before us. It is for everyone that couldn't be themselves in the '70s and '80s who had to live in the closet. They had wives sometimes and there was a specific pain that came from women at that time, but we should recognize that everyone was suffering from homophobia and the patriarchy.
JN: Was the Sanford and Son reference in the script?
JDC: Yes. I know with Handbag there can be ad libs but 97% of what they say onstage was scripted.
JN: So my last name is Nunn.
JDC: You must be part of the earth nuns they talk about in the show!
JN: Yes, so talk about the nuns in I Promised Myself to Live Faster.
JDC: First off, they are total clowns. I was originally inspired to bring them to life by the Sisters of Perpetual Indulgence. They were such a queer force when I grew up in the '90s and saw what they could do.
For this play, they represent every ally who has made our lives possible. Yes, they are the mothers of homosexuals, but it is nice to be reminded that there are people out there who are here to protect us. They keep us safe and make sure we have a place in this world.
I love them and they are pure slapstick.
JN: Was there a little Hocus Pocus mixed in with the three of them too?
JDC: The Sanderson sisters over their caldron were my exact inspiration for the scene with the orb!
JN: There were other pop culture references in the show. Talk about Tyler Anthony Smith as Movie Star Boy.
JDC: There is a trans allegory in that character. That inspired me and was the character I secretly latched onto. I think it is also about how much queer identity is inspired by pop culture.
The character takes pieces from television and movies, some are from straight projects like The Godfather though, but queer America has driven pop culture forward and pulled from it too.
It has given us a language and a way to reference things with each other. "Friends of Judy" gave us something to identify each other with.
As a child, I watched the movie Matilda a thousand times because I saw something in the character that reminded me of myself, then came Hermione Granger!
I see Movie Star Boy as someone who has to search out into the world for identity and make it their own.
JN: What would you like audiences to take away from I Promised Myself to Live Faster?
JDC: First and foremost I want them to laugh. I want people to see the importance of living free completely as themselves in the world. We all deserve that queer or not.
Right now is a particularly frightening time for all queer people and trans people have even more reasons to be scared. These drag bills are veiled attempts to make trans people illegal. I am glad I live in Illinois because my family lives in South Carolina and Florida. I see the bills being passed and I am constantly watching the news. Conservatives are finding a new way to make being queer illegal. I am glad we are running this show in Chicago because Tennessee would shut us down!
JN: Is there one thing you have "promised" yourself recently?
JDC: I have promised myself to be brave and go visit my family. I have been out as non-binary for six years now. My mom moved to Florida and all the legislation started there, but I want to go visit. I am promising to summon up the courage just like Ah-ni does throughout the play to go live authentically. I have to remind myself that just because social media makes things look scary that I won't be automatically hate crimed the moment I get there!
JN: Talk about your future projects.
JDC: I can't wait to direct SpongeBob SquarePants: The Broadway Musical for Kokandy Productions. We are going to Bikini Bottom this summer! This is the first Chicago production after it premiered here and it will be a fun, queer party. The story is subversively about climate change and racism. This is done in a way that is so family-friendly and can speak to any age.
Parents can feel comfortable bringing their kids to the show and may think differently after watching it. It has tons of music and is full of hope. The kid in me who grew up in Bikini Bottom is super stoked to be going there!
JN: Any long-term projects after SpongeBob?
JDC: I would like to bring back Heathers: The Musical to Chicago, American Idiot, even though the Hypocrites did it in 2015 and my real passion project is Legally Blonde with a trans Elle Woods. The song "Serious" takes on a whole new meaning and her being excluded by other women totally works in that context.
JN: Brilliant. Let's put this out in the world and make it happen!
I Promised Myself to Live Faster takes audiences on a trip to outer space from now to April 30, 2023, at Chopin Theatre, 1543 West Division Street, with tickets for sale at HandbagProductions.org.
Interviewed by Jerry Nunn. Jerry Nunn is a contributing writer to the GoPride Network. His work is also featured in Windy City Times, Nightspots Magazine and syndicated nationally. Follow @jerrynunn