A GoPride Interview
Julie Newmar
Best-known as the original Catwoman, Julie Newmar offers tips and inspiration for a new generation
I think will power comes with age. I really learned to like what is good for me.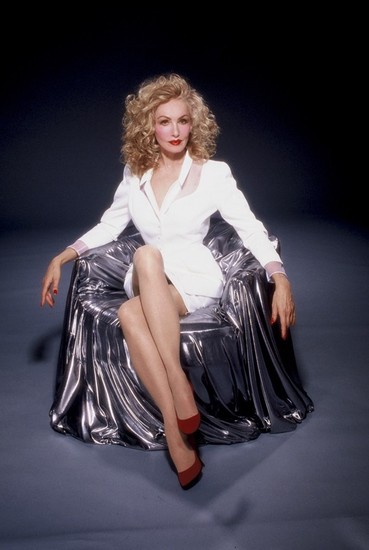 photo credit // harry langdon
Actress, dancer and singer Julie Newmar clawed her way onto television in her most famous role as Catwoman in the
Batman
series. In 1995 the film
To Wong Foo, Thanks for Everything! Julie Newmar
paid tribute to the actress, who made a cameo appearance. In her book
The Conscious Catwoman
, Newmar gives tips and inspiration for a whole new generation. The 79-year-old Newmar chatted cattily with Jerry Nunn about her book, Barbra and the bushes.
Jerry:
Hello, Ms. Newmar.
Julie:
Hello. I'm just reading all of your stories here online.
Jerry:
Thanks for sending your book. Where did the inspirational quotes come from?
Julie:
I made them up. They came to me….
Jerry:
Are you fans of the people you quoted?
Julie:
No, I am at the stage of my life where writing clarifies your choices and direction. Also, the changes that necessarily happen going through eight careers as many people do. You ask questions of yourself. I like that.
Jerry:
Here's a quote from it "unless you are as smart as Barbra Streisand then you are too myopic to see your own beauty."
Julie:
Don't you think that relates to her, her wonderful nose and her presence? She didn't have to alter it. She just became it.
Jerry:
Have you ever met her before?
Julie:
Very briefly when at Columbia Studios a long time ago. I was doing Mackenna's Gold and she was doing Funny Girl.
Jerry:
What can young actresses learn from your career?
Julie:
See I was a dancer and even before that a pianist. So to me everything is the music especially comedy is what I love most. That is why I put the clown pictures in the book.
Jerry:
You say that movie stars are misunderstood people.
Julie:
It part of the show and part of the game. You can always take your energy and go beyond it. Look what Madonna did with the hydrangeas? She speaks her mind in a way that is amusing like Lady Gaga.
Jerry:
Speaking of flowers there is a rose named after you.
Julie:
Isn't that neat? There is also the Betty White, Marilyn Monroe, Bob Hope and Nancy Reagan. I have all of their roses in my garden as a matter of fact. I have 77 different roses. I have a chapter there on gardening because it teaches you so much about life.
Jerry:
It must be relaxing.
Julie:
It rids of the rancor of life. You go out the garden and you see the whole of it in motion. You know how long it takes to grow something and watch it transition.
Jerry:
Julie, how does your garden grow?
Julie:
I am looking out this big giant window to these hanging begonias. There is a big olive tree and beyond that is one of the four secret gardens. Outside the fence there are still raspberries I can pick that are so sweet. There are fountains also. It is kind of nice to have in the middle of a big city. I had a penthouse garden in New York City. It was my concrete garden.
Jerry:
You have been in California for a while now.
Julie:
I was born inside a Hollywood Hospital. I always find that so funny to say.
Jerry:
I heard you are not a fan of the leaf blower.
Julie:
Are you?
Jerry:
No, I hate them. They always wake me up.
Julie:
I love you, I love you, I love you!
Jerry:
I wonder why they don't make them quieter?
Julie:
Because it might cost them a few bucks. The people that use them don't want to spend it and they are going deaf anyway. I have Thunder 29 ear protectors. They cost about $100. Men that are air traffic controller wear them. Some people work inside their heads and other people need noise to make life bearable. You go to the clubs, whether it turns on or turns you off!
Jerry:
You have some great food tips and nutrition for readers of the book.
Julie:
It says it all "eat that which parishes fastest," which means it is better to eat food that will spoil. You don't have to learn all the rules of nutrition but I highly recommend it.
Jerry:
I love how you said, "Distract yourself then you won't want dessert."
Julie:
I found that worked. What works for you?
Jerry:
It doesn't I always get dessert!
Julie:
(laughs) Jerry, I approve of you! I bet you like chocolate like me.
Jerry:
It is evil.
Julie:
Well, you can go to that extreme or you can just eat one square. I can eat just one or two squares.
Jerry:
You have will power.
Julie:
I think will power comes with age. I really learned to like what is good for me. If there ever was an easier way to make life work for you that probably did.
Jerry:
Your movie Serpent on the Nile is on YouTube.
Julie:
That is 18 years old. They painted my body gold. They found a technique where the poor model didn't die. I was wearing a tummy covering bikini as it were. This was so long ago that belly buttons were not allowed on screen. I was covered in gold, doing a backward arch and they yelled, "Stop!" They come running in with scotch tape and put it over my belly button.
Jerry:
Was it hard to cover?
Julie:
No, I was just so tall. I asked my brother who is the leader of the gay society in San Francisco, "Why am I liked by your friends?" He wrote about it very eloquently in an essay. His name is John Newmeyer.
Jerry:
You changed your name?
Julie:
Of course, my mother did. She was looking at the marquee and said, "You gotta shorten it!"
For special appearances and where The Conscious Catwoman can be purchased visit julienewmar.com.
Interviewed by Jerry Nunn. Jerry Nunn is a contributing writer to the GoPride Network. His work is also featured in Windy City Times, Nightspots Magazine and syndicated nationally. Follow @jerrynunn