A GoPride Interview
Kimberley Locke
Kimberley Locke: I have a nice little gaggle of gays in Nashville.
I have a nice little gaggle of gays in Nashville.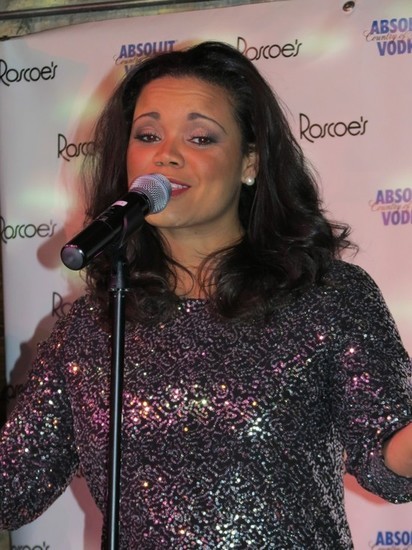 kimberley locke at roscoe's
photo credit // jerry nunn
Jerry Nunn caught up with Kimberley Locke after her recent show at Roscoe's
Born and raised in Tennessee, Kimberley Locke came to fame after appearing on the American Idol television series in 2003. She finished third behind Ruben Studdard and Clay Aiken. She later appeared on season three and seven of the Fox hit show. She continued her television trend appearing on Celebrity Fit Club for VH1.
Locke brought her latest EP Four For The Floor to Roscoe's Tavern where we chatted backstage after the show.
JN:
(Jerry Nunn) Hi, Kimberley. I am so excited about our mutual Tennessee connection. Where were you born
KL:
(Kimberley Locke) I was born in Portland, Tennessee. It is just north of Gallatin.
JN:
My parents live in Gallatin. That is very country.
KL:
I grew up on a farm. I'm a country girl who was feeding chickens and ducks.
JN:
Your accent comes out. Mine does especially when I drink.
KL:
Mine does too. And when I have been around my mom….
JN:
Yes, All those expressions!
KL:
"We fixin' to go to the store."
JN:
"You havin' some supper?"
KL:
We don't say "stuffing," we say "dressing." We had that debate recently….
JN:
Are you going home for the holidays?
KL:
No, I am going to spend some time in New York.
JN:
Is that where you live?
KL:
I am kind of living in New York and LA right now.
JN:
You went to Belmont University in Nashville. That is very strict and religious.
KL:
Oh yeah. I remember flyers being posted all over campus for National Coming Out Day. They were not approved flyers and all of these people were running ripping them down.
JN:
Pride here in Chicago is very different than Tennessee. It is a few people walking down the street.
KL:
It is growing though.
JN:
Church Street is a very popular gay area. Do you go back a lot?
KL:
I have been back a lot the past year. I have a nice little gaggle of gays in Nashville.
JN:
How did you become involved with the gay community?
KL:
It wasn't my choice. They chose me. Right after American Idol I noticed I had a lot of Gay Pride bookings. You know growing up in Nashville we didn't talk about it. I had one friend that was gay that I knew of. Now I find out a whole bunch of them are gay they just didn't tell me. It was one of those things, they chose me and I went.
JN:
I love that. You auditioned for American Idol in Nashville then I bet it was a rollercoaster after.
KL:
It was crazy.
JN:
Did you hear about Clay Aiken being on Celebrity Apprentice?
KL:
Yes, I know about that.
JN:
That will be fun to watch.
KL:
It will be great.
JN:
Do you keep in touch with people from the show?
KL:
Ruben! He is going to put out a new album in March. I just talked to him on Thanksgiving.
JN:
You made music with Randy Jackson from the show.
KL:
I did "Strobelight" with him last year.
JN:
How was it working with him as compared to knowing him on American Idol?
KL:
It was really interesting working on that side with him because I felt like we were a team. On American Idol he is critiquing you. I have always liked Randy. He is an awesome guy and lots of fun to be around.
JN:
Tell our readers about your company.
KL:
I AM Entertainment is my new company. We released Four For The Floor under that company name. I am also looking to work with and consult other artists who are working on other projects or want to audition other shows. I realized that when I was coming up through the ranks there wasn't anyone to talk to for guidance. There are so many artists doing it on their own right now. They are being independent which is great but they need direction along the way. That is what we want to offer through I AM Entertainment.
JN:
So you want to get other artists involved?
KL:
I don't know if I am ready to manage other artists but I am willing to offer advice on a per project basis. The whole thing for an artist is to remain in control. I don't want to take control of their project. I want to give them the tools that they need to keep going.
JN:
You made a Christmas album. Are you a Carpenters fan since you sang their song downstairs?
KL:
When I did that album it was my first Christmas album. We wanted to do something fun. We tried to include songs that people have not done. Everybody does "Silent Night" and "Oh Holy Night." I wanted to something more on the lighter side. One of my favorite Christmas songs growing up was "Frosty the Snowman."
JN:
What do you want for Christmas this year?
KL:
I don't have anything in mind.
JN:
You have everything you need?
KL:
I really do. I have a special person in my life so I feel like that is an early Christmas gift.
JN:
It is always nice to be with someone for the holidays. Do you have big plans for the New Year?
KL:
I am going to Vegas in January and then on vacation. When I get back I plan on hitting the ground running. I am working on putting together a cabaret show that I would love to come to Chicago and do.
JN:
Singing some Broadway possibly?
KL:
Maybe plus my hits and the stuff I grew up with. I am excited about doing a barebones show with a piano. I think people really miss that.
JN:
Would you ever do more reality TV?
KL:
No. Well. I said no real quick didn't I? Reality television is not going anywhere so if it is the right thing then yeah. I don't want to do crazy reality TV like drama or eating crap.
JN:
(laughs) I wasn't thinking Survivor! I was thinking about how the Celebrity Fit Club show was entertaining.
KL:
Celebrity Fit Club was a great show for me so if it was something like that then yes. I would totally do Celebrity Apprentice. That would fun and I could actually learn something from being on that show. I am not going to learn anything from putting some hairy caterpillar in my mouth!
For lots more on Locke visit
www.kimberleylockeofficial.com
Interviewed by Jerry Nunn. Jerry Nunn is a contributing writer to the GoPride Network. His work is also featured in Windy City Times, Nightspots Magazine and syndicated nationally. Follow @jerrynunn
Serving the Chicago gay, lesbian, bisexual and transgender communities. ©Copyright 2019 GoPride Networks. All rights reserved.