A GoPride Interview
Josh Strickland
Josh Strickland interview with ChicagoPride.com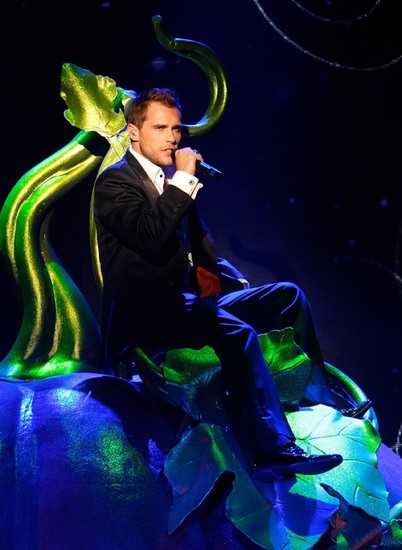 photo credit // ethan miller
Josh Strickland swung into our hearts as Tarzan on the Broadway stage. Through his Vegas show Peepshow he has become best friends with Holly Madison of Playboy fame and a part of her world.
JN:
(Jerry Nunn) Hi, Josh. I watched the first season of Holly's World on E! Your second season just started. Do you have party and watch the premiere?
JS:
(Josh Strickland) Yeah, last year in the hotel there was a place called The Playing Field, which is a sports bar that had tons of flat screens to watch it on. They set up a carpet and everybody comes and watches it. Holly is the only one that gets to see the episodes before they air. So it was a lot of fun for us to all get together and see it for the first time.
JN:
You don't live in the hotel like Holly did on the first season?
JS:
Oh no, I have my own place out here. I don't think I could make it in the hotel.
JN:
Holly stays in a suite?
JS:
Now she has a house. For the first year she was living at Planet Hollywood. It gets a little tiring. It is great to be away from the strip.
JN:
Is there an end to the run of Peepshow?
JS:
It doesn't have an end. It is an open-ended contract. Holly just signed on for another year so until the end of this year. The reality show has really boosted sales obviously. It is really cool because it is one of the only things that people can watch on television then go and buy a ticket. Our show is really sexy and fun. It has a lot of beautiful women but I think people are really surprised at the talented singers we have in the show as well.
JN:
Describe Peepshow for people that have not seen it.
JS:
It is a sexy burlesque show, a topless review. It is done Jerry Mitchell who choreographed Hairspray and Legally Blonde on Broadway. So it is a very classy show. It is not going to a strip club and seeing girls. We have a storyline and it is naughty fairytales. Holly plays Bo Peep, the main character. We take her on a sexual journey, I guess you could say. There are songs from Aerosmith. I sing Pink. I sing Michael Bubles' "Feeling Good." There is Ginuwine's "Pony" so it is stuff people know.
JN:
What is your part?
JS:
I am the male lead. There are only three men in the show. I am the only male singer. I sing all the songs and help her on her journey.
JN:
Has Cher seen it?
JS:
Oh, probably not. Cher flies back to Malibu every night! I don't think she stays in Vegas much.
JN:
How long have known Holly?
JS:
It has been over a year now. Kelly Monaco and Mel B started the show and were only there three months. Holly came in and joined. It was only supposed to be three months stint too but it wound up being longer. Going through the motions and putting her in the show, we became great buddies. It was funny how it all happened because I wasn't supposed to be in the pilot of the E show. We became so close that it just happened.
JN:
Are you very protective of her now?
JS:
Of course I am. We became best buds. We talk about everything. She is on vacation this week so Angel is stepping in and doing her part. It is cool how everything evolved and we have our second season. It is going to be a good one. I want to make sure that she's happy because she is not a very open person and hard to get to know. We have already gotten through that hump of getting to know each other at the beginning. Now we really do confide in each other and the issues that we are having and the things on our minds.
JN:
I loved the episode when you as Holly's gay best friend met Kendra's gay best friend. That was a fun crossover.
JS:
It was. The girls still talk and are still friends. They want each other in their own shows. It is fun to see Kendra come over and see Holly do things for them too.
JN:
What can people look forward to seeing on this season?
JS:
Oh my gosh, there is so much going on. We have Claire Sinclair Miss October of 2010 comes in and Holly is helping her out with coming to Vegas. Jayde Nicole moves to Vegas and stirs up some trouble. There is not a lot I can say because we are filming it now. I can say that it is very current about what is going on with our lives right now. I am in the studio recording an EP and on the search to find my biological birthparents.
JN:
You are adopted? I didn't know that.
JS:
Yeah, I am adopted. I love my adoptive parents. I couldn't be happier to where my life has gone. It is one of those journeys where this feels like the right time to start doing this. They are going to be filming it.
JN:
I am adopted also. They changed some laws and I was able to find my birthmother.
JS:
That's crazy because that is what we are going through now. We hired a PI. We are going through the laws because I was born and raised in South Carolina.
JN:
That is where my birthmother lives in South Carolina.
JS:
Wow! That's nuts.
JN:
Small world, maybe your birthmother still lives there also.
JS:
You just never know so we are just very excited about what we might be able to find.
JN:
It is really important and doesn't take anything from your adoptive parents at all.
JS:
Absolutely. But as an adopted person we should know things. There is always an emptiness that we just don't know about. At the right time then you can make a decision to find out those things. It makes you feel a lot better.
JN:
Yes it does. Let's talk about your music. What style will it be?
JS:
The style will be very dance heavy. To me since I am openly gay, I am not trying to be Justin Timberlake or anything like that. But I think it is fun to have music like that where people can relate to it and listen to it in their cars. Look at Britney's new single. Most people are going to dance heavy tracks. It is in the clubs and what people go out to. That is what we are gearing towards. It is going to be a lot of fun. I am working with Damon Elliott, Dionne Warwick's son, who has produced Pink, Mya and won Grammys.
JN:
Sounds awesome. You should do a club tour.
JS:
Absolutely, I will.
JN:
Are you a singing swinging single?
JS:
No, I am not. I am very happy and in a relationship.
JN:
Congrats on that and I look forward to seeing your new season of the show.
Check local listings for Holly's World at
www.eonline.com
.
Interviewed by Jerry Nunn. Jerry Nunn is a contributing writer to the GoPride Network. His work is also featured in Windy City Times, Nightspots Magazine and syndicated nationally. Follow @jerrynunn
Serving the Chicago gay, lesbian, bisexual and transgender communities. ©Copyright 2019 GoPride Networks. All rights reserved.