A GoPride Interview
Matt Rodin
Matt Rodin returns home for Sondheim's Company; meet the Broadway performer, director and creator
I grew up being awoken by my mother every morning singing show tunes.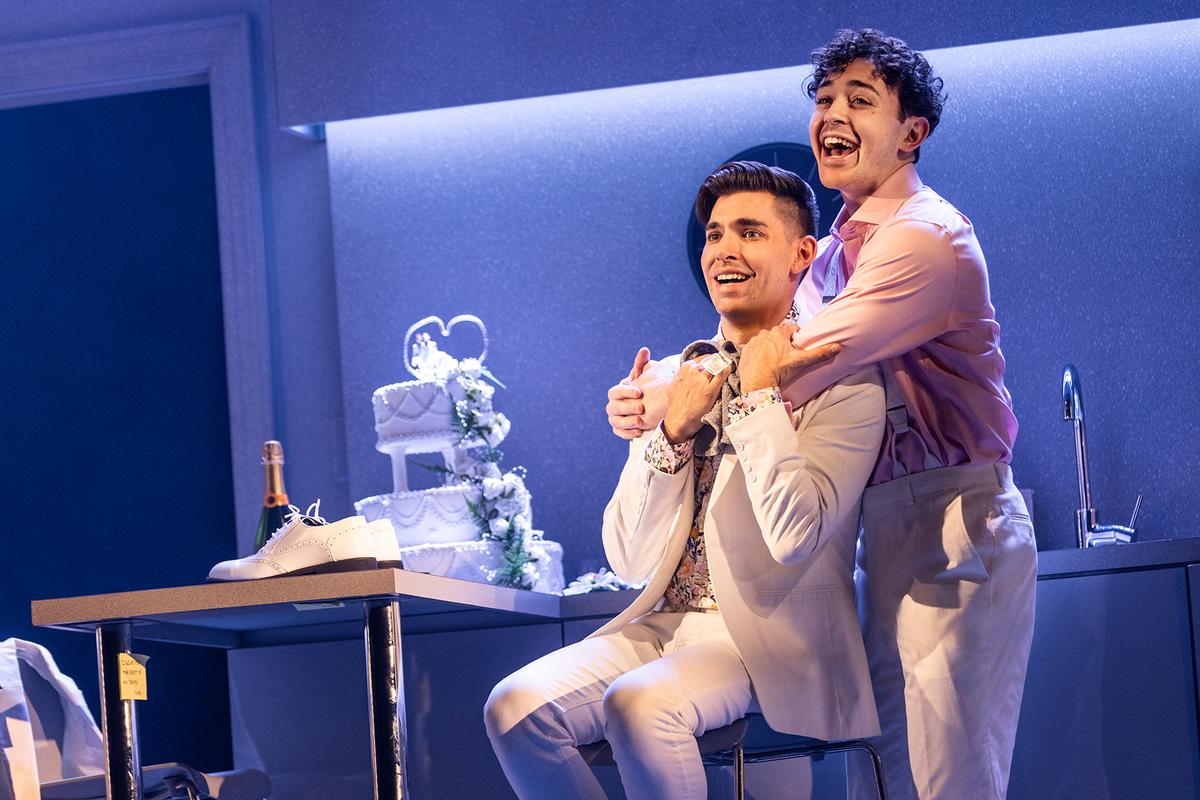 matt rodin as jamie and ali louis bourzgui as paul
photo credit // matthew murphy for murphymade
Company, the winner of five 2022 Tony Awards including Best Musical Revival, is running for a limited engagement through November 12 at Broadway In Chicago's Cadillac Palace Theatre (151 W. Randolph St.). The beloved musical comedy masterpiece about the search for love and cocktails in New York, is turned on its head where musical theatre's most iconic bachelor is now a bachelorette
Sondheim and the production's director Marianne Elliott collaborated to update COMPANY, bringing Bobbie's array of friends and lovers into the 21st century. This smart musical comedy, given a game-changing makeover for a modern-day Manhattan, features some of Sondheim's best loved songs, including "Company," "You Could Drive a Person Crazy," "The Ladies Who Lunch," "Side by Side," and the iconic "Being Alive." 
The talented Matt Rodin ("Jamie" in "Company") spent a moment talking with GoPride as the COMPANY tour hit Chicago. Rodin grew up in the Chicago and talked to us about the show and his journey from theater lover to the stage, creating a successful podcast interviewing stars on the red carpet, and how the moment that led him to "Company" happened at the perfect magical time.
MI: (Matt Inawat, GoPride) Matt, congratulations on the tour so far! How did you first get involved with "Company." What was your initial reaction when you found out you were part of the cast?
MR: (Matt Rodin) I saw the revival for this particular production in I think 2021 and was really moved by the piece. I knew obviously, like a lot of people, I knew some of the songs, but I didn't quite know the whole story, and was really, really moved and obviously was quite impressed by Matt Doyle's performance. And I remember feeling like that seems like something I could maybe do when they go on tour.
And sure enough, a couple of years later when I found out that they were, I went in initially. I think my first audition was back in March of this year and I worked really hard to learn the material and over the next couple months, I was in and out of callbacks; and my final call back was on the day of my actual wedding. So at 11 a.m., I got married to my husband in Central Park with our two families with a very small group and a couple friends. And then at 2 p.m., I was singing in the audition room and I didn't even have to change clothes. I got to wear my wedding outfit to my call back, which was really convenient. And a couple days later I found out that I got the job and was obviously so elated; and to be honest, a big part of that was knowing that I'd be able to come through Chicago and I finally get to do something here and share with my friends and family who have been seeing me in community theater since I was a kid.
MI: First of all, congratulations on the wedding! That must have been the #BestDayEver on so many levels!
You mentioned that the musical has been revived; and it's been revived a numerous times over the decades. What do you think makes it still relevant for audiences today?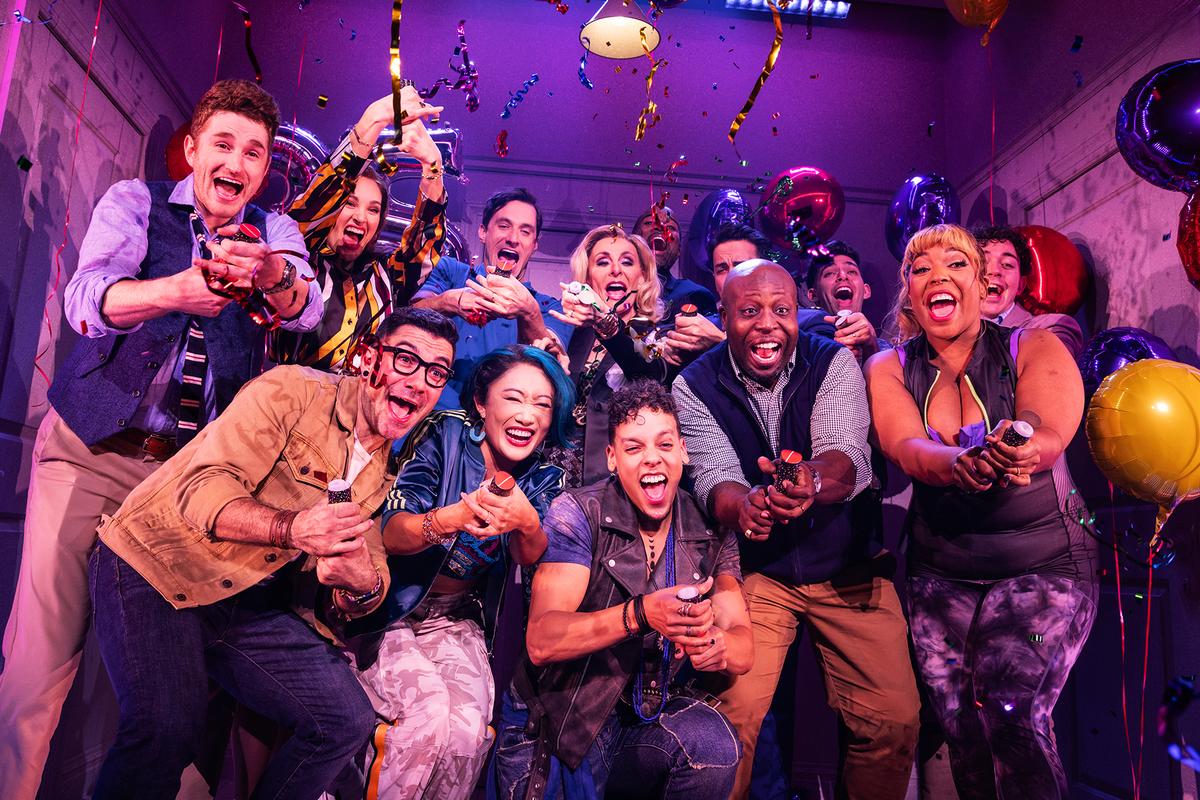 The North American Tour of COMPANY; credit: Matthew Murphy for MurphyMade
MR: I definitely think Mary Anne Elliott (director) and Chris Harper, who is the producer really reinvigorated the material by reimagining it and transforming Bobby from a 35 year old man to a 35 year old woman from Bobby with a Y to Bobby with an IE.
And it's interesting to know that much of the text has not changed from the original production. Certainly we've changed some pronouns now that there's some gender flops or gender switches. But a lot of the text is intact, which just speaks to how strong of a piece it really is. And. I think obviously now having Bobby be a 35 year old woman, it feels even more relevant than it really has any time recently because the pressures on a 35 year old woman to settle down to think about, "Is she gonna have a baby? What's her plan?" That's all very real.
And then in my particular case, Jamie was originally Amy in every production that's been done. And for someone like me who is in a queer partnership in a queer marriage, who has had those anxieties about getting married, getting to do this particular scene feels very true; it feels very honest. And I think so many of the queer relationships that are sort of played out on screen and on stage are either one of the two extremes. They're either incredibly tumultuous and dramatic and traumatizing or they're sort of like a caricature of what it means to be in a queer partnership. And when I saw this production, I was really moved by the honesty of Jamie and Paul's relationship that there's real anxiety about what it means to be with another person monogamously, it just felt relevant in a way that I hadn't really experienced in the theater in terms of being so close to my own life and things that I have experienced.
The main piece of feedback that I've been getting from people who have seen other productions or friends and family that have never seen the show before if they have a hard time believing that this is a show that was written in 1971 because it really has been updated in such a beautiful way. That makes it contemporary and feel new and fresh,
MI: The show just sounds so personally rewarding and how it's impacted you is such an amazing story! Take us back in time. How did you first get started in this theater? And who were some of your theatrical influences growing up?
MR: I grew up being awoken by my mother every morning singing show tunes. So show tunes were introduced early on in my life. And one of the experiences that I like to point to is a high school production of Joseph and Amazing Technicolor Dreamcoat in 1997 at the high school, I ended up going to - and I was hooked! I had never seen anything like that. I certainly loved musical movies and music in general, but I had never experienced the magic of live theater and watching human beings go through something in front of me singing and dancing. And I got bit by the bug as they say,
MI: That just sounds fabulous! And then there's that fabulous rainbow coat too, right?
MR: I mean, there's no question about that rainbow coat; and funny enough, I ended up being Joseph for Halloween!
I was begging my mom to put me in a rainbow costume. So early signs of a future for me.
When I started doing community theater amd children's theater, I very quickly fell in love with the community and the safety and the acceptance that I felt in those spaces; and also collaborative nature of theater. The way it forces people to work together and a lot of people to work together, everybody who's on stage with the creative team, with the crew with the producers. It's such a huge group effort. There's so many different departments working together to make something come together that it, um, yeah, that, that, that was so I intoxicating to me to get to be a part of something that was bigger than myself.
And I certainly like the attention. There's no joke there. But I fell in love with the community aspect of it and obviously grew up watching the Tony Awards and was pretty hooked in a Broadway. Some of those shows that I feel like were pretty formative for me were shows like Wicked and Spring Awakening.
By the time I got to. college, I went to Boston Conservatory for musical theater, I realized that what I had to give and what I had to share was not like anything that I had really seen before. And in it was positive and negative in that there was definitely a big part of me that questioned whether or not there was a space for me in this industry, because again, I hadn't really seen anybody who was like me move through the industry. I'm someone who primarily sings pop rock music. I play guitar. There just wasn't a lot going on that. I felt like, "oh, that feels true to me and that feels like something I could be capable of doing," because I didn't like tap dancing so I knew I wasn't gonna be in Book of Mormon. There weren't a lot of things that I felt connected to in terms of what was possible for me. But at the same time, it gave me the freedom to not feel bound by any kind of box. I really worked hard to develop my own set of skills and do my own thing. And the 10 years that I've been in New York, I've really been lucky in that I've gotten to sort of utilize all of my skills, whether as a host and a video editor. I have a podcast, I work for Broadway.com. I directed a concert special for Ingrid Michaelson. I've really run the gambit; and then to get to obviously do a job like this where this is really utilizing my favorite skill arguably.
It's really rewarding and to know that again that this this job and the show and getting to play this role in this character at this time in my life, is incredibly satisfying and gratifying. Because if nothing else, it is giving me the signal that there is a place for me in this community. And that's all I've ever wanted; was to feel a part of it.
MI: Thanks for sharing that story. Your story is an inspiration for younger or newer performers or creators interested in getting into theater and entertainment. To just be you and let the unique shine.
MR: You know, there were so many jobs that didn't go my way. And obviously, in that moment, it's very hard to accept that all things are meant to be and like it's all gonna work out. But you know, like the story of me going for my final call back on my wedding day. You know, I never could have planned that. That is so out of my hands. And so I could never have even imagined that in my wildest dreams and to be playing a queer character in a marriage. Jamie's 31. I'm 31. It just feels like it was the universe saying to me. Here you go. This is, this is your time, this is your moment. It's all been, we've all been, working towards this if that makes sense.
MI: You mentioned Broadway.com, and there you host a series of really fun shorts called the "Red Carpet Challenge" where you play this awesome Q&A game with so many amazing cast and celebs on the red carpet. So, tell us a little bit about that; and maybe a moment from it that just stands out for you personally.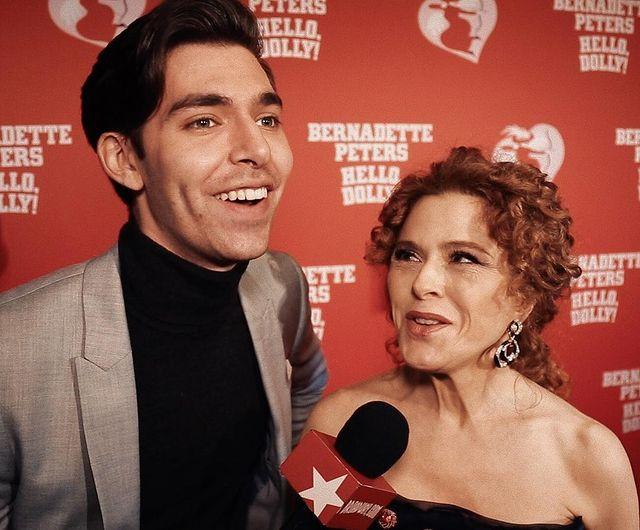 Bernadette Peters taking the Matt Rodin Red Carpet Challenge; credit: instagram: whoismattrodin
MR: I've always been somebody who has had too many hobbies. And when I was growing up, I didn't do my homework but I worked really hard on the extra credit projects. So the posters and the videos and the power points; I went above and beyond on all that stuff because that for me was like, creatively fulfilling and satisfying and I really got to show what I loved and what I'd like to do.
And when I moved to the city, even after graduating with a degree in musical theater, I was set on making myself a part of the industry; feeling like I was a part of it even if I wasn't going to necessarily be an actor in it right away. I just wanted to feel like I was in it and around it, hoping that eventually those connections and those relationships that I would form would eventually lead to opportunities that I couldn't have planned which is kind of what happened.
So I started making video content pretty much right when I got to the city and it took a few years. But eventually, um I got the attention of Paul Wontorek who is the editor in chief over at Broadway.com. And we went out to lunch and he sat me down and he asked if I would come do those videos for them; and do it in a more real way because I was kind of just doing it very casually at that time. And so that started a five or six year relationship with them. I ended up working full time for them as a producer and I think we did over 120 videos in total.
I did Broadway opening nights, some films too and some crazy red carpets. And we played nonsense games and the whole theory behind the madness was that basically when you put people in a situation where they don't know what's coming, their mask comes down. And so all of these people who I looked up to too and grew up idolizing; I wanted to see what would happen and I wanted to see a real side of them. And sure enough when you play, when you ask people to name three things that are purple, all of a sudden their prepared answers that they've given 100 times to every single press interview that they've done, that all fades away and they're forced to sort of think on their feet and you get to see like a real version of somebody in a millisecond. And I really love that and I was grateful that it was so well received by so many people.
I met people that I've idolized my whole life. I've had some really amazing and funny moments with Jonathan Gross and Stephanie J. Block. One that is close to my heart is Bernadette Peters. That she was somebody who had no reason to be kind to me or generous; or could have very easily just walked on by and never given me the time of day. And every single time I saw her, which was at a lot of openings, she was always so excited to play, and willing and fun and never took herself too seriously.
And that's the magic for me. That's when the real good stuff happens. When people are willing to sort of let themselves be silly. And those opening nights to me were always a celebration. And so that's what it should be. It should be fun. For those nights, it was celebratory and fun. So to be met with joyful and generous and kind energy was all I ever wanted and she was the best of the best when it came to that!
MI: That's absolutely amazing! Thanks for sharing that! Ok, so you're back home here in Chicagoland for this part of the "Company" tour. Do you get to play host and city guide to the rest of the cast and crew? And then what's on the to do list?
MR: Yeah. So first thing on the do list is I have a dentist appointment next week. So that is what it really means to come home - you gotta do the adult stuff, you know. I'm going to get my real ID next week at the DMV. So, really fun!
I think we're gonna go to Whirly Ball at some point. And there are a lot of foodies on this tour, so we're gonna go and eat around a lot. It's really special to be back here and to be sharing. And honestly, I think the thing that's more exciting for me than even the sights and scenes of Chicago is getting to share.
In ways that I get to share this story, this queer story. And this particular musical with so many friends and family who like theater but don't necessarily know Sondheim. So we get to sort of let them into the Sondheim world. And on the other end, I get to share my friends and family with this cast of characters that I have come to love; this company who have become my tour family. This is our third city, but we're about to be on the road together for a year. And we've all already gotten really close and it's a group of really funny, generous kind people and to get to introduce my family to them and introduce them to my family and my friends who have known me since I was born. That's something that I didn't anticipate would be so exciting but has already in one night, proven to be something that is really, really special to me.
MI: Wow. You can't top that kind of experience! OK, before we go, we're going to you on the other side of a red carpet challenge. So first thing that pops in your head for each of these. First one, name something you just can't live without.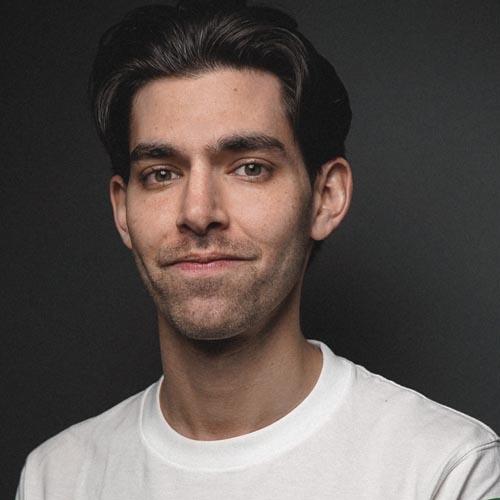 Matt Rodin; credit: companymusical.com
MR: Something I can't live without is music.
MI: What's something in your home that would make a stranger think you were straight.
MR: Oh, that's really funny. Oh, man. You know what? I honestly like, I'm like nothing! There's nothing in my home that gives off that impression. Honestly. You know what I mean?
MI: Alright. What's something in your home that might, that might make a stranger think you were gay.
MR: How about my husband? Does that count?
MI: That's perfect! Favorite guilty pleasure?
MR: Gummy candy.
MI: Favorite toy when you were a child?
MR: A karaoke machine.
MI: Who would play you. if your life story were on the big screen?
MR: I'll say myself. I don't know who else it would be.
MI: Now that you've tackled the Sondheim musical, are there any other roles in the theater that you're itching to take on?
MR: Well, I played Hedwig a couple of years ago at Milwaukee Rep and I'm really itching to do that again. I can't wait to do that again and just bring a little bit more life experience to that. I got to play Roger in "Rent" right before this and that was really satisfying. I'm just excited to see sort of what new things come; new shows and new roles and that to me is probably the most exciting.
MI: I love your initial answer to this because I've asked the same question hundreds of times and you're the first person to go back to a role that they previously played and then take a look at it in a whole new different light. Matt, thank you so much for spending some time with me. Can't wait to see you and cast up on stage!

Broadway In Chicago is delighted to announce the North American Tour of the hilarious Broadway revival of Stephen Sondheim's and George Furth's COMPANY, is now playing at Broadway In Chicago's Cadillac Palace Theatre (151 W. Randolph St.). COMPANY, winner of five 2022 Tony Awards including Best Musical Revival, is running for a limited engagement through November 12.
Individual tickets for COMPANY are on sale now and range from $27.00 - $108.00 with a select number of premium tickets available. Tickets are available now for groups of 10 or more by calling Broadway In Chicago Group Sales at (312) 977-1710. For more  information, visit www.BroadwayInChicago.com.
Performances are Tuesday through Friday at 7:30 p.m. (with a Wednesday matinee at 2:00 p.m. on November 8), Saturdays at 2:00 p.m. & 8:00 p.m., and Sundays at 2:00 p.m. (with an additional performance on Sunday, November 5 at 7:30 p.m.).
Starring in the role of Bobbie is Britney Coleman, who just completed her run in the First National Tour of Beetlejuice. The iconic role of Joanne is being played by Judy McLane, who is a Drama Desk Award nominee and Outer Critics Circle Award winner.
They are joined by Kathryn Allison as Sarah, Will Blum as David, Ali Louis Bourzgui as Paul, Derrick Davis as Larry, Javier Ignacio as Peter, James Earl Jones II as Harry, Marina Kondo as Susan, Matt Rodin as Jamie, Emma Stratton as Jenny, Jacob Dickey as Andy, Tyler Hardwick as PJ, and David Socolar as Theo.
The complete cast of COMPANY also includes Matthew Christian, Christopher DeAngelis, Kenneth Quinney Francoeur, CJ Greer, Elysia Jordan, Beth Stafford Laird, and Christopher Henry Young.
Producer Chris Harper said, "This exhilarating production of COMPANY was a huge success in the West End and on Broadway. I was absolutely thrilled when it won the Tony Award for Best Musical Revival and I'm so excited for audiences around the country to share the joy. I know they will have so much fun!"
The North American tour of COMPANY follows the critically acclaimed, sold-out engagement in London's West End, and Tony Award-winning run on Broadway. The most honored musical of the 2021-2022 Broadway season is directed by three-time Tony Award winner Marianne Elliott (War Horse, The Curious Incident of the Dog in the Night-Time, Angels in America ).
COMPANY began preview performances on Broadway on March 2, 2020, and, following the shutdown, resumed previews on November 15, 2021. The production was in previews when on November 26, 2021, Broadway suffered the devastating loss of the titan of the American musical, composer Stephen Sondheim. This production of COMPANY was the last Broadway production of his work that he saw to fruition before his passing at the age of 91. 
Interviewed by Matt Inawat. Ron Matthew Inawat is president of the GoPride Network and contributes to ChicagoPride.com, PrideLA.com and other sites within the GoPride Network. Follow @cpmatthew