A GoPride Interview
Steven Lee Johnson
Steven Lee Johnson comes home to reprise his Broadway role in To Kill a Mockingbird
there's this incredible connection there; or they're introducing their spouse or child who never read the book, and they're able to experience it in this new way that we're giving them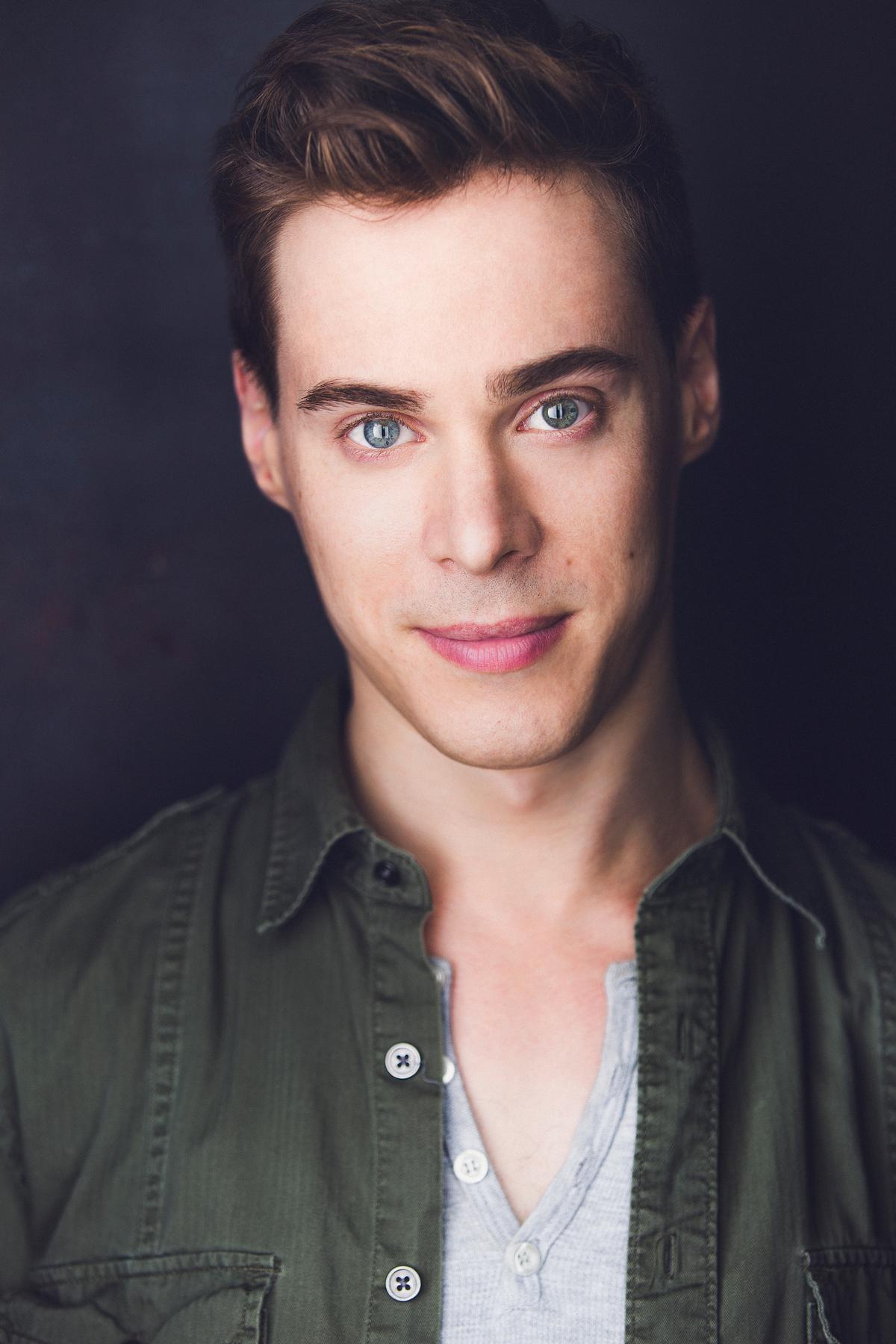 photo credit // steven lee johnson
The highly anticipated Chicago return engagement of the history-making production of To Kill a Mockingbird, Academy Award® winner Aaron Sorkin's new play, directed by Tony® winner Bartlett Sher and based on Harper Lee's classic novel opens for a limited engagement August 8-13 at Broadway In Chicago's (tickets) CIBC Theatre (18 W. Monroe St.).
We talked to Steven Lee Johnson who returns home to the Midwest in a limited show engagement where he reprises his role as Dill from the original Broadway production.
Johnson's theaterical highlights include: To Kill a Mockingbird (on Broadway), Nantucket Sleigh Ride (Lincoln Center Theater). Macbeth, A Midsummer Night's Dream (Chicago Shakespeare Theater), Indecent (Yale Repertory Theatre) and Beautiful Thing (Theater Latté Da).
MI: (Matt Inawat) Hi Steven! How's the tour been so far?
SLJ: (Steven Lee Johnson) It's been great. We finished our first 15 months of touring and we became a real family. 
And it's been an incredible joy to share this story and this play with people all across America, where, before, it was just on Broadway, which, beyond the tourists, you're really just sharing it with a very specific group of people. So to be able to take it to places where people normally don't get to see plays like this, it's been really great.
MI:  I actually saw the show a few months ago and it was absolutely brilliant. And you talk about the cast and crew being family. I mean, the cast was in absolute harmony which created a wonderful performance. So, hats off!
SLJ: Thank you. We feel really lucky. When I talk to my musical theater friends who've done a lot of touring, doing a long national tour can either be the best or the worst, depending on how the cast chemistry goes. And we got extremely lucky with this group.
MI:  So tell us a little bit about your journey to the show. What drew you to this production, and then ultimately to Dill's character?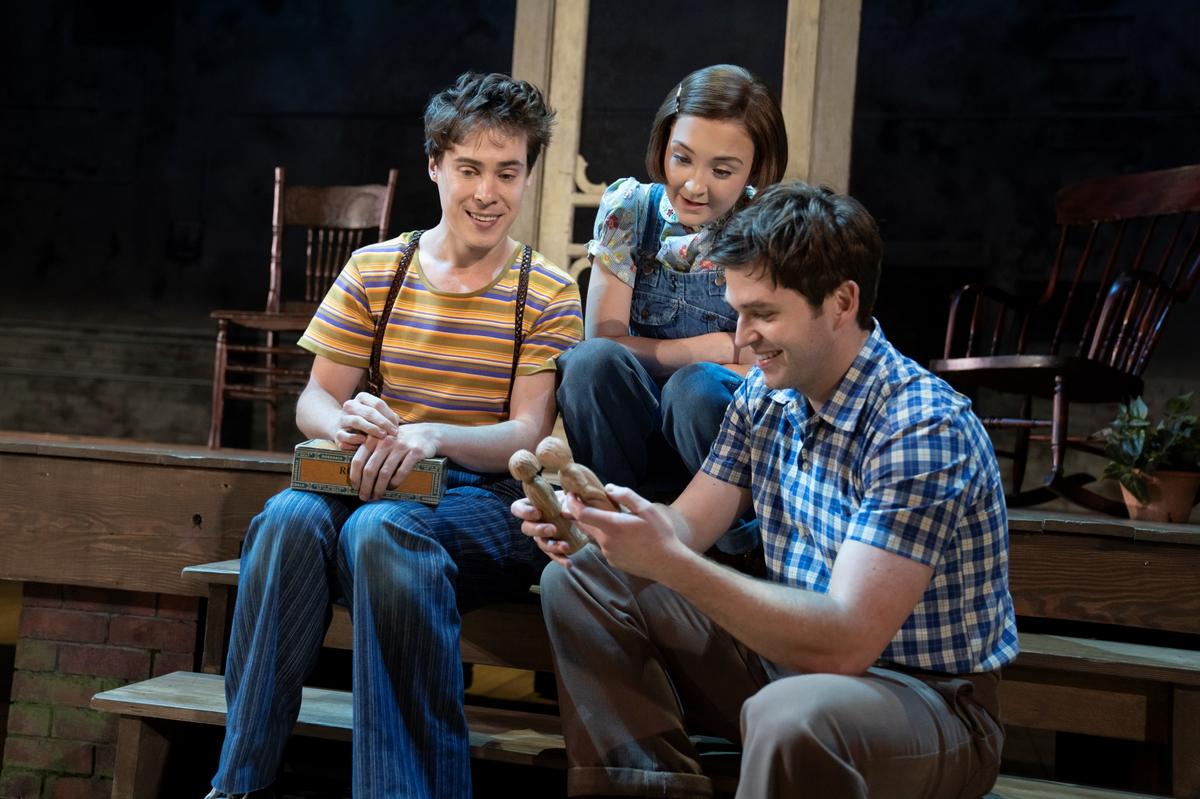 Scout, Jem and Dill discover the dolls; credit: Julieta Cervantes
SLJ: I saw the production and loved it. And then, it wasn't too much longer that I got an audition to be the understudy for Jem and Dill on Broadway, which I jumped at the opportunity to audition for. And I went through a few rounds, and I ended up getting the job, which was my Broadway debut. 
It was my first time being part of a big, long run, and it was a total joy. And then, I was supposed to be slowly trained into Jem and Dill, and then one of the actors was on vacation, and the other had a film obligation that he had to leave with very short notice, so my stage manager called me on a Monday night and said that I would have to learn Dill's entire track and go on on Thursday.
MI: Oh, my gosh!
SLJ: So they pulled me out of the show and I was just in a rehearsal room in Pearl Studios in New York with the stage manager, and he played every other part, and I learned the show with him, and I was on stage Thursday night. And luckily for me, it all went great. And then, a little bit afterwards, I got the offer to play Dill full-time on the tour, which was unexpected and really, really exciting.
MI: So well deserved! To Kill a Mockingbird is such a classic. How did you approach bringing new life to such a well-known character?
SLJ: Well, Dill is a particularly reimagined character in this show because he was based off of Harper Lee's childhood friend, Truman Capote. So I think that, in some ways, at that time, Harper had to hold back some aspects of Truman that might have been more challenging to share in that time, where, in this production, you really see Truman Capote coming a lot out in him. He's very precocious. There's a little bit of a queerness to him. It's really, really this beautiful expansion of what the character could be, and one of, if not, the biggest reimagining of a character in the play versus the book. 
So, honestly, I didn't have to do a lot. I had Aaron Sorkin's words, which are beautiful and so much fun. And I just had to trust that if I bring myself to him and leave my heart open to the other actors and the audience, that everything would fall into place. And the more I relaxed and got out of the way of Aaron Sorkin's words, the easier the job became and the more and more joy I found in it.
MI: Did you get a chance to add a little bit of your own unique interpretation?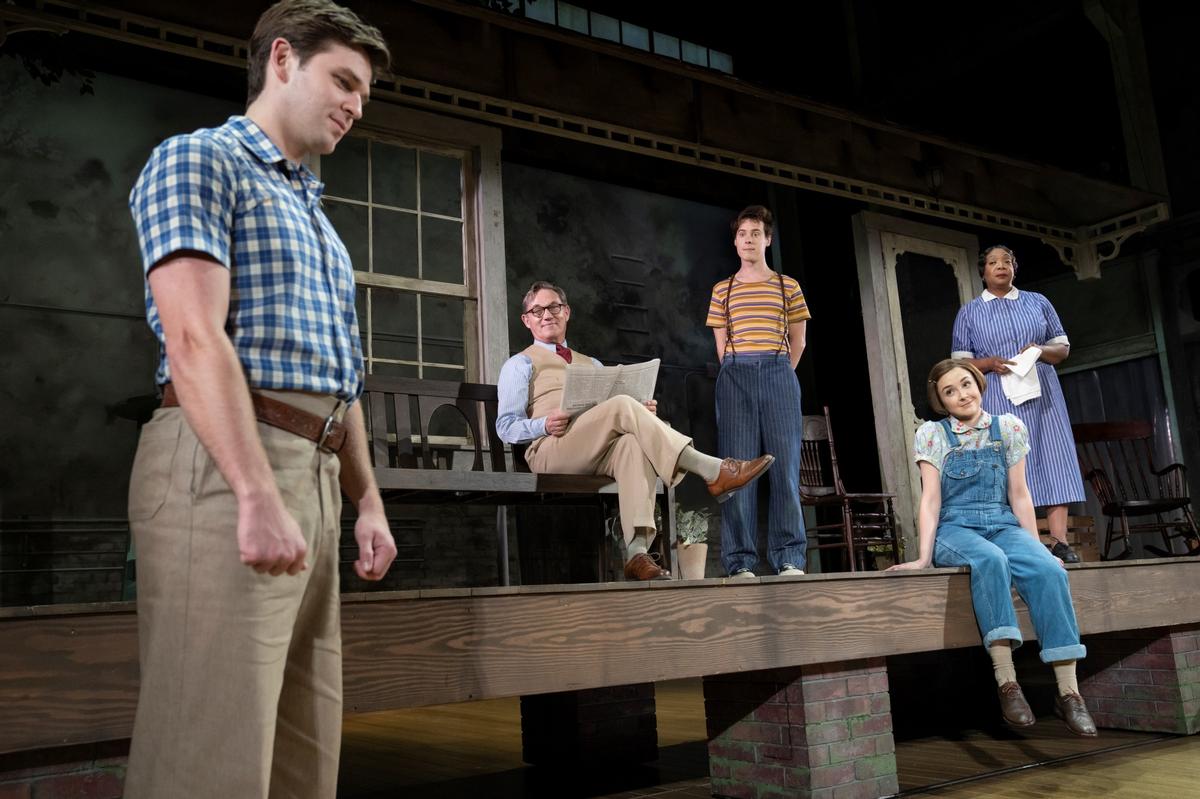 Porch Scene: Jem, Atticus, Dill, Scout, Calpurnia; credit: Julieta Cervantes
SLJ: Oh, 100%. And that's what I meant when I said trusting that I can just bring myself to the character. And I felt the freedom to bring myself because I had watched a few different Dills on Broadway come and go. And, Bart Sher, much to his credit, allowed the character to quite drastically change depending on the actor. And I play him very differently than any of the other Dills before me.
And it's really the only way you can go because you don't want to do some cheap copy of what came before. Your only opportunity to have something truly authentic is to bring what's authentic to yourself. So, yeah. I felt an incredible amount of generosity and freedom from Aaron and Bart to bring myself to the character, and that's part of what makes it such a joy.
MI: Were there any specific moments or scenes in the play that were particularly emotionally challenging for you?
SLJ: I think particularly, and without giving too much away for readers who haven't seen it yet, there's a scene in the second act on the porch with Atticus and Dill. And you find out new aspects to his background that aren't in the book and that really deepen his journey, but also show you the depths of pain he's been through even at such a young age. And the only way for me to get there emotionally is for me to tap into those aspects that I can relate to.
So, in an odd way, there is this time traveling that I feel to some of, if not, the carbon-copy challenges of what Dill is facing, parallels in my own life that I face. And, for a while, I had a hard time tracking that scene because I think that I was protecting myself and didn't want to let myself go there. 
But once I trusted... I have an amazing scene partner in Richard Thomas (Atticus Finch), and he's there for me every night. And, also, quite frankly, the audience, I always feel they're with me. So it took some time to take that armor off. But now, it's one of my favorite parts of the show, and I find it just as exhilarating and renewing as it does also cost me something.
MI: In this show particularly, how has that influenced and changed you as an artist?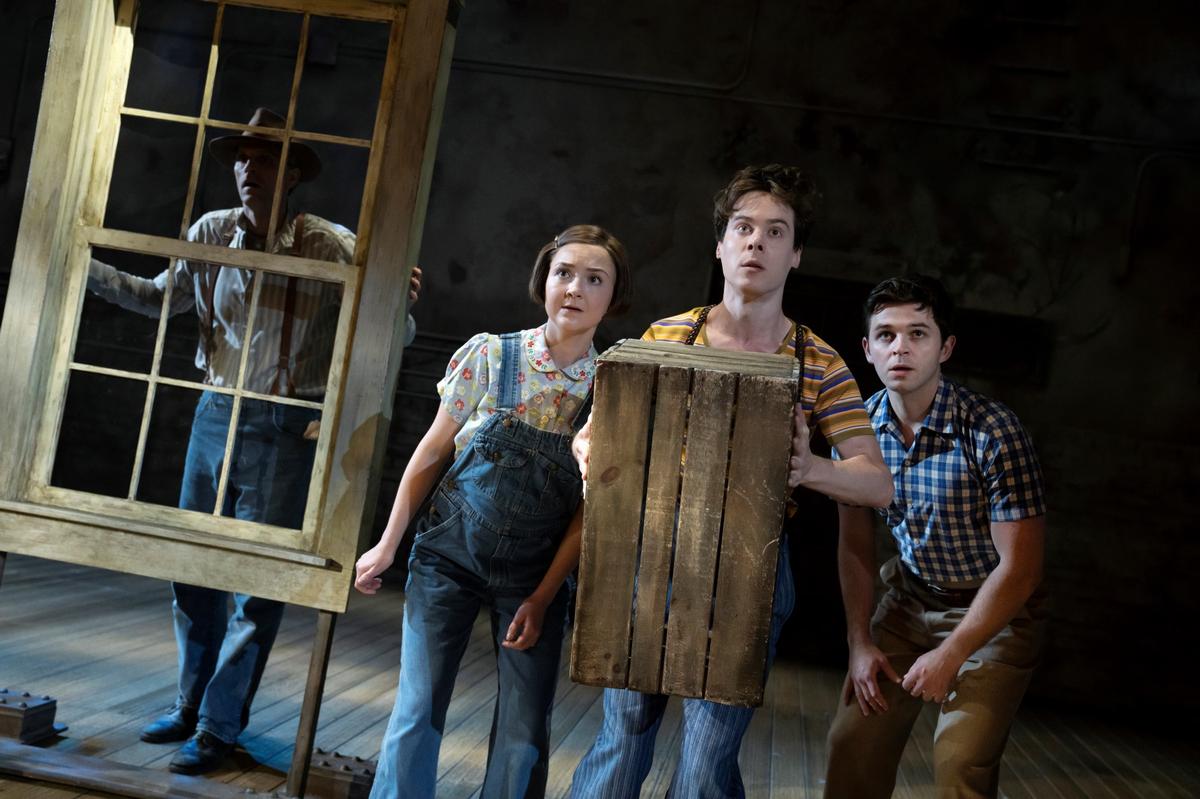 Scout Jem and Dill visit Boo Radley; credit: Julieta Cervantes
SLJ: I would say that the relationship to the audience is very special with this show because I'm shepherding them as a co-narrator with Scout and Jem, but I'm also jumping into the story. So it's these two juxtaposed theatrical devices and worlds that I'm jumping in between. And it's highly theatrical. It completely blends the realm of any kind of pure naturalism or pure realism. It's something more ethereal. And it was, at first, a challenge to jump back and forth, and now it's one of the most exciting aspects of the job, and something that you really tend to only see in Shakespeare and the rare other show where you're jumping back and forth between the world of the show and the audience.
And, also, the other aspect that I would say is specific about this show is it's such a beloved story that means so many different things to different people that it's been amazing to connect to people after the show. And someone will come up to me and they named their child after Dill, and there's this incredible connection there, or they're introducing their spouse who never read the book, or they're introducing their child who never read the book, and they're able to experience it in this new way that we're giving them, and then, hopefully, jump into Harper Lee's book after the fact and discover that as well. So, yeah. In both of those ways, it's been really rewarding.
MI: So take us back a little bit. Where's home and how'd you get involved in performing?
SLJ: Home isn't far from Chicago. I grew up in Rockford, Illinois. And there was a small union theater called New American Theater, and that's where I first started acting. And then, I started doing community theater in school productions as well, which was amazing. It had an amazing art scene. 
And then, I would beg my parents to take me to Chicago where we'd all watch wildly inappropriate productions at Steppenwolf for a nine-year old to be watching. But my parents are amazing and they let me go. And that was really formative too, because, in a weird way, I grew up looking forward at the American Theater, not so much thinking, "Oh, I really want to be in movies. I really want to be in TV." I was looking at these working actors at Steppenwolf and seeing that as this ideal. So that really shaped me, I think.
MI: That's a great story. So looking ahead, do you have a dream role that you'd like to take on sometime in the future?
SLJ: Oh, man. I mean, there are definitely classic roles that I'd love to have my crack at. It's so contrived, but I truly would love to play Hamlet at some point. But I think my dream-dream role probably hasn't been written yet. It's probably some role in some new play or some series or some movie that really reflects something in me that I haven't seen yet on the stage or on the screen.
And that's definitely, to a large degree, what I aspire towards, and also what I'm really optimistic about. Because as we get further and further into the landscape of theater, film, and TV, the diversity of roles is only expanding and the writing is only getting braver and braver. So I trust that the stars will align at some point where there'll be some writer where I'll really be able to bring everything I can to try to create some magic with them, is the hope.
MI: We love that! Ok, before we part, let's play lightning round. Just answer the first thing that comes to mind for each of these. First, name something you can't live without.
SLJ: Yoga.
MI: Who would play you if your life story were on the big screen?
SLJ: Daniel Radcliffe.
MI: Favorite book or toy when you were a child?
SLJ: Harry Potter.
MI: Finally, what was your worst fashion mistake ever?
SLJ: Can I just give high school as a blank statement?
MI: (Laughs) That was all of us, right?
SLJ: You know what? I have something specific. I wore these Skecher bowling shoes. They weren't literally bowling shoes, but they looked like bowling shoes. They were Skechers. I was very committed to that as an aesthetic for three years. And, finally, some people who really cared about me had an intervention and I moved on. Yeah.
MI: But you loved them, right?
SLJ: Oh, absolutely! But, it was certainly in my best interest!
MI: Thanks so much for taking the time this morning to chat. See you back home in Chicago for the show!

TICKETS
Individual tickets for TO KILL A MOCKINGBIRD are now on sale and range from $35.00 - $114.00 with a select number of premium tickets available. Tickets are available now for groups of 10 or more by calling Broadway In Chicago Group Sales at (312) 977-1710.
ABOUT TO KILL A MOCKINGBIRD
To Kill a Mockingbird holds the record as the highest-grossing American play in Broadway history and became the first-ever Broadway play to perform at New York's Madison Square Garden, also marking the largest attendance at a single performance of a play ever in world theater.
Set in Alabama in 1934, Harper Lee's enduring story of racial injustice and childhood innocence centers on one of the most venerated characters in American literature, small-town lawyer Atticus Finch. The cast of characters includes Atticus's daughter Scout, her brother Jem, their housekeeper and caretaker, Calpurnia, their visiting friend Dill, and a mysterious neighbor, the reclusive Arthur "Boo" Radley.
Starring in the critically acclaimed production are Emmy Award®-winning actor Richard Thomas as Atticus Finch, Maeve Moynihan as Scout Finch, Jacqueline Williams as Calpurnia, Justin Mark as Jem Finch, Yaegel T. Welch as Tom Robinson, Steven Lee Johnson as Dill Harris and Mary Badham (Oscar®-nominated for the role of "Scout" in the feature film) as Mrs. Dubose. They are joined by Joey Collins as Bob Ewell, David Manis as Judge Taylor, Luke Smith as Horace Gilmer, Mariah Lee as Mayella Ewell, David Christopher Wells as Sheriff Heck Tate, Jeff Still as Link Deas, Liv Rooth as Miss Stephanie, Travis Johns as Boo Radley and ensemble members Scout Backus, Morgan Bernhard, Denise Cormier, Christopher R Ellis, Stephen Elrod, Daniel Neale, Andre Ozim Perry, Dorcas Sowunmi and Greg Wood.
ABOUT BROADWAY IN CHICAGO
Broadway In Chicago was created in July 2000 and over the past 23 years has grown to be one of the largest commercialtouring homes in the country. A Nederlander Presentation, Broadway In Chicago lights up the Chicago Theater District entertaining up to 1.7 million people annually in five theatres. Broadway In Chicago presents a full range of entertainment, including musicals and plays, on the stages of five of the finest theatres in Chicago's Loop including the Cadillac Palace Theatre, CIBC Theatre, James M. Nederlander Theatre, Auditorium Theatre, and just off the Magnificent Mile, the Broadway Playhouse at Water Tower Place.
Interviewed by Matt Inawat. Ron Matthew Inawat is president of the GoPride Network and contributes to ChicagoPride.com, PrideLA.com and other sites within the GoPride Network. Follow @cpmatthew