A GoPride Interview
Dewayne Perkins
The Blackening is right on time for Juneteenth and Pride
challenge people to find out how many movies or TV shows there are that have Black, queer leads.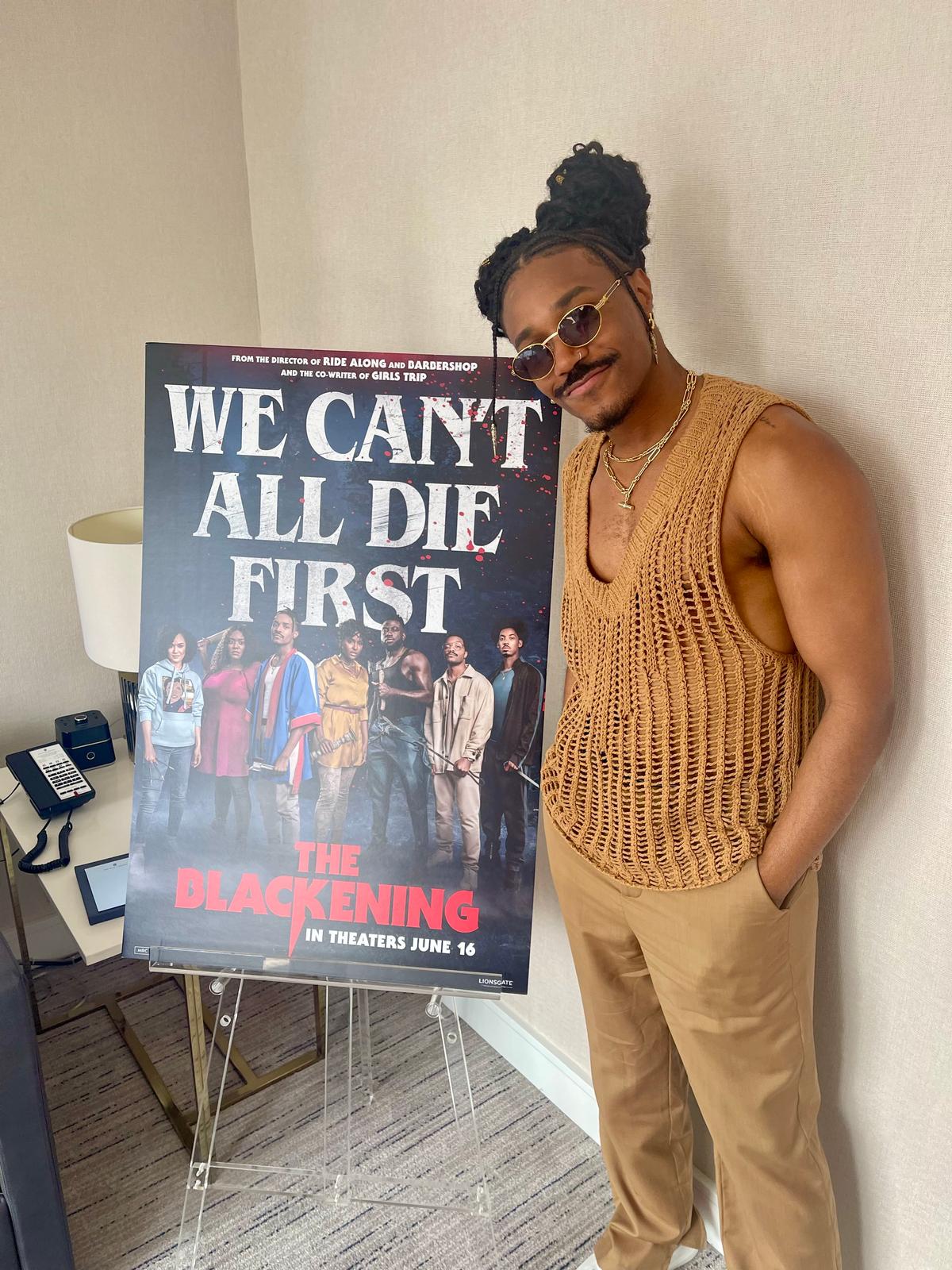 photo credit // jerry nunn
A new film called The Blackening will have audiences cackling
Released in theaters with perfect timing just days after Juneteenth, The Blackening is a modern horror story about a holiday getaway where a group of friends books a remote cabin to party together. A twisted killer eventually terrorizes the group and wild jokes ensue to deal with the frightening situation.
Fans of Girls Trip and Barbershop will enjoy The Blackening thanks to the creators including director Tim Story and screenwriter Tracy Oliver. The project is based on the short film of the same name by the comedy group 3Peat.
Dewayne Perkins serves as both co-writer and star, playing a character of the same first name. The out and proud performer hails from Chicago and trained at The Second City. He has appeared in Wild 'n Out and The Upshaws. He is the staff writer for The Amber Ruffin Show where he was nominated for a Primetime Emmy Award.
Perkins sat down at the Ritz-Carlton in Chicago to talk about The Blackening before it was released.
JN: (Jerry Nunn) You were born in Chicago?
DP: (Dewayne Perkins) Yes and I grew up on the South Side.
JN: How do you identify?
DP: As he/him and gay.
JN: Me too! Did you always want to be in comedy?
DP: No. When I was younger I always wanted to be a paleontologist and then I found out what they do, so just kidding. [laughs] I studied math and science in high school because I thought I would be a mathematician.
I found improvisation in my junior year of high school and started doing sketch. The director of improv and sketch also did musicals. That is when I realized I wanted to be in entertainment.
I went to The Theatre School at DePaul University for acting then was cut because they said I was difficult to work with.
JN: No, I don't believe that.
DP: I was! [laughs] That is when I started writing and that is when I got deeper into comedy.
JN: Wow, you are a quadruple threat.
DP: Just some of my skills…
JN: What is your favorite musical?
DP: I just the Michael Jackson musical last time I was in New York and it was the most exhilarating show I have ever seen. That is my number one right now.
JN: MJ the Musical is coming to Chicago.
DP: I'm not going to be here.
JN: You will have to come back. Do you have time to visit friends and family while you are here?
DP: My parents still live here and my sister lives in the suburbs not too far away.
JN: Did The Blackening grow out of improv?
DP: Yes, it was originally a stage sketch then filmed for Comedy Central. It became an online sketch and it went viral. That is when Tracy Oliver who wrote Girls Trip saw it. She called me and suggested we make it into a movie.
JN: Talk about the behind-the-scenes of creating the writing. Were there jokes that you felt went too far originally?
DP: No. I don't think the jokes went far enough! There are a lot of jokes in the movie. We tried to do as much as we could. We knew the systems that we were navigating and thought at some point someone would ask us to pull it back and nobody did.
It feels very authentic to what we aimed to do, so there is no feeling of wishing I had done something different. I am very happy with what it is.
JN: You make a good point about the amount of jokes in the movie. It is hard to hear them all with an audience!
DP: It is a film people will have to watch multiple times to get it all. When it premiered at the Toronto International Film Festival it was uproarious and I thought they should shut up to hear my favorite jokes.
There is so much to always come back to and that was something intentional. We wanted a film that people would watch over and over, hopefully, it becomes a cult classic one day.
JN: The Blackening is a film that I want to share with my friends. The theater setting provides a group experience for everyone involved.
DP: Yes, we didn't want it to just be a movie. We wanted it to be an experience that people would remember and want to relive again with friends.
The movie works best not singularly. The movie is about a community trying to survive and it works best when watched by a community of people.
JN: How is the character Dewayne different than the real-life Dewayne?
DP: For one he was stalked by a psycho killer and I have not been! He is more emotionally forward and wears his emotions on his sleeve.
In the film, there are certain parts where he is the dramatic one and I am not like that. I am more chill than people would anticipate. During this interview process, people have been asking me why I am not as excited as the character. I am crying on the inside and just chilling a little bit!
He's the extreme and outward-facing part of myself.
JN: You are playing a character so I get it. Are you a superhero fan? There were superpowers and telepathy moments in the film.
DP: I believe Tim Story added that and I loved it. It is silly that these people are reading each other's minds, but it shows this thing that is innate with Black people where we will know something with just a look. It puts a visual to that phenomenon.
We see each other and will be talking, but we don't have to necessarily speak to know what we are thinking. That added a comedic element to that.
JN: Missy Elliott's "The Rain (Supa Dura Fly)" was played a few times. What was that a reference to?
DP: Oh, we just liked that song! [both laugh]
JN: It made me think, "Will this woman ever come out of the closet?"
DP: It was not a reference to that. I don't know her business.
JN: The cast is just spectacular. Was the cast party a blast?
DP: It was fantastic. I have seen the movie so many times and it never gets old because I am so grateful to have so many memories while we were filming. Watching it and reliving it made me remember how close we were. I saw the blatant chemistry onscreen and know it came from a genuine and authentic place.
We had a group chat for two years and it is still very active. I know their families and play with their kids. This created substantial relationships that I didn't know were going to happen. That love onscreen is very real. I am very grateful that was the dynamic.
JN: I played an extra on FOX's Empire and Grace Byers was on the set. I remember her being so beautiful and it was great seeing her in The Blackening as Allison.
DP: I love Grace. I am very excited for people to see her in this film. Often people's perceptions of a person are the same as the character on a show or film. This makes the person stuck in a confine that other people created. She is able to show how funny she is and some people can only think of her on Empire. She is really good at what she does and is fantastic in the movie.
JN: What would you like to see The Blackening accomplish after audiences see it?
DP: I hope people have a good time and accept what we are giving them. We don't have a big agenda to teach people something. If someone learns something from it then great. We just want to make an entertaining movie that people watch over and over to have a good time.
Is there intentionality behind the choices we made? Sure, absolutely. Are there things we are saying that we want people to do? Yes, but that is not the goal. We want a consequence of good art. That is what art should do.
I want people to have fun. There is so much that we didn't have to say because we could show it. We didn't have to talk about how different Black people are because people will see a bunch of Black people being different. That is the whole point of showcasing that. Just watch it and take what you take from it.
JN: What I took from it was the important gay representation and it means a lot to people.
DP: Thank you. I am personally happy that I was able to show that. I challenge people to find out how many movies or TV shows there are that have Black, queer leads. As a person who has been searching it out, there is not enough. To be able to add to that lexicon in any way is a privilege. I hope people really embrace Dewayne.
JN: I did! What is your favorite board game?
DP: I like The Game of Life. It reminds me of what could happen if I made different choices in life. The game tells people how many kids they have and how much money they will make. You can also be gay in that game.
JN: You can? I have never played it like that.
DP: There are blue and pink pieces to represent gender and I threw that pink piece out!
JN: I was playing it all wrong.
DP: You did. I looked for gay representation wherever I could. Give me that husband!
JN: You are working on an animated Clue series?
DP: Yes, it is being developed at FOX, but on hold because of the strike. Tim Story from The Blackening is also an executive producer. The Blackening is a treat that keeps giving. There have been so many good things that have come from it.
JN: Congrats on the project.
DP: Thank you!
The Blackening creeps into theaters on June 16, 2023.
Interviewed by Jerry Nunn. Jerry Nunn is a contributing writer to the GoPride Network. His work is also featured in Windy City Times, Nightspots Magazine and syndicated nationally. Follow @jerrynunn