A GoPride Interview
Peter Hedges
Director and writer Peter Hedges talks about new film 'Ben Is Back'
When artists are playing at the highest level, which Lucas and Julia were both doing, every day is kind of like Christmas.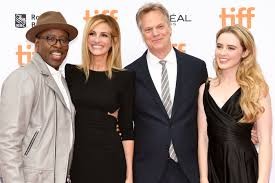 Ben Is Back is the touching new film where drug addiction affects a family during Christmas. It stars Julia Roberts and Lucas Hedges with his father Peter Hedges directing. 
The director launched his film career after penning the film What's Eating Gilbert Grape. He went on to write several more cinematic pieces such as A Map of the World and About a Boy. He had more successes after writing and directing Pieces of April, Dan in Real Life and The Odd Life of Timothy Green.
With Ben Is Back he not only wrote and directed but produced as well. He sat down while in Chicago to discuss his latest endeavor. 
JN: (Jerry Nunn) How did you work your way out of Iowa to land in California?
PH: (Peter Hedges) When I was 17 I came to Northwestern University and attended the Cherub program. That was so instrumental in my life choices. I saw Steppenwolf shows in their second season. They so inspired me. I met a woman who was teaching and had gone to the North Carolina School of the Arts. I applied to go there and went there. The harder I worked as an actor there the better everyone else got so I started writing plays. 
I moved to New York and wrote Gilbert Grape for my company there. I realized it wasn't a play but instead a novel. The rest went from there…
JN: Was the movie a good representation of the novel Gilbert Grape?
PH: It was very different than the novel. The novel is all from Gilbert's point of view. It is a first person unreliable narrator. I love the film and I love the novel. I am so grateful that I got to be the writer of the film because I learned so much about writing a film. 
JN: Is it fake until you make it sometimes?
PH: It can be!
JN: With Ben Is Back, you wrote, directed and produced. Why do all three?
PH: I liked to. It was super satisfying. I knew when I wrote this that this was a film I wanted to make. If someone came to me and said I could have 20 more years of writing whatever I want or make this film then I would choose to make this film. Hopefully, I don't have to make that choice and I can keep working. 
With this one I felt I needed to direct. 
JN: How hard was it to get Julia Roberts?
PH: It is hard to get Julia in anything because she is very particular about what she does. She is primarily a mom and doesn't want to be away from her kids for any length of time. 
It wasn't hard once we sent her the script. She read it and believed in the material. We talked about it and who should play Ben. I came with a list of actors and she thought it should be Lucas. I told her that I didn't think he wanted to be in a film of mine. She started a small, persuasive campaign to get him to think about doing the film. He read the script and the idea of working with her must have overwhelmed the idea of ever working with me. 
JN: How was the ride of working with your son?
PH: Once he made the decision to be in the film the ride was remarkable. Those several days when I told him he was welcome to the part were very tense days for me, because I knew I need to start casting if it wasn't going to be Lucas. 
Working with these actors on Ben Is Back and all of my films is one of my favorite parts of doing what I do. I try to create the safest environment that allows them to do what they do so well. Sometimes it is just getting out of the way or suggesting to try it another way. They were very game and so great together. 
JN: I couldn't stop watching Julia in this movie!
PH: What is so beautiful in the performance is there's no vanity. She doesn't pull back on the moments that are disturbing or extreme. A person that wants to be loved all the time won't make the choices that she makes in this character. 
For her own reasons she felt this is a very important story. She believed in what Holly Burns was trying to do so she brought it every day and every frame. That was thrilling to see. 
When artists are playing at the highest level, which Lucas and Julia were both doing, every day is kind of like Christmas. 
JN: The moment when he arrives back at her house was so memorable. 
PH: That was shot on the second day. It was supposed to be the first day but it was too sunny so we shot it the second day. The first take she did I just collapsed on the ground. We did it again only because we had to for safety. She didn't see me, but her makeup team saw me. It was unbelievable how great that was. 
JN: Were there ever a lot of takes?
PH: Sometimes there were. The tone of the movie made me want options for editing. Sometimes I wanted more takes because of the camera and I wanted to work them out. 
Sometimes there weren't many takes at all. 
JN: How do you sell such a heavy movie for the holidays?
PH: You sell it just accurately for what it is. It is a love story about a mother who has a child in harms way, who goes anywhere and does anything on behalf of him. It is about a young man who has made some big mistakes. He has a disease and is trying to turn his life around. 
Ultimately it is a love story that is raw, real and relatable. It is a film I wish I didn't need to make. I think it will make people feel less alone. Maybe they can point this film to other people to show what their life is like or how they are impacted because Ben Is Back will give some insight on what people deal with every day. 
JN: I thought of many of my friends who wrestle with addiction. 
PH: It was very personal for me too. We have an epidemic and we need to do more to combat it. 
JN: What did you think of Lucas in Boy Erased?
PH: I haven't seen it. Lucas doesn't let me see his movies until he says I can. I was in Toronto when Mid90s was playing and he said we could see that. I loved his performance in that. 
I can't wait to see Boy Erased. I get emails and texts from someone every day who has seen it. They just talk about his beautiful work. 
JN: Where is he?
PH: He's in previews for a play on Broadway. He's starring opposite Elaine May called The Waverly Gallery. I haven't seen that either. He is in that until the end of January. 
JN: What about your other son Simon?
PH: I'm so glad you asked about him. He works in private equity and is 24. He and Lucas have an apartment on the Lower East Side. They moved there right after Ben Is Back wrapped. They are best friends, but every different. Simon has no interest in being an actor. He is super striking, charismatic and fun. 
JN: What are you working on next?
PH: I have a series of films that I am working on that are like Ben Is Back. They are at various stages. One of them feels like it's next. I have been moving these three scripts along for the past year. I want to go out right before we open and make it right away. I want all three made in the next two years, so we will see! 
Ben Is Back opens Dec. 14 in theaters everywhere.
Interviewed by Jerry Nunn. Jerry Nunn is a contributing writer to the GoPride Network. His work is also featured in Windy City Times, Nightspots Magazine and syndicated nationally. Follow @jerrynunn