A GoPride Interview
Michael Learned
Michael Learned teaches lessons that many could learn from
If you are lucky to go to school in England as I did at 12 years old where you could take dance and theater classes your body is formed by what you study.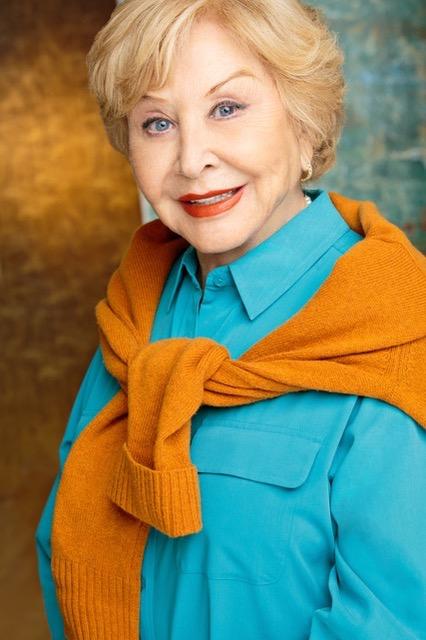 photo credit // harlan boll
Emmy Award winning actress Michael Learned is interviewed at home
At age 83, actress Michael Learned shows no signs of stopping or retiring. Her starring role in the Netflix true-crime series Dahmer- Monster: The Jeffrey Dahmer Story had her playing Catherine Dahmer, the grandmother of the infamous killer in 2022.
For many, she will always be remembered for her role as Olivia Walton in the CBS series The Waltons where she won the Primetime Emmy Award for Outstanding Lead Actress in a Drama Series in 1973, 1974 and 1976.
Her fourth trophy from the Emmys was for the CBS series Nurse in 1982 portraying the lead role of Nurse Mary Benjamin. Other medical roles followed with guest star appearances on Scrubs and Shirley Smith on General Hospital.
Visiting this iconic actress at her private home in California was a unique and pleasant experience. One might picture her living on a farm, but when that idea was brought up she joked, "I wish I had a farm life, but I am here in Beverly Hills instead!"
Sunday coffee with Learned was truly a lesson on how to be kind in show business while still showing it is possible to sustain a lengthy career. She talked about her accomplishments and much more in this recent interview.
JN: (Jerry Nunn) You lived in Austria growing up?
ML: (Michael Learned) Yes, and Connecticut on a farm, believe it or not. I milked goats and the whole thing. We moved to Europe after that and learned how to speak German. We could harmonize like The Sound of Music did in Austria. They really do that there and kids come and sing outside your window if you are sick. It was a beautiful time when I became a drama student because I wasn't a good dancer.
JN: Did anyone tell you to change your masculine name? They put "Miss Michael Learned" in the credits on The Waltons.
ML: They asked me about it before they did that and I told them it was okay. They didn't want people to be confused when they used a picture of me and Kami Cotler together.
No one ever told me to change it. I probably would have if they had asked me to because when you are starting out people in show business tell you things to do and many people do what others say with their careers.
JN: Where do you keep your Emmy Awards?
ML: There is one Emmy upstairs and the other three are on display at the Hollywood Museum. I used to keep them in a garden and I wasn't being disrespectful, I just thought they were very happy there with the greenery around them.
I am just more appreciative of them now than I was at the time. I was always nervous that if I won that I would have to get up there and say something.
JN: I have met two of The Waltons' cast members Richard Thomas and Mary Beth McDonough in the past and they were very nice in person.
ML: They are. We have spent more time with each other than we have with our own families. I can't imagine what that would be like if we didn't like each other. They have always been my second family and we still are.
JN: Many say that both the grandparents on The Waltons were part of the LGBTQ+ community in real life. Did they talk about that to you?
ML: Will Geer had a series of guys in his trailer, but I don't know if Ellen Corby was or not. It was never discussed and not a thing. They were my fellow actors and it is not a big deal to me.
I, fortunately, didn't have to go through what many people in the closet did back in those days.
JN: Yes, it is true that the public doesn't know if she was a lesbian or not, but she was with Stella Luchetta for a long time.
ML: She was with Stella for the last part of her life. Stella took wonderful care of her and she helped Stella a bit financially, but Stella was a banker and certainly not starving. They might have just been close friends.
JN: What led you to the role on Netflix's Dahmer?
ML: Ryan Murphy asked me to audition and I did. I don't audition well, but in the end, my manager told me that we had to do a full body shot. I said, "If I had known that I would have worn a bra!" and he left it in the video we sent. The humor may have been a factor in my being cast. Who knows?
JN: How was working with Ryan Murphy in general?
ML: He had a very quiet presence on the set. I introduced myself to him and we hugged because we had a mutual friend with Sarah Paulson who I had done a Broadway show in New York. She was just lovely and young. He has made her a star, so I love him for that.
He has so much going on with all of his work on the series that we didn't hang out much.
JN: How was working with Evan Peters as your grandson on the series?
ML: I am just crazy about him! He is just the nicest person and humble in the right way. I am very grateful that he was easy to work with and sweet.
He even made a point of saying goodbye to me in my trailer within the maze of trailers. He's just a good guy and he plays all these horrible killers. I guess he gets his dark side out and is paid for it!
JN: His reactions were so good when you nagged at him during some of the scenes.
ML: We had such great chemistry. It was easy for me to love him. She didn't know he was dragging dead people's parts around in her kitchen.
How could someone not know?
JN: Maybe because she was his family member her mind never went close to thinking that.
ML: You just met my beautiful grandson who I love so much and I can't imagine him doing those terrible things. They should make an entire series about the repercussions that families have after finding out their family member has done something terrible. What happens to an average family when a horror like that happens?
I would still love my grandson if he was a serial killer but would be horrified and would have to turn him in. I couldn't have him going around killing people, but I would come and visit him every single day because I would still love him.
JN: Do you ever think about retiring?
ML: When I am making the beds! No, I love to work. I hope I never do. I am at an age now where people are dying or dead. There is not a whole lot of material that they write in this country for older women and sometimes don't think of them as being interesting. When a role like the one in Monster comes along I was happy to take it.
JN: Ryan Murphy has done his part to change much of that mindset about older celebrities.
ML: Ryan is an amazing man and a genius. He wasn't standing around barking orders. He was quiet on the set, but he was there when something was needed. I have great admiration for that.
JN: What advice would you give young actors?
ML: What I did was study voice production and dance. Actors are their own instruments. If you are lucky to go to school in England as I did at 12 years old where you could take dance and theater classes your body is formed by what you study.
JN: I stopped drinking six years ago and I read you gave up drinking over 40 years ago.
ML: It has been about 43 years for me.
JN: What helped you? I just went cold turkey.
ML: I did too. I sublimated sugar. I did not miss it and was done. It just wasn't working for me.
JN: Same for me and people just don't understand that sometimes…
ML: Exactly. It is fun at first but after you try to get that feeling back it just doesn't come back.
JN: Do you have future projects?
ML: I wish. I was supposed to perform On Golden Pond in Canada with Hal Linden, but I fell and broke my wrist, so I couldn't do it.
I love working and I like writing. People want to know what The Waltons cast was really like. Maybe one day I will write a memoir about that!
Interviewed by Jerry Nunn. Jerry Nunn is a contributing writer to the GoPride Network. His work is also featured in Windy City Times, Nightspots Magazine and syndicated nationally. Follow @jerrynunn