A GoPride Interview
Ely Guerra
Ely Guerra captivates her fans at Ruido Fest
I also want to honor the stage and my audience by what I wear.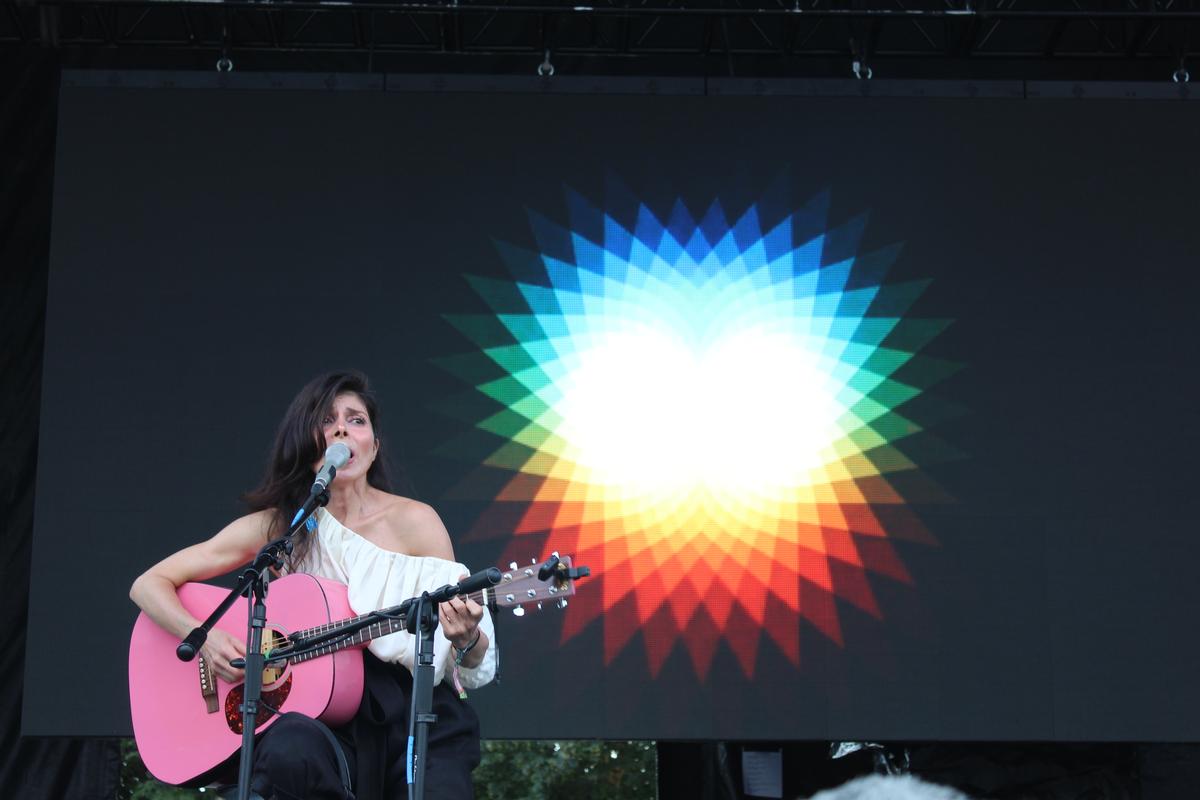 photo credit // jerry nunn
Backstage interview with Mexican singer Ely Guerra
Mexican-born singer Ely Guerra wrote her first song at only 10 years old. This led to her launching a career with BMG at 20. She appeared on the cover of Time Magazine and eventually created her own record label called Homey Company. She won Best Alternative Music Album at the 11th Latin Grammy Awards for her fifth album titled Hombre Invisible, which was also nominated for Best Recording Package.
This talented concert singer displayed her expertise with the live recording El Origen and her 2019 record Zion received stellar reviews.
Sweet & Sour, Hot Y Spicy was released in 2004 and Guerra talked about her current mood playing off the title of the album backstage before a recent Union Park Ruido Fest appearance in Near West Chicago.
JN: (Jerry Nunn) Hola, Ely. Are you more sweet or spicy these days?
EG: (Ely Guerra) Today, I am both, because it feels like a nice dish with both flavors. This is not an easy phase of my career in dealing with this pandemic. For independent musicians like myself, it is not the greatest thing because we live when we sing out in the world. We didn't sing for more than two years. This put us in a very difficult position, but our spirit is sweet. Circumstances and conditions are definitely sour. It is part of life.
We are not struggling, but just trying to go with the flow and that this is just a phase. We have to drum up the courage to continue.
JN: Is it tough to not be able to have meet and greets or not be able to be close physically with your fans?
EG: I don't think that is really the issue. It is more not being able to keep on constructing my career to indulge my fans. My mission is not to be with them but instead to offer answers through music. That is a real commitment. A fan should be in touch with my music, not necessarily in person.
I try to make a difference and be in service. I want to keep singing and doing it well while taking care of my health in order to continue. Just keeping my mental health during this hasn't been easy either.
JN: You have been so kind to many of my friends over the years and have a lot of gay fans.
EG: I have noticed!
JN: Where do you think this following comes from?
EG: I guess because I am someone who is truly open. I have always expressed that I am an intense woman. I have had a hard time over the years to have this career. I compare that to someone saying they were gay back in 1990. It was easy for them either!
I had to come out to my family about my career and it was not an easy road to take. My music expressed that with love and compassion. I struggled as a warrior in music and the gay community has been through a war.
I remember when my friends who were gay couldn't come out back in the day, but things seem to be getting better these days. We all have to be brave in our lives and careers. We have to keep fighting!
JN: In 2012, you participated in a tribute to out lesbian singer Chavela Vargas at Carnegie Hall. How was that experience?
EG: It was a beautiful experience. I was nervous because we were singing a couple of songs by Chavela, but then they asked me to sing my own songs. Instead of interpreting her songs, I had to delight the crowd with my own body of work. I tried to explain what Chavela meant to me. It was intense and beautiful at the same time.
You have to see Carnegie Hall. It is majestic and this was a dream come true!
JN: You appeared on Project Runway Latin America in the past and I love the outfit you are wearing today. Has fashion always been a part of your brand?
EG: Si. It is a companion for me to feel secure on the stage. I also want to honor the stage and my audience with what I wear. It is a magic thing to see onstage and I am not trying to cover up my age or who I am. On the contrary, I feel totally confident in my own skin. You are right, it has always been important to me.
JN: We are close to the same age. I love being over 50!
EG: I do too because I am understanding things better. Before it was too intense, but now I am more relaxed and I'm not getting crazy all the time.
JN: Do you have a favorite song that you are performing today?
EG: Honestly, I am always happy to sing "Ojos Claros, Labios Rosas."
JN: I love that one!
EG: I have sing others like "Mi Playa" and "Tengo Frio." These songs are the core of my career. They are a combo that I enjoy and hope others do too.
JN: Do you have future projects that you are working on?
EG: I do. I have written some stories that I will put in a collection. After this tour, we will go to Mexico to launch these short stories one is called La Cuidad de la Furia. It is about a city of death and once the people understand that life can come from them it is a big awakening.
I will do readings from the book and play some music.
This will all happen at a fan's house. It will be nice because this is not a huge venue but a small house and will be out on the tour for a month.
JN: You need to come back to Chicago.
EG: I will and hope it will happen next year at the Sor Juana Festival!
Interviewed by Jerry Nunn. Jerry Nunn is a contributing writer to the GoPride Network. His work is also featured in Windy City Times, Nightspots Magazine and syndicated nationally. Follow @jerrynunn